This is not just any Mango Salsa, it is a kid-friendly Mango Salsa that makes the kids eat raw onion. Sayyy whaaat?!?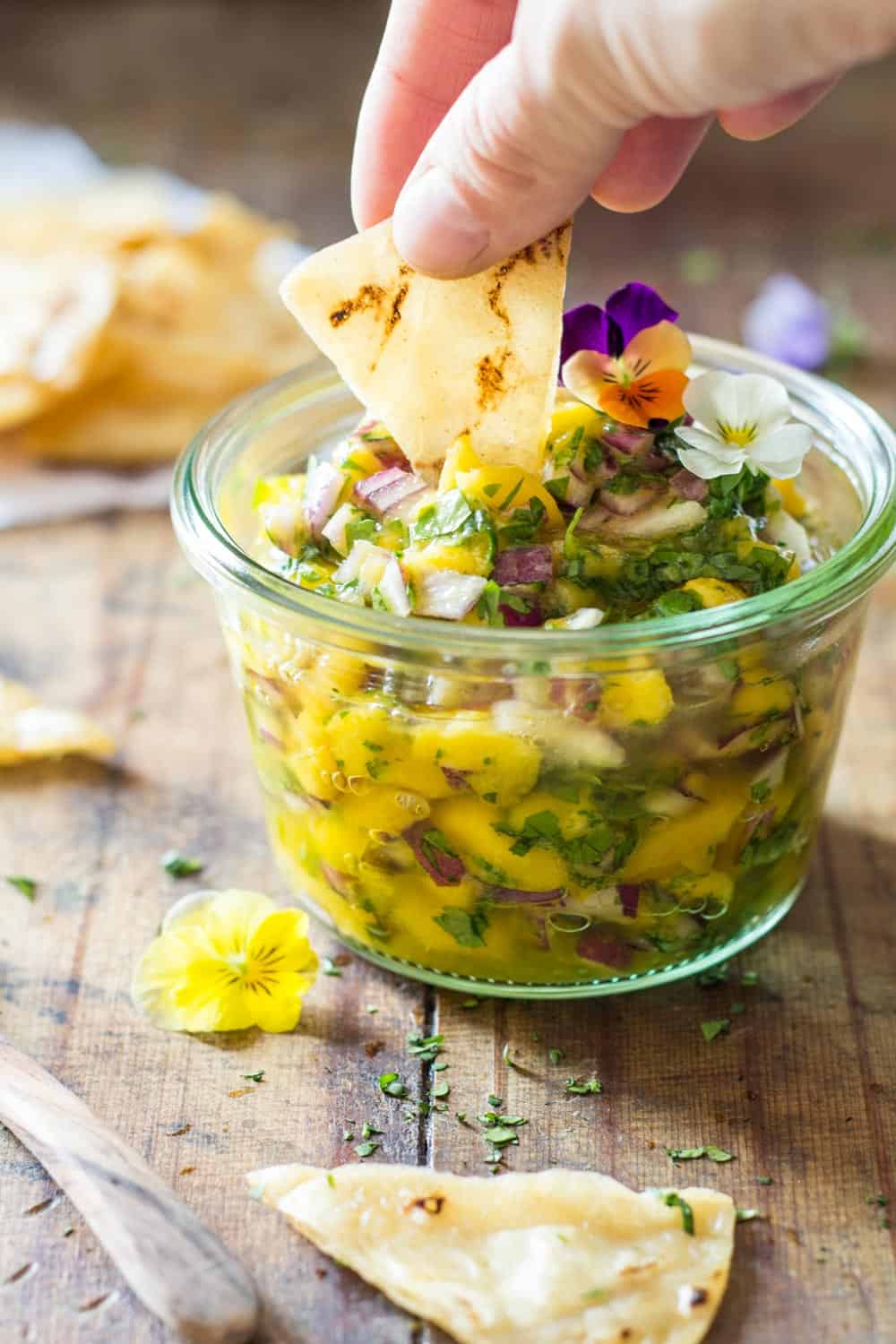 I'm not going to get into too much detail here but onions are not only rich in vitamins A, B6, C, E, minerals such as sodium, potassium and iron but in its raw form they contain a variety of organic sulphur compounds for which they "have been used in folk medicine for the relief of coughs, colds and catarrh, especially asthma". (For the source of this info and to read more visit this website.)
In short: Onions are Awesome!! Both for its nutritional benefits and its power to help heal respiratory ailments. Who new?
I'm always on a mission to get my kids to eat raw onion and raw garlic but let's be frank, it IS pretty difficult. Both are a tiny little bit spicy and if your kids are like mine they have messed up taste buds that mistake raw onion and garlic for something more like habanero chilli or whatever other chilli is the most spicy in the world. They eat one bite and stick out their tongue making big eyes and saying "aaaaaaaahhhh, piiiiicy, mamaaaa, I will diiiiieeee". And yes, it seems ridiculous considering they have a Mexican father and a half Peruvian mother that could live of "real" spicy food. We're working on it. We're working on it.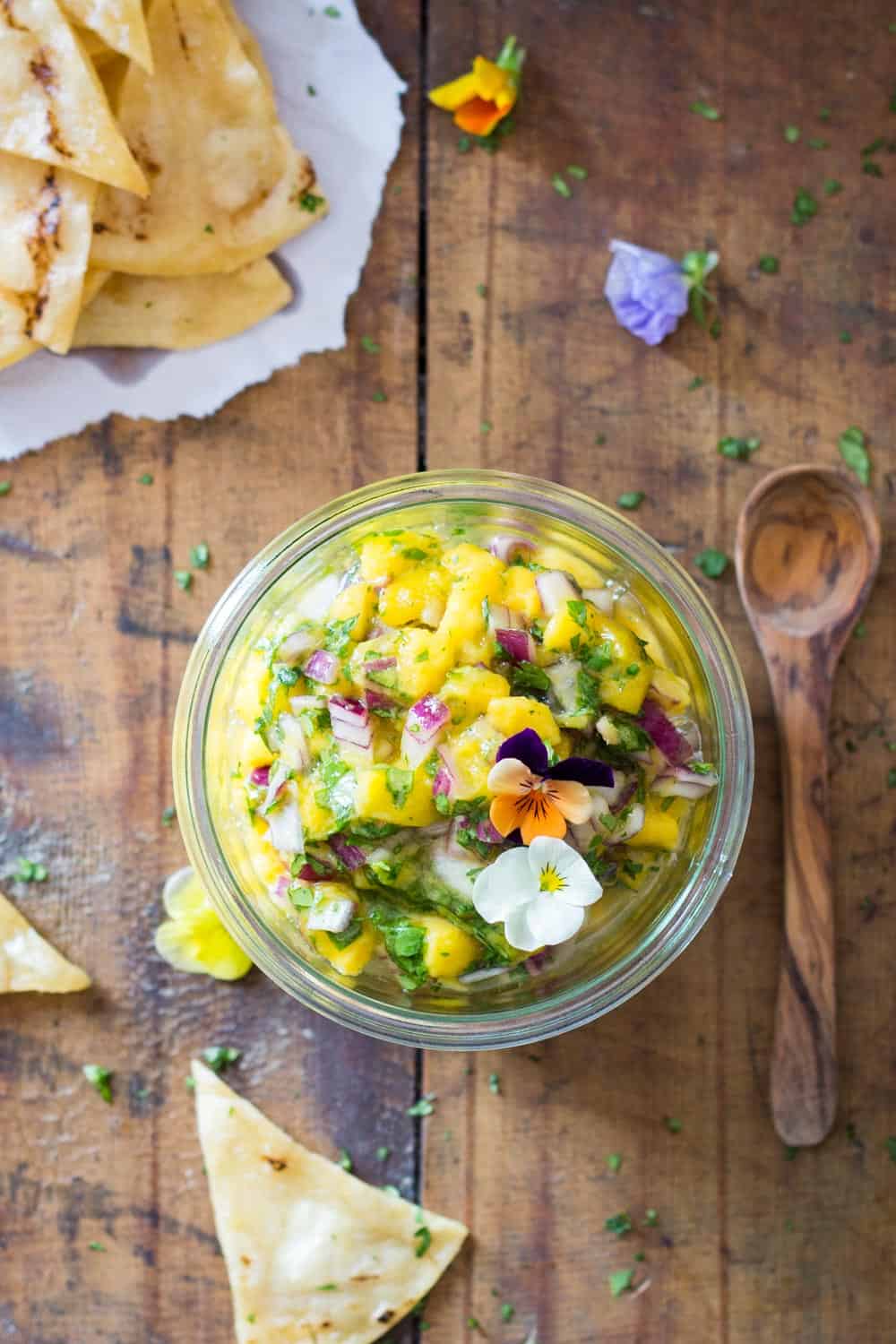 This salsa they gobbled down like it was dessert. It kind of IS dessert, right? Whatever it is, one thing it is for sure: delicious! We ate it with tortilla chips first and then in Fish Tacos the next day and I will share that recipe with your guys on Wednesday so stay tuned :)
The best part about this salsa is that you can easily prepare it in a bowl, separate the kids' portion and then add the adults' special ingredient: chilli! In my opinion serrano chilli is the best for this but if you like it only mildly spicy then you may want to use just jalapeño or even just a tiny pinch of chilli powder. For us, serrano was our friend for this salsa.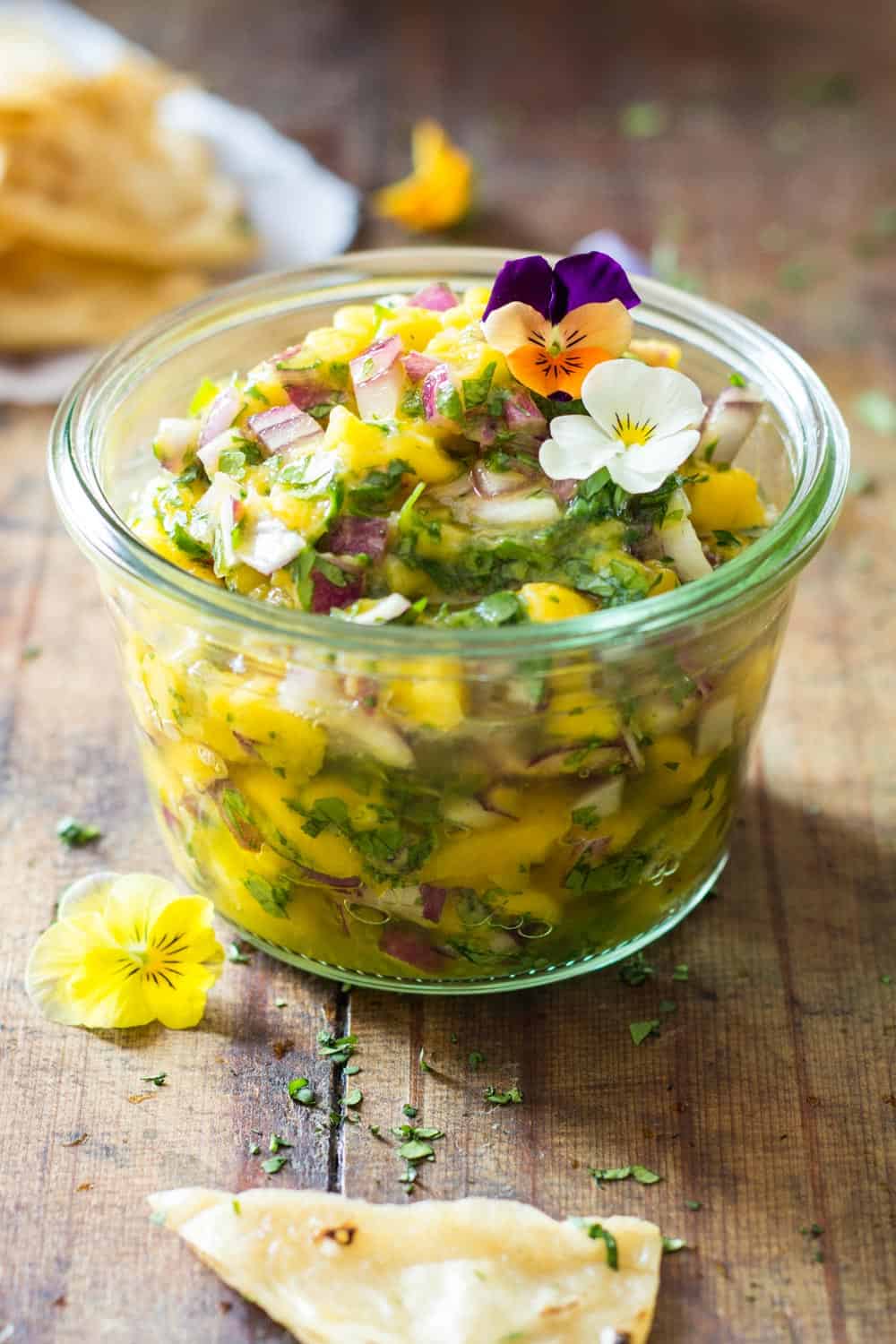 If your kids are very, very, very, veeeery sensitive to spicy food you can also soak the cut up onion in cold water for about 10-20 minutes and then rinse. That helps a LOT to remove any spiciness that might not be covered by the sweet mango. It wasn't necessary for my kids though and they really don't eat spicy. The mango is so sweet and the lime so strong that the onion basically just gave the salsa some crunch.
You can use either paraíso (the big red/green colored ones) or ataúlfo (the smaller kideney-shaped yellow ones) mango but the ataúlfo has less fibers so it's easier to cut and tends to get less mushy. I used a paraíso mango because I had one that was 1 day away of rotting but if I were to go to the store to buy the ingredients for this salsa I would probably choose 2 ataúlfo mangos instead, given I find ripe ones of course. The most important is obviously to use very ripe mangoes, otherwise the salsa won't be sweet at all.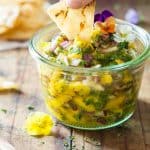 Mango Salsa
Print Recipe
Ingredients
1

paraíso mango

-

(or 2 ataúlfo mangos)

1

red onion

1

cup

cilantro leaves

1/2

lime

1/2

tsp

salt

chilli such as jalapeño or serrano

-

(optional)
Instructions
Peel and dice mango.

Peel and chop red onion.

Wash and destalk cilantro until filling a cup with only leaves, then finely chop the leaves only discarding the stalks.

Add above ingredients to a bowl, add juice of half a lime and salt and mix well.

(Add chilli of your choice if desired)

Serve with tortilla chips or over fish tacos.
What's your clean eating vibe?
Take this fun QUIZZ and find out in 10 seconds!