Excuse me while I produce hearts with my eyes over this One-Pan Curried Chicken Cauliflower. It was insanely delicious! One of those suuuuper simple but exceptionally scrumptious dinners that become a once a weeker until you can't smell curry anymore….ummm maybe in 10 years??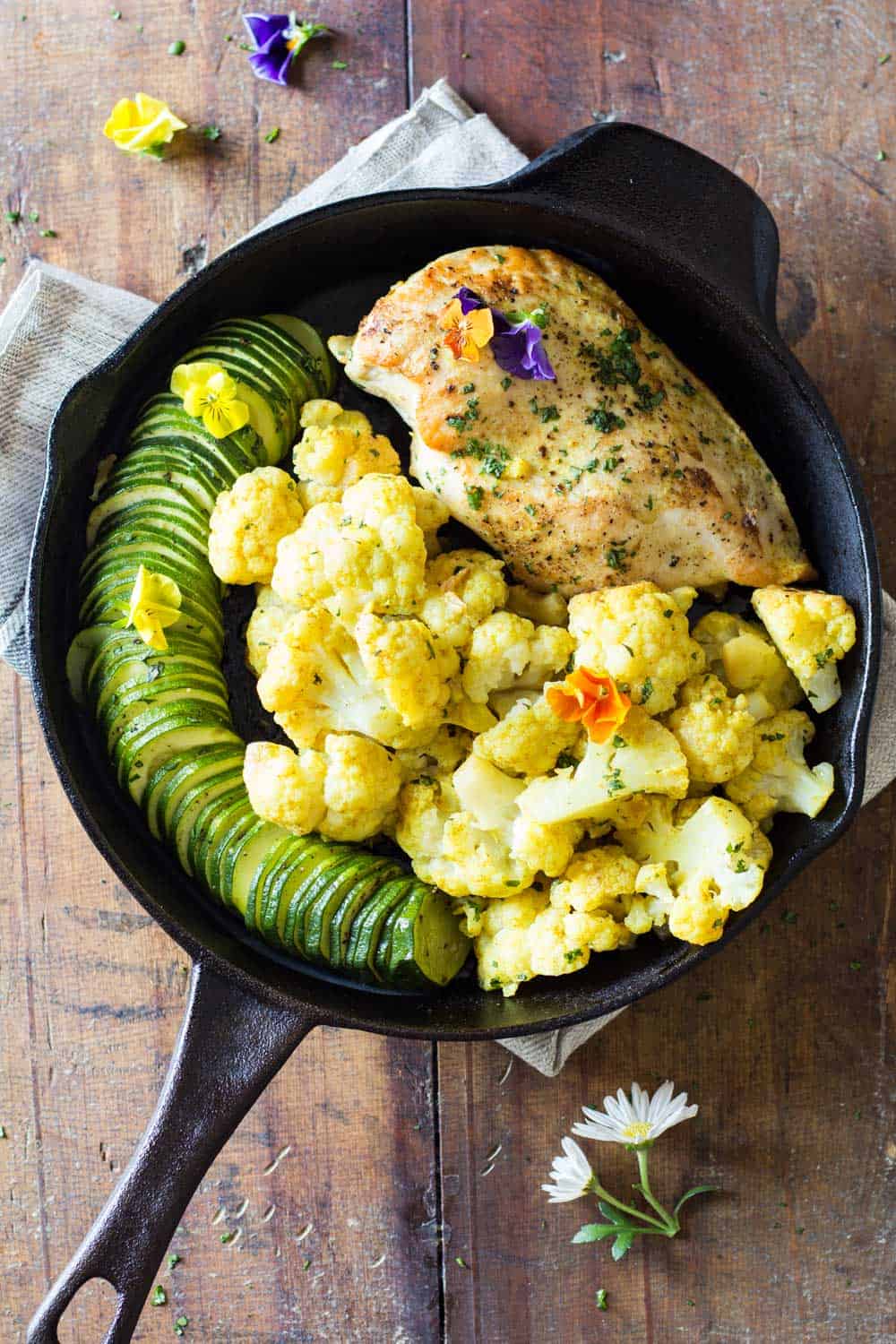 I've been wanting to do a one pan meal in forever but never quite knew with what ingredients until I was left with one chicken breast, one head of cauliflower and one zucchini in the fridge for dinner and literally didn't have another choice. Ha! You see how organized I am as a blogger or a mom for that matter?
The good thing is, the best recipes always seem to be born out of either accidents in the kitchen or pure necessity to create something with little to no ingredients. Dry, flavorless baked chicken breast with mushy boiled cauliflower and tasteless zucchini? No thank you! We've got to invent something here and do some magic to transform this into something my kids will love me for and that doesn't create a big mess and too many dishes because, hello?!? who's gonna clean that  up? And here you go: One-Pan Curried Chicken Cauliflower!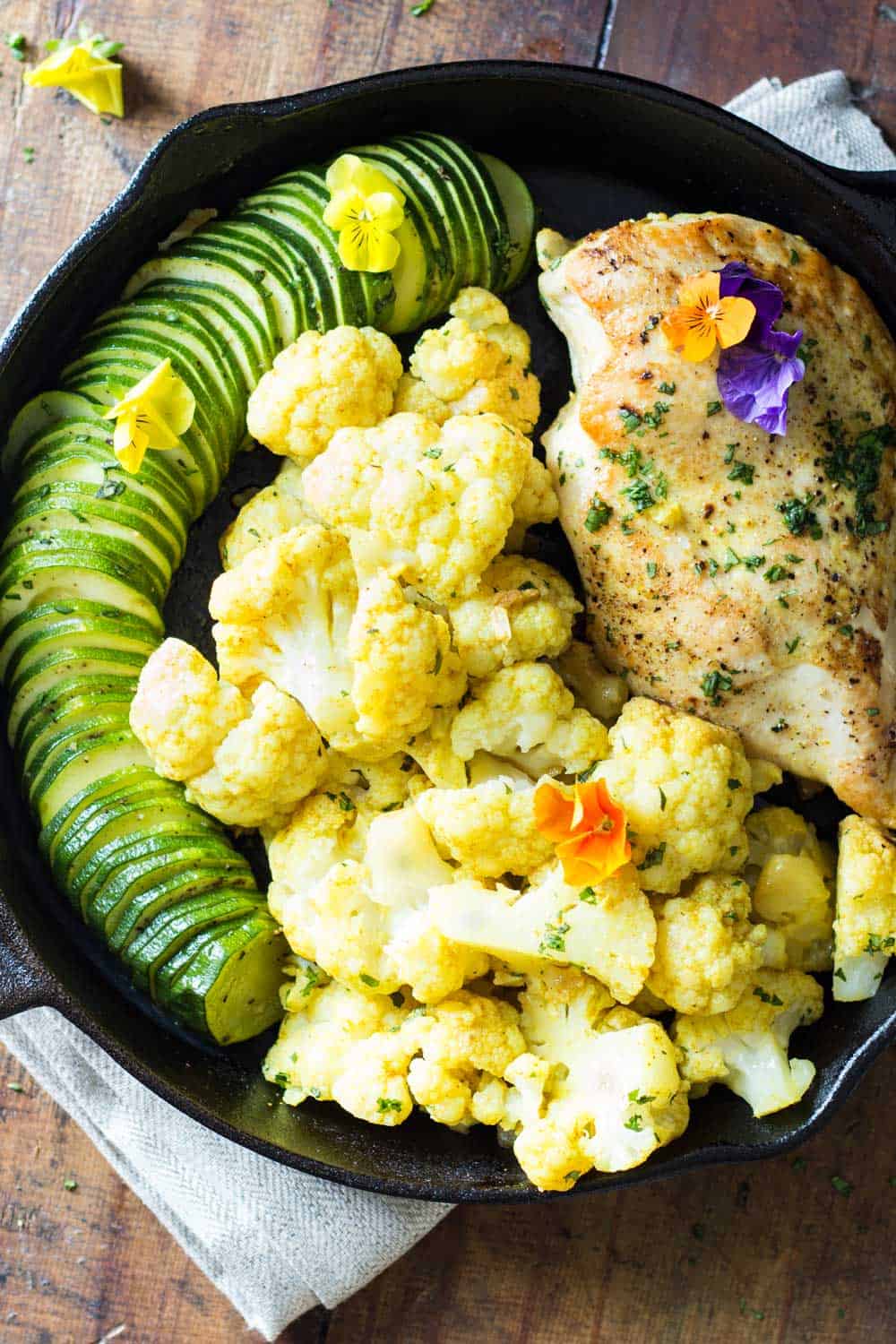 This was just right for me and two under 6 year-olds. So I'd say it's perfect for two adults. If you have to cook for more you will have to cook in two pans, sorry :S
The best part about cooking it all together in one pan is that the chicken juices get sucked up by the zucchini and cauliflower and make them even more delicious. Besides, all three ingredients happen to take the same amount of time to be cooked to perfection so how awesome is that? Carrots, potatoes etc. would have taken muuuch longer. It wouldn't have worked with either.
Ok, so, before you jump into your computer to tele-transport to Montreal and give me a bear hug for this recipe there is one disclaimer. You will also need a small cutting board and a bowl comes in quite handy as well. So, no, you will not only have to wash one pan but also at least a cutting board and maybe a bowl but without you would end up with the yucky veggies, so it's obviously totally worth it.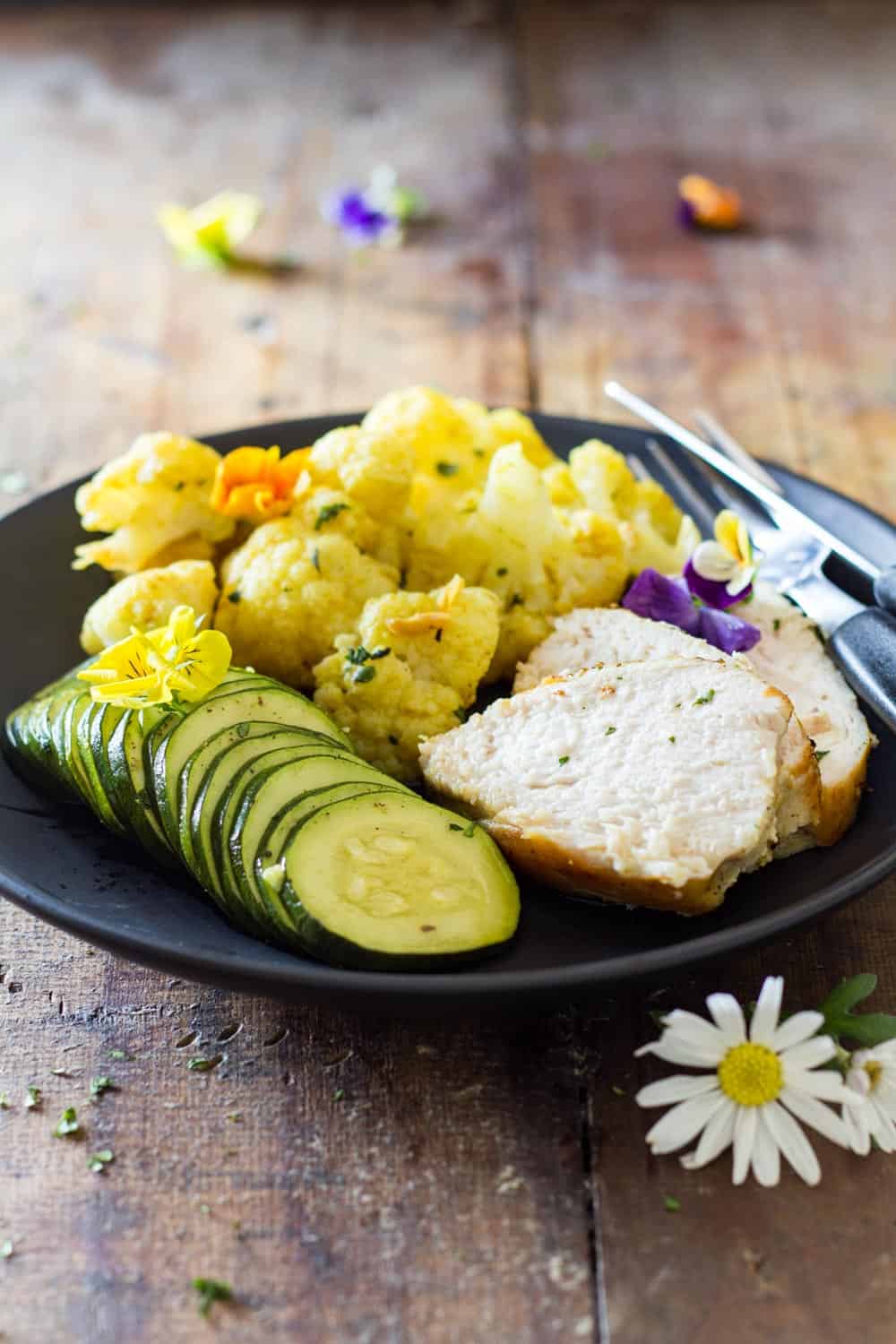 Preparing everything this way you'll end up with deliciously juicy chicken, cauliflower cooked to perfection, soft but without being mushy or falling apart, and zucchini that melts away in you mouth.
Oh, and did I mention all of this tastes and smells like the most amazing curry you've tried in you life? It does and we loved it. Give it a try and let me know how you found it in the comments below ;)
One-Pan Curried Chicken Cauliflower
Print Recipe
Ingredients
1 10-

oz

chicken breast

-

(300g)

1

medium

zucchini

1

medium head

cauliflower

1

clove

garlic

-

(crushed)

1/2

tsp

salt

1/2

tsp

ground cumin

1/2

tsp

ground coriander

1/2

tsp

curry powder

2

Tbsp

olive oil

salt

pepper

1

hand full

fresh coriander leaves
Instructions
Preheat the largest pan with lid you have over medium heat.

Add salt, cumin, coriander, curry powder, crushed garlic and olive oil to a large bowl and mix well together. You can use your finger for that, no need to get a whisk dirty :P

Wash and dry chicken breast and place in bowl turning around to be covered in marinade, then take out and place on cutting board. Salt and pepper in addition on both sides.

Cut up cauliflower into bite-sized florets, wash and drain well in between your hands, no need to get a colander dirty :P add to large bowl and mix with your hands to work in the marinade into the little nooks of the cauliflower florets with your fingers.

Wash and slice zucchini discarding the ends. Sprinkle salt and pepper over it. Set aside.

The pan should be hot by now. Add a tiny splash of oil into the pan, and add chicken breast flat into pan. Fry for 1 minute on one side, turn and then add zucchini and cauliflower into the pan.

Cover pan with tight-fitting lid and immediately reduce heat to low.

Set a timer for 10 minutes.

Once timer goes off, remove pan from heat but leave lid ON the pan. NO PEEKING. Not even once!

Set a timer for 10 minutes again.

Once timer goes off the second time (10 minutes on low + 10 minutes in heat remaining in closed pan = perfectly juicy chicken breast) your dinner is ready.
What's your clean eating vibe?
Take this fun QUIZZ and find out in 10 seconds!