One of the most exciting things about summer has got to be the fact that we can make the best Fruit Salad. In-season fruit is simply incredible! There is so much variety to choose from.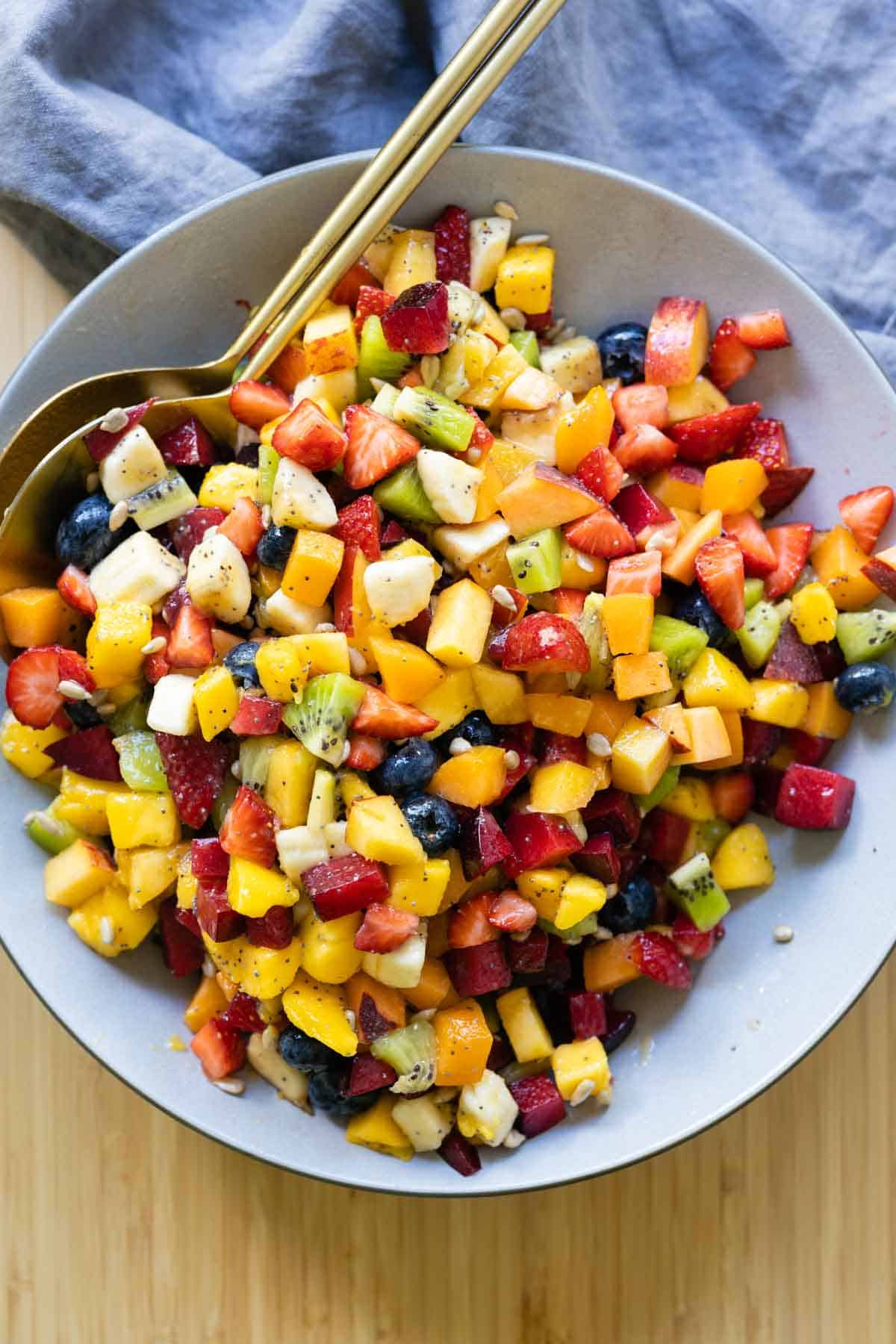 I know you might be thinking, who needs a recipe for fruit salad? It's so easy! But there are a few tips and tricks I want to share with you that might take your fruit salad to a whole new level. Don't we all want to be the one who makes the BEST fruit salad?
Tips and Tricks for the Best Fruit Salad
Use fruit that is in season! Lots of stone fruit in summer, and apples and pears in fall, for example.
Use a large variety of fruits—at least 8 fruits of at least 5 different colors. Consider the inside color of the fruit and not just the peel, sometimes the inside looks very different from the outside.
Use a few seeds for texture and flavor. Sunflower and poppy seeds are my absolute favorite for fruit salad.
Choose ripe but firm fruit. Unripe super hard fruit will be sour or bitter, and overripe fruit will just turn to mush in a salad. When choosing stone fruit or kiwi, make sure it gives gently pressing against it but not too easily.
Cut fruit into smaller pieces. Most recipes call for cutting fruit into "bite-size" pieces, but then you'll only end up with two or maybe three different fruits on your spoon when you're eating it. I like it much better when the fruit is cut way smaller, about 1/2″ inch, so when you take a spoonful you have almost all different fruits in one bite. This creates an absolute flavor-explosion, which is the key to making the best fruit salad in my opinion.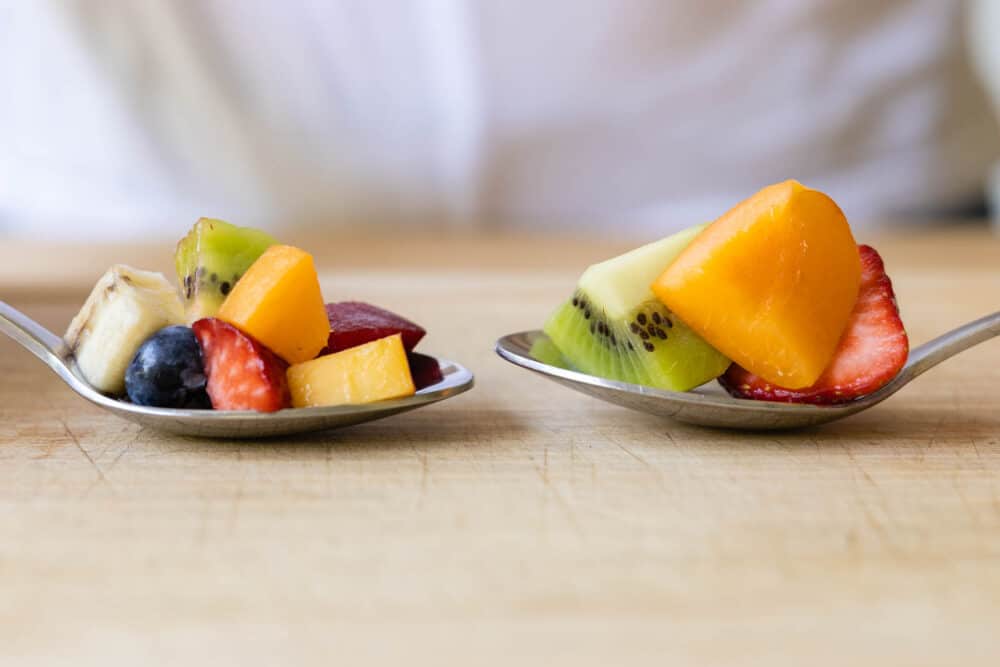 Ingredients and Substitutions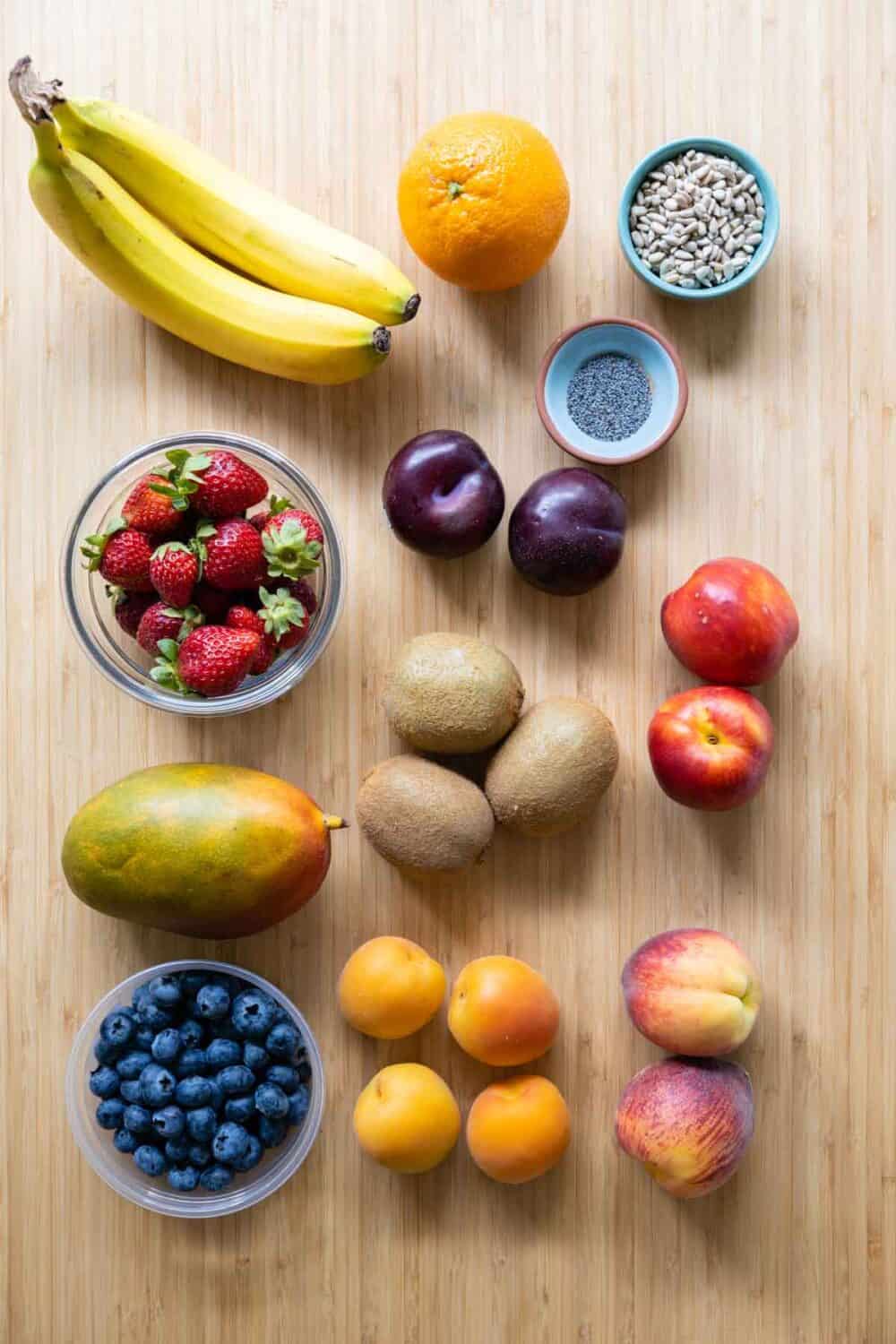 This exact combination of fruits is what I used for my Summer Fruit Salad, and is my absolute favorite favorite favorite! It is hands down the best fruit salad. Once you've tried it, you will want to make it every day, all summer long.
Bananas
Strawberries
Mango
Blueberries
Plums
Kiwi
Apricots
Nectarines
Peaches
Orange (juiced)
Sunflower Seeds
Poppy Seeds
To get a free downloadable pdf with a list of fruits sorted by colors and seasons click HERE.
How to Make the Best Fruit Salad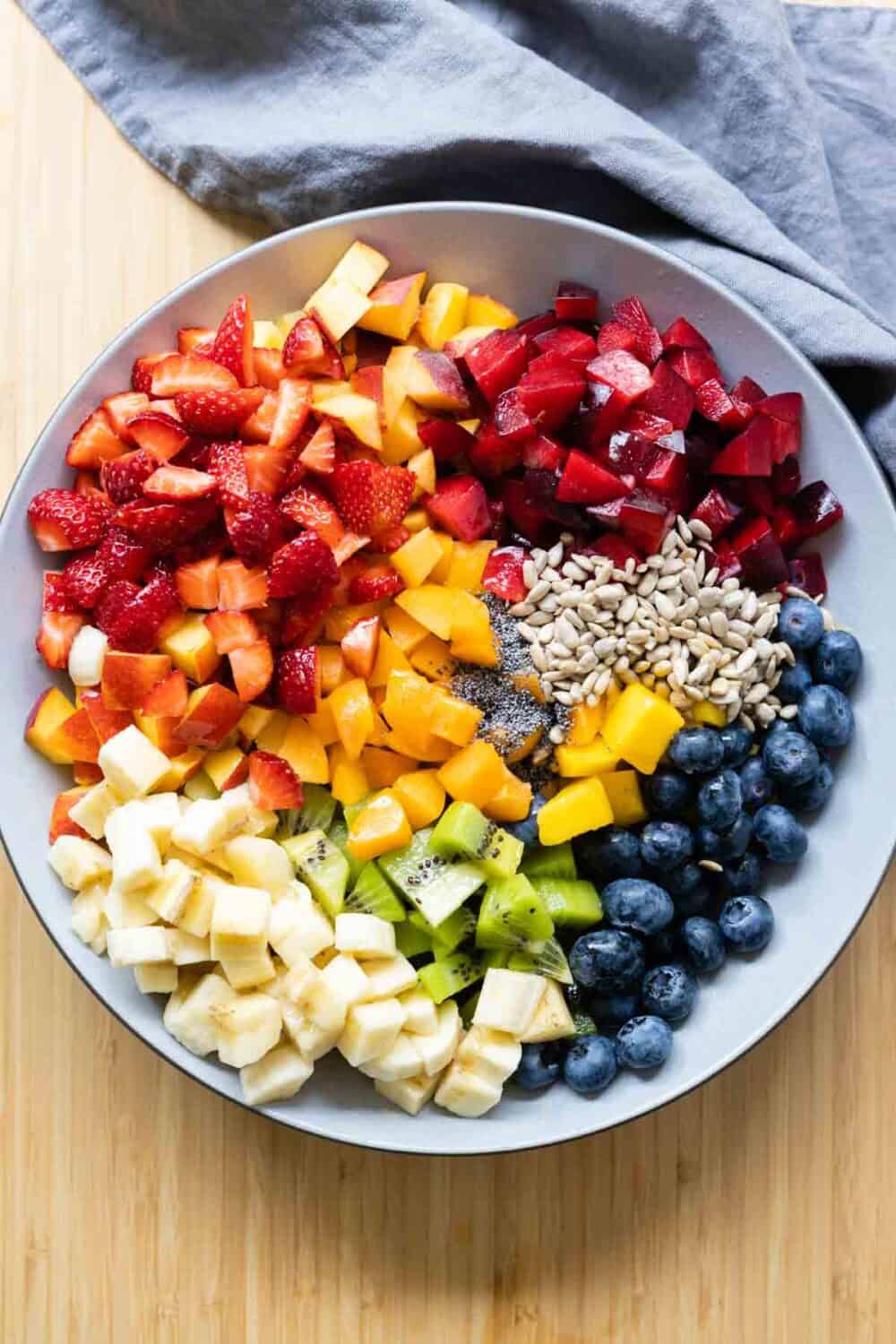 Wash and dry fruit – It is important that after washing the fruit you dry it really well so it doesn't water down your salad. I like using a clean kitchen towel for most fruit and a paper towel for the fruits that easily stain. Getting strawberry stains out of kitchen towels is not really my favorite thing to do.
Peel the fruit – for fruits that need to be peeled, I love using a serrated peeler. It makes peeling so much faster. But you can also use a straight peeler if you don't have one.
Cut the fruit – depending on the type of stone fruit and its ripeness, it might be easier to cut along the center of the stone and then twist both halves. Or, you can cut next to the stone and around it. If you have to force the fruit while twisting, it is better to cut around it so the fruit doesn't become mush.
A useful tip when cutting strawberries: don't cut off too much when removing the green part. Strawberries are expensive! Instead, use a pointed knife and poke it into the tip of the strawberry. Twist it to remove only the green and white parts.
Assemble your salad – once you cut all your fruits into small pieces, add them to a large bowl. The bigger the bowl the easier it is to mix later on.


An important tip

: If you are having some leftover fruit salad, try to avoid fruit that browns quickly. Bananas, apples, pears, and dragonfruit, for example, brown within minutes of cutting them open. If you want to prepare your fruit salad ahead of time knowing there won't be leftovers, you can add that type of fruit right before serving. I love love love banana in my fruit salad, so I always add that last.
Add some juice – drizzle some orange or clementine juice over fruit that tends to brown fast to slow down the oxidation process. Drizzle the rest of the juice all over the rest of the fruit simply because it tastes incredible.
Add some seeds – lastly, add just a tiny bit of sunflower seeds and poppy seeds if you like. Give the salad a good stir and voila!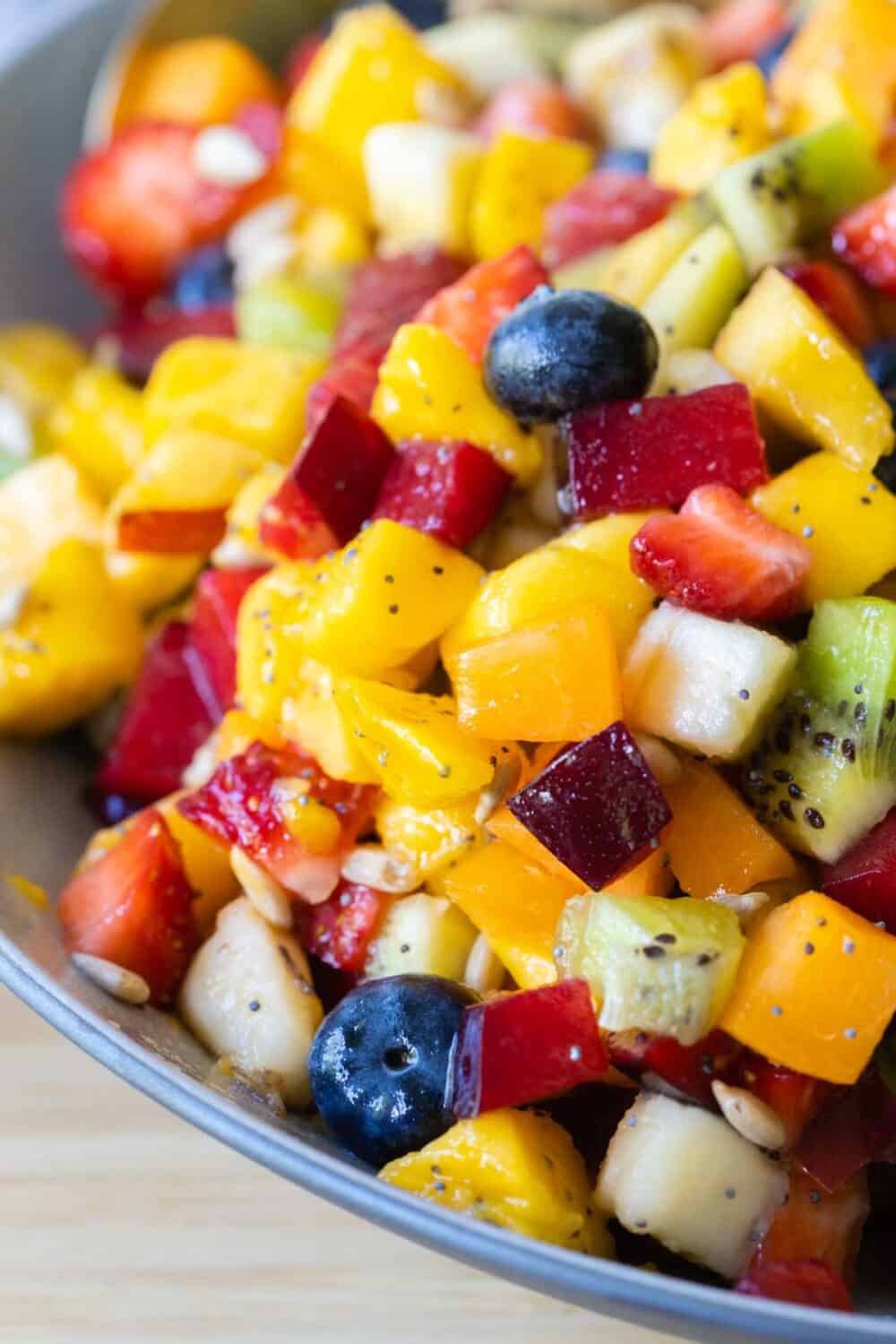 Frequently Asked Questions
Can you make fruit salad ahead of time?
Yes! Fruit salad tastes best when eaten fresh, however, it is possible to make it ahead of time if needed. Consider preparing it a few hours in advance and up to the night before and store it in an airtight container. Add some citric juice to prevent fruit from browning, like orange, clementine and even pineapple juice. If you are using fruits that brown quickly, like bananas, apples or pears, consider adding them just before serving.
Can I store leftover fruit salad?
Yes. If you end up with leftover fruit salad, you can store it in an airtight container in the fridge for up to 3 days. You can also freeze it and use it for smoothies for up to 8 weeks. Yum!
Other Fruit Recipes
These are some of my favorite summer recipes that also include fruit, hope you enjoy them!
Fruit Salad
One of the most exciting things about summer has got to be the fact that we can make the best Fruit Salad. In-season fruit is simply incredible! There is so much variety to choose from.
Print Recipe
Pin Recipe
Ingredients
4

apricots

2

peaches

2

nectarines

2

plums

1

mango

1

cup

strawberries

1

cup

blueberries

2

bananas

1

orange

2

Tbsp

sunflower seeds

1

Tbsp

poppy seeds
Instructions
Wash and dry all fruit. Peel and destone as needed, then cut into about 1/2" pieces. Approximately the size of blueberries.

Add all cut-up fruit to a large bowl, drizzle orange juice over everything and sprinkle sunflower seeds and poppy seeds into the salad and give it a good stir.

Serve shortly after preparing.
Nutrition
Calories:
176
kcal
|
Carbohydrates:
38
g
|
Protein:
4
g
|
Fat:
3
g
|
Saturated Fat:
0.3
g
|
Polyunsaturated Fat:
1
g
|
Monounsaturated Fat:
1
g
|
Sodium:
15
mg
|
Potassium:
544
mg
|
Fiber:
6
g
|
Sugar:
28
g
|
Vitamin A:
1311
IU
|
Vitamin C:
52
mg
|
Calcium:
51
mg
|
Iron:
1
mg
What's your clean eating vibe?
Take this fun QUIZZ and find out in 10 seconds!