Sometimes, when I need it the least, I have the blankest mind ever. I took a meditation course a while ago and never, I repeat, NEVER, managed to completely blank my mind to meditate and concentrate on the here and now. When I want and need to write a post, though, I am totally capable of staring onto a white screen, listen to the radiator crack, feel the smoothness of my wooden floor, the heaviness of my hands on the keyboard, the lightness of the hair on my scalp…and think about nothing at all. Yes NOTHING. Not even "hm, what could I write" or "how should I start". I just stare and think about nothing at all and then suddenly wake up and realize, oh ya right, I was going to write a blog post, what time is it? For me, the writing is probably the most difficult part about blogging. I love cooking, I love arranging the food so it looks pretty and I love photographing it and editing the pictures, I probably don't love but I quite like promoting the recipes on social media and of course I love the natural consequence of food blogging: EATING! The writing, however, doesn't come quite that natural to me. Maybe I haven't been in the business long enough to have words shoot out of my fingers without even thinking about it. Maybe I'll just have to keep practicing my writing skills. Practice makes perfect…..eventually at least. So in the meantime I hope you forgive my digressing all the time to topics totally unrelated to food or blogging or anything relevant  to you at all. Shall we talk about Dinsneyland?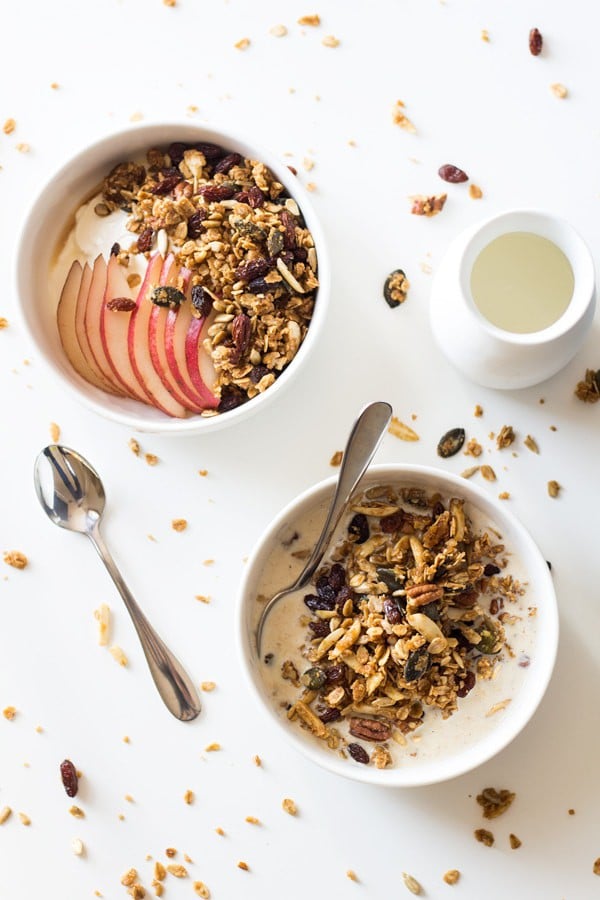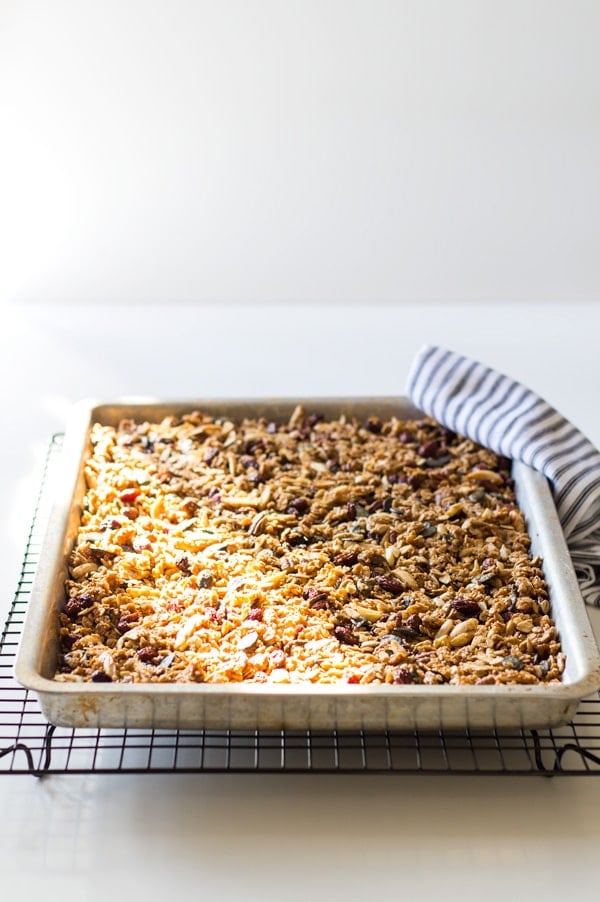 Well then, I've been researching the possibility of taking the kids to Dinsneyland in the "nearish" future (meaning sometime next year) because as of September 2016 my boy will be going to school school. Like the real thing, the one where you can't just decide to have them skip a week to go on a holiday outside of high season to reduce expenses. He'll be in school school and we will have to stick to holidays only during school holidays. I was never quite sure what the best age is to go to Disneyland. They should obviously be old enough to  get what it's all about and old enough to remember the one or other thing after the event and old enough to make it through a whole day of overstimulation until late at night with fireworks. Most commenters I've read about the age topic and Disneyland suggest 4 is the minimum age to take out the juice of such a visit. If you live next to Disney earlier might be fine because you can return several times if the first didn't turn out that well, but if you (like me) live quite far and have to pay for flights etc. it might be a good idea to think and rethink when the best moment is.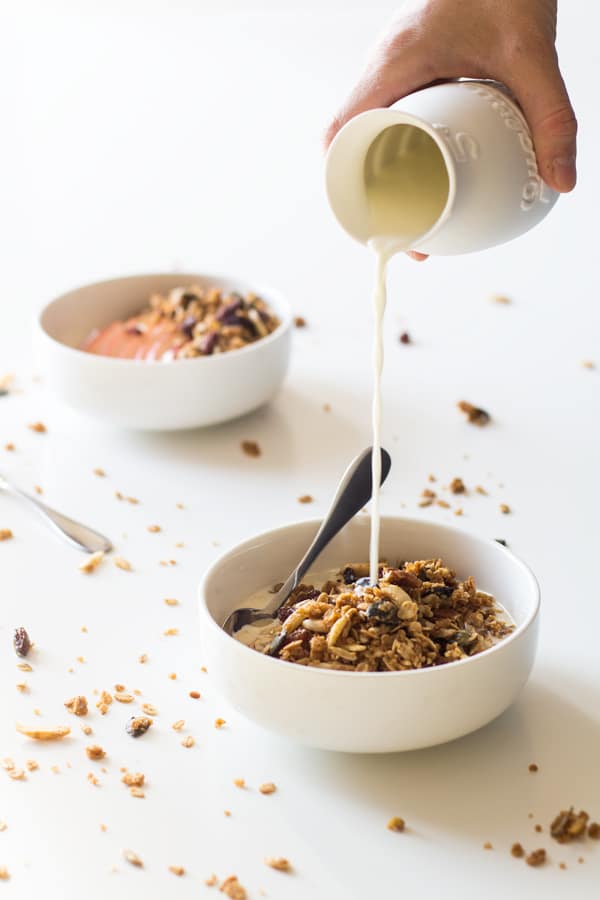 My daughter already turned 3 and my son will start school in September, a month shy of his 6th Birthday. I'd say anytime before that next year is pretty much THE BEST moment we could choose. BESIDES, a big big big advantage we have when going to L.A. is, that Grandma "Oma Ale" lives there!!! We haven't visited her ever since Felix was 8 months old. She has visited us several times and we've seen her in Mexico City over Christmas of course but we haven't been to her place in over 4 years now and we miss her! So how about that Oma Ale? See you next year? Fancy taking your grandchildren to the most amazing place EVER with us? They'll want to move in with you forever. I know it. Haha.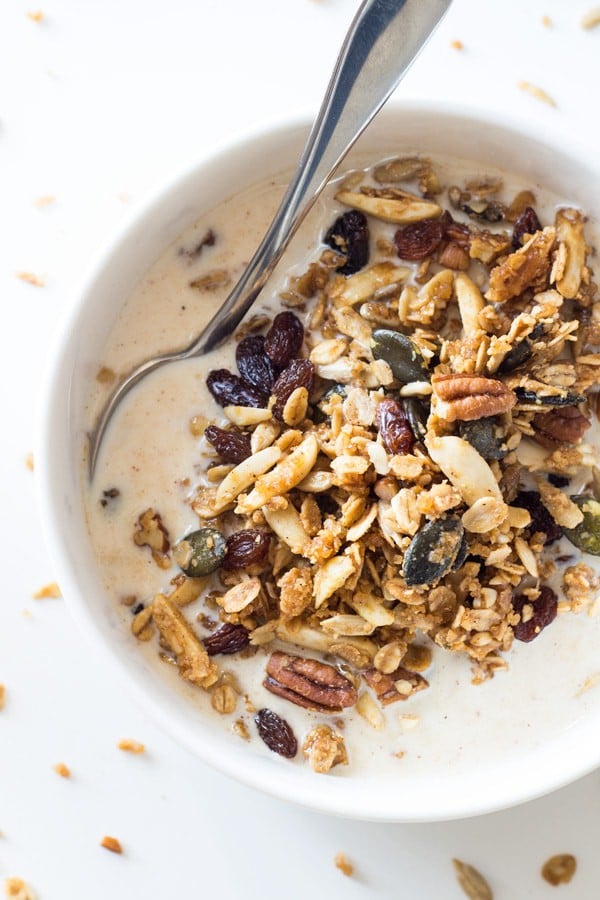 If any of you lovely readers have taken small kids to Disneyland, pleeeeease share all your advice and tips and tricks in the comments below so we can make this trip unforgettable for them. I can't wait to plan the trip and eventually tell them. I won't be able to tell them more than 5 days in advance. Going to sleep for more than 5 nights is beyond their horizon and the asking "how many more nights" drives me insane after 5 days so I'll have to bear the waiting all by myself for now….
So now, no more rambling about life and daydreams, focus on the here and now. What do you see? A bowl of crunchy granola! A bowl of Christmas spiced oats, almonds, pecans, sunflower seeds, pumpkin seeds and raisins! The piloncillo (an unrefined whole can sugar), cake spice and cinnamon screeeeeam CHRISTMAS IS APPROACHING!!! I know, I know, I know, still another 42 days and 14 hours and 39 minutes (at the time of writing this) until Christmas but isn't it all about the anticipation? As a kid I obviously loved Christmas and the older I got the less I cared about it. Eventually I even became The Grinch. Couldn't understand all that hipe about Christmas at all. The more Christmases we have with the kids and to see the sparkle in their eyes with all the decorations everywhere and the anticipation for some gifts just made fall in love with Christmas all over again, just like when I was a kid *sigh*
Healthy Homemade Granola
Print Recipe
Ingredients
2

cups

old fashioned rolled oats

1

cup

old-fashioned rolled oat flour

1

cup

almond slivers

1/2

cup

pecans

-

(roughly chopped)

1/2

cup

sunflower seeds

1/2

cup

pumpkin seeds

1

tsp

cake spice mix

-

(mix of cinnamon, star anise powder, ground cloves, nutmeg, allspice and ground ginger)

1/2

tsp

cinnamon

1/2

cup

butter

-

(110g/1 stick)

200

g

piloncillo/panela/rapadura sugar

-

(unrefined whole cane sugar)

1

tsp

vanilla

1

cup

raisins
Instructions
Preheat oven to 300 F (150°C).

Add piloncillo/panela to a saucepan and add about 2 Tbsp of water and melt the sugar over low heat, stirring often (this takes at least 10 minutes). Once almost melted, add butter to melt, too.

Put 1 cup oats into a blender or small food processor and process until you have fine flour.

Add 2 cups whole oats and oat flour to a big bowl.

Add nuts, seeds, and spices.

Once sugar and butter are all melted, add vanilla and whisk until well combined.

Pour sugar/butter mixture over dry ingredients and mix well until all dry ingredients are wet.

Spread out on a large baking sheet lined with parchment paper (important!) and pop in the oven for 20 minutes.

Take out of the oven, add raisins and stir well. Return into the oven for another 20 minutes.

Take out and let cool down completely before touching, then break into big clusters.

Enjoy with yogurt or milk and fresh fruit.
What's your clean eating vibe?
Take this fun QUIZZ and find out in 10 seconds!
Make this Healthy Homemade Granola right now and enjoy the joy-bringing anticipation of Christmas every single morning until the BIG DAY!!
Just before the big day, make sure to make an extra batch to give away in jars with pretty bows. Food gifts are by far the best gifts. Mostly the non-refridgeable foods sold in stores are the most unhealthy there could be though. So why not give away delicious AND healthy food in adorable packaging? People will love you FOREVER!! Promise ;)