I got many many many Granny Smith apples in my produce box last week and unfortunately they were incredibly sour and I couldn't bring myself to eat them just like that. First I thought of a million ways to include them in a sweet dish but whatever I tried I ended up using a large amount of natural sweeteners to make them tasty. Still with half a cup of coconut sugar in the green apple pie my kids made funny faces. They ate it, which is a good sign I guess, but it was still so sour they looked like they had bitten in a lemon. That is when I figured, hey! Why not create a salty/sour dish with the apples instead. We all love lemons in salad dressings and on tacos, there must be a way to make those green apples more appealing and palatable. My Green Apple Salmon Avocado Salad with honey mustard dressing was born shortly after and devoured right from the photography base board.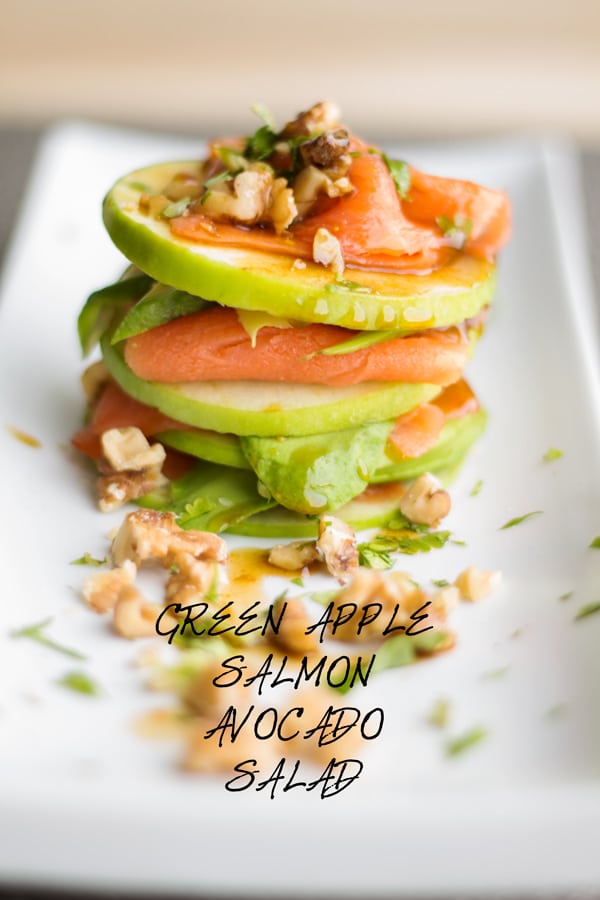 Once again I proved to myself what my mother used to preach to me and what I preach to practically everybody I talk about food with: "there is no such thing as an unenjoyable food, only wrong ways to prepare it".
This Green Apple Salmon Avocado Salad is it all – salty, sour, sweet, crunchy, chewy, soft and hard. A true symphony of flavors and textures. Oh, and don't you think it looks just gorgeous? Imagine preparing this for you, yes you, not a guest, you! Then sit at your dining table and enjoy your fancy restaurant looking salad and feel amazing because it is made of 100% real food ingredients.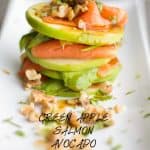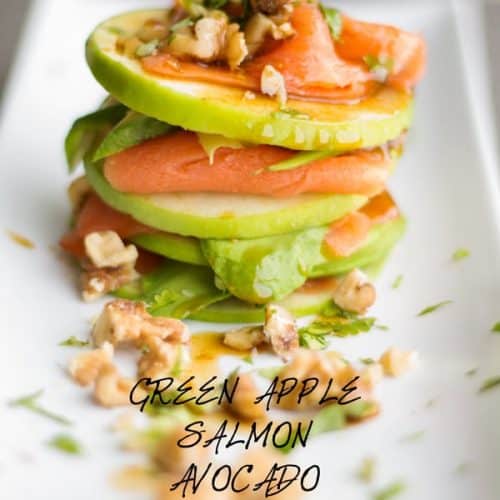 Green Apple Salmon Avocado Salad
Print Recipe
Ingredients
1

granny smith apple

40-60

g

smoked salmon

1/4-1/3

ripe avocado

1

small hand full walnuts

10

fresh coriander leaves

1/2

tsp

dijon mustard

1

tsp

honey

1

tsp

balsamic vinegar

1 1/2

Tbsp

olive oil
Instructions
Wash apple and cut into thin rounds, then core (so you have apple rings)

Cut one side of a ripe avocado and peel.

Layer apple, salmon and avocado, starting with apple and finishing with salmon (use only big middle rings)

Coarsely chop walnuts and sprinkle over dish.

Coarsely chop coriander leaves and sprinkle over dish.

Add dijon mustard, honey, balsamic vinegar and olive oil to a sealable container (e.g. mason jar), seal and shake vigorously until vinaigrette is well mixed. Take a spoon and pour over dish with spoon.
What's your clean eating vibe?
Take this fun QUIZZ and find out in 10 seconds!