Again I was given a challenge by a friend. This time I was asked if I could create a healthier granola bar than the store bought ones and one that did not contain nuts because they were intended for her daughter to take with her to preschool where nuts are a big no no in Canada. Oh AND it should be chewy, not crisp. I accepted the challenge and about 10 kg of oats later….uhm, well not quite, but almost…you tell me if my recipe satisfies all requirements.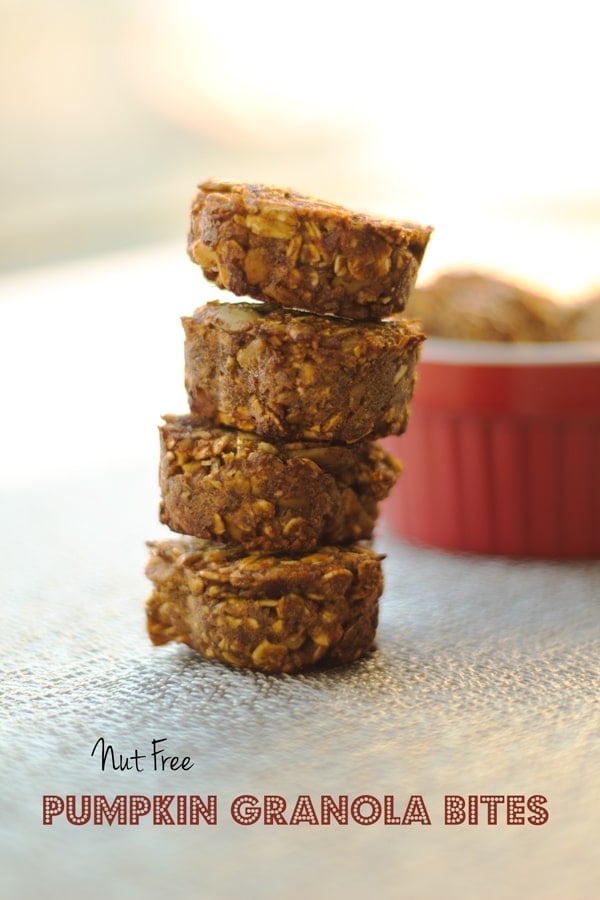 Store bought granola bars are usually stuck together with sugar cane juice or even worse sweeteners and waaay to much of it of course. Many of the store bought bars contain some refined grains other than the oats as well. Here I present you a recipe easier to make than getting dressed up and going to the store to buy some. Give it a try!
Nuts contain considerable amounts of magnesium, calcium and iron which is the healthiest part about nut containing granola bars so I had to find a good substitute to offer the same nutritional benefits but avoiding risks of allergic reactions in children going to preschool with the little girl. Which is the perfect replacement? SEEDS!!! Yes! Pumpkin seeds for example contain almost the same amounts of magnesium and iron as almonds but with a lot less fat. Sunflower seeds contain much higher amounts of magnesium and higher amounts of iron than almonds and in addition offer Vitamin B-6. How amazing is that?! Both seeds contain less calcium than almonds but the calcium is provided by the chia seeds in the recipe, which together with the pumpkin puree and maple syrup function as glue to hold the bites properly together and convert them in unmessy finger food. Now, pumpkin seeds are kind of bitter. My kids and myself love them, even just like that as a snack, but if you don't like them you can easily replace them by more sunflower seeds.
The oats in the recipe offer incredible amounts of Manganese and the pumpkin offers high amounts of Vitamin A and a fair amount of Vitamin C which will help your body absorb all the iron the oats and seeds contain.
In terms of flavor, the pumpkin puree and pumpkin spice and cinnamon give these granola bites a christmasy smell and flavor. Hmmmm, yum!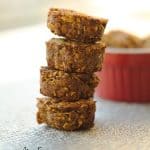 Nut Free Pumpkin Granola Bites
Print Recipe
Ingredients
1/2

cup

old fashioned rolled oats

1/3

cup

sunflower seeds

5

medjool dates

1/2

cup

pumpkin puree

3

Tbsp

maple syrup

2

Tbsp

ground chia seeds

1/2

tsp

pumpkin spice

1/2

tsp

cinnamon

1/2

cup

old fasioned rolled oats

1/3

cup

pumpkin seeds

-

or sunflower seeds if preferred
Instructions
Preheat oven to 350 F (180 C).

Add first 5 ingredients into food processor and process until a creamy paste forms. (A blender might work but will most likely require a lot of scraping down the sides, while the blender is OFF, of course).

Once the creamy paste has formed slowly add ground chia seeds, pumpkin spice and cinnamon while processor is running.

Now fold in 1/2 cup of rolled oats and pumpkin or sunflower seeds, according to your choice, by hand, to keep them whole.

Spoon into a silicone mold or small silicone muffin forms and compact with the spoon.

Bake for about 22 minutes.

Take out of the oven and let cool completely before taking out of mold.
Nutrition
Calories:
67
kcal
|
Carbohydrates:
11
g
|
Protein:
2
g
|
Fat:
2
g
|
Saturated Fat:
1
g
|
Trans Fat:
1
g
|
Sodium:
1
mg
|
Potassium:
104
mg
|
Fiber:
2
g
|
Sugar:
6
g
|
Vitamin A:
964
IU
|
Vitamin C:
1
mg
|
Calcium:
21
mg
|
Iron:
1
mg
What's your clean eating vibe?
Take this fun QUIZZ and find out in 10 seconds!