I hear from so many people "I wish I ate more salad" followed by "but it just never crave it" or "but I find it so boring to eat" or "but I just don't like it". I never really understood those comments. Salad is my FAVORITE dish. Seriously. If I had to choose one type of dish to eat until the end of times it would be salad because it's so versatile, you can include pretty much any ingredient and the taste is always different because of the dressing. At least that's how I see salad and that's when I realized what the problem was with people not liking/craving salad. Old lettuce leaves that have started to wilt in the fridge with either no dressing or just any oil, any vinegar, salt and pepper drizzled and sprinkled on top instead of mixed well together first before adding to the wilted, grass-smelling and tasting salad doesn't appeal to me either at all of course. I mean, look at this Romaine Lettuce Salad With Herb Vinaigrette, doesn't this look so much more appealing than wilted leaves?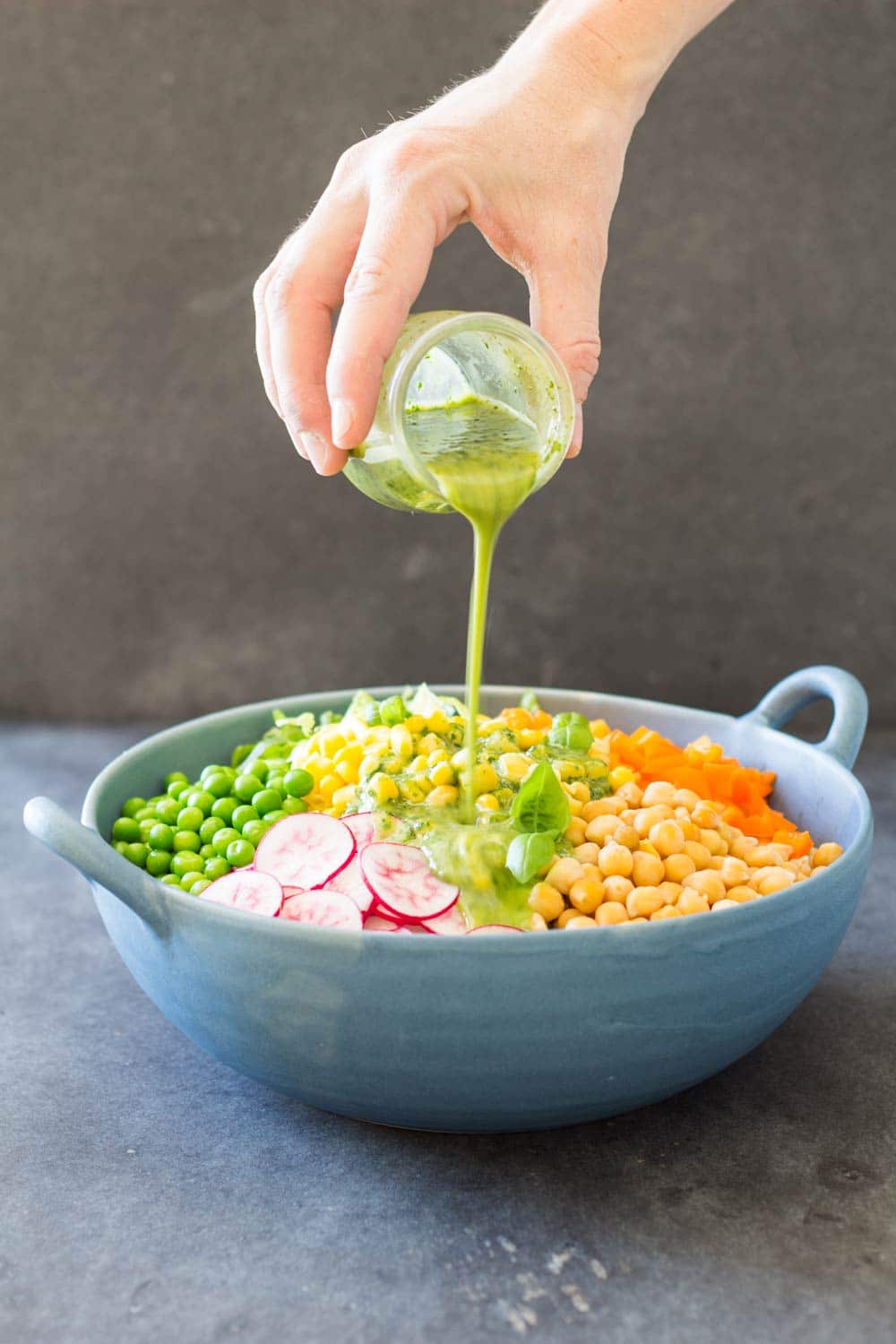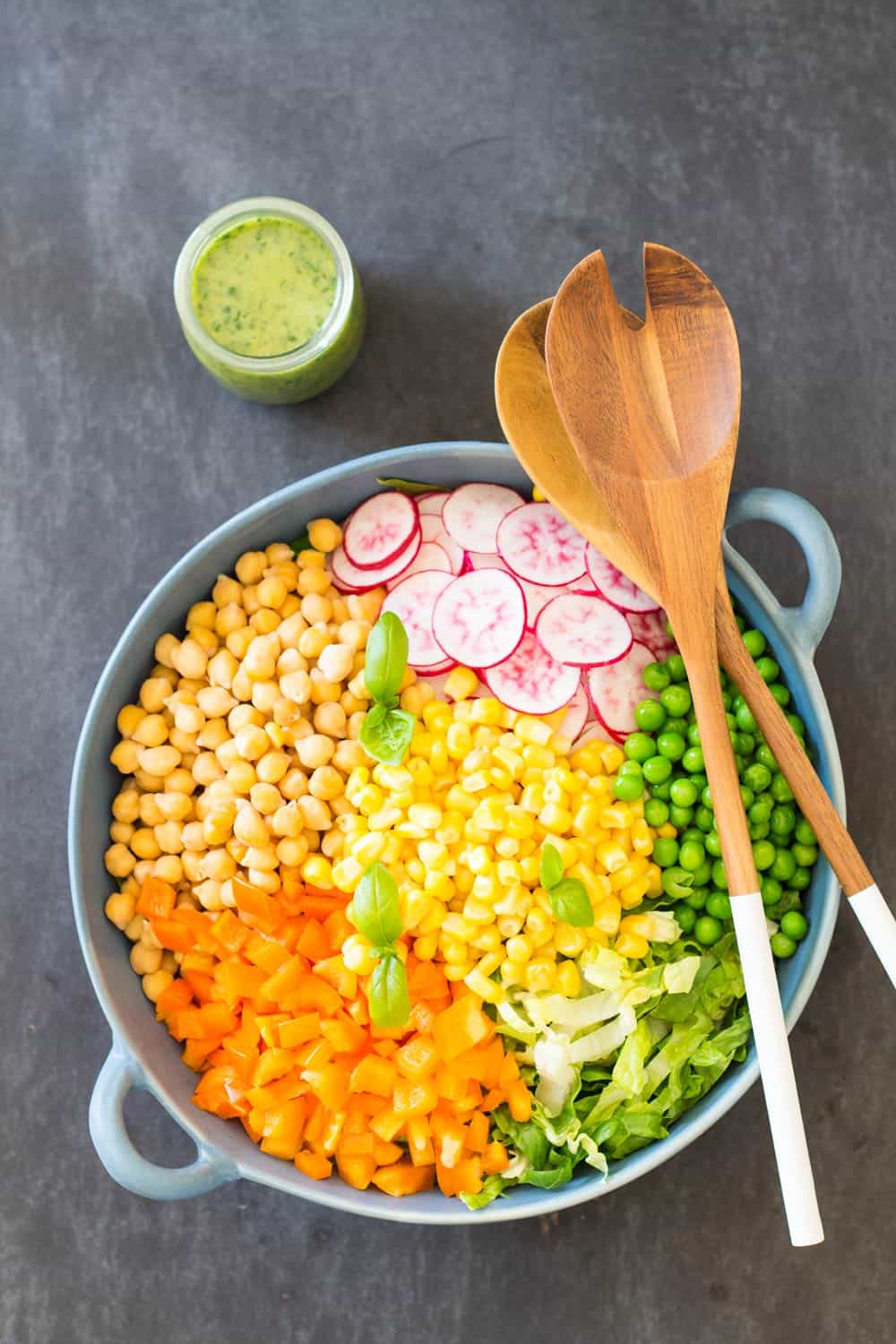 Here are 5 tips to start loving salad
Buy your lettuce and prepare it either the same or max. the next day. Don't store it for longer than 2 days in the fridge. The longer you store it the more it wilts and the more it tastes like grass. Gross! Ewww!
Include at least another 2 colorful vegetables that you like to your lettuce that give great contrast such as bell pepper, tomato, radish, sweet corn….the list is endless. If you want the salad to be a main dish, don't forge to add a protein such as legumes, boiled eggs, cheese or stripes of meat.
If using baby leaves you don't have to cut them but if you are using big leaves cut them into

thin

stripes and the extra vegetables should also be cut into

small

pieces. The bigger every single piece the less mix you'll be able to load onto your fork. If you want to enjoy the taste explosion of several ingredients in your mouth at once you HAVE to cut everything chickpea size. Take that extra 5 minutes to cut everything into

small

pieces.
Prepare a

proper

dressing in a

separate

 container to make sure it's all mixed instead of having the salt roll around the leaves and fall to the bottom, and the oil stick to only every second leave making the whole salad tasteless at first and waaay too salty at the end. Add herbs to your dressing, add good quality oil, add

little

vinegar or lemon juice, add a tiny bit of natural sweetness to the dressing (I'm talking maple syrup, honey, fruit juice, something like that). Use fancier seasoning for your dressing like dijon mustard or miso instead of salt and pepper for a change. And most importantly, do not add the dressing to the salad until seconds before digging in because over very little time it becomes soggy.
Serve it in a pretty bowl, not just a dented stainless steel mixing bowl and share it with friends!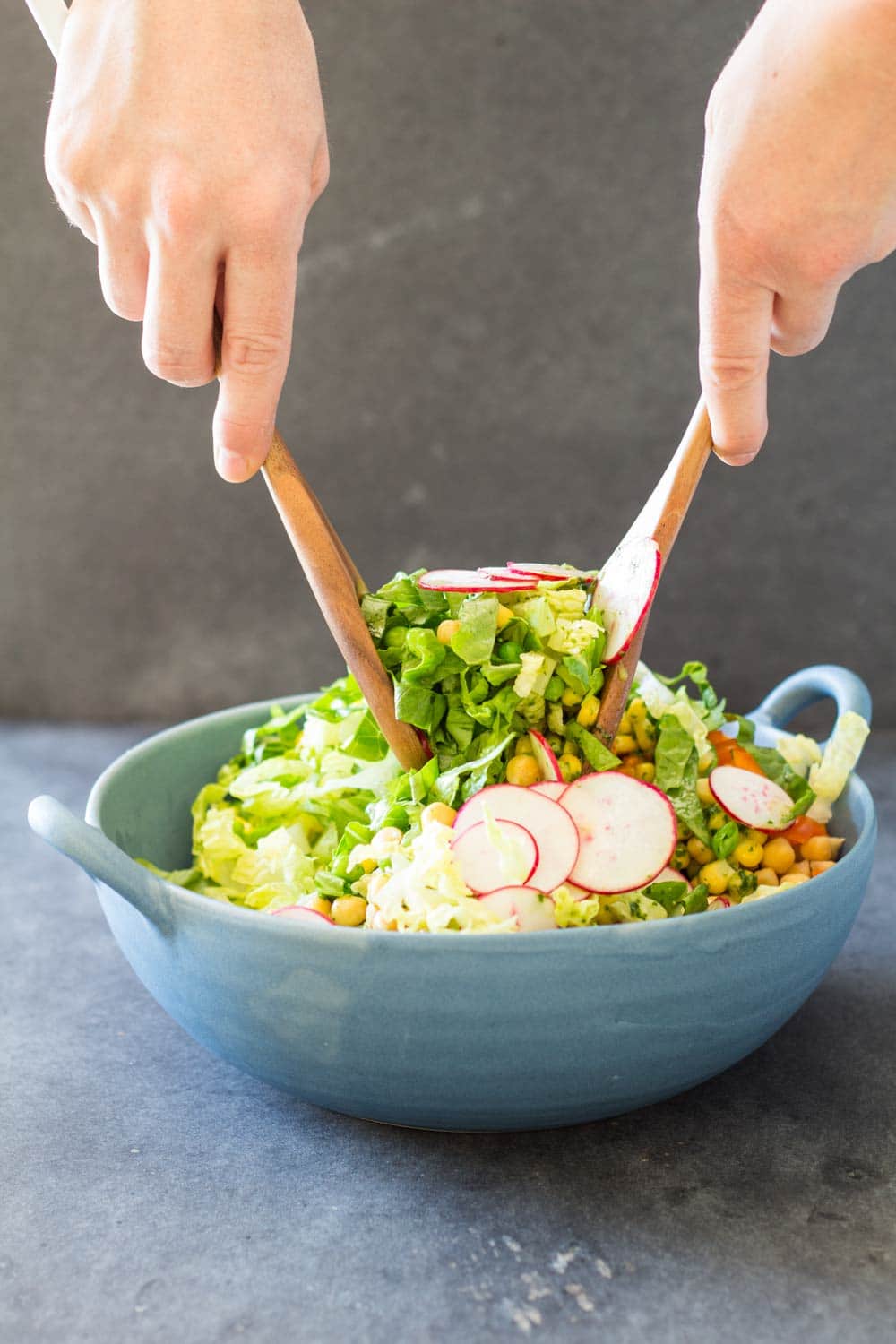 In this Romaine Lettuce Salad with Herb Vinaigrette I cut the romaine lettuce into very fine stripes, about 1/4″ (0.5 cm), I sliced radishes with a mandolin to make them translucently thin, I cut up an orange bell pepper because I already have green in the leaves and red in the radishes and yellow in the corn, I added fresh green peas and yellow sweet corn because they are already small and don't require any chopping thus saving me chopping time and I added chikpeas because in salad chickpeas are my favorite vegan protein. I also made a "fancy" dressing adding fresh coriander and basil to a base of mustard, orange juice and olive oil and a very mild vinegar (rice vinegar). Make a salad you simply will.not.be.able.to.resist! And you'll start dreaming about salads in general.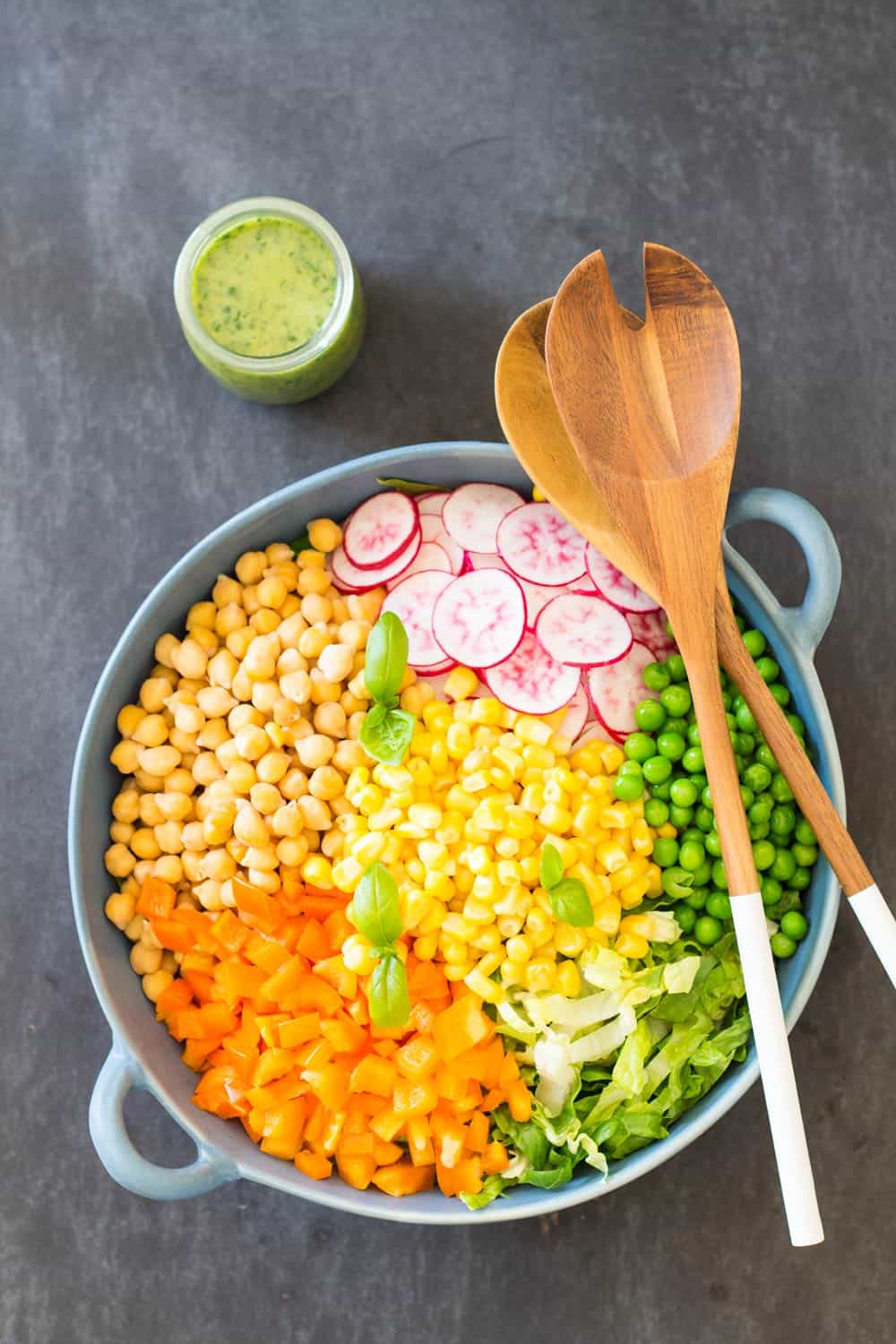 Now go get the ingredients, take 15 minutes out of your day to prepare it and DIG IN! For more inspiration on fancy salads check out the Salad Category on Green Healthy Cooking. It is drool-worthy and I am certain you will find your absolute favorite there!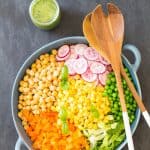 Romaine Lettuce Salad With Herb Vinaigrette
Print Recipe
Ingredients
1

large head

romaine lettuce

1

orange bell pepper

1

cup

cooked chickpeas

1/2

cup

frozen cooked corn

1/2

cup

frozen green peas

3-4

red radishes

1

cup

fresh coriander leaves

1

cup

fresh basil leaves

3.5

Tbsp

fresh orange juice

-

(I got his out from 1 medium sized orange)

1

Tbsp

dijon mustard

4

Tbsp

olive oil

1

Tbsp

rice vinegar

1/2

Tbsp

maple syrup
Instructions
Cut romaine lettuce into thin stripes, wash, spin dry and add to salad bowl.

Wash radishes and cut off top and bottom, then thinly slice with a mandolin or with a sharp knife. Place on romaine lettuce.

Wash and deseed bell pepper and cut into chickpea sized pieces. Place on top of romaine lettuce.

Rinse and drain chickpeas and place on top of romaine lettuce.

Add frozen corn and frozen peas to a collander, pour boiling water over them while shaking and let drain well. Place on top of romaine lettuce.

Wash and destalk coriander and basil.

Add herbs, orange juice, oil, mustard, vinegar and maple syrup to a blender and blend well until all herbs are finely chopped up or even pureed. This might require scraping down the sides of the blender (while off of course!)

Add dressing only seconds before serving the salad.
What's your clean eating vibe?
Take this fun QUIZZ and find out in 10 seconds!