These Moist Vanilla Cupcakes are not only super delicious and pretty, they are also gluten-free, dairy-free, refined sugar-free, high in protein and thus super duper extra healthy. Who doesn't love to hear that about moist vanilla cupcakes or cupcakes in general?! Does that mean I can eat more than one absolutely guilt-free? —> a.b.s.o.l.u.t.e.l.y.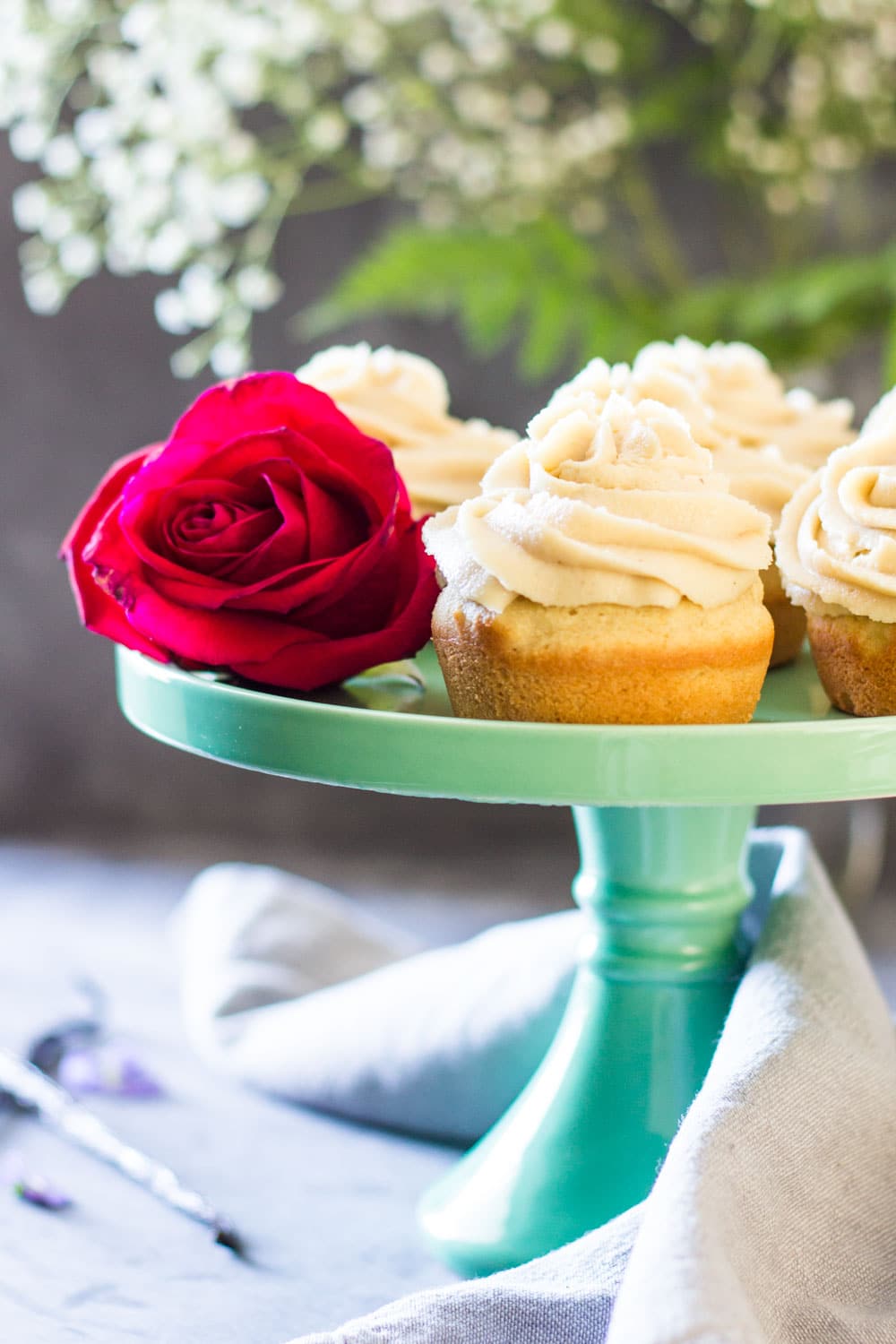 Ready for the list of ingredients? Ok. For the muffins you'll need delicious almond meal or almond flour, however you want to call it, which is high in protein and iron, naturally gluten-free, and tastes heavenly. Then we've got quinoa flour which is also high in protein and naturally gluten-free but also contains all 9 essential amino acids. Can I have a woot woot? Let's continue. Of course we have eggs to stick it all together which also have tons of protein. Coconut oil for so many health reasons I'd have to write a separate blog post about it and of course for moisture. Some baking powder to make it rise. Vanilla to make it taste like vanilla, duh! And my favorite sweetener of all times…..maple syrup!!
For the cashew frosting you'll need the most delicious nut known to mankind: cashews! Coconut oil for consistency. Water for moisture. Vanilla to make it taste like vanilla, duh again! And some more of my favorite sweetener of all times: maple syrup. The frosting recipe is a slight adaptation of the Cashew Buttercream on this cupcakes recipe on the Yummy Beet. Which also looks amazing by the way if you're looking for yet another gluten-free cupcake recipe that tastes amazing :)
So far I've had very few cupcakes in my hand that are both airy and moist at the same time. Theses moist vanilla cupcakes fulfill both of my best cupcakes in the world criteria and so much more. They are airy, moist, juuuust sweet enough, healthy, protein rich, delicious and, guess what, they taste like vanilla!! Yuuuuummm!
I could go on and on and on about the consistency but of course sometimes pictures say more than words. Wanna see how moist these moist vanilla cupcakes really are? See for yourself: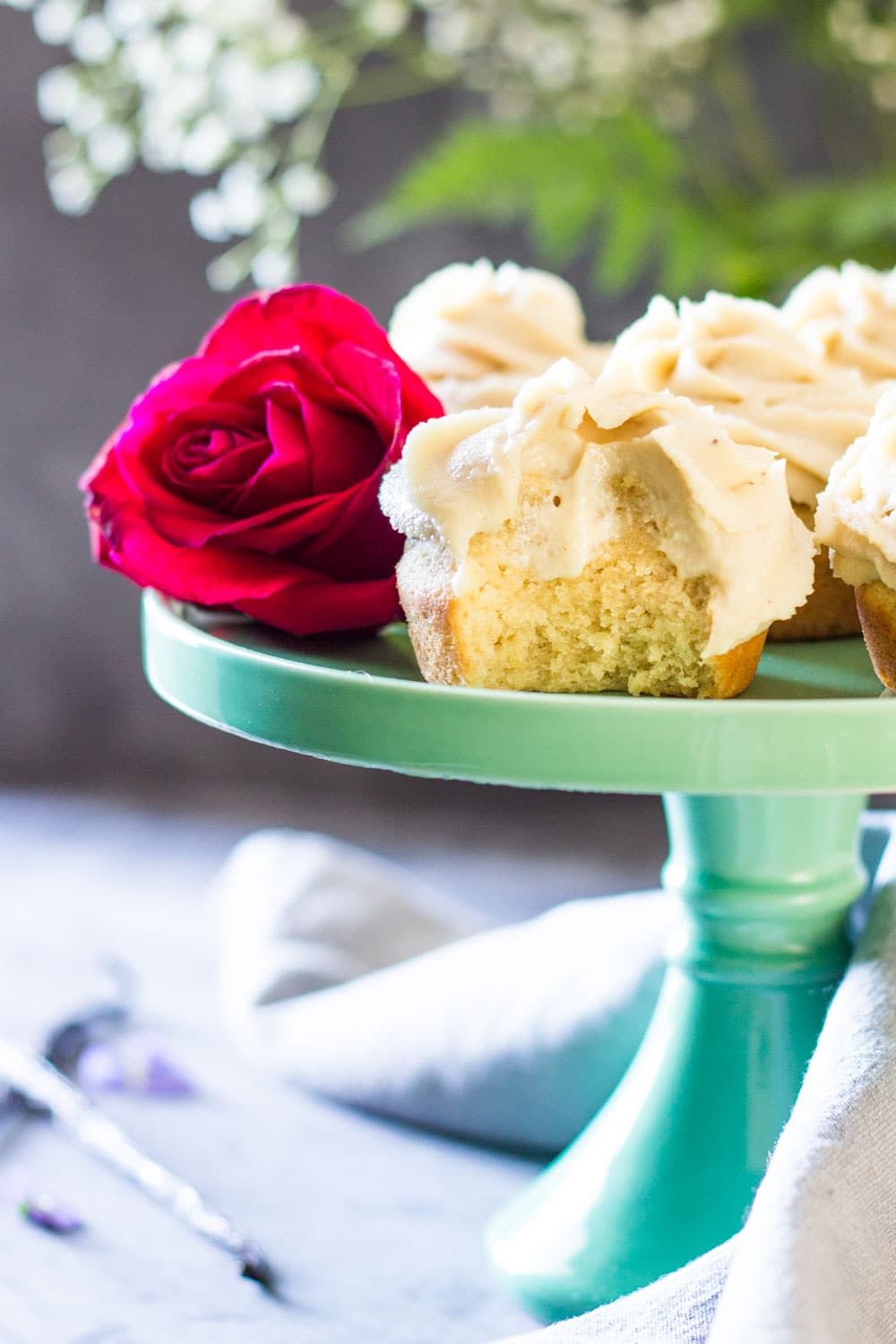 For this photo I first took a small bite, but then figured, um, I think this needs an other little bite, and an other, and an other and suddenly the whole cupcake disappeared. Ups! The second time around I got it just right and here is above you can see the consistency of the spongy moist cupcake.
The cashew frosting is beyond decadent. It is creamy like buttercream but tastes so much better. Buttercream tends to taste good because of the insane amount of powdered sugar added to it. Cashew cream, however, is sweet in itself and thus requires only very little sweetener. The original recipes suggests soaking the cashes overnight. I didn't find this to be necessary however. I soaked them for 2 hours and as you can see, the result is amazing. Creamy textured frosting with cashew vanilla taste.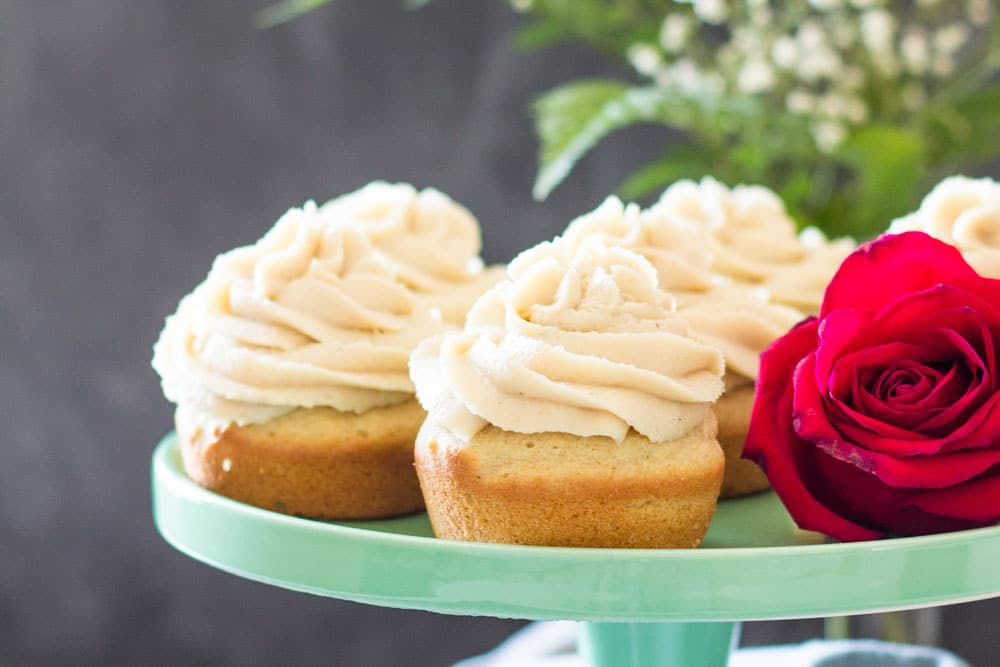 Now let's get to the nitty gritty parts of the recipe: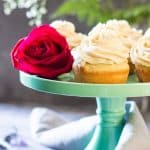 Moist Vanilla Cupcakes
Print Recipe
Ingredients
1 2/3

cups

raw unsalted cashews

-

(200g)

1/2

cup

coconut oil

1/3

cup

maple syrup

1/3

cup

water

1/2

Tbsp

vanilla

1

squirt

lime juice

1

pinch

salt

1.5

cups

almond meal

-

(150g)

3/4

cup

quinoa flour

-

(120g)

1.5

tsp

baking powder

-

(5g)

6

Tbsp

coconut oil

1/2

cup

maple syrup

2

large

eggs

1/2

Tbsp

vanilla extract
Instructions
Soak cashews for at least 2 hours.

Preheat oven to 325 F (160 C).

For the frosting, drain and rinse soaked cashews and add to high speed blender or food processor. I found the Vitamix to work perfect for this because of the stick thingy you put in on top to help the blender blend the content. A regular blender probably won't work. Use a food processor instead then.

Add 1/2 cup melted coconut oil, 1/3 cup maple syrup, 1/3 cup water, 1/2 Tbsp vanilla, a squirt of lime juice and a pinch of salt to the blender/processor and blend until super smooth.

Add the cream to a stainless steel bowl and pop in the freezer for about 15 minutes (set an alarm).

Now prepare the muffins by adding almond flour, quinoa flour and baking powder to a large bowl and whisk together.

In a small saucepan melt 6 Tbsp coconut oil over low low low until juuust melted, add 1/2 cup maple syrup and whisk until well combined. Add eggs one at a time and whisk vigorously. Add 1/2 Tbsp vanilla extract and whisk one last time.

Add wet ingredients to dry ingredients and slowly fold under until just combined. Don't overmix the batter. If there are dry almond meal patches here and there that means one last stroke and you're done.

Grease a muffin tin with coconut oil and divide the batter evenly.

Bake at 325 F for 15 minutes (set a separate alarm).

Use a wooden stick to test for doneness. Insert in the middle of one muffin. If the stick comes out clean the muffin is baked through. If batter sticks to the stick put back in the oven for another 2 minutes.

Take out cream from freezer Whisk the cream to fluff up a bit and stick back in the freezer for another 15 minutes.

Whisk the cream again and either spoon right onto your now cooled muffins or spoon into a piping bag to frost the muffins and turn them into beautiful cupcakes.
What's your clean eating vibe?
Take this fun QUIZZ and find out in 10 seconds!