This Healthy Chicken Wrap is the perfect take-to-work or take-to-school lunch. Besides, it's got the most delicious Yogurt Garlic Sauce you've tried in your LIFE!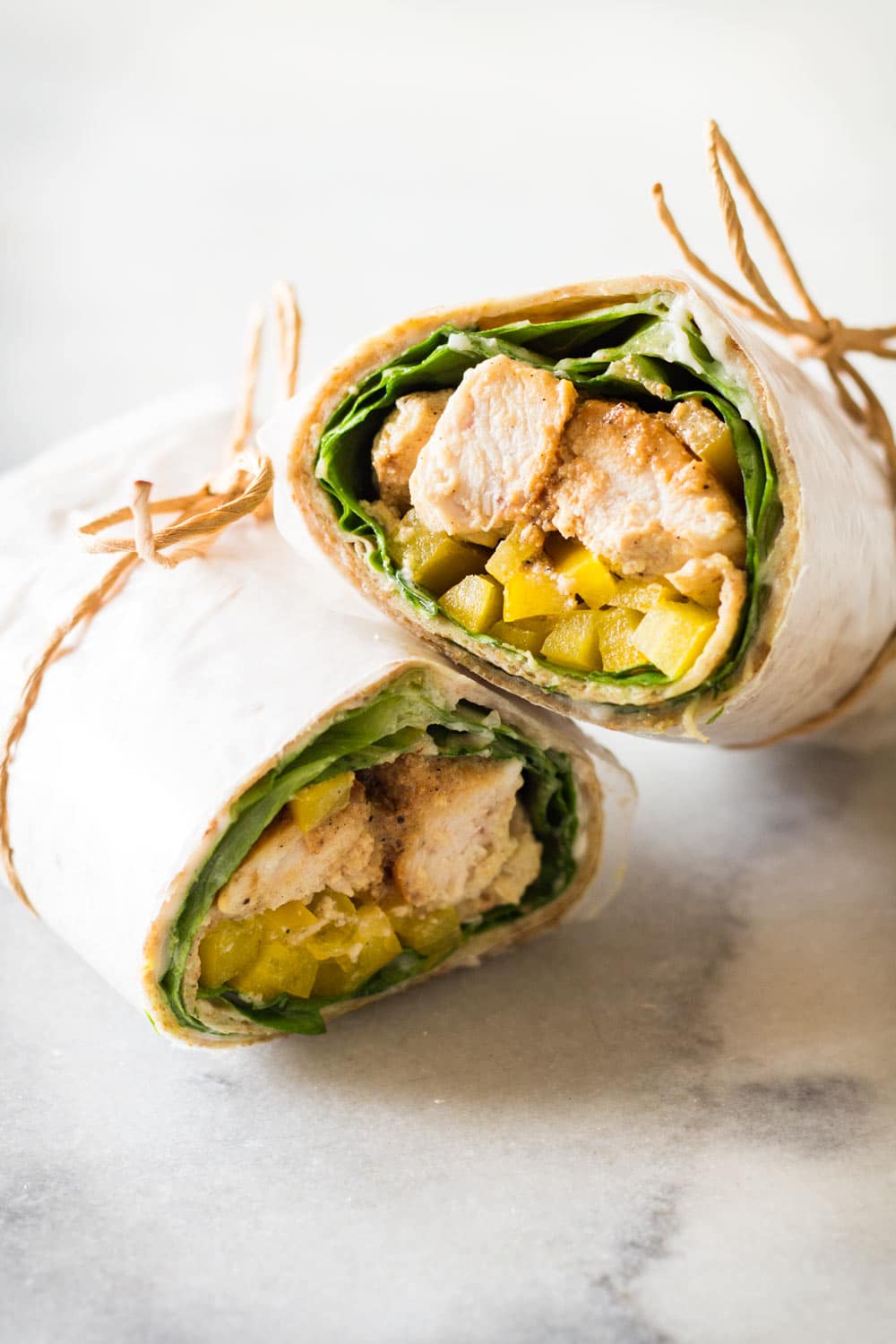 The wrap recipe is inspired by a friend who invited me over for lunch last week. Oh man, that wrap she made was so delicious I HAD to create my own version. And here I am uploading the recipe for the world! Thank you María for the inspiration!
The best about this recipe is that you can kill two birds with one stone if your family consists of small children and adults. Or a couple small and and a couple big children.
Make this Shish Taouk chicken (that recipe once is enough for two small children or one big child/adult, multipy the ingredients by how many will eat right there in the recipe form). Then use that marinated chicken for this Healthy Chicken Wrap.
Make an out-of-this-world yogurt garlic sauce that will turn your eyes to the back of your head for it's so delicious and you're good to roll your wrap.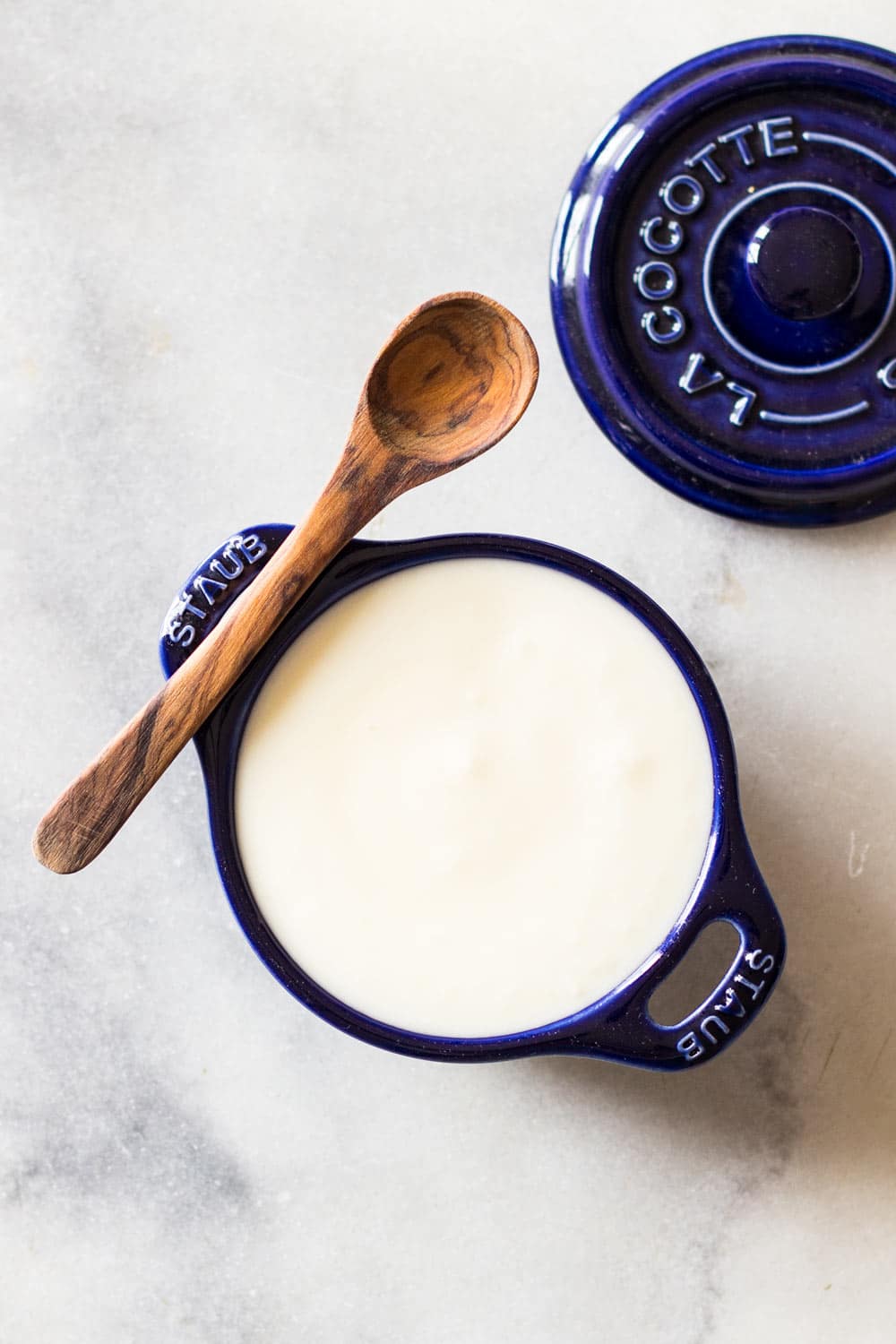 The sauce has A TON of garlic, yes, and your breath will be a bit garlicky, ahem. However, you have to remember there could be vampires (or annoying co-workers, supervisors, teachers) eeeeeverywhere and the only way to protect yourself is to make sure you eat a ton of garlic at all times ;)
How to Perfectly Roll a Healthy Chicken Wrap
My favorite way to roll a wrap to avoid big messes while eating is as follows:
Place the tortilla on a large piece of wax paper.
Add all the filling not in the middle but more on the side of the tortilla. Cover about 1/3 of one side and 2/3 from top to bottom. Leave space at top and bottom to flap in the tortilla to create a pocket later.
Start rolling super tight, then flap in top and bottom and continue rolling until it's all rolled up.
Roll the wax paper around it the same way, first roll tightly, then flap in top and bottom and continue rolling until finished. Secure with a piece of thread or tape or whatever.
Once you're ready to eat, cut the whole thing in the middle and push the wrap up and out of the wax paper slowly as you eat. That way, the sauce stays in the tortilla or if not flapped in too well, it at least stays in the wax paper pocket you created.
I think I will have to make a video of this. Reading it all again right now kind of makes it confusing. Uh-oh!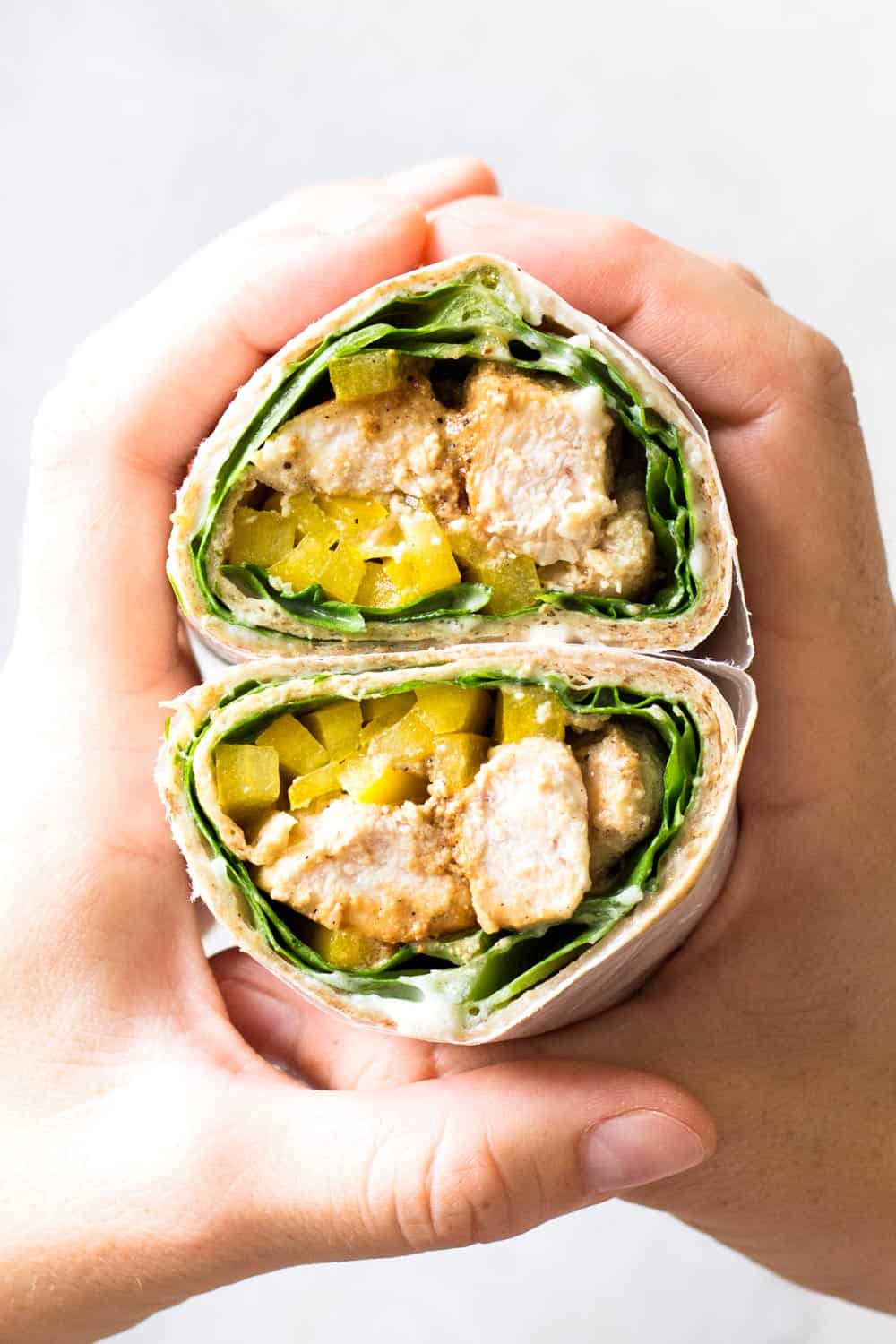 Now let's get right to the recipe!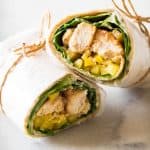 Healthy Chicken Wrap
Healthy Chicken Wrap recipe, the perfect take to work or take to school lunch and it's got the most delicious Yogurt Garlic Sauce you've tried in your LIFE!
Print Recipe
Ingredients
1

Shish Taouk

-

(make sure you check out the recipe by clicking on the the Shish Taouk link to have all ingredients and necessary time on hand)

10

leaves

romaine lettuce

1

yellow or red bell pepper

8-10

cloves

garlic

1/2

lemon

1/2

tsp

Salt

1

egg white

1/2-3/4

cup

vegetable oil

-

(avocado or sunflower are my favorite)

1/2-1

cup

plain full fat yogurt

-

(plain Greek yogurts works well, too)

1/2-1

Tbsp

honey

2

large

whole grain tortillas
Instructions
Have Shish Taouk ready. If you don't consider an extra 10 minutes prep + 1 hour passive time for marinating)

Add peeled garlic and juice of half a lemon plus salt to a blender and blend until nice and creamy. This will require scraping down the sides a couple of times. Make sure to disconnect the blender every time you do to avoid accidents.

Once the garlic and lemon juice are completely creamy, add egg white and blend until well combined.

Turn the blender to low and slowly add vegetable oil in one string. The string shouldn't be thicker than a spaghetti. Continue adding oil until the garlic sauce is rich and creamy. If you add the oil too fast the sauce will curdle and you have to start all over again. Be patient.

Mix garlic sauce with plain yogurt in a 1-2 ratio. Say 1/4 cup garlic sauce into 1/2 cup yogurt and add honey to your liking.

Spread about 1 Tbsp yogurt garlic sauce onto 1/3 width-wise and 2/3 length wise onto the tortilla

Lay out 4-5 washed and dried romaine lettuce leaves onto the sauce removing the hard stems in the middle.

Wash, dry and thinly slice bell pepper and place on the lettuce.

Add Shish Taouk chicken, add some extra yogurt garlic sauce if desired and roll the wrap tightly as explained in the post above.

Enjoy!
Notes
2 wraps are enough for 1 adult or for 2 children.
What's your clean eating vibe?
Take this fun QUIZZ and find out in 10 seconds!