I don't make pasta too often. Why? I really don't know actually because it's fast and it's delicious! It simply doesn't come into my mind to make it. I can't even really say I have a staple carb. You all know I am pretty spoiled when it comes to variety in my diet. I can't eat the same things over and over again. I just can't. It bores me to death and that's probably because my mom did an excellent job at offering a huge variety of dishes when we were children. She would cook all sorts of things from all over the world and while cooking industrial quantities that called for having to eat leftovers for 3 days in a row she didn't repeat that recipe in quite a while. Yesterday I had to learn that I am creating the same kind of spoiled children. Uh-oh! When picking up the kids from school my son asked me what there was going to be for lunch and when I answered pasta with cilantro pesto he immediately complained "agaiiiin"? WHAT!??! What did he mean with "again"?! Coming home I had to check when we had had pesto the last time (easy job for a food blogger, just click through the archives: 19th of February 5-Minute Basil Pistachio Pesto) and I had to check when we had had pasta for the last time (6th of JANUARY!!!! Orecchiette). Can you imagine your kid commenting "again" when you haven't cooked pasta in almost 3 months? Spoiled, spoiled, spoiled I'm telling you but you know what? In this context: I LOVE IT!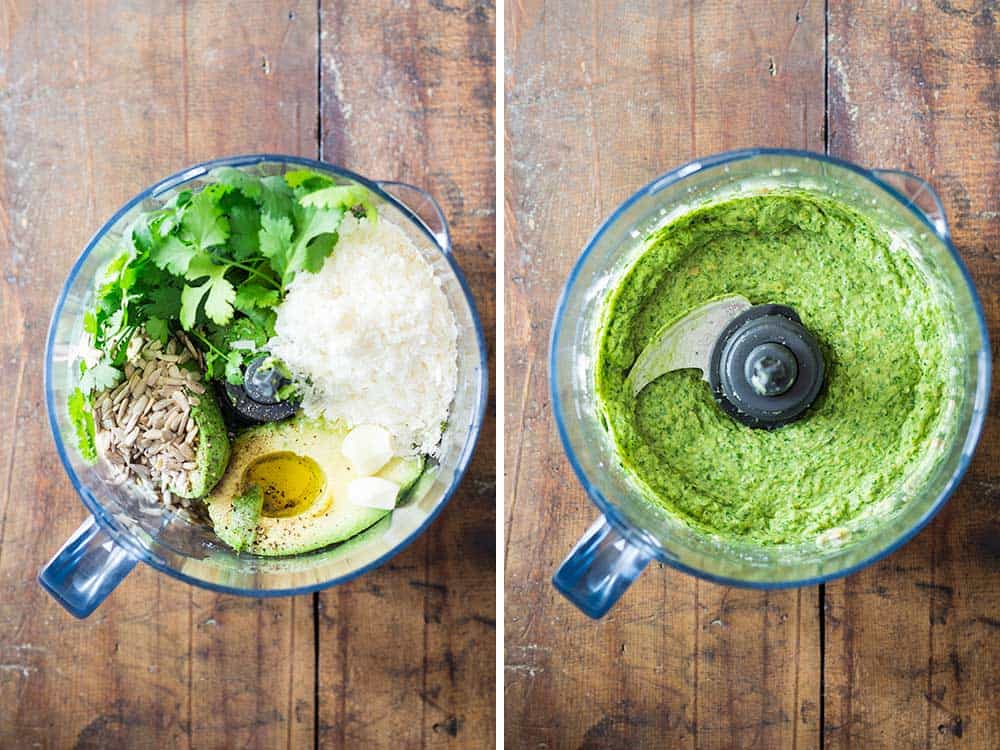 Now let's start getting you as spoiled as my children by trying this new recipe :D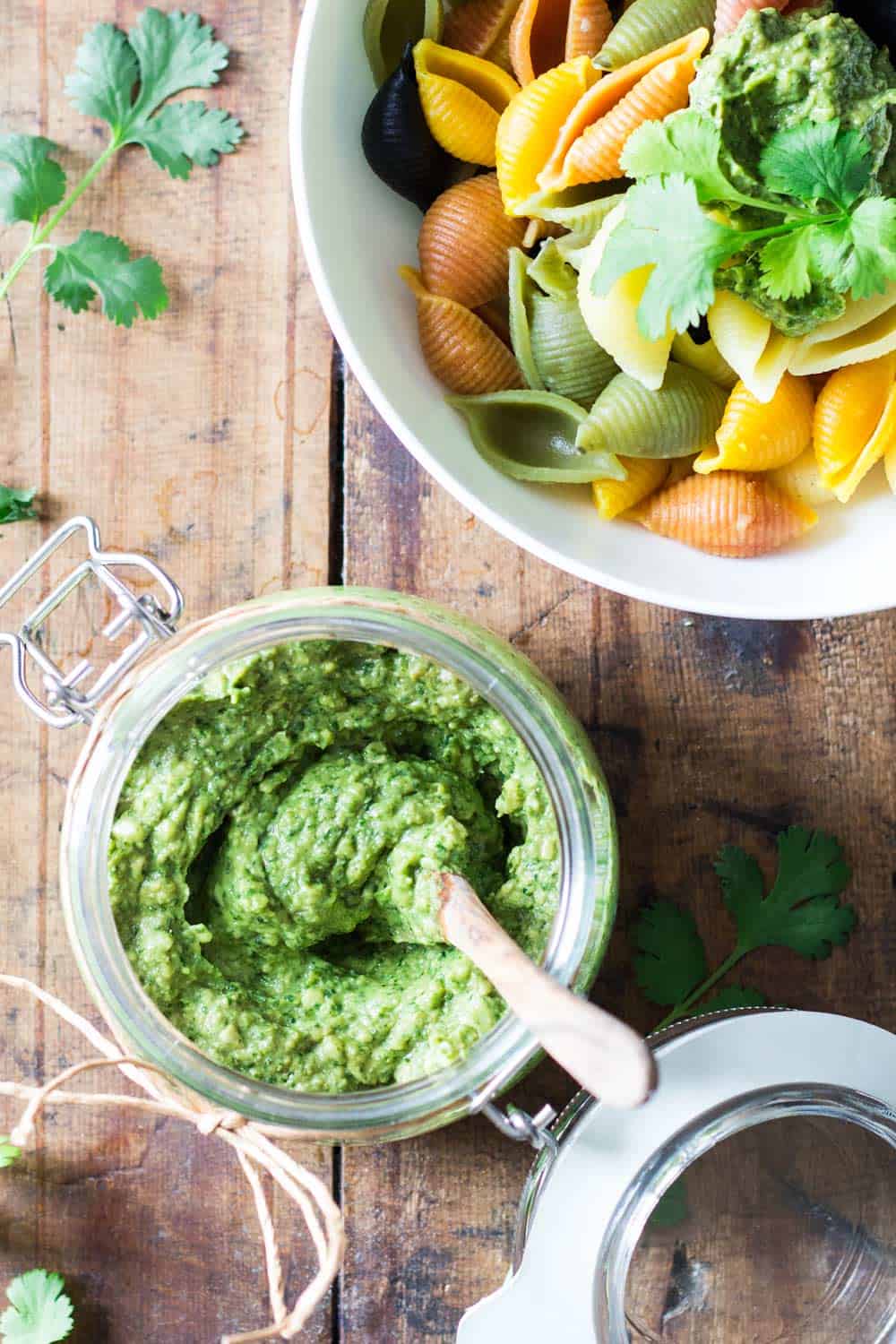 5 reasons your life wasn't complete before you knew this cilantro pesto
Cilantro is often much cheaper than basil (the most common herb for pestos) so yay for the wallet.
Sunflower Seeds are more nutritious than pine nuts (the most common nut for pestos) with about 6% more calcium, 15% more protein, 20% more magnesium, 60% more vitamin B6, 25% LESS fat!!! Can I have a woot woot here?!
The same applies for cilantro (a.k.a. coriander) vs. basil: 15% more vitamin C, 30% more vitamin A! Basil does have a little more iron and magnesium but who's counting that? Pah!
Avocado is a super food and comes originally from Mexico and we all know Green Healthy Cooking roots for Mexico ;)
Being able to prepare a nutritious pasta sauce in 5 minutes simply improves life quality. Full stop!
You can store the cilantro pesto in an airtight container in the fridge for a couple of days, just be aware it might darken a bit over time as the avocado oxidizes. It's still safe to eat though. No worries. However, to be honest, I don't really think there will be leftovers. We ate all of it in one sitting (2 adults, 2 small children).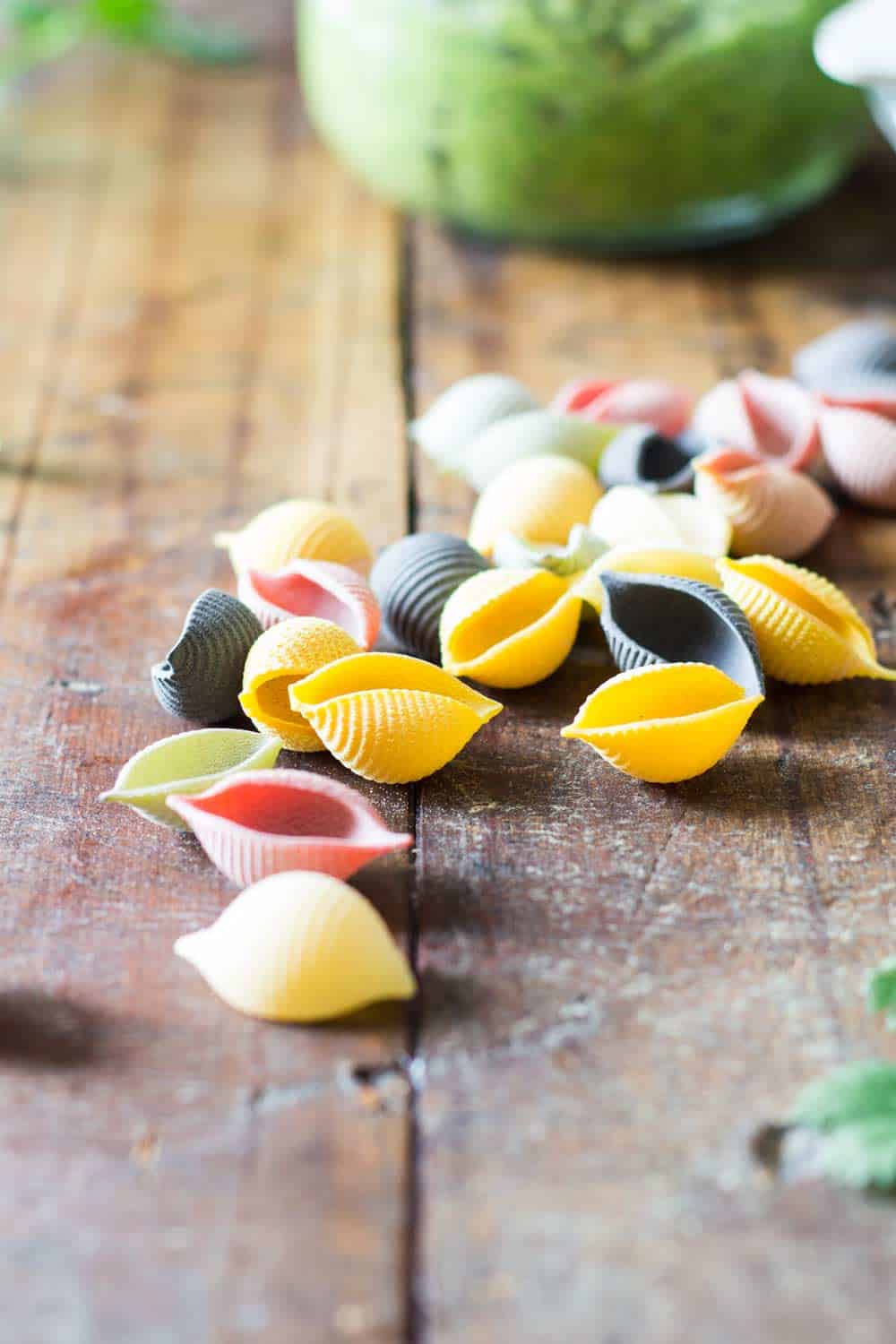 I had to include a photo of this gorgeous pasta I found at the store. It is flavored and colored with dehydrated turmeric, dehydrated sweet potato, dehydrated spinach and the black I don't remember but doesn't it look amazing? It makes eating pasta even more fun and delicious than it already is. I thought the colors might fade once cooked but they didn't really. They were still quite vibrant. Really cool!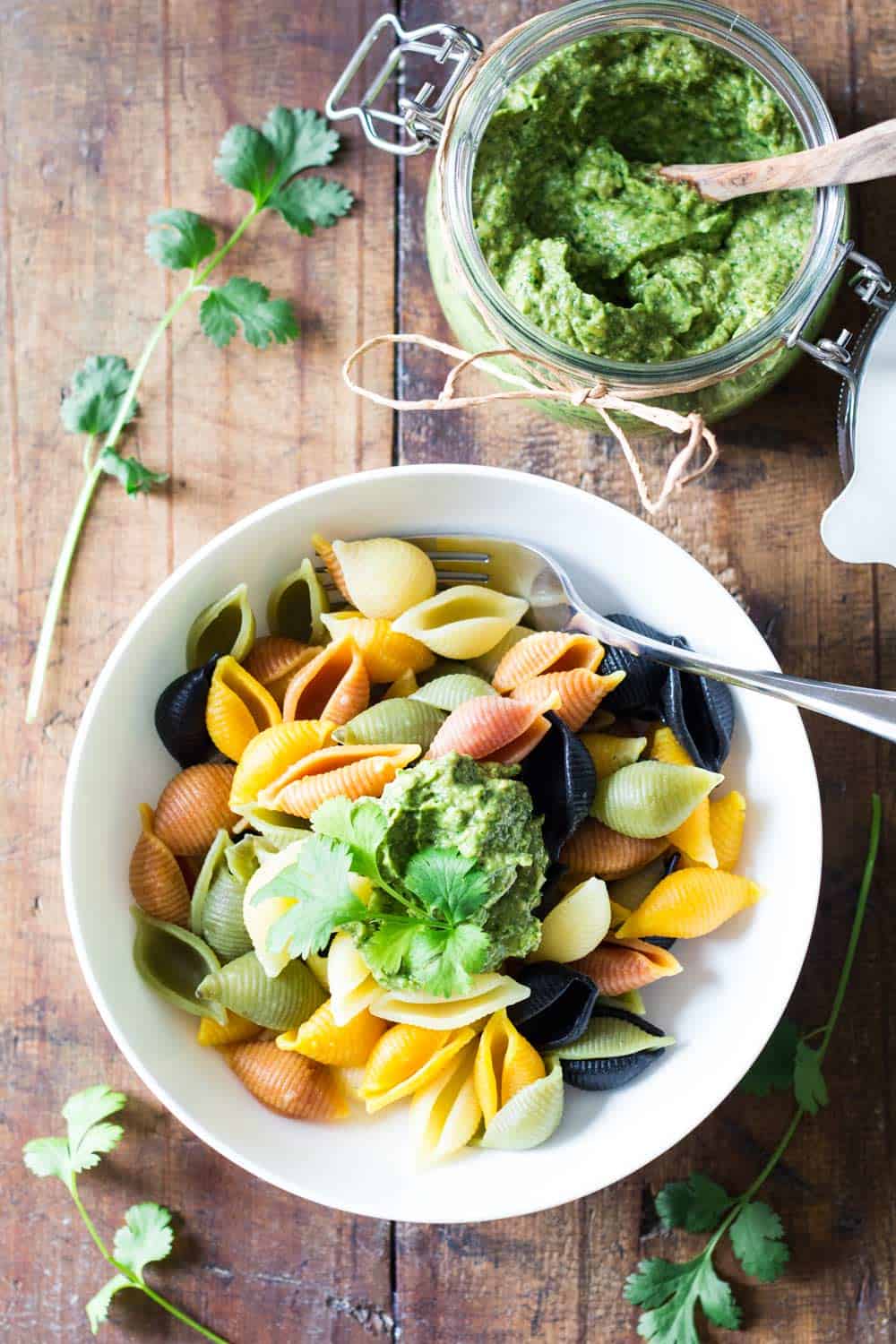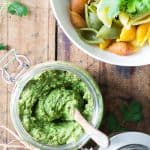 Cilantro Pesto
Print Recipe
Ingredients
500

g

favorite pasta

1.7

oz

cilantro

-

(50 g)

1

avocado

1

Tbsp

lime juice

-

1/2 lime

1/2

cup

Parmesan cheese

1/4

cup

sunflower seeds

1/4

cup

olive oil

-

(sunflower seed oil)

2

cloves

garlic

1

tsp

Salt

Pepper
Instructions
Cook pasta as instructed on package.

Add all ingredients except pasta to a food processor and process until smooth.

Serve hot pasta with a big dollop of pesto.
What's your clean eating vibe?
Take this fun QUIZZ and find out in 10 seconds!