This post is sponsored by Vitamix.
There is literally no better hostess gift than this Cashew Chocolate Spread. All you need is 5 ingredients, 5 minutes, a Vitamix blender and a pretty jar.
I love Christmas and the holiday season! I love the anticipation and I love the actual celebration. It's the perfect time to enjoy extended conversations without stress of having to go anywhere or do anything.
Time to share a moment as a family, as a group, and give each other a strong sense of belonging and community. It is also the time our children make unforgettable memories because we, their parents and grandparents and aunts and uncles live and enjoy the present moment so much.
I myself have the fondest memories of Christmas in Peru, where my mother is from and where we travelled to at least every other year to celebrate Christmas with our Peruvian family. Now, I make an effort to provide my children the same unforgettable experience by either taking them "home" (being Germany or Mexico) or getting together with friends in Montreal.
Whenever we are invited over to a friend's house for the holidays I love to bring the hostess a very special gift.
Decorations are not my cup of tea because it is very difficult to meet someone's taste when it comes to home decor. The same applies to pieces of clothing or perfumes and lotions. Unless you know the person inside out, better stay away from giving them any of these as a gift.
Food and drink is ALWAYS a good hostess gift idea!! Include chocolate and I'm sure 99.99% of people receiving it will beam with joy. The other 0.01% are weird and you better stay away from them. How scary! Imagine your hostess's face when you hand her a jar of this deliciously creamy Cashew Chocolate Spread!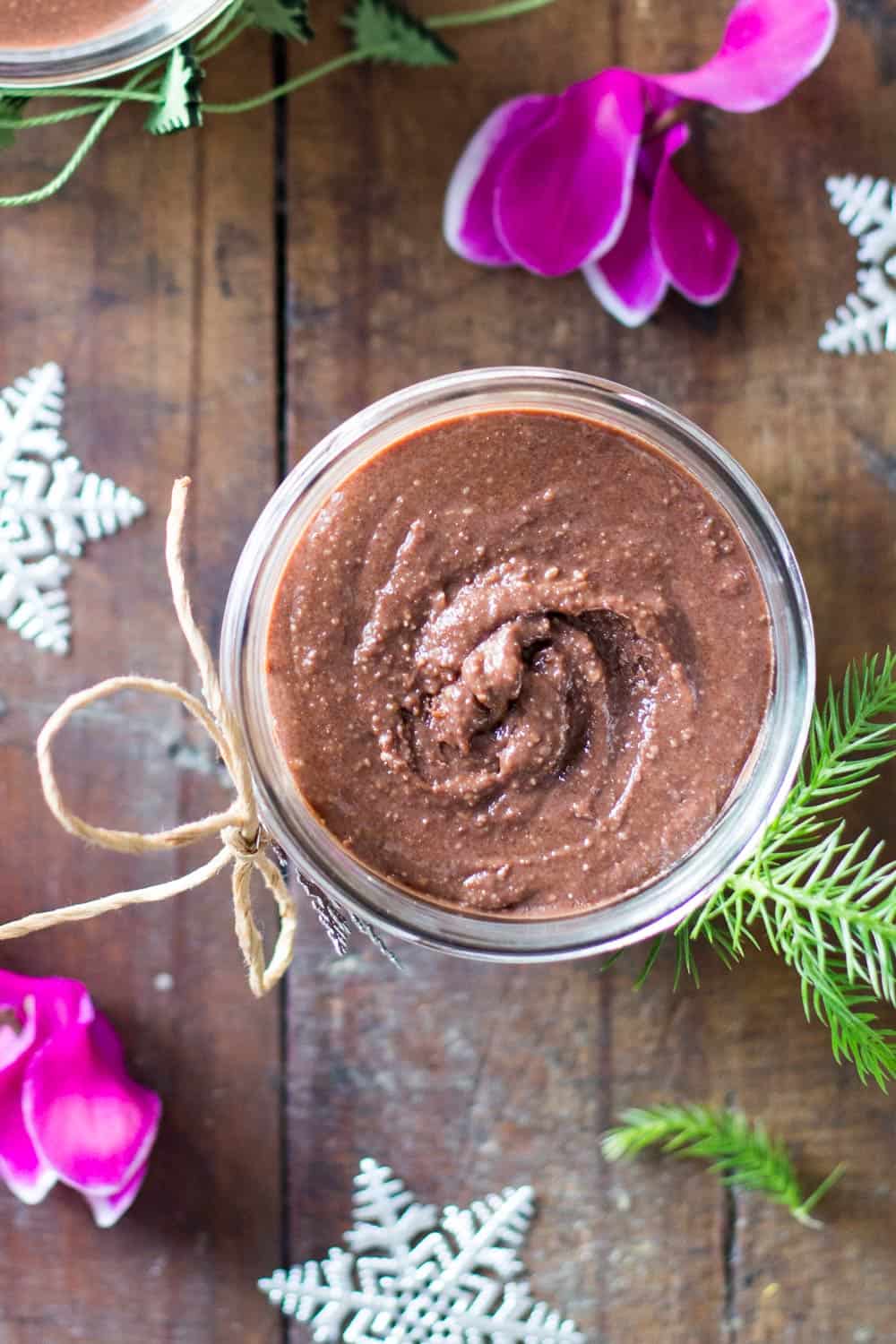 A hazelnut spread is a) nothing special and b) takes forever to make because you've got to peel the hazelnuts out of their peels to remove the bitterness. Roast them to remove the peel or soak them to remove the peel, makes no difference, it's a pain.
Cashews are soooo much better for a chocolate spread. Like why did anybody ever think a hazelnut spread is a good idea?!?
The greatest of all hostess gifts: A healthy Cashew Chocolate Spread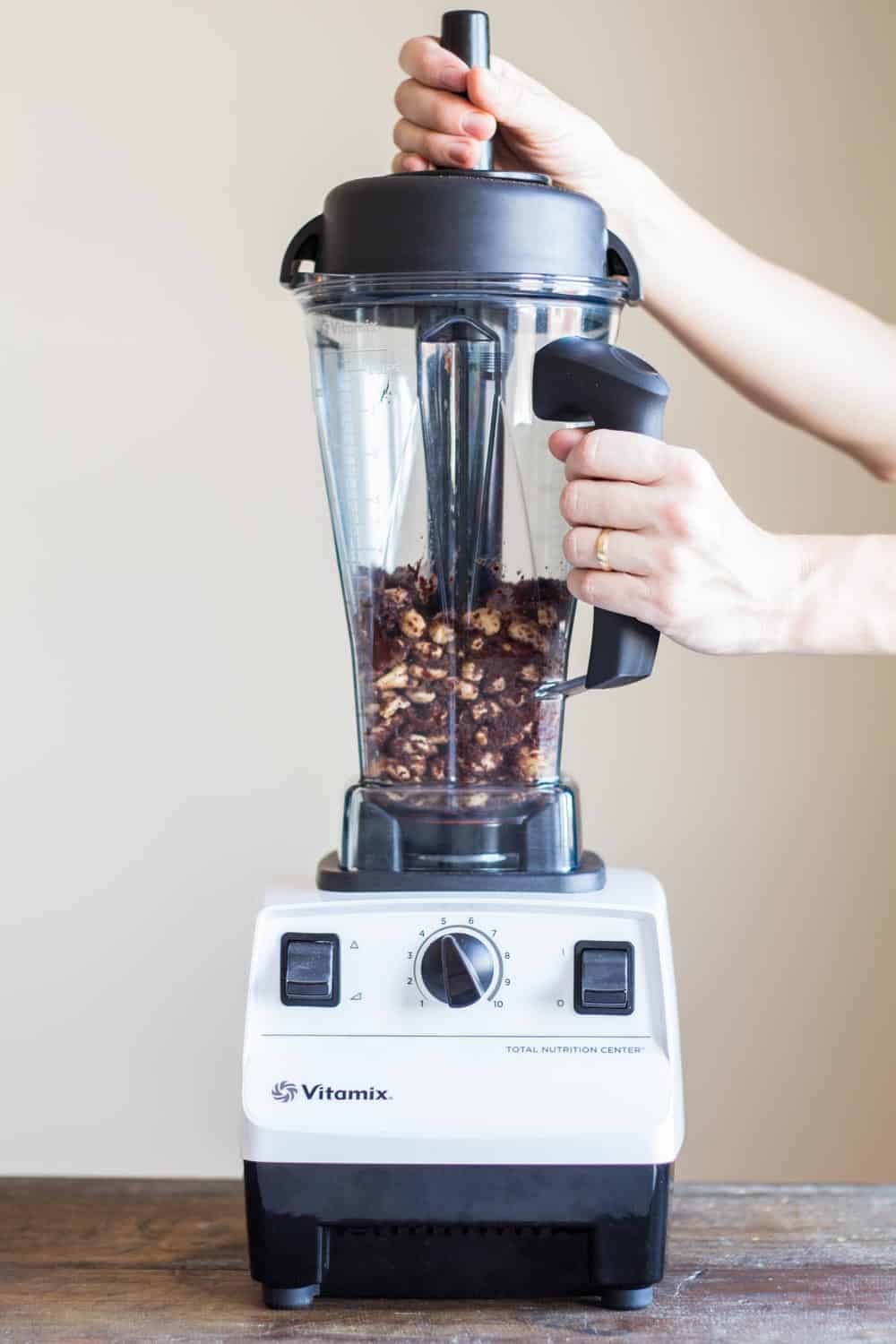 5 ingredients, 5 minutes, your powerful Vitamix blender, a.k.a. your must-have-blender, and you end up with 2 jars of this delicious Cashew Chocolate Spread. What's the best part about this last sentence? Exactly, the 2! One for the hostess you want to make happy and one……for you!!!
Coat a piece of bread or fruit with some Cashew Chocolate Spread and enjoy right away. Just don't forget that the second jar is a hostess gift!! Eating this homemade healthy spread by the spoon full you'll finish both jars in no time and end up without anything to give away. Uh-oh!
And this is where I should probably warn you. This stuff is super addictive and will require all your will power so you make it to your hostess's door with a full jar. If you are like me, better don't even try it before giving away.
I made this recipe 3 times. First to test it, then to photograph it and then to film the video. So in theory I should have ended up with 6 jars of Cashew Chocolate Spread, right? Well, my neighbor got one. A friend got another. Another friend got to try a little from one jar. And the rest ….. all in my belly. Ahem.
It's a good thing it only takes 5 minutes to make more…. :)
5-Minute Cashew Chocolate Spread
There is literally no better hostess gift than this Cashew Chocolate Spread. All you need is 5 ingredients, 5 minutes, a Vitamix blender and a pretty jar.
Print Recipe
Ingredients
2

cups

cashews

1

Tbsp

dutch-processed or raw cacao

1

cup

coconut sugar

1/3

cup

unsweetened chocolate, melted

1/2

cup

coconut oil, melted
Instructions
Add all ingredients to a Vitamix high performance blender and start blending on low.

Increase and decrease speed as needed using the tamper to push down the ingredients.

Once smooth pour into pretty jars and decorate :)
Nutrition
Calories:
814
kcal
|
Carbohydrates:
78
g
|
Protein:
16
g
|
Fat:
55
g
|
Saturated Fat:
18
g
|
Polyunsaturated Fat:
6
g
|
Monounsaturated Fat:
19
g
|
Sodium:
11
mg
|
Potassium:
495
mg
|
Fiber:
3
g
|
Sugar:
54
g
|
Vitamin C:
0.8
mg
|
Calcium:
30
mg
|
Iron:
5.2
mg
Have you tried this recipe?
Take a picture and tag @greenhealthycooking Can't wait to see your version!
This post was sponsored by Vitamix. Thank you for supporting the brands that support Green Healthy Cooking!