There is no better summer birthday cake or summer dessert in general than this Vegan Watermelon Cake! No baking, no cooking, no extra heat in the kitchen. 10 minutes of preparation and it's ready to cut into.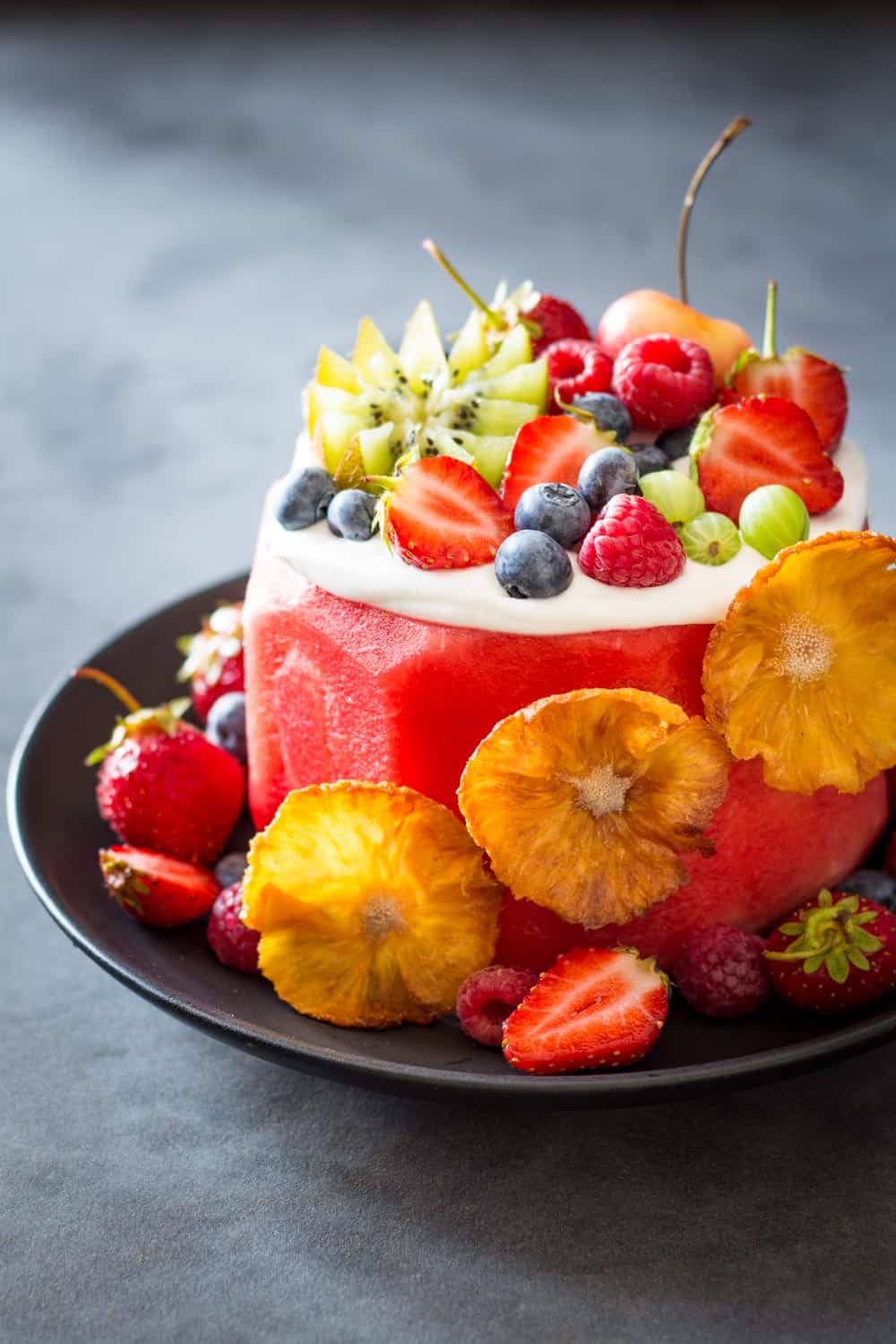 Accept this Vegan Watermelon Cake recipe as an apology for inconsistent posting and weirdly distorted pictures in my newsletters lately.
I'm working more than ever on the blog and my head is smoking because of it. The worst is, you guys don't get to see much of it and don't get anything out of it. Missing posts, missing recipes. Boo. I'm sorry.
The thing is, a blog is more tech work than I ever imagined. Had I known before starting how much work is required behind the curtains, I might have never dared jumping into this. I am so glad I did though.
I love blogging. I love creating recipes. I love love love taking photos of my recipes and I love writing to all of you guys. The technical things are not so much fun I must admit, however, quite rewarding once I manage to resolve an issue.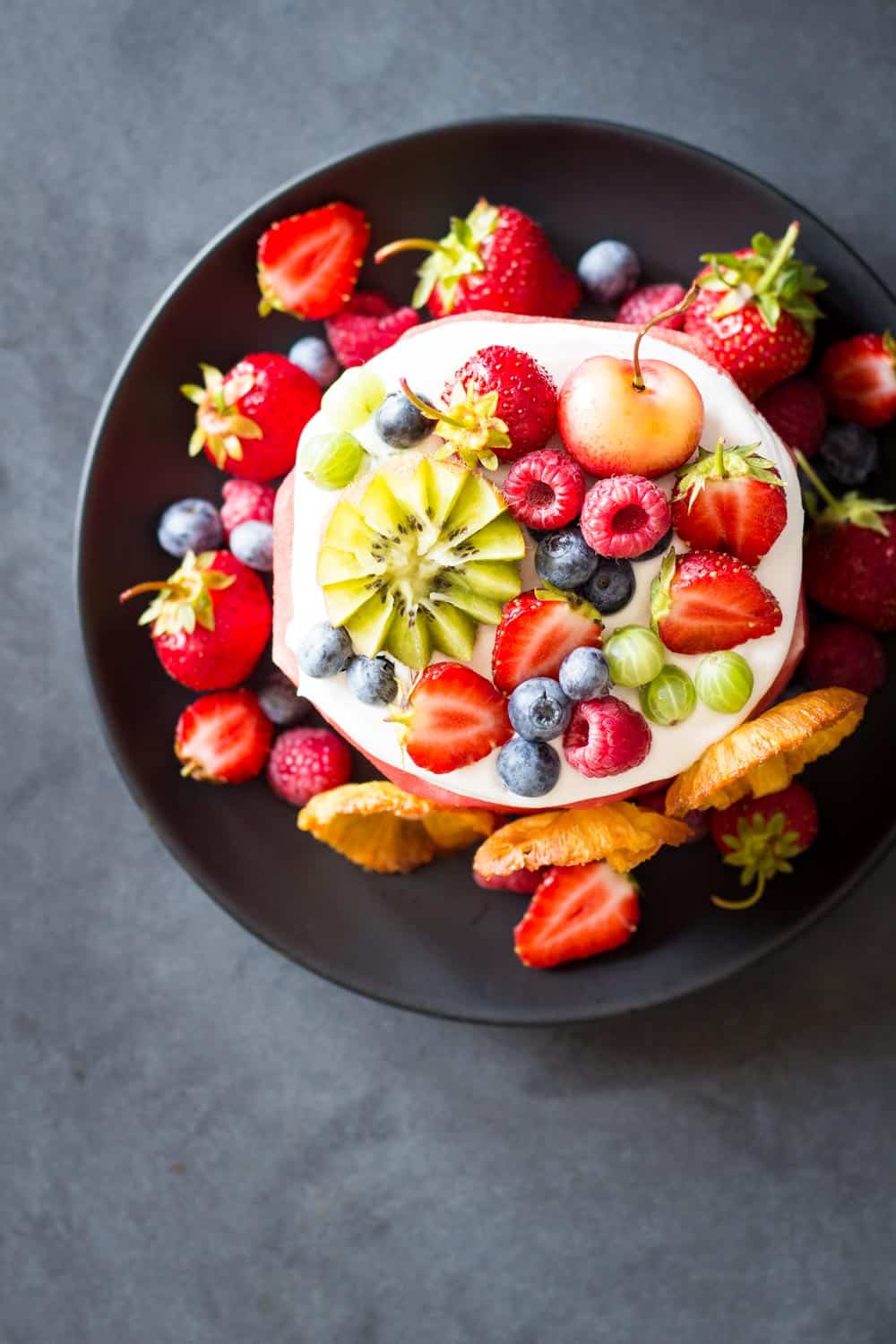 I hope you can forgive me for skipping one or the other blog day to focus on the technical things required to run my blog. If I don't address those in a timely manner, everything breaks down. OH NO!!!!
Next week will be a big week for me. I will attempt to switch theme. That means, the blog's design will change completely. Apparently this is an easy step but I won't believe it until it's done. I have to warn you. There might be no blog posts next week.
This will all depend on how smoothly the transition goes. You have to understand that cooking and baking and food styling and food photography are my mother tongue. Blogging….is more like my 5th foreign language and thus still very, very basic. I want to believe that I will be fluent in it some day. Some day is still far away though.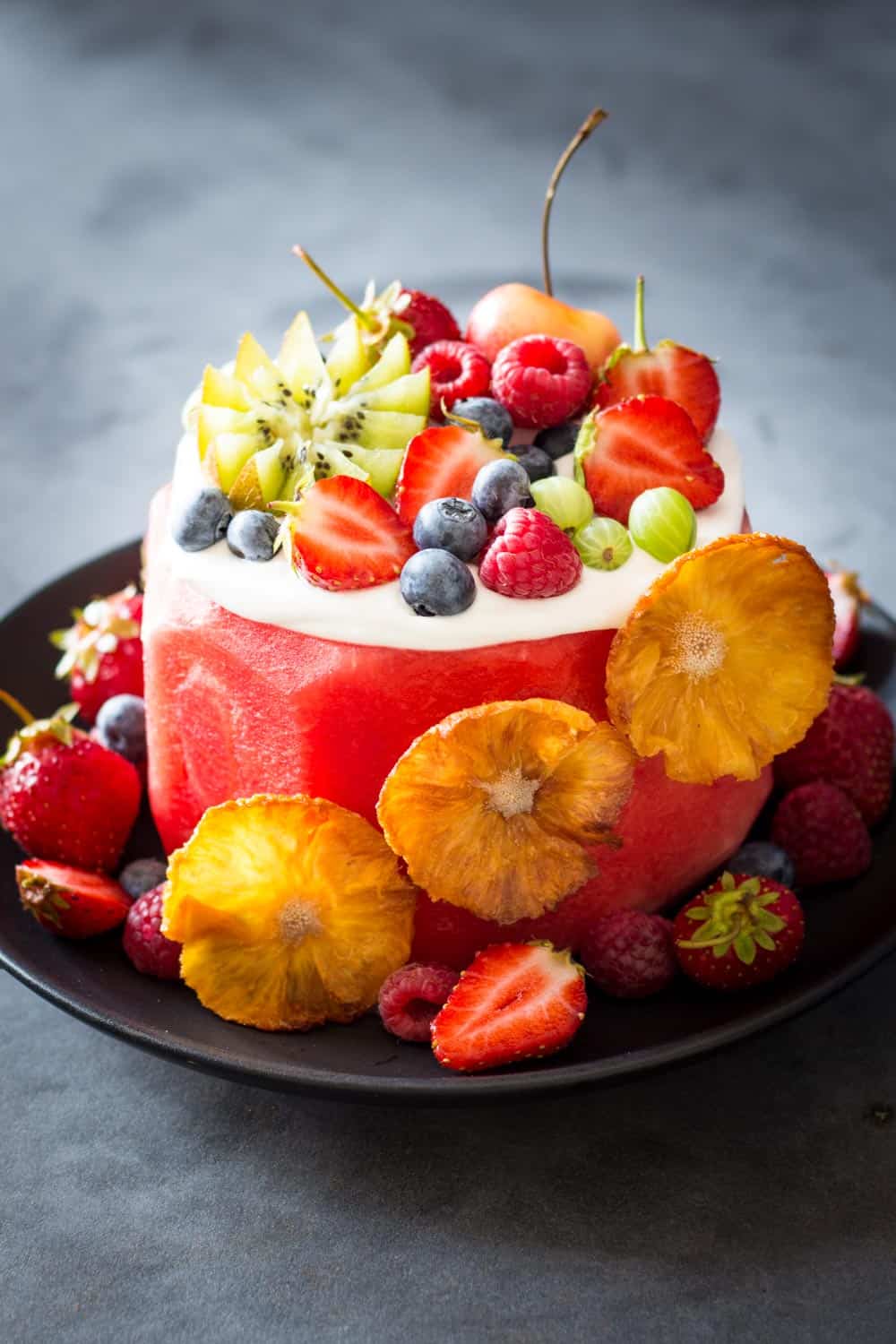 For today let's just focus on the things I AM good at. Explaining how to manipulate ingredients to end up with a recipe ;) And here is all you need to know to make a Vegan Watermelon Cake :)
How to cut a watermelon cake
Slice off the top (where the stem was) and bottom of the rind so the melon can stand firmly on the flat surface and you can place your hand on the flat top. Cut off the rind on the sides until all rind is removed.
If you want a perfectly cylindrical watermelon cake I recommend using a cake ring like these
 to press down and cut out a cylinder. If you are like me, you are more concerned about not waisting too much watermelon though and just cut off the absolute necessary ;)
How to frost a watermelon cake
Most watermelon cake recipes I've seen call for whipped cream. In my opinion whipped dairy cream and watermelon don't go well together at all though. I don't like it. I find coconut cream and watermelon go together much better and thus I decided to make this cake vegan.
Either way, whatever you choose, there is one important step to follow before putting anything on top or the sides of the watermelon. Use a paper towel to tap it dry. Otherwise, the "frosting" will just slide right off the cake. If the surface is nice and dry it will stick beautifully. Don't worry. The cake won't release more water and make the frosting slide off later. It will stick nicely for hours.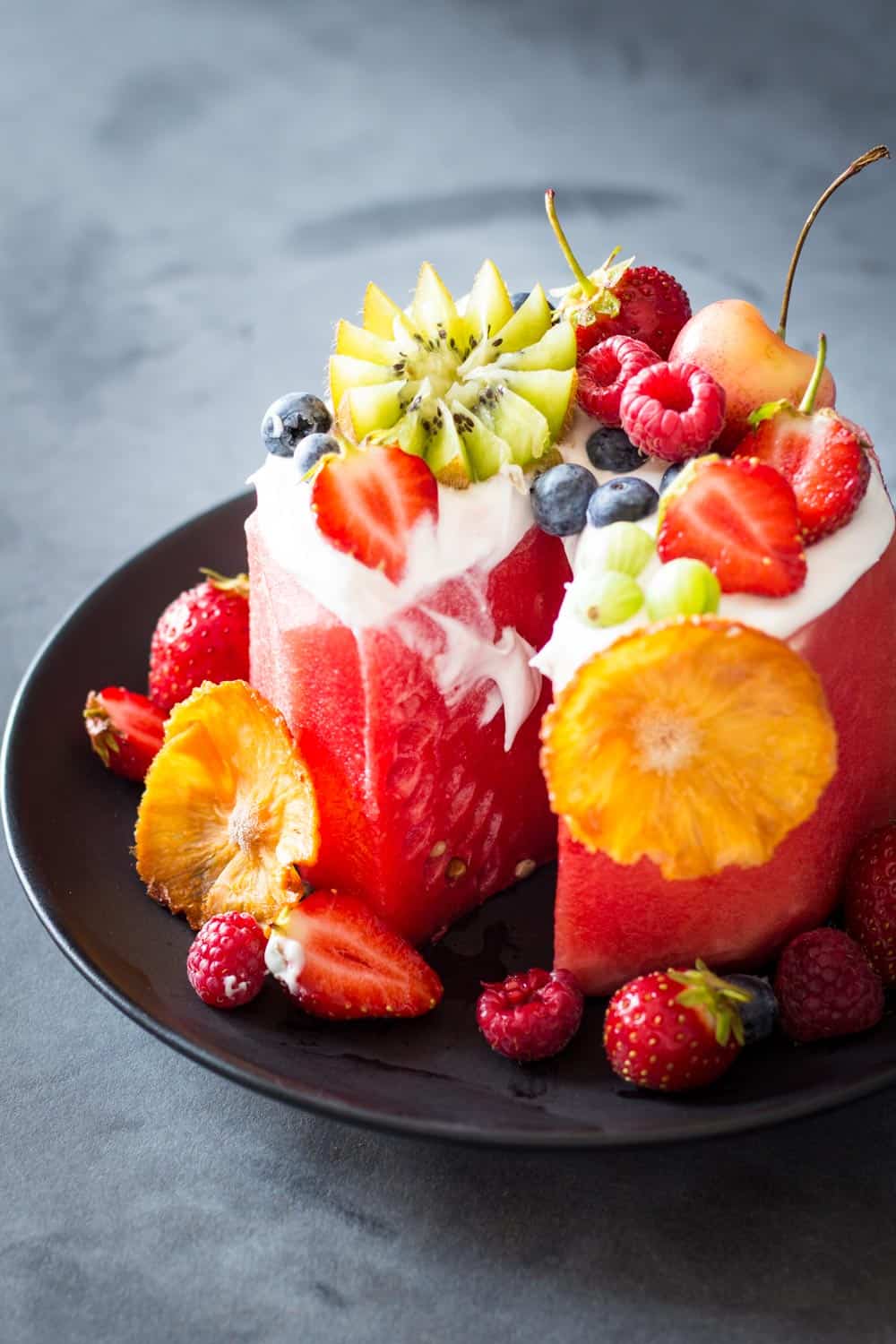 How to decorate a watermelon cake
I find fresh fruit to be the prettiest decoration of all times but pay attention to the colors to make it look pretty. In order to make the decorations "pop" use colors that give contrast. The watermelon is red so red berries alone as decorations would make it look boring.
Add blueberries or blackberries for contrast. Cut strawberries in half to have some white. Leave the leaves on the strawberries for green. Use a bright green kiwi or bright yellow mango. What I'm loving lately are those gorgeous pineapple flowers. They are not only beautiful but also taste like candyyyyy. For an extensive tutorial on how to make them check out my friend Jasime's post How to Make Pineapple Flowers.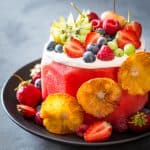 Vegan Watermelon Cake
There is no better summer birthday cake or summer dessert in general than this Vegan Watermelon Cake! No baking, no cooking, no extra heat in the kitchen.
Print Recipe
Ingredients
1

watermelon

1

can full fat coconut milk or coconut cream

fruit for decoration

-

(such as blueberries, strawberries, raspberries, kiwi, mango, pineapple, blackberries, etc.)
Instructions
Slice off top and bottom of watermelon, stand up and carefully cut off the rind of the cake.

To make the cake perfectly round, press down a pastry ring on it.

Pat the watermelon dry with a paper towel.

Scoop out coconut cream from can (if using a can of full fat coconut milk, put the can in the freezer for about 30 minutes in order to get the cream to separate from the water).

Spread coconut cream on top of the cake.

Decorate with fruit.

But in the refrigerator until ready to serve.
What's your clean eating vibe?
Take this fun QUIZZ and find out in 10 seconds!
Disclosure: This post may contains affiliate links, which means that if you click on one of the product links and end up buying it, I'll receive a small commission. The price is the same for you, though! Thank you for your support.