What's a Mexican-Style side salad you ask? All Mexican goodness packed into a side salad, duh! Delicious avocado, fresh and juicy tomatoes, sunflower seed sprouts, sunflower seeds, queso fresco and the secret ingredient abundant fresh coriander!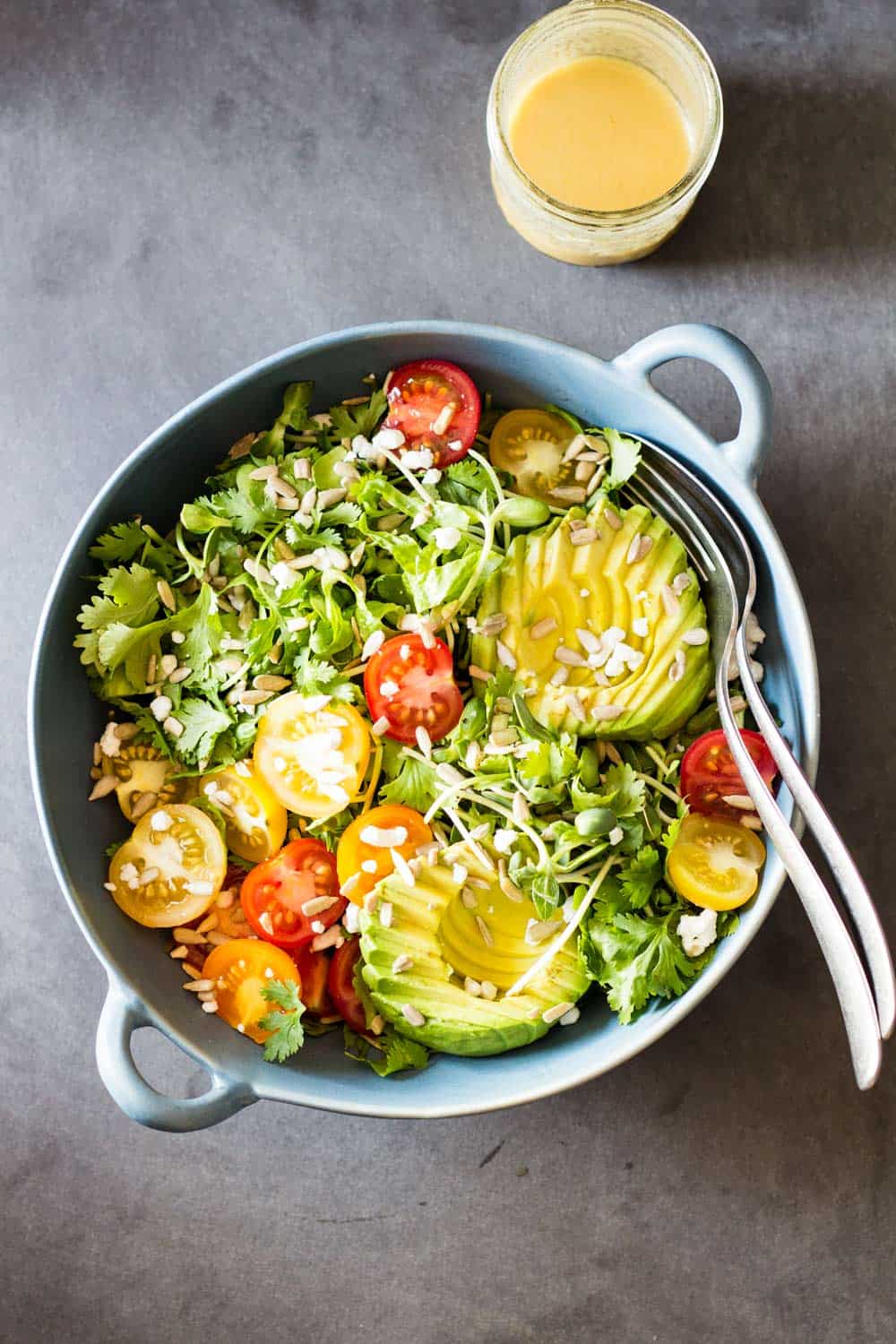 Most salads here on the blog are main courses and sometimes too dense and heavy to be served as sides. What do I do when I need a side salad while still keeping it interesting? I give it a cultural spin.
This time I made a Mexican-Style Side Salad. I can't call it Mexican Salad because honestly, Mexicans aren't big salad eaters. They eat tons of fruits and vegetables but not necessarily in form of a salad. I don't quite understand why because in my opinion, all those delicious fruits and vegetables go extremely well together.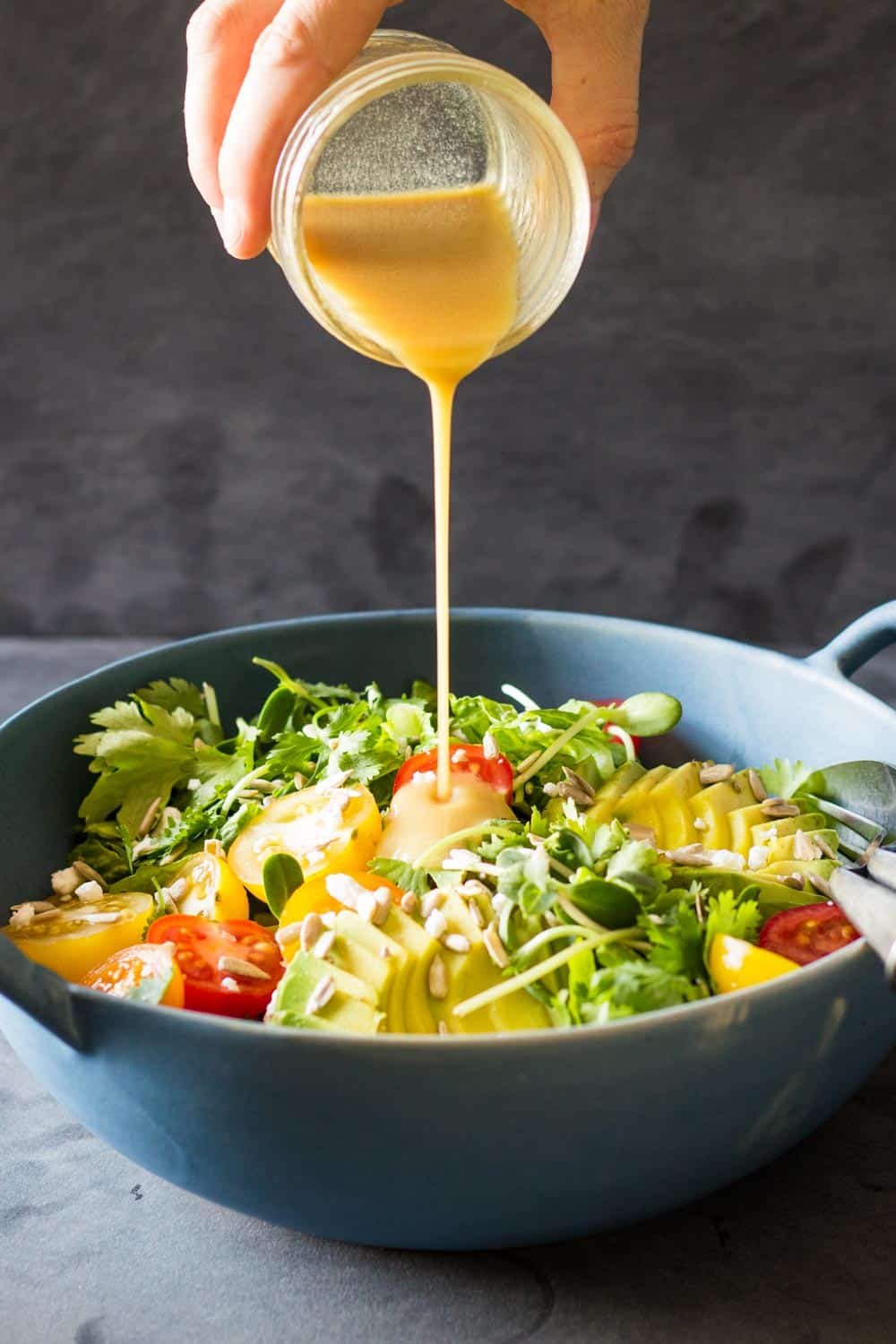 Pair the side salad with a honey lime dressing and you get to eat the most amazing side including a ton of different textures and flavors.
The fresh coriander gives it an incredible aroma and flavor. The avocado delivers sweetness and creaminess and the sunflower seeds great texture.
Sunflower seed sprouts are my favorite green but I understand it's hard to find in some countries. Replace it by more romaine lettuce and it will taste just as great.
I feel like I lost the thread of this conversation. Not only did I have to write the above text while my kids were killing each other but now I also had to interfere and separate them *sigh*
The weirdest thing is, my kids don't really fight much at all. They usually get along exceptionally well together and play beautifully.  They only fight to get MY attention. How weird is that? …..and how effective! Ha!
When I threatened with sending them to boarding school they stopped immediately though and they don't even know what boarding school is :P
Ok, so, where were we? Ah ya, right, a Mexican-Style Side Salad perfect for any barbecue or even just simple baked chicken breast. You will love this one. It's a simple way to fancy up your dinner with minimal work and time investment. And now let's get right down to the recipe before the kiddos start fighting again :S
Mexican-Style Side Salad
Mexican-Style Side Salad, all Mexican goodness packed into a salad. Delicious avocado, tomatoes, sunflower seeds, queso fresco and abundant fresh coriander!
Print Recipe
Ingredients
1

heart

romain lettuce

125

g

sunflower seed sprouts

-

(or another romaine lettuce heart)

1

cup

fresh coriander leaves

10

cherry tomatoes

1

avocado

-

(ripe but firm)

2

Tbsp

queso fresco

-

(omit for vegan)

2

Tbsp

sunflower seeds

1

Tbsp

dijon mustard

1

Tbsp

honey

-

(agave for vegan)

1

Tbsp

lime juice

4

Tbsp

olive oil
Instructions
Thinly slice, wash and spin dry romaine lettuce.

Wash and spin dry sunflower seed sprouts.

Destalk coriander, wash and spin dry leaves.

Add all greens to a salad bowl.

Wash, dry and halve cherry tomatoes and add to salad bowl.

Peel, destone and slice avocado and add to salad bowl.

Add questo fresco and sunflower seeds.

For the dressing. Add mustard, honey, lime juice and oil into a tightly sealable container (such as a mason jar) and shake until well combined.

Add dressing to the salad, seconds before serving.

Enjoy!
What's your clean eating vibe?
Take this fun QUIZZ and find out in 10 seconds!