My healthy Valentine's Apple Rose Tart was prepared with the greatest love and dedication! This heart-shaped apple pie is my pride and joy. I L.O.V.E. how it turned out. I do not necessarily consider myself a very crafty person which is why I am double proud of having been able to make this look so beautiful. Oh and if I was able to do it, YOU will definitely be able to do it, too. It really isn't as hard as it looks. It just takes a bit of time and patience. That's it. Making this for the love of your life will be fun and there is no better way to show love than to dedicate time to someone. I believe that that is the essence of love. And if the love of your life loves desserts or to eat in general….you can probably expect a pretty awesome reward *lol*
The tart's crust is made of almond flour and walnuts and thus naturally gluten-free. It is refined sugar-free but still deliciously mapely sweet. Its crust tastes hea-ven-ly and its custard is creamy and melts on the tongue.
To achieve a non-bitter walnut crust you have to roast the walnuts a couple of minutes in order to be able to remove part of it's fine skin (which is the bitter part) by using a towel and rubbing it off. Not all of it has to come off. As long as most of it comes off it won't taste bitter at all anymore.
You will need a food processor to make the dough. A blender won't do the job.
In order to prevent the apple slices from browning, slice your apples directly into lukewarm lemon water.
For the rose (it isn't called apple rose tart for nothing, right?) you will need very moldable apple slices. If your slices break when bending, submerge a couple of apple slices in boiling hot water for about a minute, then take out immediately so they don't overcook, and then you should be able to form any shape of your liking without them braking. Do not submerge all of the apple slices in boiling water because they will become all mushy and won't stand nicely like the rest of my apple slices around the rose. Start by rolling up one slice very tightly (center of the rose) and then place it in your heart-shaped pan. Hold the center with one hand and form the outer layers with the other. The slices are wet and therefor nicely stick to each other.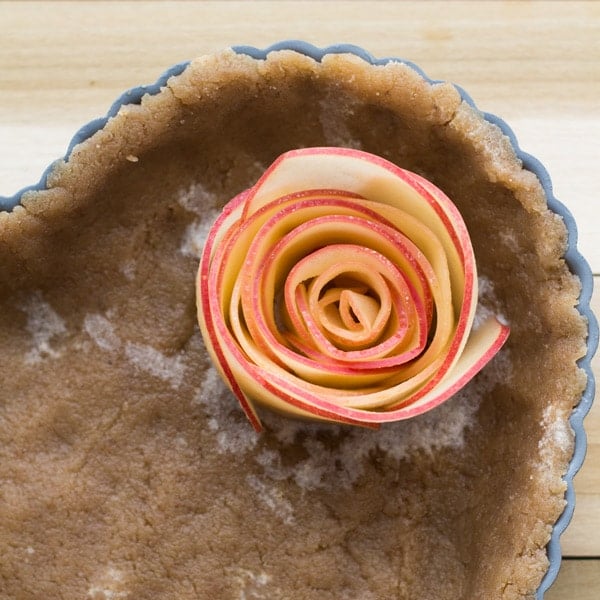 Once the Rose is formed you may want to continue with the slices that are soaking in the lemon water which are crisper than the ones that were in boiling water and therefor stand straighter. Continue filling the pan until the apple rose tart is all finished.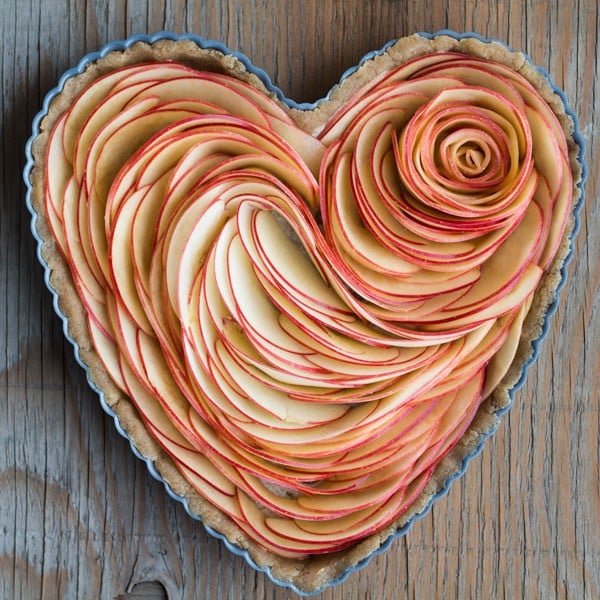 Once your apple slices are all put in place you can carefully pour the custard into the empty spaces in between the apple slices making sure to fill them all out. Do not pour too much at a time as this may make the apple slices fall and flatten the whole pie. Once baked the liquid custard will solidify and once it completely cools off in the fridge it will have the most perfect creamy consistency and look like THIS Valentine's Apple Rose Tart: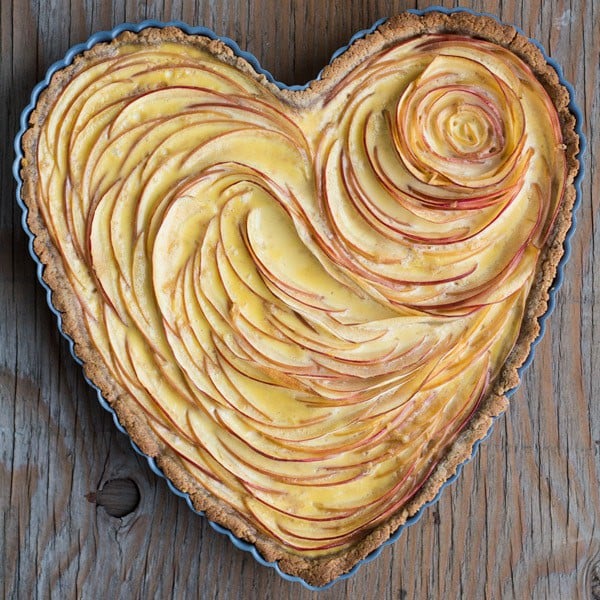 I hope you will enjoy making this apple pie as much as I did and I also hope the person you are making this for is willing to share at least a little bit with you because it really, truly tastes heavenly!
Happy Valentine's Day my beloved reader. I love you to the belly and back! And remember, sharing this recipe is about as sexy as the Valentine's Apple Rose Tart itself!!!
| | |
| --- | --- |
| | |
Preheat oven to 350 F (180 °C).

Fill a big bowl with lukewarm water and squeeze juice of half a lemon into the water.

Wash, core and quarter one apple at a time and finely slice it letting the slices fall into the bowl with lemon water until all apples are sliced. Use a mandolin slicer, a knife will NOT make the trick.

Spread walnut halves on a baking sheet in one layer and once oven is hot roast for about 8 minutes.

Put roasted walnuts in a kitchen towel and rub between hands to remove as much skin as possible.

Place walnuts into a sieve and shake until all skin parts have fallen through the sieve.

Add almond flour, walnuts, 1 egg, coconut oil and 2 Tbsp maple syrup into food processor and process until a smooth dough is formed.

Place dough in the middle of heart-shaped baking pan and spread out with your fingers until the whole pan bottom and sides are evenly covered. Make sure the sides are thick enough to not break when removed from pan.

Form rose with apple slices (if slices are not moldable enough and break, submerge a couple of slices into boiling water for one minute) and continue filling baking pan with apple slices until full (as described and shown in pictures above).

In a small bowl whisk together evaporated milk, 1 egg, egg yolks, and 1/4 cup maple syrup and slowly and carefully pour custard into wholes between apple slices.

Sprinkle Maple Flakes on top of everything (optional).

Place baking pan on a baking sheet to catch all spills of oil etc. in order to prevent smoke coming out of the oven (my baking pan was not hermetically sealed and a lot of oil spilled out from the bottom).

Bake for 35-40 minutes at 350 F (180 °C) until crust and apple tops start browning.

Let cool down to room temperature and then refrigerate for at least 1 hour for custard to solidify to required consistency.
P.S. if you believe this is too hard to accomplish … DON'T believe that :P It you still believe this is too difficult of a tart to make you may want to check out this Simple Pear Tart that takes only 20 minutes to prepare and really can't be messed up at all ;)