The other day a friend came over with her kids for a last-minute potluck supper and she brought these amazing falafel that I couldn't stop eating. That was the first time I envisioned this Vegan Quinoa Falafel Bowl. I wasn't exactly sure which grain I was going to use. Bulghur, Rice…QUINOA! My absolute favorite. How couldn't it be when I'm half Peruvian. I wasn't set on which vegetables to add and what kind of "sauce" but my hands just started taking over in the kitchen and they made and made and made things without me even really noticing. I pretty much just had to take notes of what I was making in order to be able to write it all down later on for you. This happens quite a bit to me but not always. Sometimes I sit at my desk, hoping for inspiration and I just keep staring a black whole into the wall trying to fill it with the emptiness of my mind. Lately I've been blessed though, for I haven't had too many blank mind days but rather many creative ones with a lot of inspiration in the kitchen.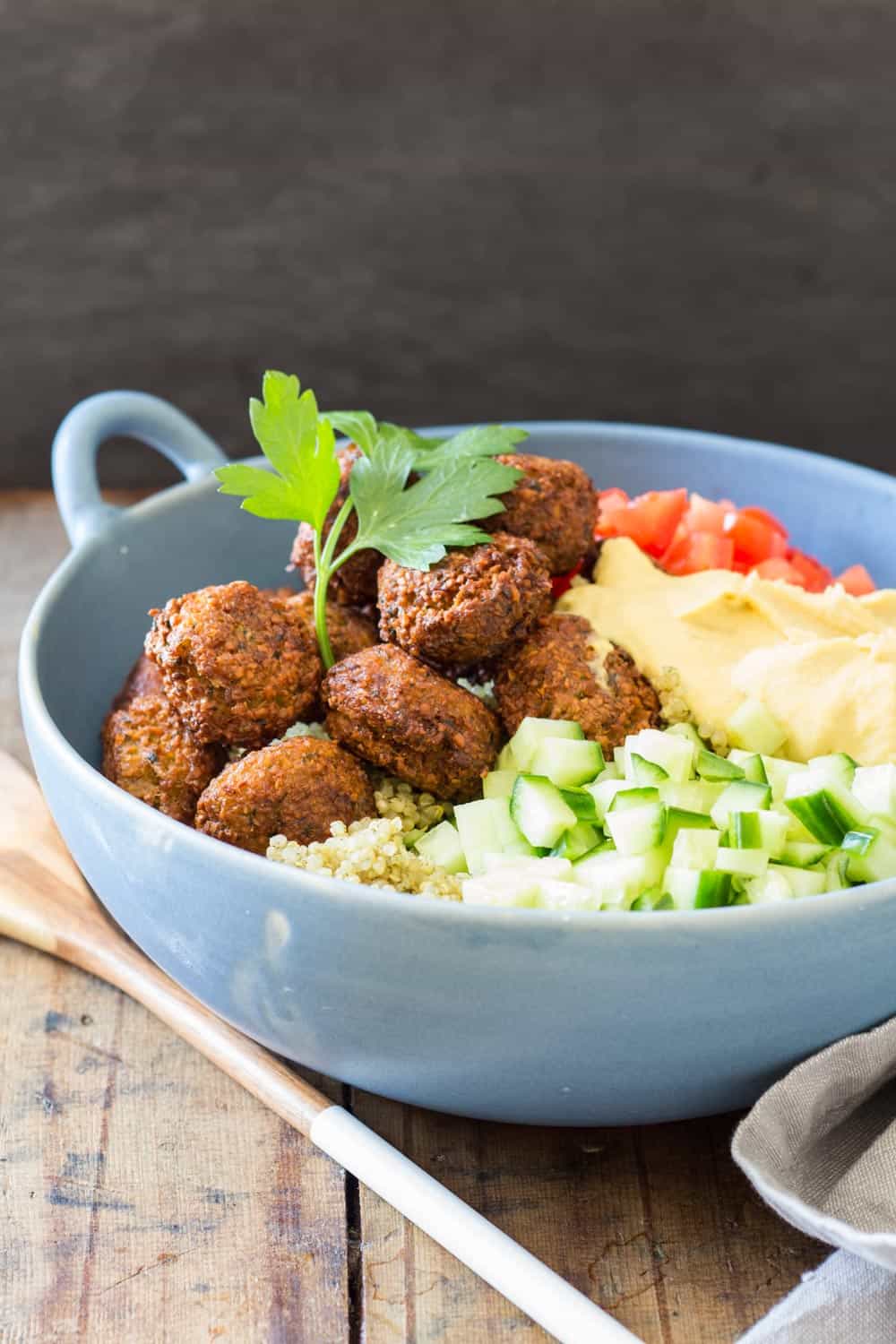 This is a fusion between Middle Eastern and South American cuisines. The quinoa was cooked in a coriander broth as many Peruvian rice dishes are and then topped with falafel, hummus and fresh tomato and cucumber. I made sure the hummus is not too dense but rather creamy to serve as sauce for the whole bowl. The tomatoes give it the extra wetness necessary and the cucumbers the crunch so many of us love.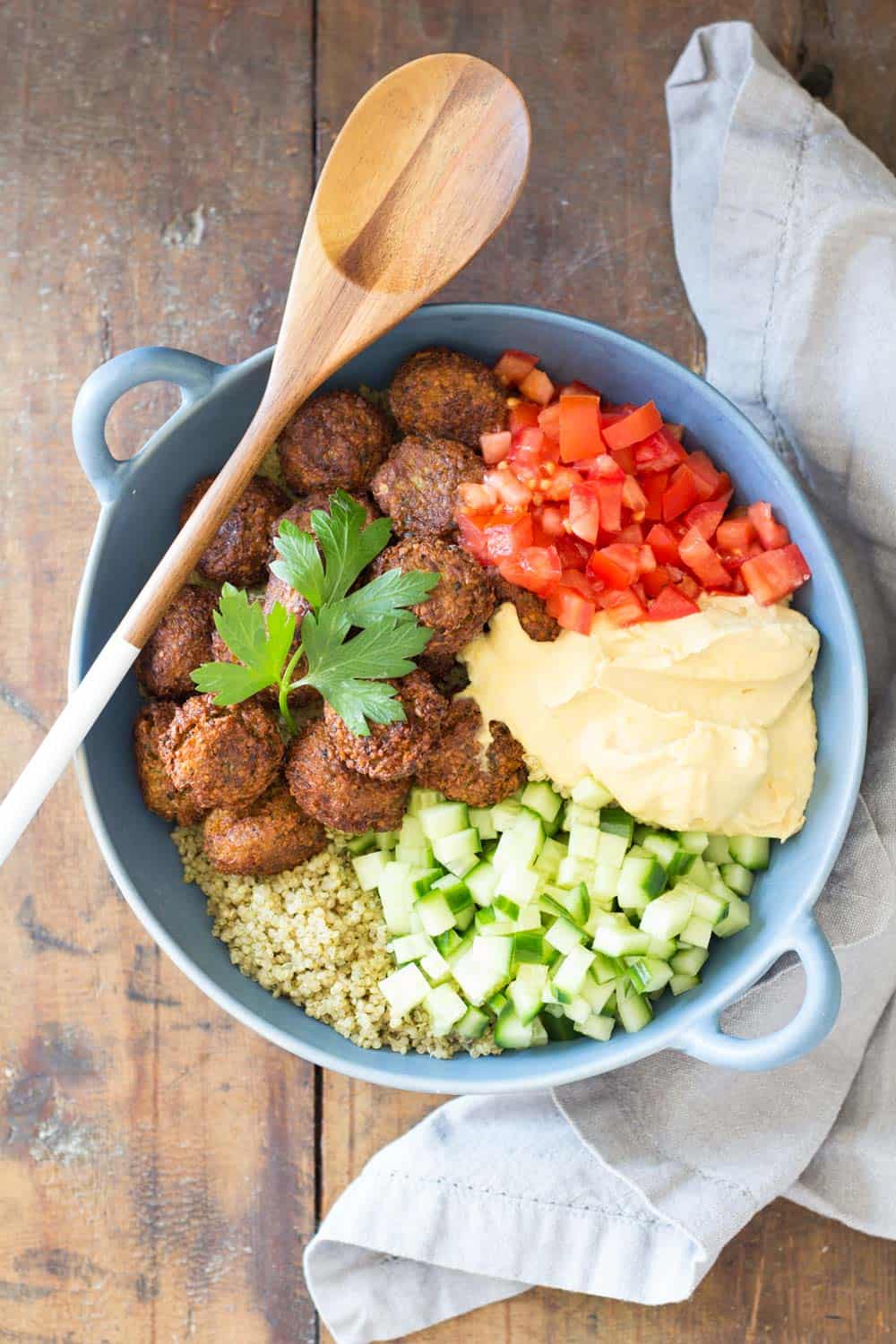 The only downside to this dish really is that it requires quite a bit of oil in order to fry the falafel, however, I tried to keep the oil's temperature low in order not to burn it and was able to trap it in a sealable glass jar afterwards, which I'm keeping in the fridge just in case, and I'm reusing it now every day instead of oil right out the bottle. I hope I'll be able to finish it all up like that instead of having to toss it.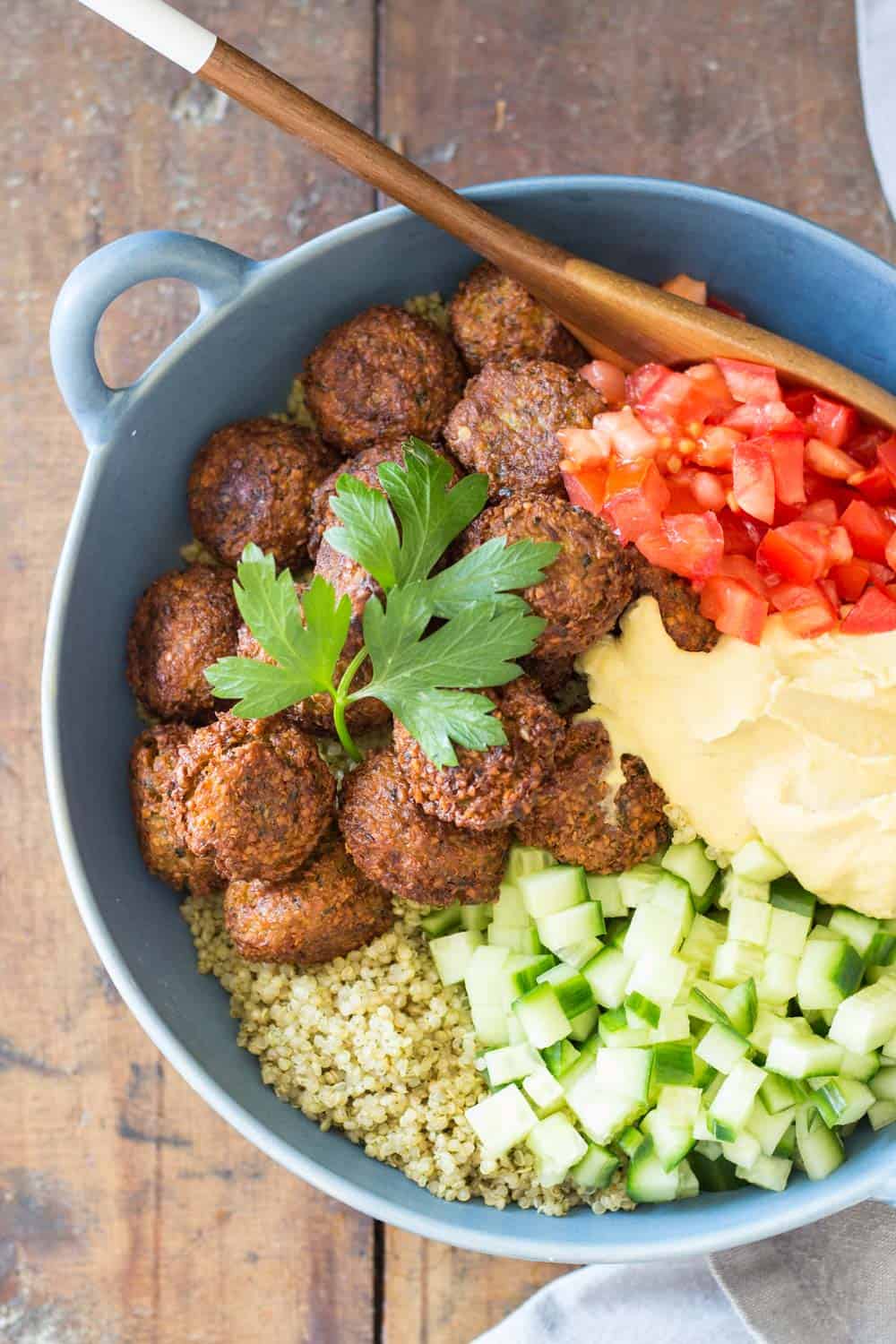 Now let's get right to the recipe. The falafel are only a slightly different version of the recipe my friend used which is Joan Nathan's posted on Epicurious.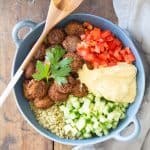 Vegan Quinoa Falafel Bowl
A healthy and highly nutritious flavorful Vegan Quinoa Falafel Bowl, perfect as a picnic or for dinner on the balcony or terrace.
Print Recipe
Ingredients
2

cups

chickpeas

-

(soaked for 12-24 hours)

1/2

large

onion

1

hand full

fresh parsley leaves

2

hand full

fresh cilantro leaves

1

tsp

Salt

2

cloves

garlic

1

tsp

cumin

1

tsp

baking powder

4-6

tablespoons

flour

2

cups

cooked chickpeas

3/4

cup

chickpea brine

1/4

cup

olive oil

1

Tbsp

tahini

1

clove

garlic

1

tsp

Salt

1.5

cups

quinoa

1.75

cups

water

1

cup

fresh cilantro leaves

1/2

cup

water

1

tsp

Salt

1

English cucumber

3

roma tomatoes
Instructions
The night before soak about 4 cups of dried chickpeas in abundant water.

Drain, rinse and drain chickpeas again.

Add 2 cups of soaked chickpeas into food processor.

Add the rest of the chickpeas to a large pot, cover with water up to about 1/2" over the top, bring to the boil and once boiling reduce heat to low, cover and let simmer for approximately 30 minutes.

In the meantime, peel and roughly chop onion. Add to food processor.

Wash, dry, and finely chop coriander and parsley (only leaves, no stalks). Add to food processor.

Peel and crush garlic. Add to food processor.

Add 1 tsp salt, cumin and baking powder to processor and pulse many many times until everything is well combined but not smooth and rather coarse. About sesame seed size pieces.

Add flour and work in by hand adding as little as possible to be able to form balls without the dough sticking too much to your hands.

Form golf ball sized balls and place on a parchment paper lined flat plate with enough space in between them.

Put plate with raw falafel balls into the freezer for 15-20 minutes.

Add 1 cup coriander leaves (no stalks) to a blender and add 1/2 cup water. Blend until smooth and no big chunks of herb are visible anymore.

Add quinoa, 1.75 cups water, coriander water and 1 tsp salt to a pot. Bring to the boil and once boiling reduce heat to low, cover and let simmer until all water is absorbed (approx. 15 minutes).

Heat about 2 cups of vegetable oil with a high smoke point (such as avocado oil) in a pan over medium low heat. This will take at least 15 minutes.

Wash and chop tomatoes and cucumber. Set aside.

Once the oil is hot (about 375 F / 190 C), take out falafel from the freezer, carefully add 6-8 falafel balls at a time to the oil and fry from all sides until golden brown. Place fried balls onto a paper towel lined plate to absorb the excess oil.

Once falafel is fried the chickpeas should be ready, too.

Add 2 cups cooked chickpeas, 3/4 cup brine, 1/4 cup olive oil, tahini, 1 tsp salt to blender and blend until smooth.

Serve as shown in the photos. Enjoy!
Nutrition
Calories:
644
kcal
|
Carbohydrates:
88
g
|
Protein:
23
g
|
Fat:
23
g
|
Saturated Fat:
3
g
|
Sodium:
1998
mg
|
Potassium:
1136
mg
|
Fiber:
16
g
|
Sugar:
7
g
|
Vitamin A:
815
IU
|
Vitamin C:
13
mg
|
Calcium:
193
mg
|
Iron:
7.7
mg
What's your clean eating vibe?
Take this fun QUIZZ and find out in 10 seconds!
P.S. watch out for Wednesday's recipe to use up the leftover cooked chickpeas :)