Oh my, the sauce for this Sockeye Salmon Pasta is OUT.OF.THIS.WORLD!!! When I tried it with a little spoon to make sure no salt is missing my eyes instantly closed and my knees got weak and the only thing I could think of is: this is the taste I want to have in my mouth when I die. Seriously! It took me quite a while to make up my mind wether I should even write this about the sauce because when expectations are high they are difficult to meet. It's like when you go see a movie everybody has been praising and you then find it barely okey or the other way around when people tell you it's really really bad and you think to yourself, well it's not actually thaaat bad. With this sauce though I am 99% sure it will make you fly to another dimension despite high expectations.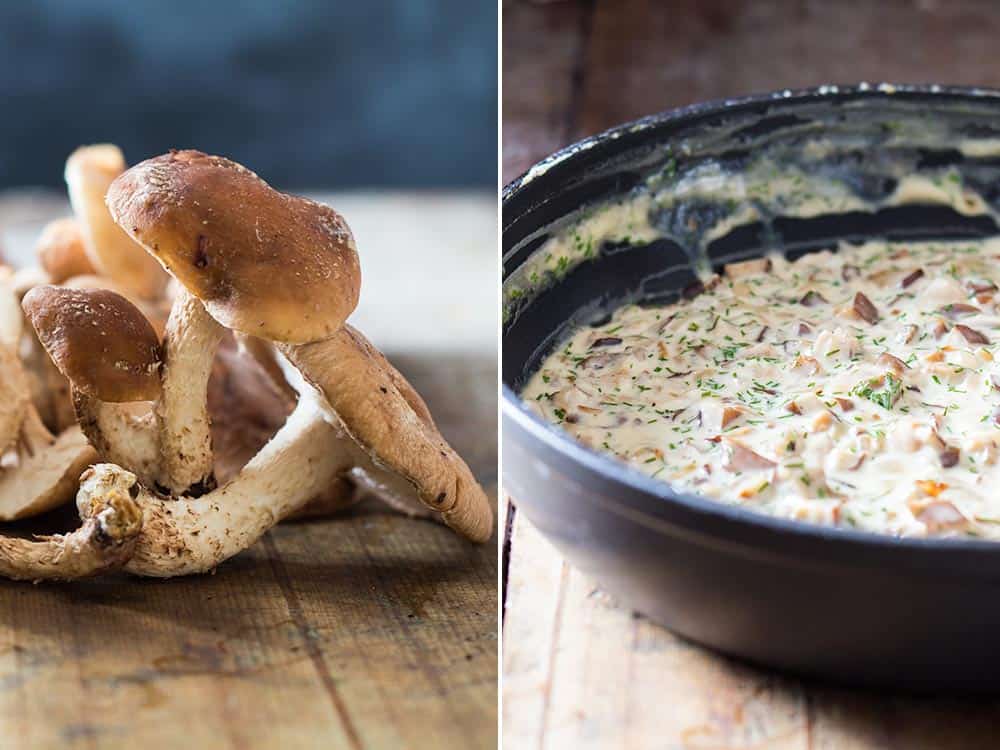 Shiitake mushrooms are my favorite mushrooms and they are the ones that make this sauce so incredibly delicious. All 5-star restaurants stand out because of their chef's amazing sauces and most of those sauces' bases are either bone broth or some sort of mushroom from what I know. I've only worked in one fancy restaurant and the sauces are always a big big secret in any restaurant but by peaking over the chef's shoulder I was able to learn a thing or two and I, as you all know, make no secret about what my recipes are made of :P Lucky you, eh?!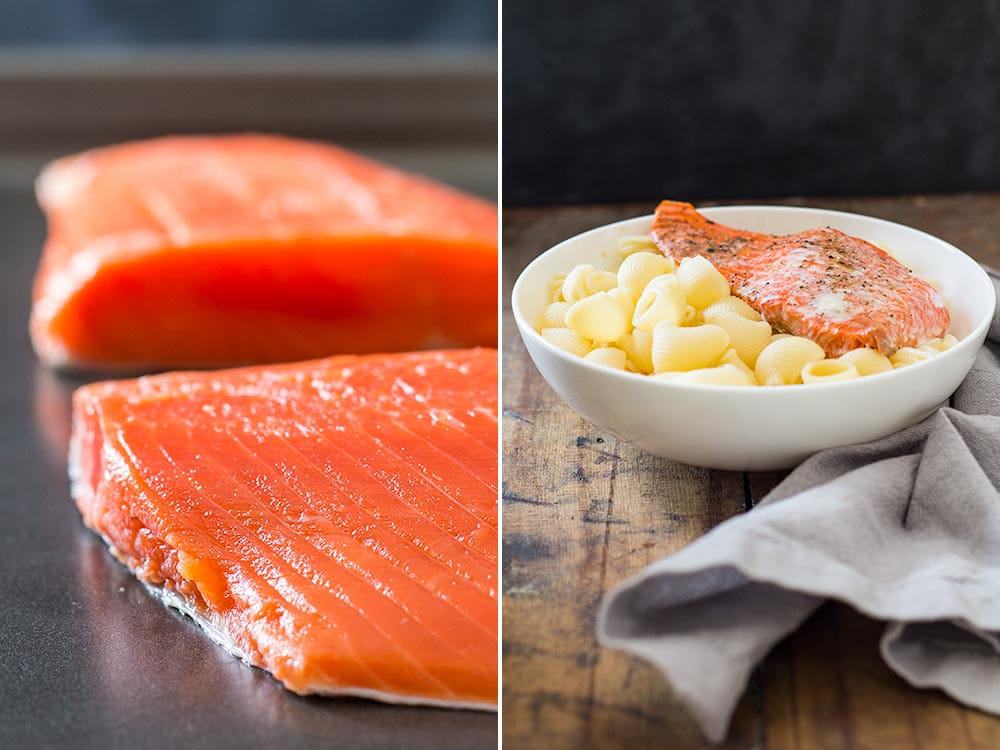 Unsmoked Sockeye salmon I've only just discovered because they are now selling it frozen at Costco. I've eaten smoked sockeye salmon a lot and always loved it and I'm over the moon to find it unsmoked now. Salmon is choked full of Omega 3 fatty acids and provides one of the most amazing proteins out there. The concerns with elevated mercury in fish and seafood is hardly an issue with this wild-caught Alaskan variety. To read more about this specific salmon's health benefit and it's sustainability visit this amazing webpage full of valuable information. If you are lazy but want to know if this is a good piece of fish, be assured it IS!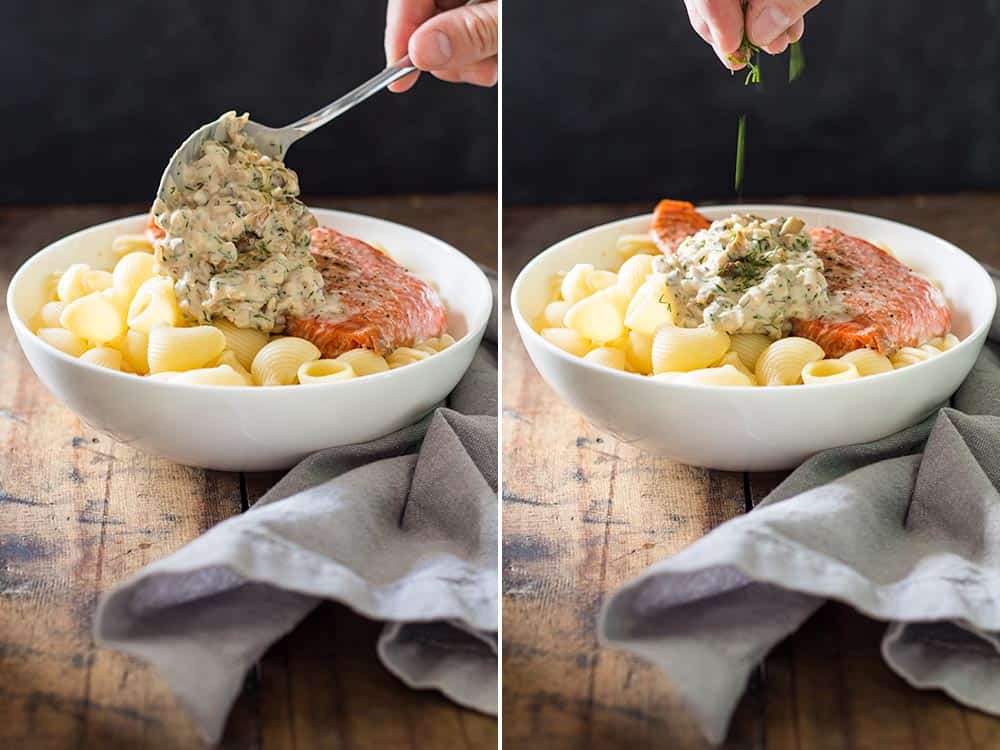 I've made this recipe for 2…ADULTS! Because this is a date night dinner for sure! Papa, you may want to make this for the mama of your children for Mother's Day (hint! hint!). My kids would gobble this down for sure. They LOVE salmon and they love pasta and I may make this again for them, too…..eventually :P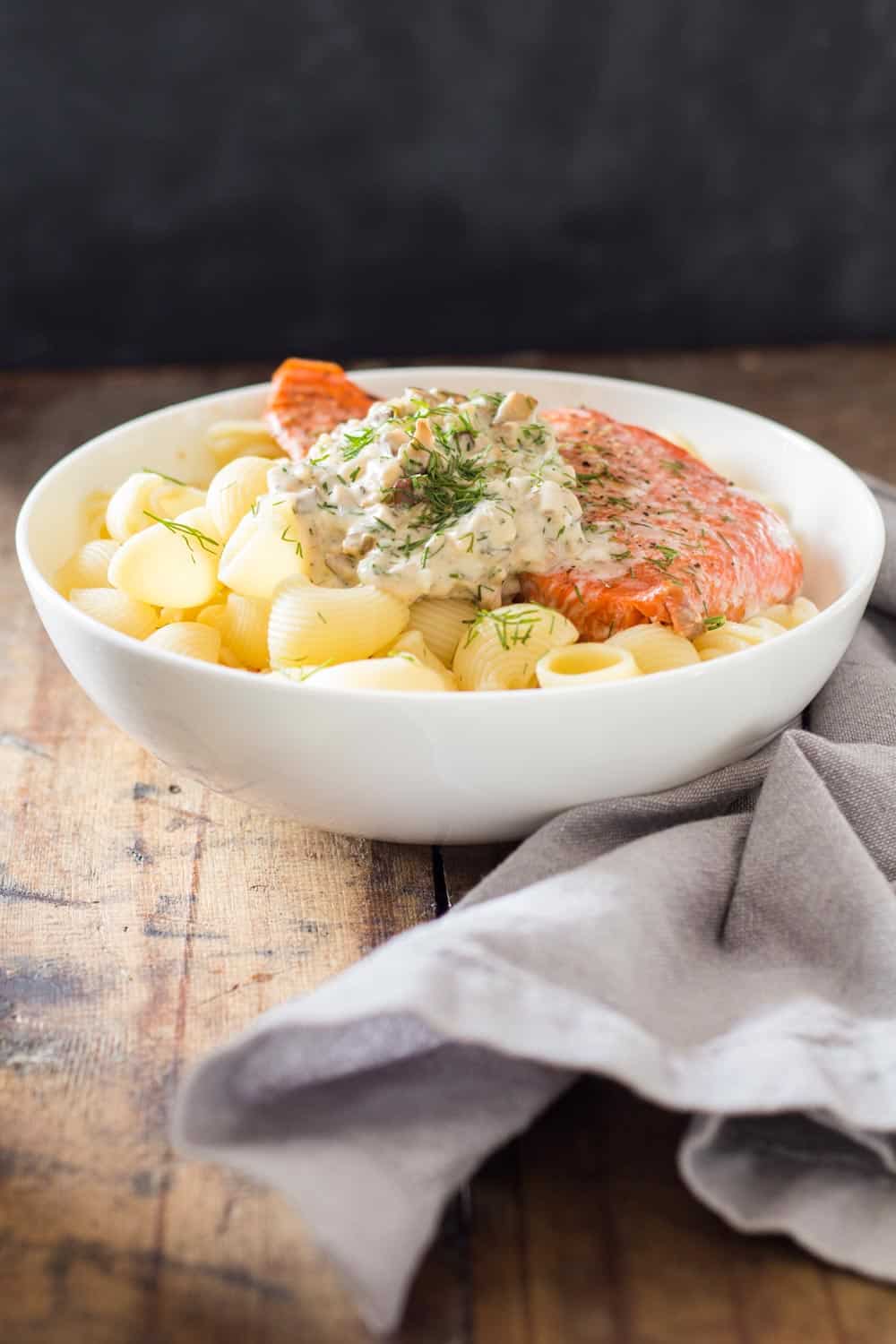 If you want to really really really pamper the mamas around you, you may want to start the day by serving her a Chocolate Smoothie Bowl made with love, then this Sockeye Salmon Pasta with the out of this world Shiitake mushroom sauce and for dessert ideas wait for Friday. I've got something truly beautiful for you :)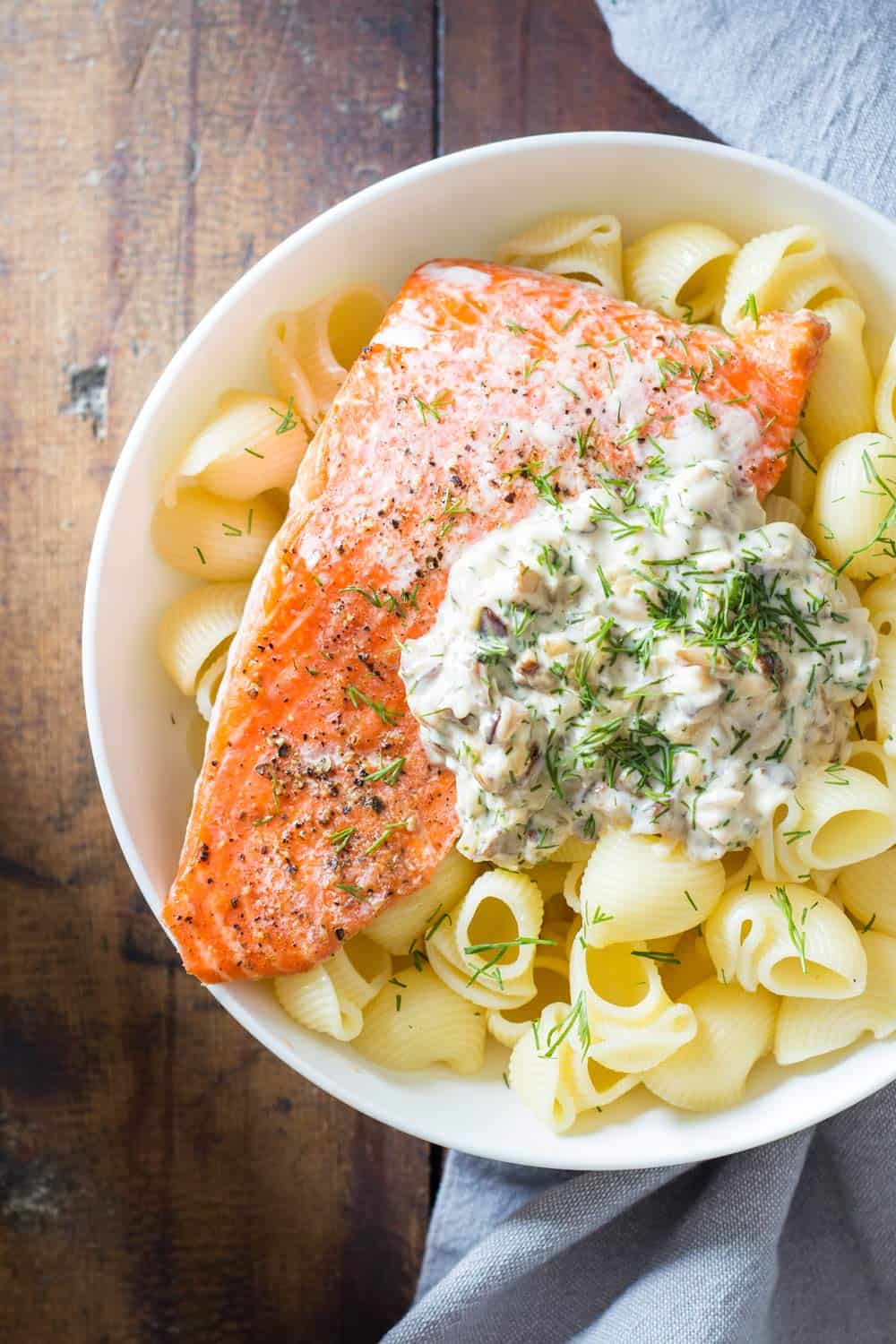 Sockeye Salmon Pasta
Print Recipe
Ingredients
200

g

favorite pasta

-

(I used Lumaca Rigata)

2

Sockeye salmon filets

salt

pepper

olive oil

4

oz

shiitake mushrooms

-

(115g)

1

small

yellow onion

1/2

cup

creme fraîche

1/2

tsp

salt

5-6

turns to the black pepper mill

1

Tbsp

chopped dill

Extra dill for decoration
Instructions
Bring a pot of water to the boil (at least 3 liters).

Preheat oven to 350 F (180 C).

In the meantime, peel and very finely chop onion.

Clean mushrooms with a soft brush or a paper towel (do not wash with water!), cut off and discard very hard, bulky part of the stem (not all of it) and chop finely.

Wash, dry and very very finely chop dill leaves only, no stems until you have about 1 Tbsp of chopped dill.

Place salmon skin side down on a lightly greased baking sheet, salt and pepper generously and drizzle about 1 tsp of olive oil on each filet.

Put in the oven for 16-18 minutes depending on thickness. (set a timer for 16 minutes and poke into it to see if it's already done. Do not overcook or it'll become dry, cooke a minute at a time more until juuust done).

Heat a small pan over medium heat.

Add pasta to boiling water and cook as instructed on package (regularly 10-13 minutes are necessary, try one around minute 10 and keep a close eye to make sure you don't overcook it, they should be al dente). Set a timer for 10 minutes.

Once small pan is hot, add a dollop of olive oil and then chopped onions. Sauté onions until translucent, then add chopped mushrooms and sauté until soft.

Add creme fraîche and 1/2 tsp salt plus a couple turns to the pepper mill of pepper to the onions and mushrooms and stir until creme fraîche is completely melted. Remove from heat and cover to keep warm. Set aside.

Once pasta is al dente, drain and let cold water run over them while moving the colander around, this is to avoid them from sticking to each other, only do this shortly or the pasta will be cold.

Add pasta to a bowl, place salmon (which should be ready by now) on top and top with amazing mushroom sauce.

Sprinkle extra dill on top and enjoy!

(a dry white wine goes really well with this)
Nutrition
Calories:
756
kcal
|
Carbohydrates:
83
g
|
Protein:
49
g
|
Fat:
23
g
|
Saturated Fat:
8
g
|
Cholesterol:
123
mg
|
Sodium:
714
mg
|
Potassium:
1360
mg
|
Fiber:
5
g
|
Sugar:
7
g
|
Vitamin A:
425
IU
|
Vitamin C:
3.1
mg
|
Calcium:
113
mg
|
Iron:
3
mg
What's your clean eating vibe?
Take this fun QUIZZ and find out in 10 seconds!