Learn how to make the easiest and yummiest and NO MESS Slow-Cooker Pot Roast or Crock Pot Roast you have tried in your life! 5 minutes prep for a dump and go recipe that'll reward you with an insanely good dinner! No browning required!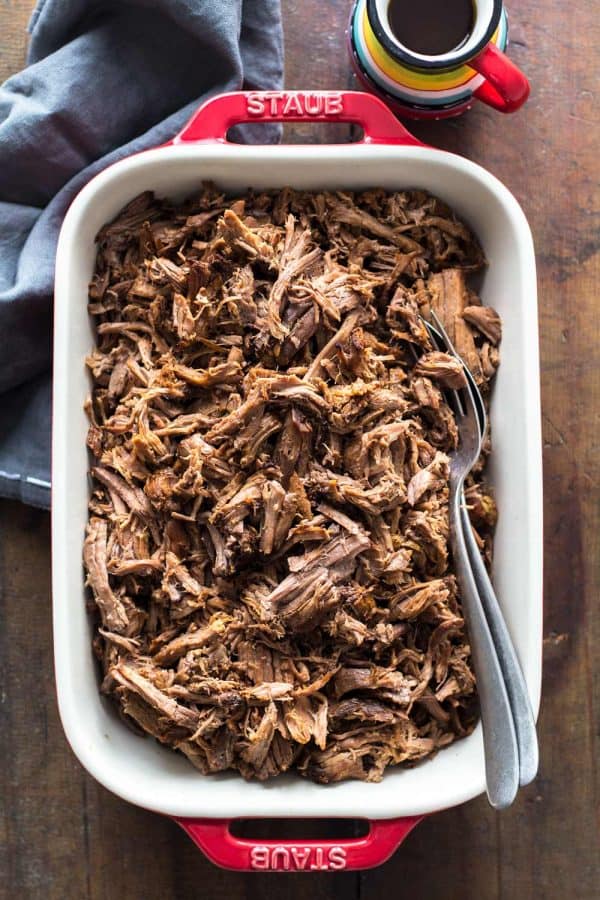 Let's get right into the heated discussion:
To Brown or Not to Brown the Pot Roast?
You read it up there, this is a recipe for a Slow-Cooker Pot Roast without browning. Is browning even necessary you might ask, well let's say it depends!
Professional chefs are going to roll their eyes on me. For them it is basically a sin to not sear a piece of meat. Here is the thing though….they don't tend to clean up the big mess after that step, right?
I am a home cook, I am solely responsible of doing everything in the kitchen including clean up AND cooking is not my only job, it's one of 5 I'm all juggling at the same time.
But that isn't even the only reason I don't sear my pot roast. The main and way more important reason is: I've tried it both ways and the difference in taste and texture is so minimal for me that it's simply not worth it.
Now don't get me wrong, when I make a stew with beef or lamb chunks I often DO sear the chunks. There I certainly feel and taste the difference. If I don't brown my chunks before they can get pretty dry. Not dry enough to not skip that step every once in a while when in a hurry but definitely drier.
With the slow-cooked big piece of beef I haven't experienced that at all though. If it's a good quality piece of meat with enough fat in between and around it I found it to turn out tender and moist and absolutely delicious every time. Browning or no browning.
So there you have it. Is browning an absolute requirement? No. Does the meat taste different? Maybe to you but not to me. Does the meat turn out dry without searing. Not if you have a high quality piece of pot roast and not if you leave all the fat attached to it.
How to Make Slow-Cooker Pot Roast Tender
Are you dreaming of a easily pulled piece of beef? Give it TIME. That's all it needs. If you take two forks and the pot roast does not pull apart practically on it's own it needs MORE TIME. No need to despair. I've been able to save a totally tough piece even when I thought there was nothing to do anymore.
Trying to cook pot roast in a slow-cooker on high so it's finished faster…..um, ya, that doesn't work. Been there, done that. Good news is: no it's not wasted if you did and it's super tough. Just put it back in the pot and give it another 2-4 hours on low and it'll turn out just like it was supposed to without you being impatient :)
I recommend cooking crock pot roast for 8-10 hours on low. After 8 hours you can check for "pullability" (that's totally a word, right?!?) for the first time after 8 hours and then decide if it needs another hour or two. If you know you'll be out of the house for 10 hours, set it for 10 hours and it'll FOR SURE turn out amazing!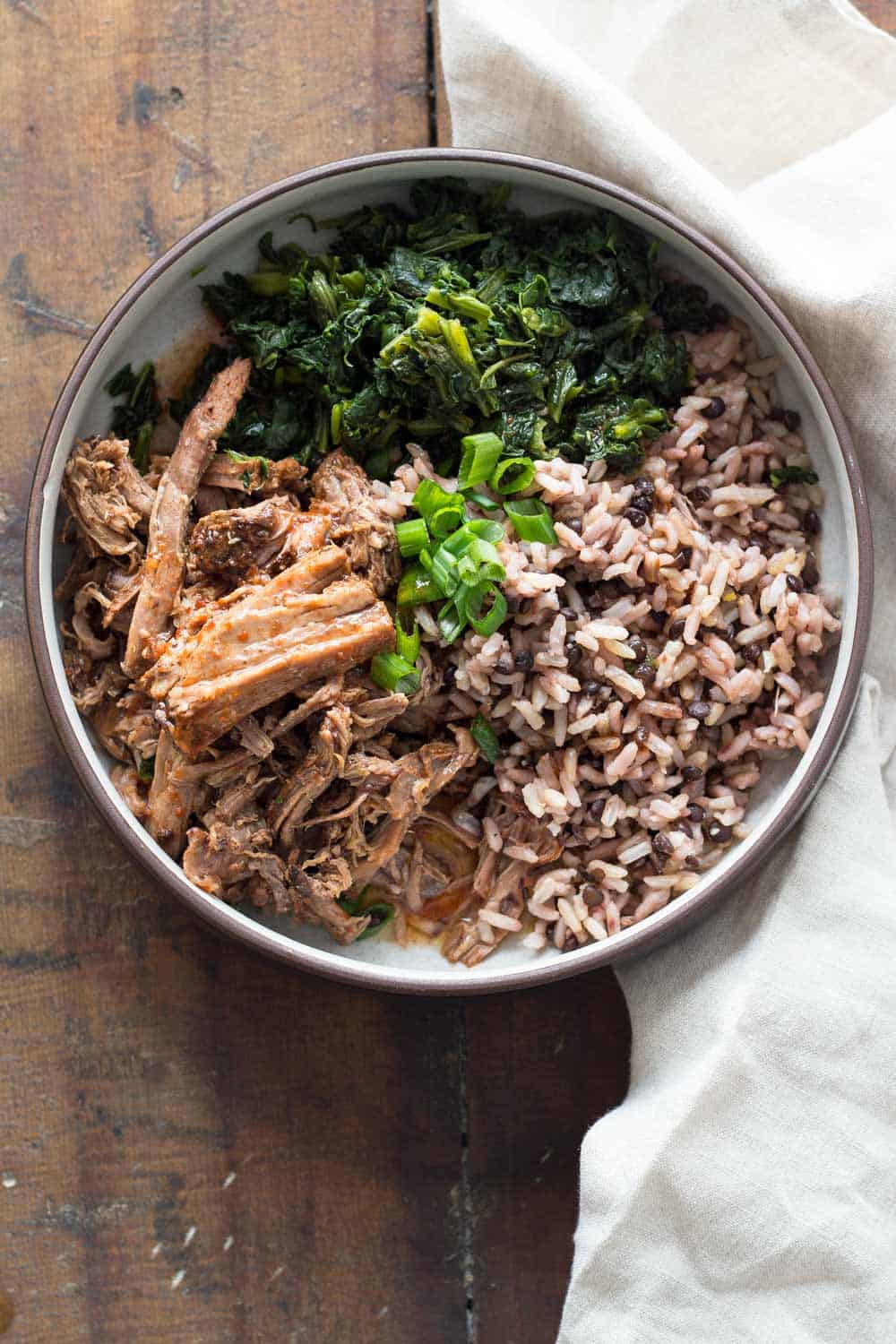 Slow-Cooker Pot Roast Without Tomatoes
Ya, I don't know about you but I get heartburn from too much tomatosauce and a pot roast needs a sauce to cook in, right? Most crock pot roasts call for a tomato based sauce and my stomach just can't handle the acidity.
Best tomato replacement? ROASTED PEPPERS!!! Sooooo gooood!!!! So much better than tomatoes. Don't get me wrong, I love tomatoes. However, preferably fresh and in moderate quantity.
Give me roasted peppers though and I can eat 500 without a problem. Well, maybe not 500 but 499 for sure!
Put the roasted peppers in a blender with some beef broth (preferably homemade) and blend until super smooth. You'll end up with the most amazing sauce ever to cook your pot roast in! Promise!
Best Meat for Crock Pot Roast
Look for big pieces of chuck or round. The pieces that look like they are very lean with a lot of connective tissue.
They look lean because all the fat pieces are within the piece of meat not attached to it.
Best Sides for Slow-Cooker Pot Roast
You can eat pretty much ANYTHING as side with it. My favorite carb is not potato as for many but RICE. Why? Because there is no carb that absorbs sauce better than rice. Simple as that.
Rice sucks up all the delicious sauce in which the pot roast has been cooking. It's so incredibly delicious. And as vegetable I love spinach because it cooks in like 10 seconds and I love green food in all my dishes. Actually the reason for the name of the blog "Green" Healthy Cooking ;)
Freezing and defrosting Beef Pot Roast + Meal Prepping with Crock Pot Roast
This recipe is for A LOT of meat. We are a family of 4 and we meal prep a lot so I rarely freeze it. We eat it all week. Almost all animal protein lasts 3-4 days in the fridge so this is perfect. Prepare on a Sunday, eat for dinner and then though into your meal prep containers for Monday, Tuesday and Wednesday with different sides.
If you don't like eating meat every day however of you can easily freeze the meat. I recommend freezing in individual serving sizes. Once you freeze it all in one container you have to defrost it all and eat it all, no regrets possible. Which is why freezing in single servings is much smarter. So how can you easily do that without filling your freezer with a hundred containers?
I love freezing pretty much anything in Silicone Muffin Tins like this * one. It's important to use silicone or you won't be able to get the content out again. Once frozen I transfer to either one big freezer-safe container or a freezer bag. That way you can take out as many serving as you need without defrosting all of it.
To defrost, place in a sealable container in the fridge for 12-24 hours and then reheat in a pan or the microwave. Tadaaaa. Try not to put the frozen meat in a pan to defrost. It's possible, yes, but the meat will totally dry out like that.
*this is an affiliate link and I might get a commission if you buy the product through the link at no extra cost to you.

How to Separate Fat From the Pot Roast Sauce
I love fat. I think fat gives food amazing flavor and I also believe natural fats are totally healthy for us. They keep us fuller longer and we avoid junk food cravings.
However, too much fat and food just tastes fatty and oily and not delicious at all. This is the fact with the sauce left in the slow cooker after cooking the pot roast for 8 hours.
This delicious piece of tough meat looses it's toughness thanks to the fat but then once it's all cooked the fat dilutes the sauce. So you want to separate the fat.
There is 3 common methods to do that:
scoop it out (<< very difficult because the fat keeps being mixed into the sauce again and again, plus you get out the least amount with this method).
Fill the sauce into sealable jars, put upside down into the freezer and wait for the fat to solidify, open your jar and pour out the delicious sauce (<< most effective method BUT takes hoooouuuurs).
Use a fat separator like this * one and remove the fat effectively and immediately.
*this is an affiliate link and I might get a commission if you buy the product through the link at no extra cost to you.
How to make gravy for a Crock Pot Roast
Making gravy is completely optional but absolutely delicious. In the video I didn't include that step because I was running out of light and had to get that video DONE. Ha!
It's super simple though. Just make a mixture of cold water and cornstarch in a 1:1 ratio and add to your boiling hot sauce, reduce heat and simmer while constantly stirring until enough water evaporates and it becomes gravy.
That's all there really is to it.
Slow-Cooker Pot Roast Video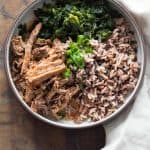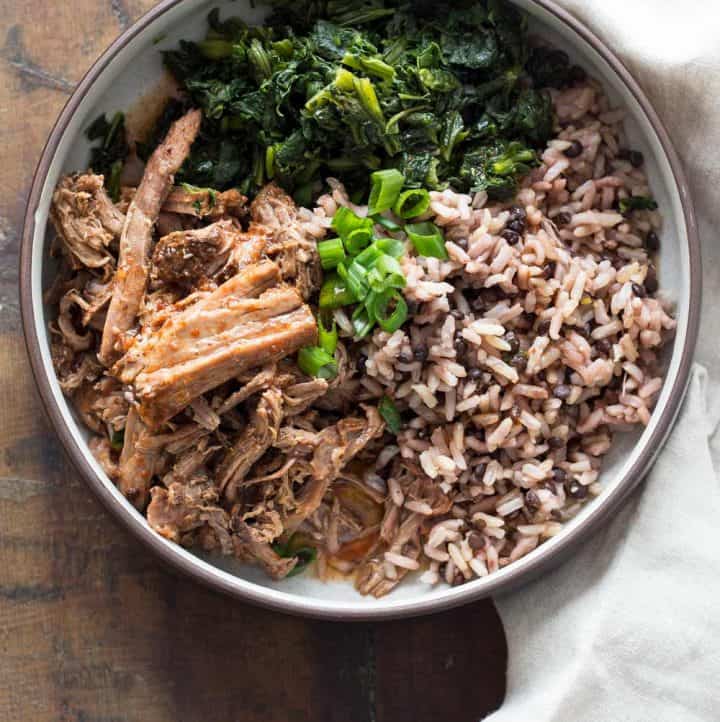 5-MINUTE PREP SLOW-COOKER POT ROAST
Learn how to make the easiest and yummiest and NO MESS Slow-Cooker Pot Roast or Crock Pot Roast you have tried in your life! 5 minutes prep for a dump and go recipe that'll reward you with an insanely good dinner! No browning required!
Print Recipe
Ingredients
4-5

lbs

chuck roast

4

roasted peppers

1

cup

beef broth

salt

pepper

cajun seasoning

1-2

Tbsp

corn starch
Instructions
Blend roasted peppers and broth in the blender until smooth.

Add pot roast to slow-cooker, season generously with salt pepper and cajun seasoning.

Pour roasted pepper broth over the roast, cover the slow-cooker and set to 8-10 hours on low.

Remove the roast and place in a serving dish to pull apart with two forks and remove bits of fat if desired.

Separate fat from sauce remaining in the slow cooker with a fat separator or mason jar method. Then pour over meat.

OR make a gravy: Add fat-free sauce to a sauce pan and bring to a boil. In the meantime, add 1 Tbsp cornstarch and 1 Tbsp water to a small bowl and mix until corn starch is completely dissolved. Then add your cornstarch water (thickener) into your bubbling hot sauce, reduce heat to simmer and stir until gravy forms. Then serve.
Nutrition
Calories:
417
kcal
|
Carbohydrates:
1
g
|
Protein:
43
g
|
Fat:
26
g
|
Saturated Fat:
11
g
|
Cholesterol:
156
mg
|
Sodium:
548
mg
|
Potassium:
796
mg
|
Vitamin A:
125
IU
|
Vitamin C:
8.6
mg
|
Calcium:
48
mg
|
Iron:
4.9
mg
What's your clean eating vibe?
Take this fun QUIZZ and find out in 10 seconds!