Cornbread Muffins are a delicious side dish! This is the last cornbread muffin recipe you'll ever have to search for. Moist and soft and absolutely delicious!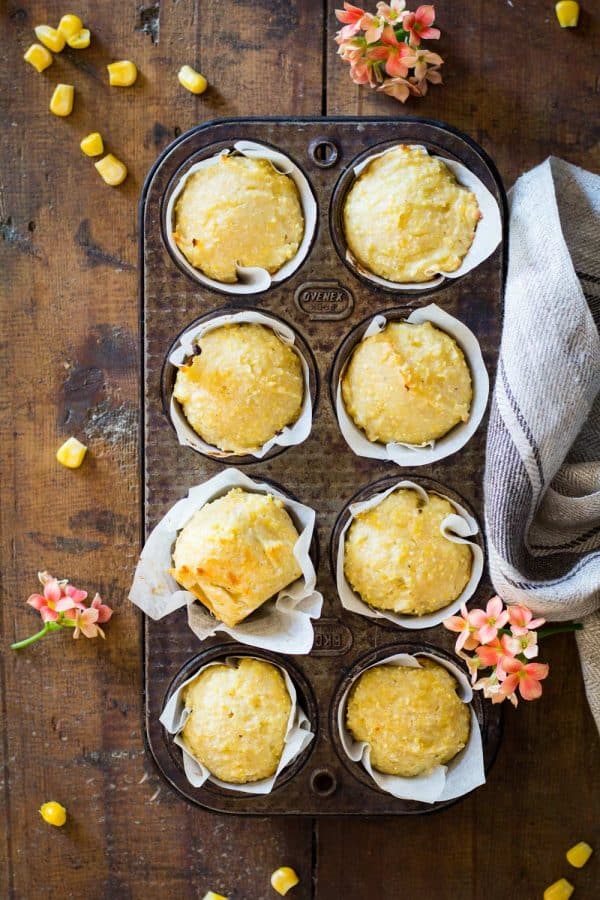 So, I got challenged by a friend. She said she has been looking for a savory muffin recipe that isn't full of flour and cheese. I did try to make them all cornflour but they were too grainy and too dry and too ugh. I just HAD to add a little all-purpose flour to keep it soft and smooth and cakey (is that a word?).
Apart from that, I also had to add some cheddar because they taste so good with cheddar and because corn and cheddar are like lovers. You can't separate them. It would be a national tragedy. Seriously. If you want to be so mean to separate them go ahead my friend. They will still turn out just fine. With a broken heart of course, but fine ;)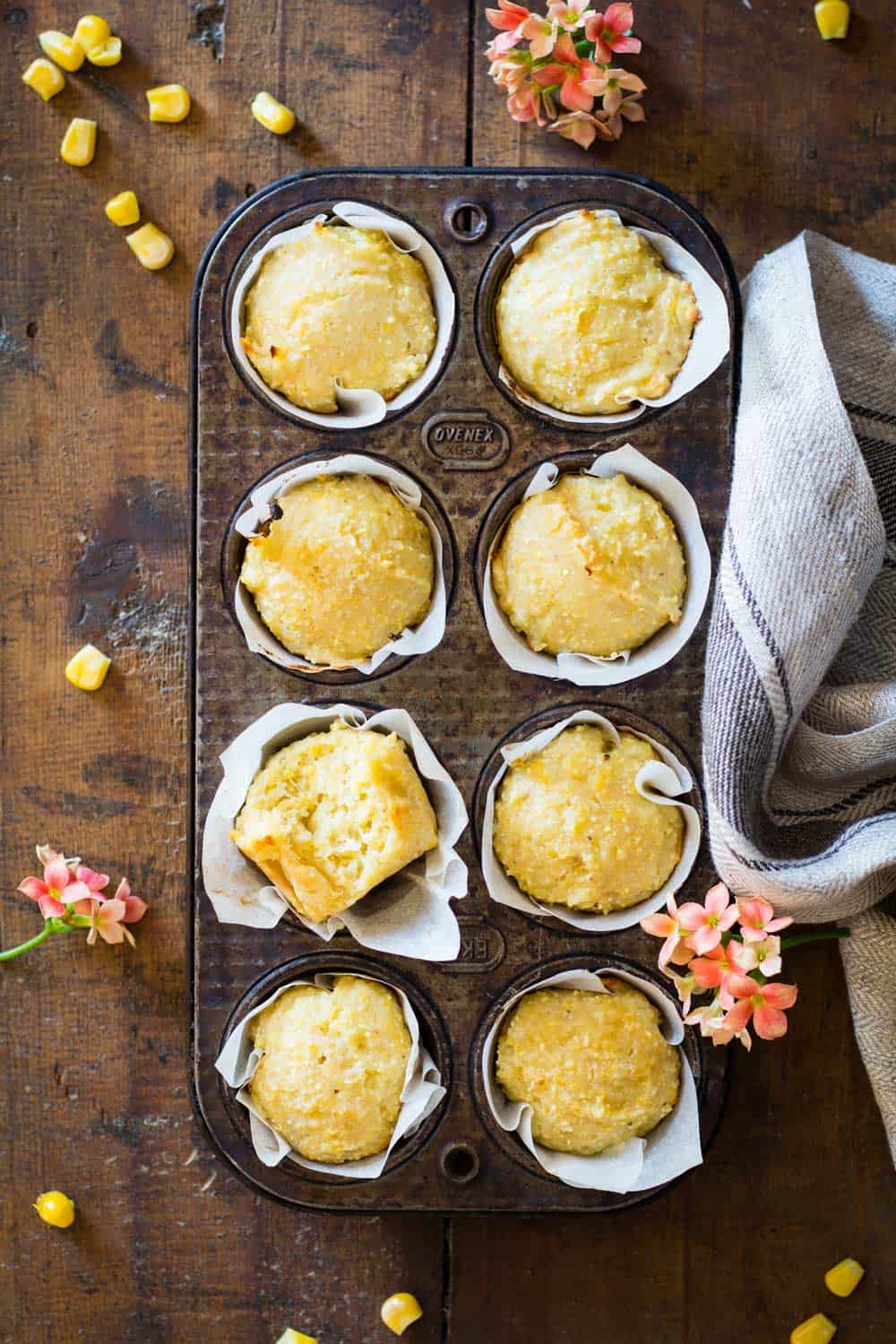 How to keep cornbread muffins moist
So in order for cornbread muffins to stay moist we first have to get them to be moist in the first place, right? You need to get a precise dry to liquid ratio in the batter. Too much liquid and they will be all soggy. Too little liquid and they'll be grainy and dry and fall apart.
I found it easiest to add a little liquid (milk) and then make sure to achieve the perfect moistness with sour cream. Sour cream also gives them an amazing flavour and adds a lot of protein. So does the cheese. The cheese's fat adds to the moistness of the muffins.
If you leave them out, make sure to add maybe half a tablespoon of oil. The fat/oil is responsible for "keeping" the muffins moist later. Store the muffins in an airtight container in the fridge and you will have moist muffins for as long as they last.
How to keep cornbread muffins from sticking to the muffin tin
This applies to any kind of muffin but especially cornbread muffins because the batter is so dense and sticky. Add liners. No need to buy pretty and/or expensive liners. Just cut a piece of parchment paper into squares and then press them into each hole. Press into the sides to crease where necessary and then add the batter.
The weight of the batter will keep the "liners" in place and besides it's even easier to peel off the muffins later than a regular store-bought liner ;)
I made these muffins for a Vegan Cream of Broccoli Soup that is absolutely delishious!!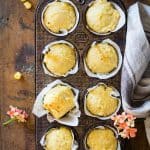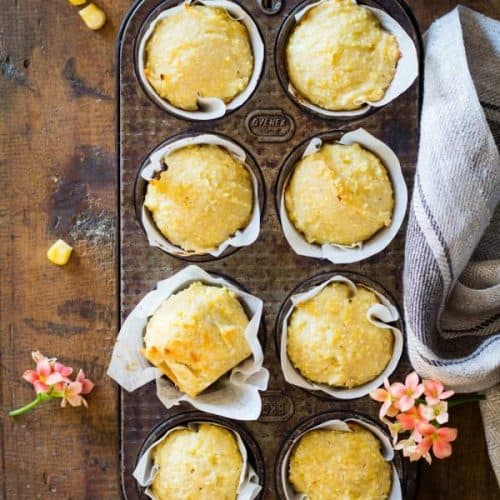 Cheddar Cornbread Muffins
Cornbread Muffins are a delicious side dish! This is the last cornbread muffin recipe you'll ever have to search for. Moist and soft and absolutely delicious!
Print Recipe
Ingredients
1/2

cup

corn meal

1/4

cup

all purpose flour

1

tsp

baking powder

1/2

tsp

Salt

1/3

cup

milk

1/2

cup

sour cream

1

egg

1/2

Tbsp

honey

1/3-1/2

cup

shredded sharp cheddar cheese

-

(mild if children are eating)
Instructions
Preheat oven to 400 F (200 C).

Add cornmeal, milk and sour cream to a pan and stir until well combined. Heat over medium heat until it starts bubbling while constantly stirring.

Remove from heat, add to a bowl and continue stirring until it cools down to room temperature. Set aside.

In a small bowl whisk all-purpose flour, baking powder and salt together.

The corn batter should be cool enough to add the egg without it scrambling. Add the honey and the egg and stir fast (just in case).

Add flour/baking powder/salt mixture to corn batter.

Fold in shredded cheddar.

Line a mini muffin tin with parchment paper and divide the batter evenly.

Bake for 13-15 minutes until the tops juuuust start browning. Insert a tooth pick to make sure they are cooked inside.

Let cool in the muffin tin for the moisture to redistribute into the muffin instead of evaporating.

Enjoy by itself or dipped into a delicious soup.
Nutrition
Calories:
98
kcal
|
Carbohydrates:
12
g
|
Protein:
2
g
|
Fat:
4
g
|
Saturated Fat:
2
g
|
Cholesterol:
28
mg
|
Sodium:
170
mg
|
Potassium:
136
mg
|
Fiber:
1
g
|
Sugar:
2
g
|
Vitamin A:
135
IU
|
Vitamin C:
0.2
mg
|
Calcium:
57
mg
|
Iron:
0.6
mg
What's your clean eating vibe?
Take this fun QUIZZ and find out in 10 seconds!