Ok guys, so there is good recipes, very good recipes and THESE SHRIMP TACOS WITH CILANTRO LIME SALSA!!! I don't post any bad recipes on the blog of course. It's not that I don't ever make them, I do make them and quite often actually but those fails obviously don't make it onto the blog. I wish I could post only and exclusively orgasm provoking delicious recipes but unfortunately I am not there yet in the long journey of becoming a professional recipe developer. For now, you will have to make do with sometimes good recipes, often times very good recipes and  every once in a while orgasm provoking delicious recipes. These Shrimp Tacos with Cilantro Lime Salsa, in my honest opinion, belong to no other category but the latter. Holy guacamole! My avocado-hating kid gulped them down like he was a sumo wrestler in training. My daughter kept trying to steal from her brother's and my plate and my husband ate his share despite having eaten dinner at work. I still dream of them and editing the pictures has been torture because I so wish I could have them like RIGHT NOW!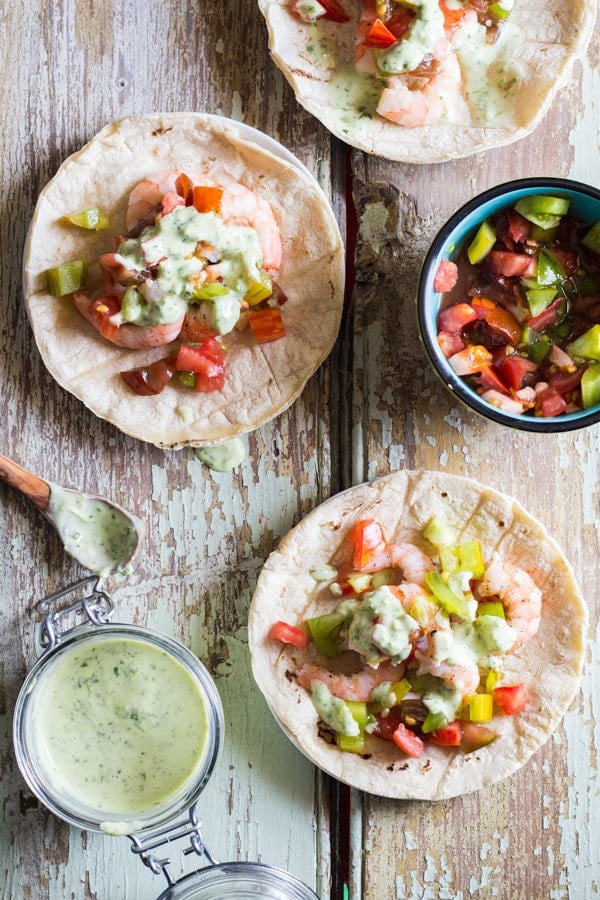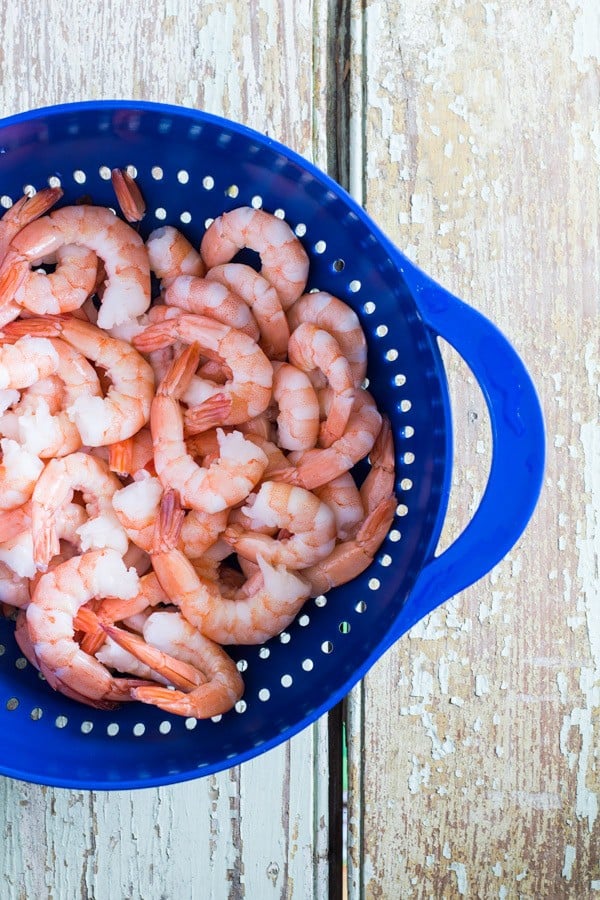 I'm moving THIS Saturday so I finally started to fill up some boxes with stuff. Trying to figure out what I won't need in the kitchen for the next 5 days is extremely hard. Haha. I pack stuff and then unpack again thinking, wait, I could make pancakes tomorrow so I still need my flour and whisk and big bowl and small bowl and pan and and and and *sigh* My fridge is bursting full because I am completely incapable of not buying food and I simply can't wrap my head around eating take away for a week or just sandwiches.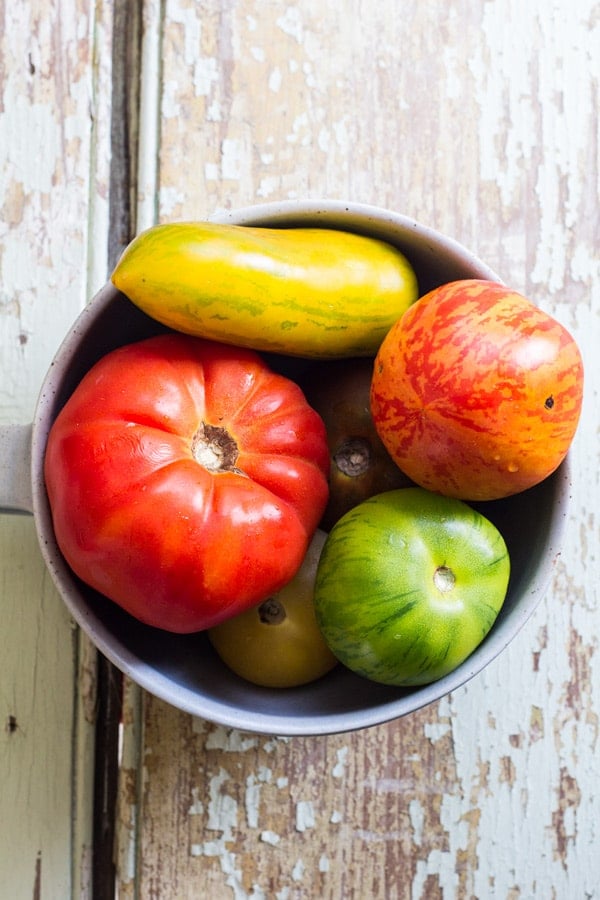 For now I have decided I will pack all dry ingredients into boxes and all cuttlery and plates and stuff but 4 of each for us to use this week and I've planned all our meals so I only need one bowl, one pan, one pot and a spatula to prepare everything. The fridge I will empty the same day and drive myself to the new apartment because it's only 10 driving minutes from where we currently live anyway so no problemo.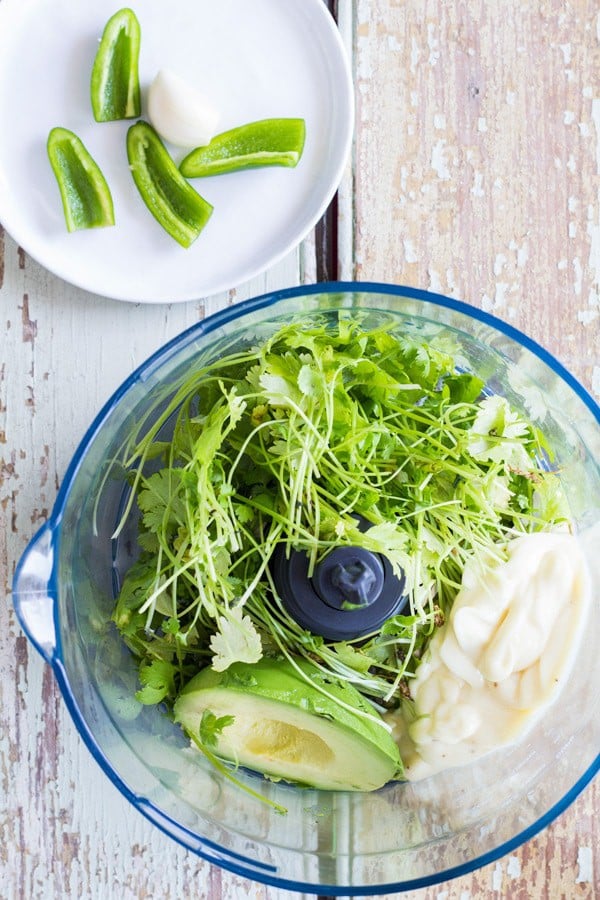 What will I do 5 days without my food processor? I won't be able to make this Cilantro Lime Salsa!!! Ahhhhh!! Make sure you make an extra badge and eat it in our honour, ok? I have to calm down, it's only 5 days. I have pushed the whole packing quite far in order to avoid living with cardboard boxes everywhere. 5 days is nothing, right?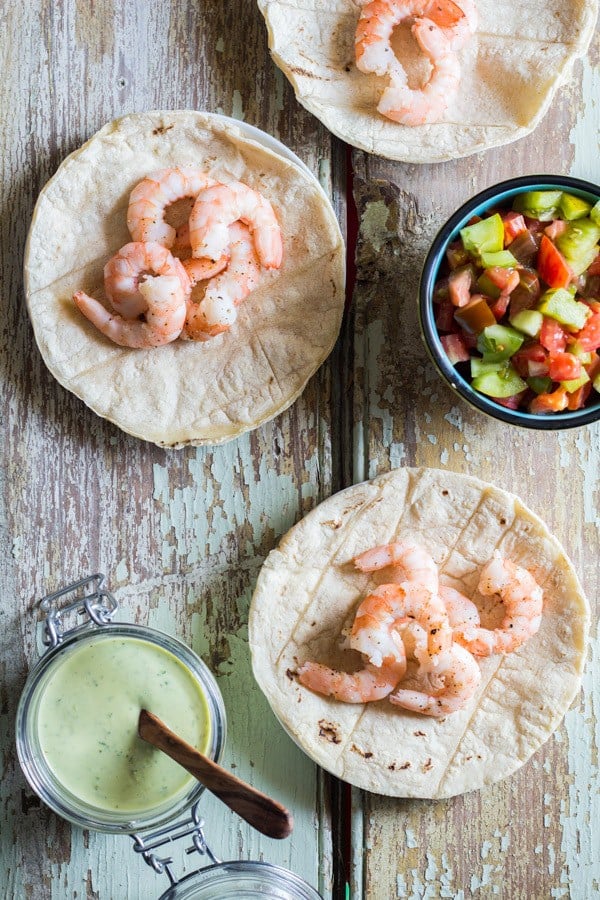 I'm so excited to move into our new apartment. I am the most excited about my new kitchen! It is soooo big and bright and nice and open and *siiiiigh*
You will love it! I could maybe even make a video about my new kitchen so you can all get a little bit of a behind the scenes of Green Healthy Cooking. Let me know if you'd be interested in something like that.
For now, just enjoy these tacos and let yourself be tele-trasported to Mexico's turquoise ocean water beaches instead of my chaotic apartments :) indulge!!!
Shrimp Tacos with Cilantro Lime Salsa
Print Recipe
Ingredients
1

kg

cooked shrimps

3

different colored heirloom tomatoes

1/2

cup

homemade mayonnaise

-

(1 egg, 1/2 tsp mustard, 1 Tbsp lime juice, 1/2 tsp salt, pepper, avocado oil)

1/2

bunch

cilantro

-

(about 25g)

1/2

avocado

1

clove

garlic

2-4

Serrano chillies

salt

pepper

1

lbs

corn tortillas

-

(450 g)
Instructions
Wash tomatoes cut into small dice. Set aside.

For mayonnaise you will need a blender. Add egg, mustard, lime juice, salt and pepper to blender and then use the lid without the middle part to cover. Start the blender on low so the ingredients don't spray out. Blend the ingredients together for maybe 10 seconds, then slowly pour in oil. It is important to ALWAYS do this slowly, from start to finish, never more than a spaghetti thick string of oil AND, it has to be constant. Don't stop pouring until the mayonnaise is ready. If you pour in more than a thin string you risk the mayonnaise to curdle. If this happens you will have to start all over, so be patient and maintain a steady hand. Once the blender can't continue blending because the mayonnaise has become too thick, stop the oil pouring, your mayonnaise is ready.

Heat two pans on the stove over medium heat.

Wash cilantro and shake well to remove excess water.

Cut and peel avocado half.

Add cilantro, avocado half and 1/2 cup mayonnaise (crushed garlic and deseeded Serrano chillies) into food processor and process until smooth. If needed add 1 Tbsp of water to liquify. I usually process the sauce without garlic and chillies first, separate a part of it for the kids, then crush the garlic into the processor and add the deseeded chillies to process again for the adult's salsa.

Salt and pepper salsa to taste.

Put corn tortillas 1-2 at a time in one pan for about 1 minute per side and once hot and soft put in a kitchen towel to keep warm or a plate covered with a pot lid.

In the other pan, heat a dollop of avocado oil and fry shrimps in it for about 30-60 seconds, not longer. This is just to heat them. Salt and pepper shrimps to taste.

Assemble tacos by placing tortilla first, then shrimps, then tomatoes, then salsa.
What's your clean eating vibe?
Take this fun QUIZZ and find out in 10 seconds!
P.S. Please all repeat after me: "HAPPY BIRTHDAY LORENA'S MUM-IN-LAW"!!!