Hello, hello, hello, this time I have a totally food unrelated post for you. Weird, I know, but I couldn't just not post it and keep it all to myself, don't you think? I hope you enjoy it. It is a project my husband and I have enjoyed A LOT and the kids are like beeeeeeyooooond happy with the result. I hope this will inspire you to start your own painting project in order to beautify the rather boring furniture in your home. Often times we think we have to live with furniture we don't necessarily like because that ugly piece of furniture is what's in our budget or because we have to make do with what we have until we finally saved a long time to buy what we consider a nice addition to the decor. However, there are often so many other ways to either pimp a low-budget piece of furniture OR to beautify an old one in order to use that saved money we were going to spend on something new in something completely different.
Before buying the kid's beds I searched the internet for options and of course the beds I liked the most were TOTALLY out of our budget. So I looked for ways to "pimp" a less pretty but also less expensive bed and after some research found out that there are two simple Ikea beds that are made of unvarnished solid wood. Varnished would have worked as well but would have required sanding and why add a step when not necessary? So I chose the one I liked the better which was the Tarva Bed and then went to my local hardware store to choose a bunch of those color shade cards they let you take home to decide on which color you like the best. I gave them all to the kids and told them to choose one card and they chose these:

I bought all 5 colors of each card in order to create exactly that color lighting stair on their beds. Then my wonderful, beautiful, super handy husband [hola precioso ;)] was assigned the job to paint and assemble the beds and they turned out just absolutely gorgeous!!! We love the result and what's more important, the kids almost fainted when they saw their beds. They absolutely love them! I think what they are the happiest about is that they were allowed to choose the colors themselves.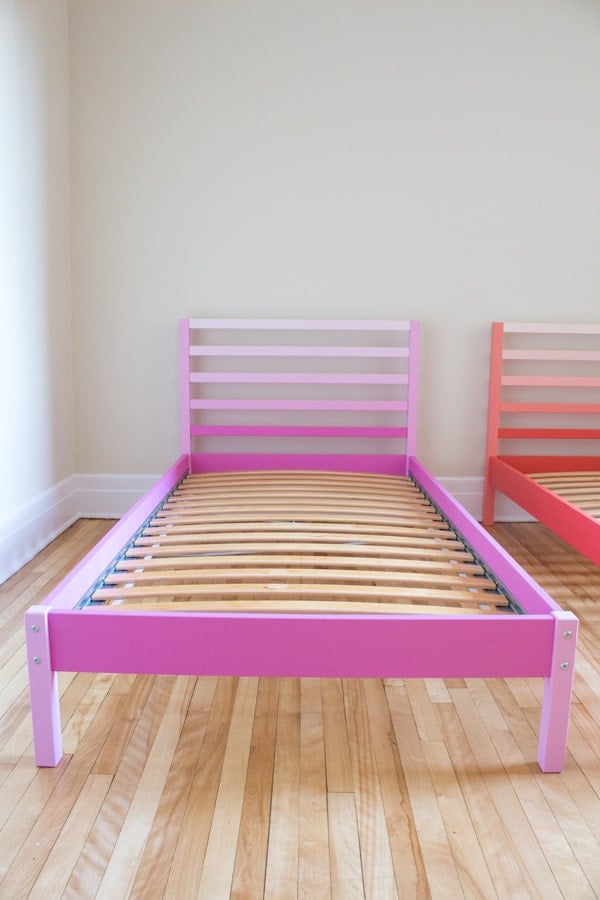 Everybody who comes visit our apartment gets immediately directed to their room by them first and they point at their beds and proudly announce: I CHOSE THE COLOR!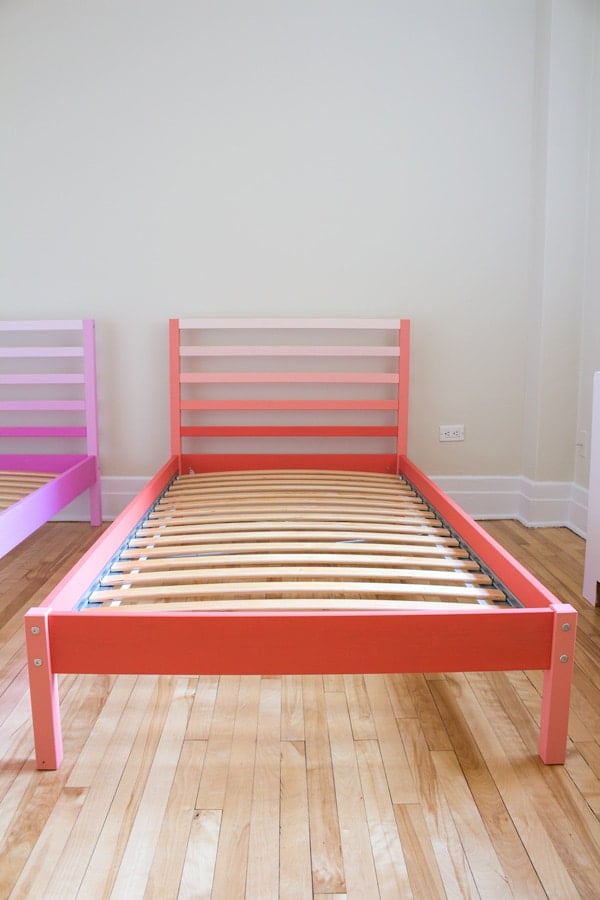 I couldn't take a "before" picture because the beds were new and not assembled and we didn't want to assemble them just to take a photo and then disassemble again to paint. I have started my second project now though where I was able to take a pic of a before and after at the same time actually. The kids have had Ikea Poäng armchairs for quite a while now and I decided to paint the wooden part as well to match their beds and started with the first so far.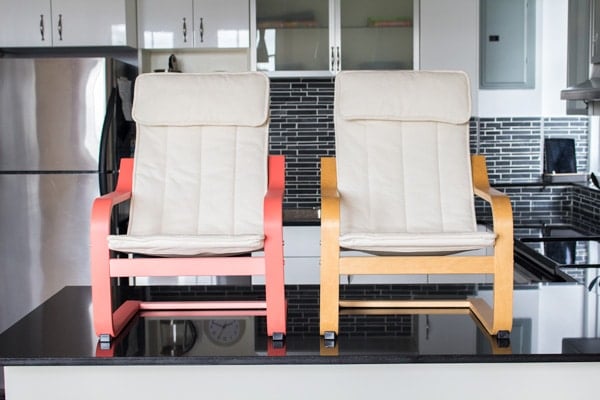 These armchairs needed some initial sanding because the wood was varnished. It only took about 10 minutes though because it's so little that needs to be sanded. Don't worry about painting on the little black feet at the bottom. The paint comes off easily with a wet cloth afterwards.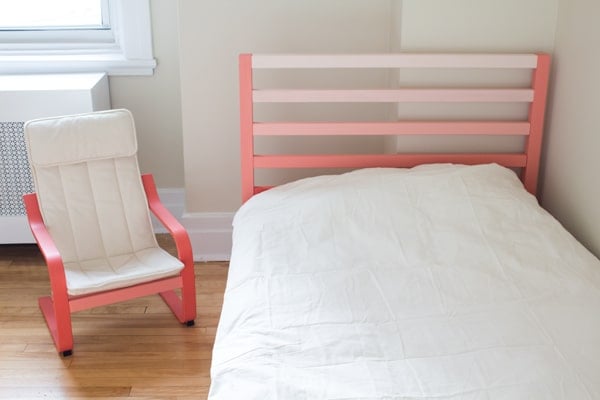 Well and this is the result for one of the bed/armchair combos. When you go buy the paint just ask for the little sample containers. I bought mine at $3 a piece. So the project for one bed came down to $99+(5x$3)=CA$114 (in US Dollars that's about $85 and in Euros about €77).
Let me know what you think :)