This chocolate peanut butter ice cream has no eggs and is made with coconut milk. It's a vegan ice cream recipe that can be made easily in an ice cream maker, or as a no-churn ice cream!
How is ice cream made, step-by-step?
To make your own ice cream, the general steps will be the same regardless of the flavor you choose to make. I'm partial to anything that combines chocolate and peanut butter, so we are going to start with my favorite eggless ice cream.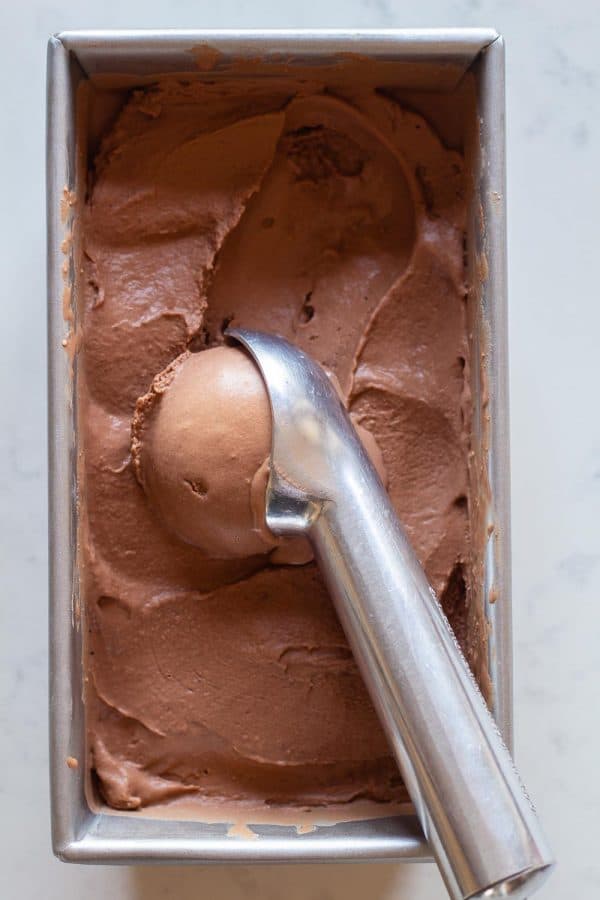 Whether you use an ice cream machine or not, it's so easy to make homemade ice cream!
Melt the flavor ingredients and dissolve the sugars.
Stir in maple syrup.
Add the milk or non-dairy liquid.
Put the ingredients into an ice cream maker
For no-churn ice cream, store the ingredients in a freezer-safe container.
An ice cream maker both mixes and freezes the ice cream at the same time. The motion ensures that crystals do not form. As a result, your chocolate peanut butter ice cream will be super smooth. Another benefit to using an ice cream maker is that you can eat the ice cream immediately after making it.
If you make no-churn ice chocolate peanut butter ice cream, you will have to allow it to freeze overnight. Plus, it will need to set in the refrigerator for a short time before serving. This is because no-churn ice cream freezes hard, so it's almost impossible to scoop if it isn't allowed to thaw a little bit first.
Is coconut milk ice cream bad for you?
There are a lot of options on the market for dairy-free ice cream.
Almond, soy, cashew and other nut milks can be used to make ice cream. But coconut milk ice cream will give you the smoothest, richest ice cream texture. It is the hands-down favorite in all taste tests. This is because it is high in saturated fat.
These saturated fats have been shown to increase the levels of good cholesterol.
While we don't want to consume too many saturated fats, they are healthy in moderation. An occasional serving of this coconut milk ice cream will not do any harm.
In addition, the peanut butter that is added to this chocolate ice cream recipe provides a healthy serving of protein and healthy fat.
By making it yourself, you can control the ingredients. If you also use dairy free chocolate as well as the coconut milk, this recipe can easily be completely dairy free.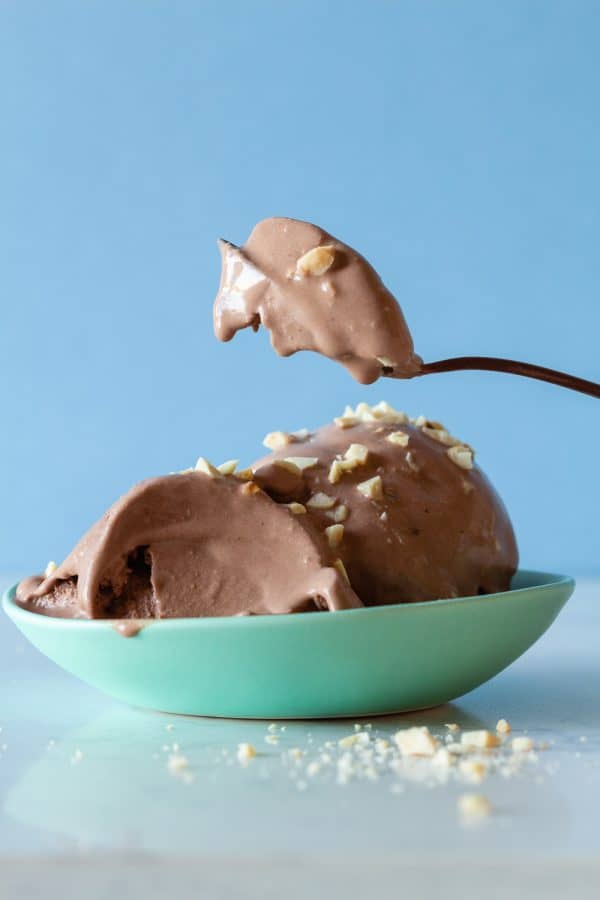 Other chocolate peanut butter recipes to try: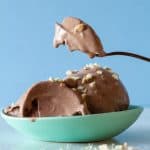 Chocolate Peanut Butter Ice Cream
Print Recipe
Pin Recipe
Ingredients
2

oz

70% dark chocolate

-

(60g)

1/4

cup

unsweetened cocoa powder

1/3

cup

maple syrup

1/2

cup

unsweetened peanut butter

-

crunchy or smooth, both work

2

cans

coconut milk

-

(full fat)
Instructions
Melt chocolate over water bath and once melted mix in cocoa powder and maple syrup and stir until well combined.

Remove chocolate mix from heat and keep stirring until it cools down a little.

Add chocolate mass to a bowl with a spout, then add peanut butter and coconut milk to it and whisk until well combined and not chocolate or peanut butter are stuck to the bottom of the bowl anymore.

Add everything to your ice cream maker and churn for approximately 10 minutes. OR alternatively, add to a freezer-friendly container and add to the freezer overnight to harden.

If frozen in a container instead of churning in an ice cream maker the ice cream will be quite hard, so defrost in the fridge for about an hour before serving. That works better than defrosting on the kitchen counter for 10-15 minutes. It becomes soft more evenly, not only at the edges.
Nutrition
Calories:
207
kcal
|
Carbohydrates:
16
g
|
Protein:
4
g
|
Fat:
14
g
|
Saturated Fat:
8
g
|
Cholesterol:
1
mg
|
Sodium:
125
mg
|
Potassium:
181
mg
|
Fiber:
2
g
|
Sugar:
9
g
|
Calcium:
24
mg
|
Iron:
1.2
mg
What's your clean eating vibe?
Take this fun QUIZZ and find out in 10 seconds!