Let's start this rainy and cold Monday with the recipe for this mind-blowing Summer Fruit Tart, shall we? It was inspired by Silvia Censi from La Gelida Anolina, an Italian food photographer and food stylist that I admire dearly! Her Summer Tart Photography is absolutely stunning and every time I see her photography I feel I'm light years away from the quality photography she is taking but also inspired and pushed to improve and improve and improve because in the end that's the only way a professional becomes a professional, right?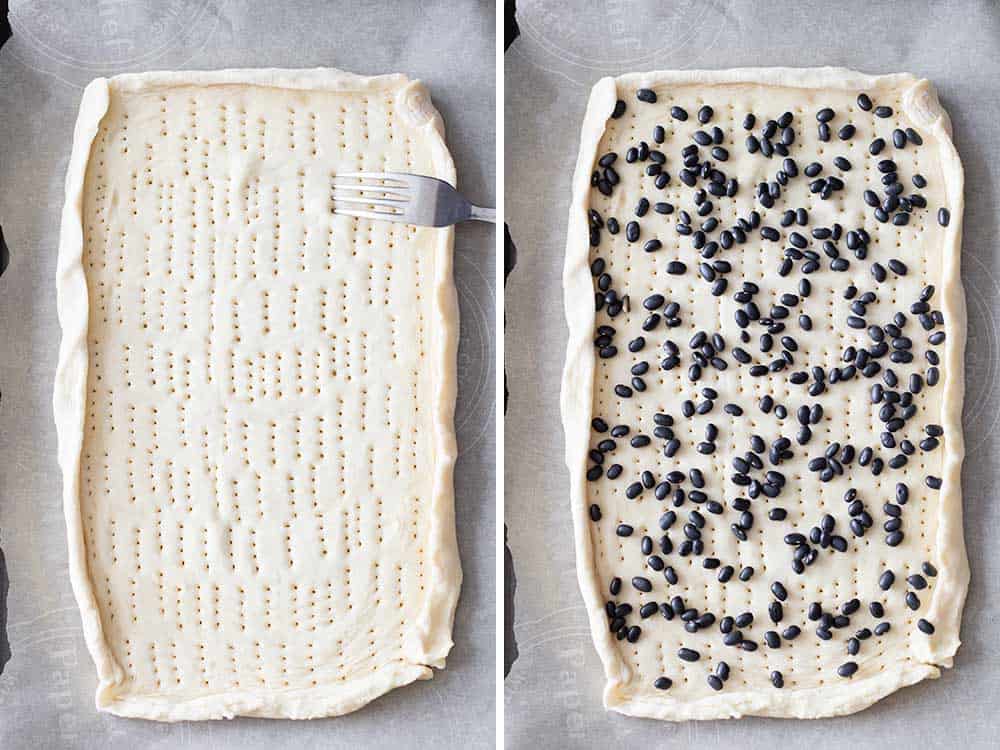 Ever since I saw her Fruit Tart photo the first time it just jumped threw my eyes right into my stomach!! Unfortunately the whole text is in Italian and with an online dictionary I was finally able to decipher that there is no recipe at all in the blog post. HA! Ever since I saw the photo the first time I wanted to recreate the recipe just so I can finally eat this deliciousness but HOW?! What exactly is the crust made of? Is there anything under the peaches/nectarines? Are the nectarines baked or raw? I will never exactly know but I don't have to. This version tastes the way her tart looks to me. Fresh, sweet and absolutely amazing!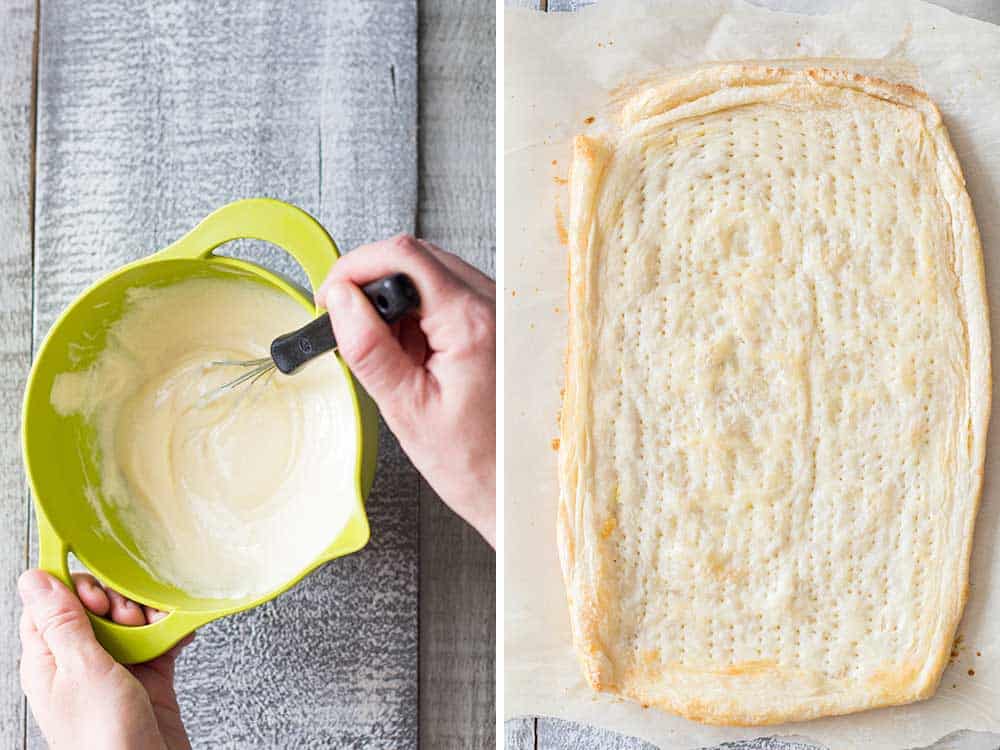 For a change :P I made Dessert For Two Blogger Christina Lane's 15-Minute Pastry Puff as a base because it simply is THE BEST pastry puff I've tried so far, I dare say, in my life! I've tried this same recipe with a store bought pastry puff first, just to test around and not "waste" my precious grass-fed organic butter for tests that might not turn out and PUAG! Maybe I simply don't know enough about store-bought puff pastry brands but man, the one I tried was so gross (!) compared to Christina's homemade puff. And if you consider how long it takes to make it's actually kind of ridiculous to go out and buy one. Unless you live in a store it's going to take you longer to go buy one and wait for it to thaw.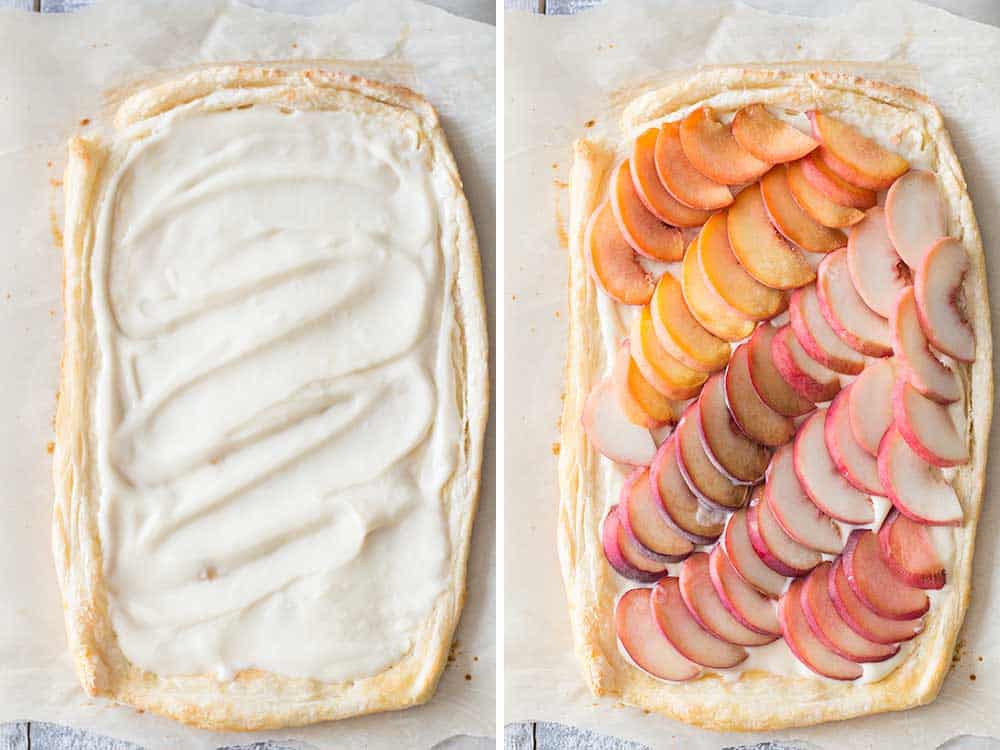 Since I'm making this tart at the end of March to give it time to circulate on the world wide web for it can reach people by summer, finding ripe peaches was quite a challenge as you might imagine. In the end I didn't even find enough ripe ones from the same kind and had to mix and match in order to avoid unripe ones. In summer, when it'll become easier to find deliciously sweet and ripe peaches I will make this tart again and plan on using the bright yellow kind exclusively :)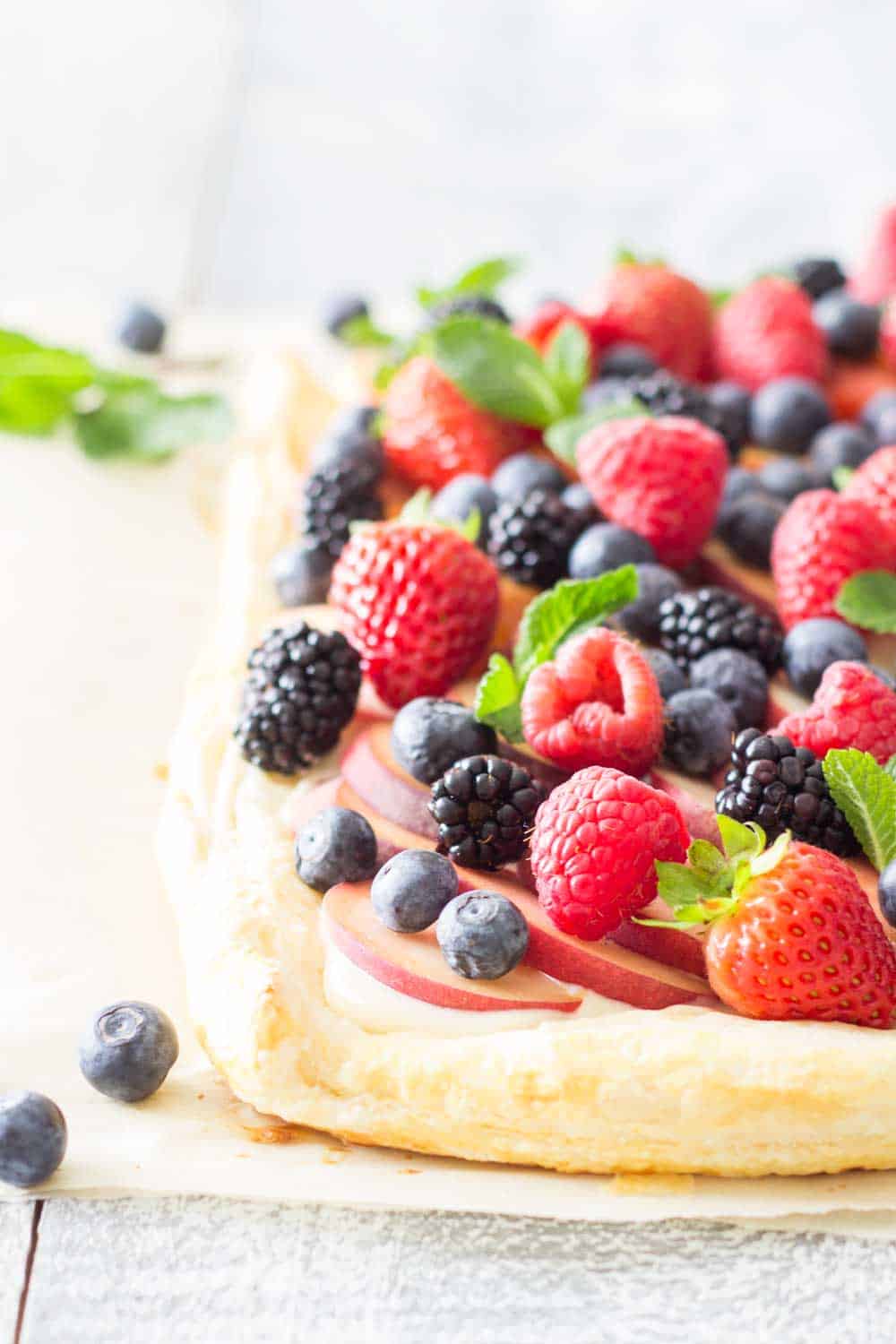 Another thing I wasn't able to find yet were red and white currant so I replaced it by delicious strawberries and it was absolutely delicious. I've got to say though that I'm not a big fan of currant anyways. They are too sour for my taste spuds. No, no more writing and let's get straight to the recipe: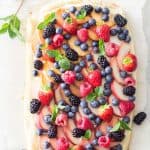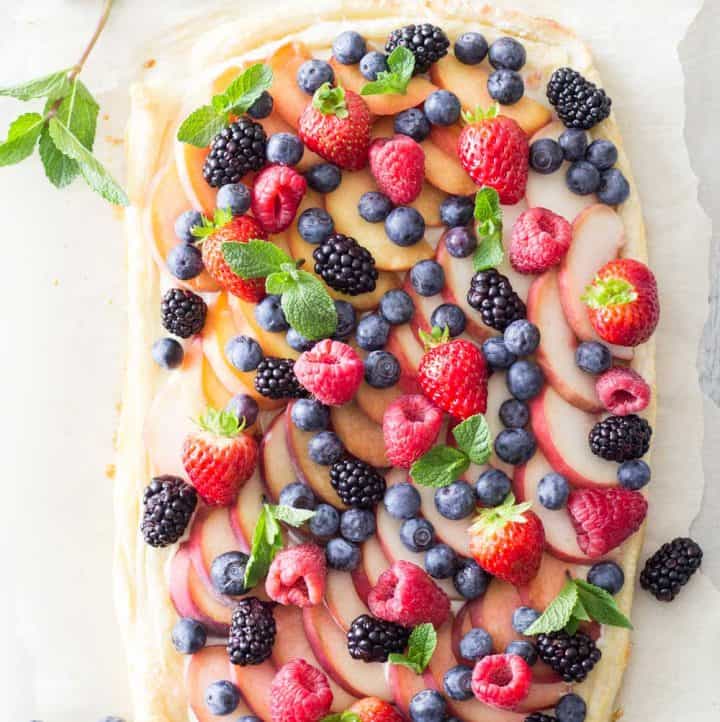 Summer Fruit Tart
Print Recipe
Ingredients
1

batch

15-Minute Puff Pastry

1

egg yolk

1/3

cup

cream cheese

1

Tbsp

fresh lime juice

4

Tbsp

fine turbinado sugar

3

peaches

-

(or nectarines, sweet and ripe)

1

hand full

strawberries

1

hand full

raspberries

1

hand full

blackberries

1

hand full

blueberries

1

hand full

mint leaves
Instructions
Preheat oven to 350 F (180 C).

Roll out puff pastry into an about 10"x7" (25cmx18cm) rectangle.

Place on a parchment paper lined cookie sheet.

Bend over edges and press in firmly.

Prepare egg wash by whisking egg yolk and 1 Tbsp water, then brush the edges with it (I did this as well but didn't press the edges in strong enough so the beautiful brown colour is hid UNDER the tart :(

Punch holes into the dough with a fork to make sure the edges puff up beautifully but the center stays somewhat flat.

Lay out beans in the middle and bake with beans. The weight of the beans will ensure the centre to remain somewhat flat.

Bake for 20 minutes.

Transfer crust onto a wire rack by carrying it by the edges of the parchment paper, careful not to break it. Wait for pastry to cool down completely.

In the meantime whisk together cream cheese, lime juice and turbinado sugar.

Remove beans from cooled pastry and spread cream cheese mix onto the bottom of the tart.

Cut peaches or nectarines into fine stripes and lay out on top of the cream cheese.

Wash and dry berries and place on top of peach layer.

Wash and dry mint and use for decorating.
What's your clean eating vibe?
Take this fun QUIZZ and find out in 10 seconds!