-When sweet and hearty meet with chicken and fall vegetables the feast can begin. These Maple Dijon Chicken Meal Prep Bowls are the best fall meal prep recipe on the planet.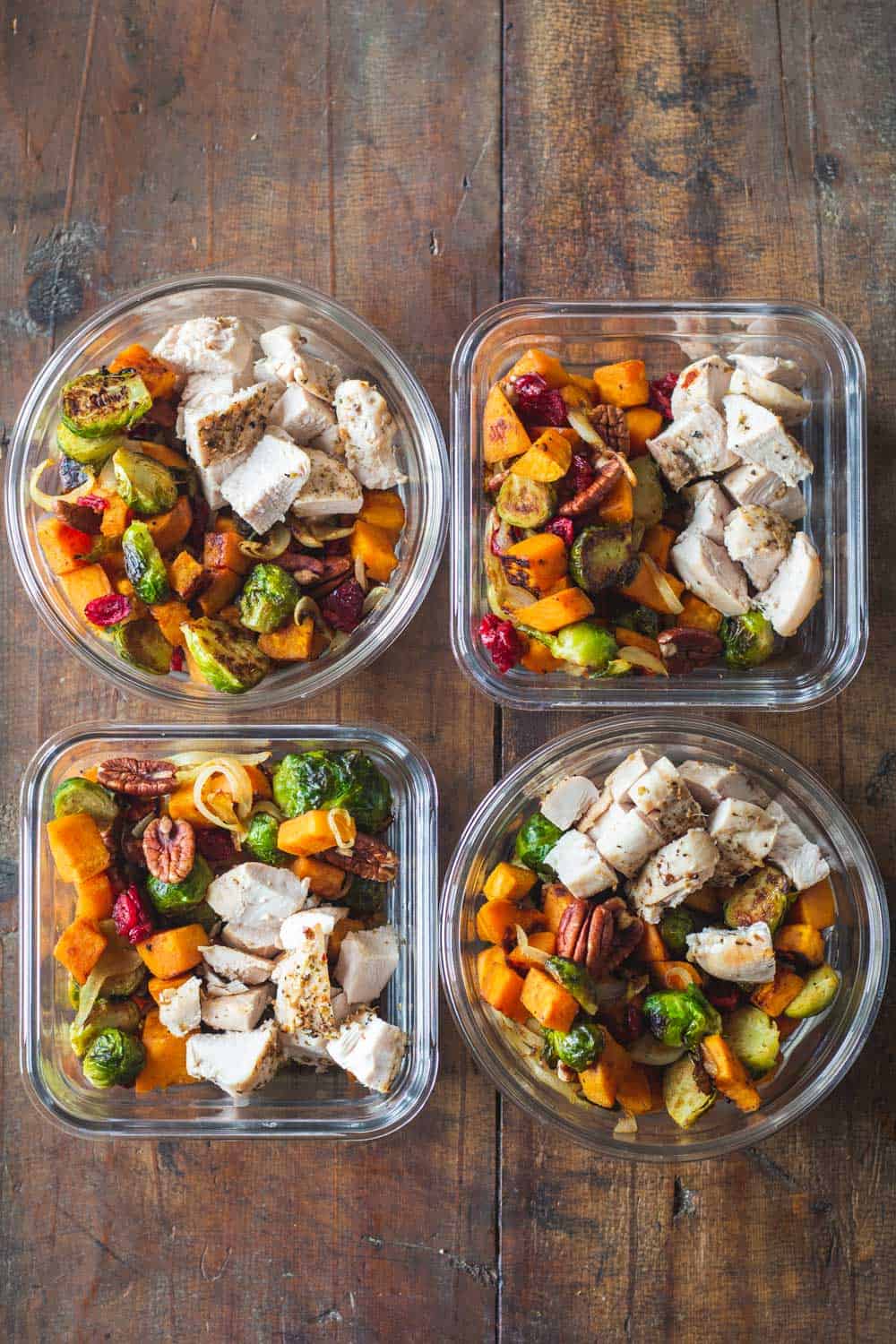 I am so in love with the maple dijon combo I use it for everything. I love using it in salad dressings, in marinades, in sauces… Those two simply go incredibly well together.
Toss your favorite fall veggies in maple syrup and dijon mustard, roast them and enjoy the most delicious side dish ever. Add some cranberries and pecans and you're golden.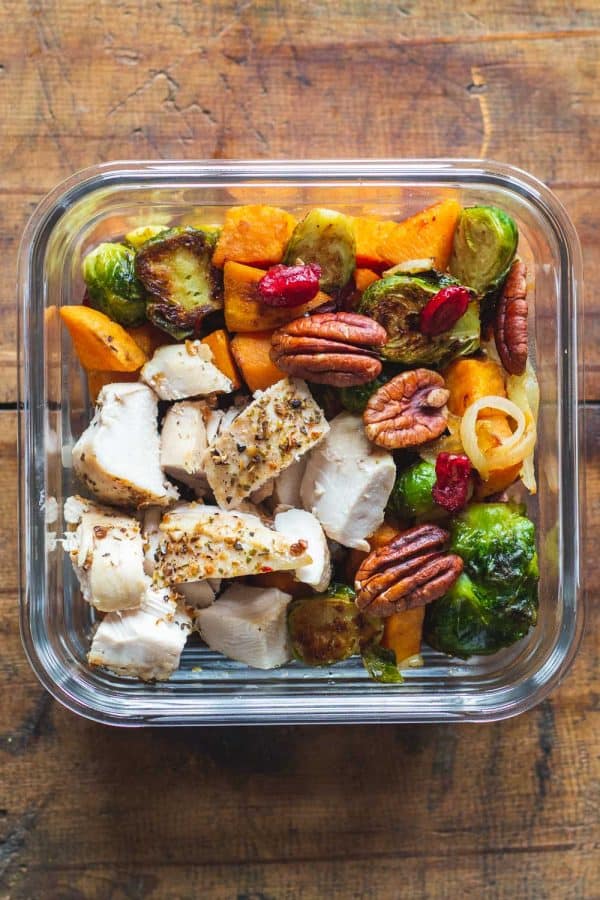 How To Make Maple Dijon Chicken Meal Prep Bowls
I've tested baking the chicken with the maple dijon sauce but for whatever reason it always kind of burns.
When I add it to the vegetables though, they turn out absolutely delicious. I don't know if it's because the sauce doesn't slip down to the baking sheet but rather sticks to the veggies or what but the sauce simply works magically for the veggies and not so magically for the chicken.
The veggies are sooo flavorful that I feel the chicken can easily stay a little more flavor-neutral with just poultry seasoning.
Simply sea salt and pepper work juuust fine for the chicken, too, if you don't have poultry seasoning. My Greek Chicken Meal Prep Bowls were seasoned with just that and people are raving about the chicken, veggie, sauce combo.
This recipe absolutely fits into a clean eating meal plan and a paleo meal plan by the way.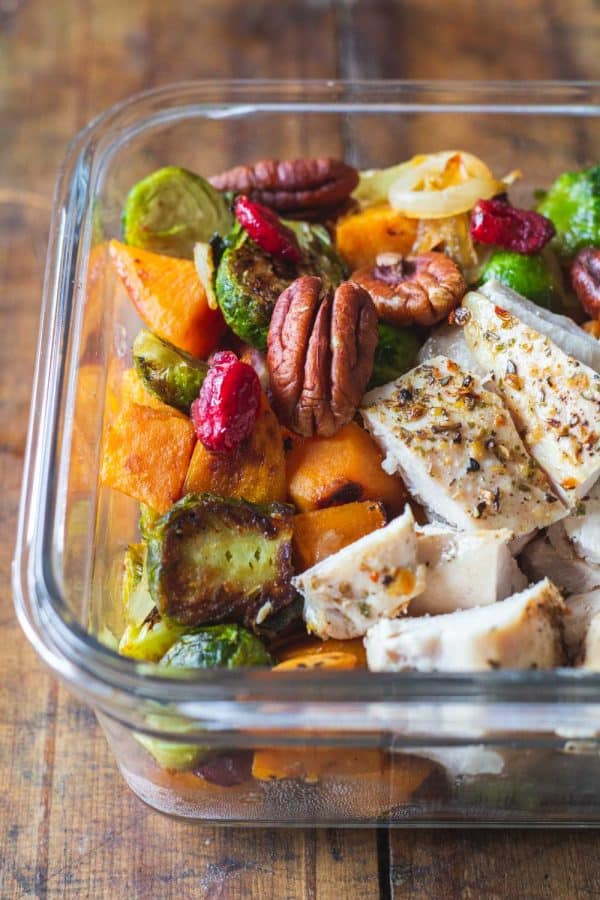 How Long Do Chicken Meal Prep Bowls Last In The Fridge?
Most protein, be it animal protein or plant protein, lasts between 3 and 4 days. Which is why you will find most meal prep recipes created to make only 4 servings. The FDA recommends refrigerating fully cooked chicken no more than 3-4 days.
So now, that being said, I've eaten chicken on day number 5 countless times and have never ever had a problem.
I think the most important here is to use a meat thermometer to make sure you cook it through without overcooking it.
The safe internal temperature for chicken is 165F and that does NOT mean you have to bake it until it reaches that temperature but only until it reaches about 155F because once you take it out of the oven and let it rest for 5-10 minutes (ALWAYS LET IT REST) the internal temperature rises another 10 degrees.
If you cut right into your chicken breast, all the juices run out and you risk it not finishing cooking and also it becoming extremely dry. And who likes mega dry Maple Dijon Chicken Meal Prep Bowls for lunch 4 days in a row? No. No.
Take the chicken out when it reaches 155F, let it rest for 10 minutes, THEN cut into it and once it cooled down you can store safely store it in the fridge for "probably" longer than 4 days but of course, that's not my recommendation, just sharing my experience here.
Without further ado, let's get right into the recipe: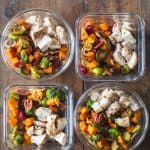 Maple Dijon Chicken Meal Prep Bowls
When sweet and hearty meet with chicken and fall vegetables the feast can begin. These Maple Dijon Chicken Meal Prep Bowls are the best fall meal prep recipe on the planet.
Print Recipe
Ingredients
1

sliced onion

4

cups

cubed sweet potato

-

(about 2 large sweet potatoes)

4

cups

halved brussels sprouts

-

(about 2 lbs)

2

Tbsp

dijon mustard

2

Tbsp

olive oil

2

Tbsp

real maple syrup

2

large chicken breasts

avocado oil

poultry seasoning

-

(see blog post to compare ingredients of mine)

1

cup

pecan halves

1/2

cup

dried cranberries
Instructions
Add mustard, olive oil and maple syrup to a large bowl and whisk together until well combined.

Add sliced onion, cubed sweet potato, and halved brussels sprouts to the bowl and toss until every piece of vegetable is covered in sauce from all sides.

Place vegetables evenly in one layer onto a large baking sheet and roast for approximately 25 minutes stirring 2 or 3 times in between to avoid burning.

Right after adding the vegetables to the oven, place 2 chicken breasts on a separate baking sheet, drizzle with a little oil and season generously with poultry seasoning. Then add to the oven with the vegetables for about 20 minutes or until the chicken reaches an internal temperature of 165F.

Remove everything from the oven and stir pecan halves and dried cranberries into the roasted vegetables.

Divide all ingredients amongst 4 meal prep bowls and store in the fridge for up to 4 days.
Nutrition
Calories:
603
kcal
|
Carbohydrates:
60
g
|
Protein:
31
g
|
Fat:
28
g
|
Saturated Fat:
3
g
|
Cholesterol:
72
mg
|
Sodium:
313
mg
|
Potassium:
1383
mg
|
Fiber:
11
g
|
Sugar:
25
g
|
Vitamin A:
19580
IU
|
Vitamin C:
81.7
mg
|
Calcium:
121
mg
|
Iron:
3.3
mg
What's your clean eating vibe?
Take this fun QUIZZ and find out in 10 seconds!