This Instant Pot lamb stew is a beautiful blend of sweet, savory and citrus flavors. Pair it with a light salad and some crusty bread and you have an easy and impressive meal for any night of the week.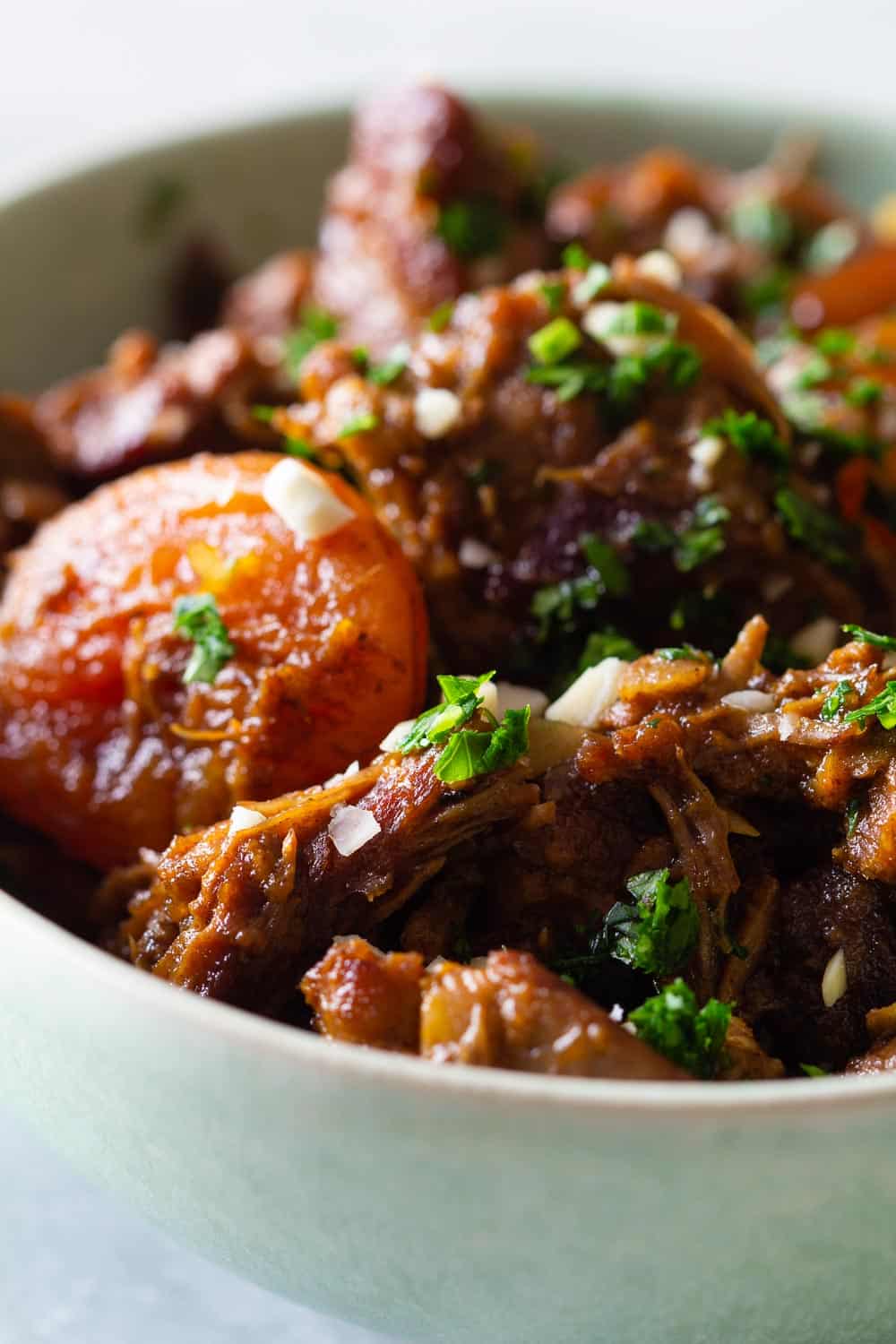 What is in a Ras El Hanout spice blend?
One of the ingredients in the Instant Pot lamb stew is Ras El Hanout, a spice blend found mainly in recipes from Tunisia, Algeria, and Morocco. There is no 'correct' mix of spices that make up Ras El Hanout – each company, shop or family has their own special blend. Generally, the mix involves at least a dozen different spices, including
allspice
cinnamon
cardamom
cloves
nutmeg
ginger
chili peppers
coriander seed
peppercorns
paprika
turmeric
cumin
If you are unable to find Ras El Hanout locally, it is available for purchase online. Or, you can be adventurous and make your own spice blend!
Instant Pot Lamb Stew Cooking Tips
You may have questions about making this lamb stew Instant Pot recipe. Hopefully, the tips below will be helpful to you.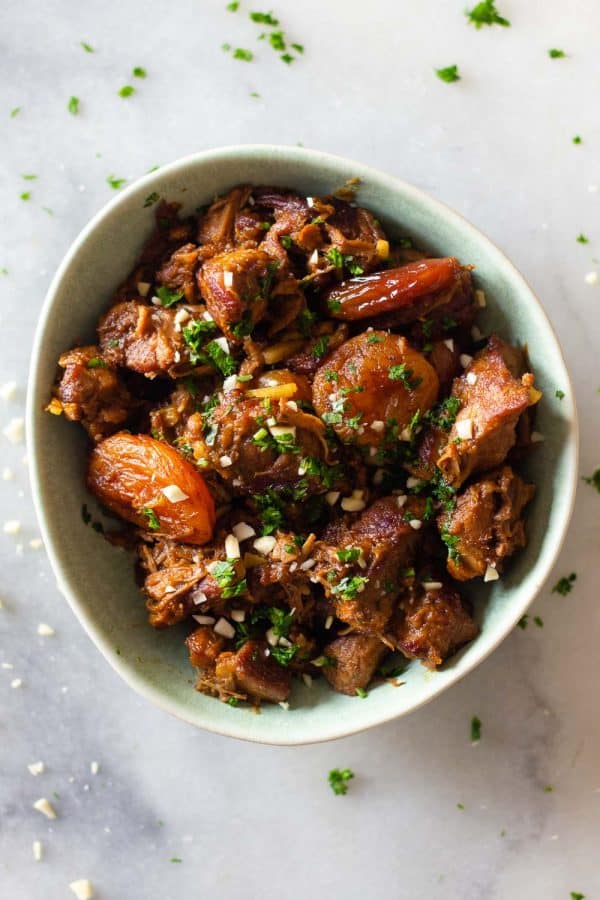 Do I need to brown lamb before pressure cooking it?
It may seem like an unnecessary extra step, but browning meat greatly affects the texture of the meat as well as the taste of the Instant Pot lamb stew.
The browning process causes what's known as a "Maillard reaction". Essentially, it's a chemical reaction between amino acids and reducing sugars. It gives browned food its distinctive look (that beautiful brown crust) and flavor. Browning also helps to keep the lamb's juices inside of the meat as it cooks.
Is it necessary to deglaze an Instant Pot after browning meat?
After sautéing or browning any ingredient in an Instant Pot, it is VERY important to deglaze the inner pot. Deglazing ensures that all of the caramelized and brown flavorful bits from the bottom of the pot are incorporated into the lamb stew. More importantly, deglazing helps prevent the dreaded "burn" notice from appearing during pressure cooking.
Deglazing an Instant Pot is very easy to do!
Add a thin liquid (this recipe calls for water, but other recipes may use wine or broth) to the inner pot.
Using a silicone or wooden spatula, scrape away ALL of the food and brown bits that are stuck to the bottom of the inner pot.
Be sure there is absolutely nothing stuck to the bottom of the pot before continuing with the rest of the Instant Pot lamb stew recipe.
How long can you keep leftover Instant Pot lamb stew?
If you have any leftover stew, you can store it in an airtight container in the refrigerator for up to four days. If you don't think you'll finish the leftovers within that time, then it's best to freeze them.
Divide the lamb stew into single-servings or family-sized portions and place them into airtight, freezer-safe containers or heavy-duty freezer bags. The stew can be kept in the freezer for up to four months.
What goes well with lamb stew?
In general, a stew is a hearty meal all on its own. Therefore, they don't require any heavy side dishes.
Two great sides to consider serving with Instant Pot lamb stew are my Middle Eastern Farro Salad or Turmeric Carrot Salad.
Also, a hearty loaf of bread goes very well with lamb stew, especially one like Apple Yeast Bread.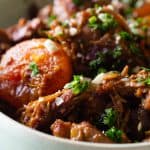 Instant Pot Lamb Stew
This Instant Pot lamb stew is a beautiful blend of sweet, savory and citrus flavors. Pair it with a light salad and some crusty bread and you have an easy and impressive meal for any night of the week.
Print Recipe
Pin Recipe
Ingredients
1

Tbsp

butter

1

Tbsp

olive oil

2

lbs

lamb cubes

sea salt

pepper

1

cup

chopped onion

2-3

cloves minced garlic

1

Tbsp

ginger paste

1

tsp

ground cinnamon

1

tsp

ground coriander

1/4-1/2

cup

water

1

Tbsp

orange zest

8

dates

8

dried apricots

2

Tbsp

slivered almonds

1/2-1

Tbsp

honey

-

optional

1

tsp

ras el hanout

parsley or cilantro

almond slivers
Instructions
Preheat your Instant Pot by pressing the saute button and wait until the display says "hot".

Add butter and olive oil and then brown your lamb cubes in batches. Do not overcrowd or the lamb will start boiling in its own juices instead of brown. Brown the lamb in at least 4 batches, better 6 batches. Brown for about 2 minutes on each side or until nice and brown. Pay attention to your display as the saute function tends to shut off after 30 minutes. Slightly season lamb cubes when browning with sea salt and pepper. Set aside.

With the saute button still on, add chopped onion, garlic, ginger paste, cinnamon, and coriander and stir fry until the onion is soft.

Add water to deglaze the bottom of the Instant Pot. Do a really really thorough job to avoid the burn warning down the line. Remove aaaall the burnt bits and pieces stuck to the bottom (see video).

Return browned lamb cubes into the instant pot, give it a good stir, put on the lid, seal it, and set to 25 minutes on high pressure.

Once the pressure cooking time is over, do not touch the valve, don't do anything at all. Let pressure release naturally. This can take anywhere from 15-25 minutes.

Once the safety pin dropped all on its own it is safe to open the pot.

Add zest of 1 orange, dates, apricots, almon slivers, honey, ras el hanout, stir well and then press the saute button again to bring everything to a boil and then let it simmer for 5-10 minutes to let the sauce thicken a little by letting some of the water evaporate.

Serve in a bowl, sprinkle with freshly chopped parsley or cilantro and chopped almond slivers and enjoy!
Nutrition
Calories:
499
kcal
|
Carbohydrates:
29
g
|
Protein:
48
g
|
Fat:
21
g
|
Saturated Fat:
7
g
|
Cholesterol:
155
mg
|
Sodium:
179
mg
|
Potassium:
1016
mg
|
Fiber:
4
g
|
Sugar:
22
g
|
Vitamin A:
665
IU
|
Vitamin C:
5
mg
|
Calcium:
74
mg
|
Iron:
5.1
mg
What's your clean eating vibe?
Take this fun QUIZZ and find out in 10 seconds!