This is the quickest and easiest way to prepare the delicious French Ratatouille recipe. It's incredibly flavorful and with this cooking method you shave off 30 minutes of cooking time.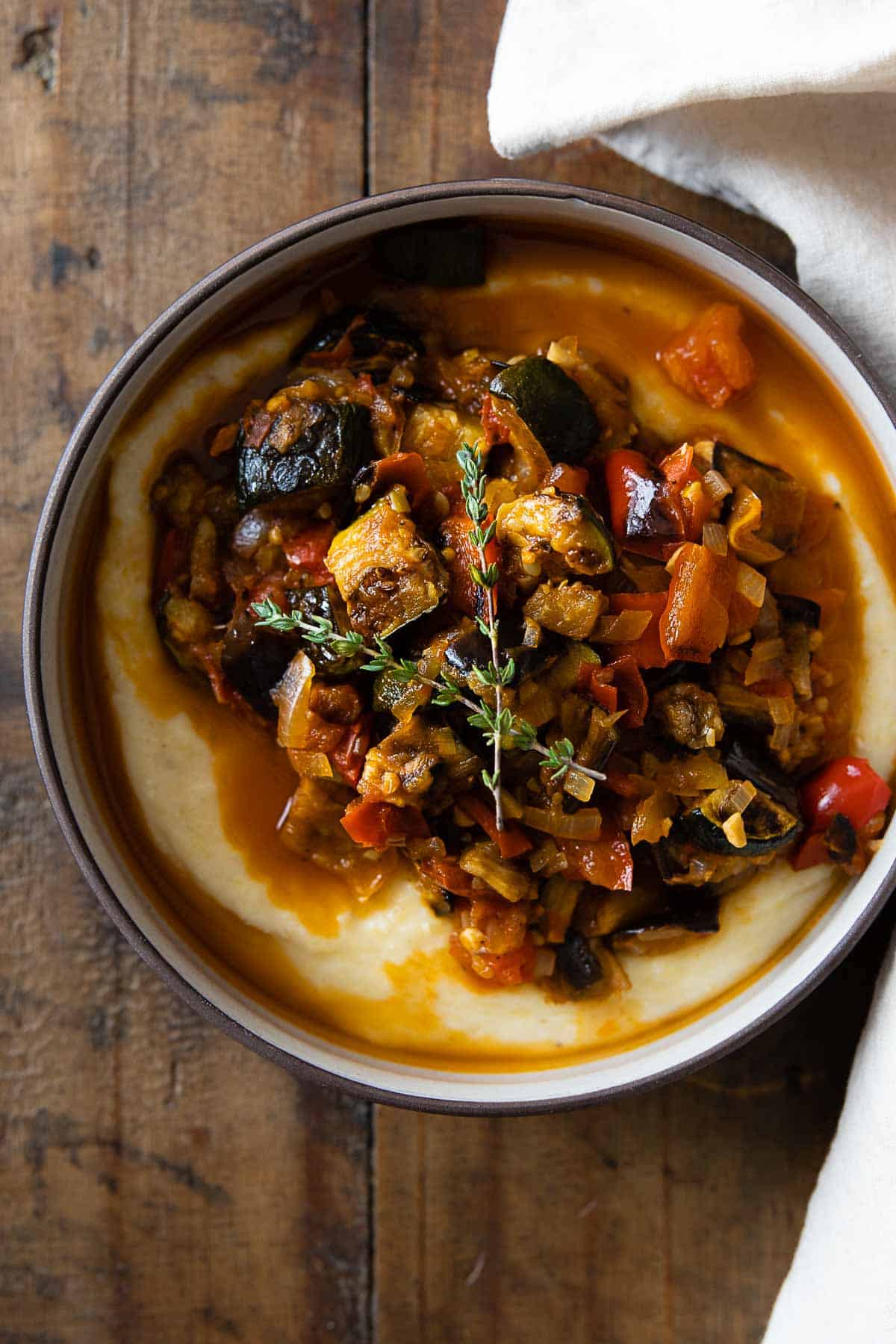 The Ingredients
Every recipe is somewhat unique but what all of them have in common are the tomato base and the main vegetables.
Vegetables – Eggplant, Zucchini, Bell Pepper, Ripe Tomatoes. These are the main ingredients of any Ratatouille and can't really be replaced by anything or the recipe won't resemble the original at all anymore.
Onion & Garlic – The backbone of any delicious stew. Use both in large quantities.
Seasoning – I like to keep it simple and add nothing but salt, pepper, thyme, and rosemary. A lot of recipes call for bay leaves, marjoram, and/or herb de Provence.
Creamy Polenta – In my humble opinion the best side dish for this delicious recipe and easy to prep. All you need is cornmeal, water, Parmesan cheese, and some butter. That's it.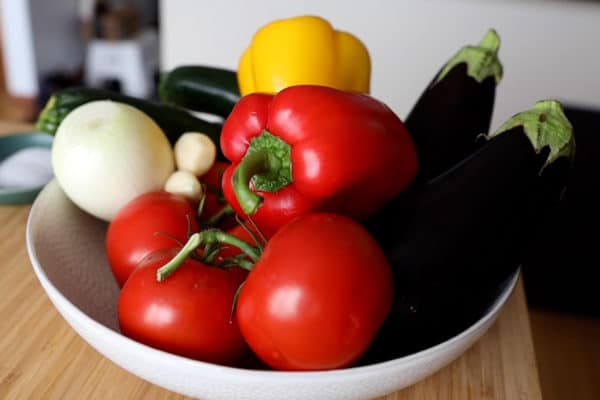 Frequently Asked Questions
What exactly is Ratatouille?
It is an end-of-summer vegetable dish but because it's a belly-warming recipe eaten well into the fall months. The main ingredients found in any Ratatouille recipe are ripe tomatoes, eggplant, zucchini, and bell pepper. From there different recipes start to differ from one another.
Is it supposed to be mushy?
Generally, it is quite mushy. You are supposed to use very ripe end-of-summer vegetables and slow-cook them until becoming fairly mushy.
The advantage of my cooking method is that you cook most vegetables separately and that way you can incorporate some bite to it if you so desire.
Remember, recipes are always guidelines and don't always have to be followed to a T. Though, no complaints about taste and texture allowed if you're messing around with my recipe, eh? ;)
What does Ratatouille go well with?
You can either serve it as a side dish for grilled meats or as a vegetarian main dish. If serving as a main dish the best side dishes are:
Creamy Polenta (<< the best!)
How do I get rid of the eggplant's bitter taste?
A lot of people do not like the taste of eggplant. That tends to be because of the vegetable's bitterness. There is an easy remedy to this, however.
Simply dice the eggplant, add it to a colander, place the colander on a plate and sprinkle the cut eggplant generously with salt. This will draw out the bitter liquid. Let the liquid drain and then roast the eggplant instead of boiling or slow-cooking it.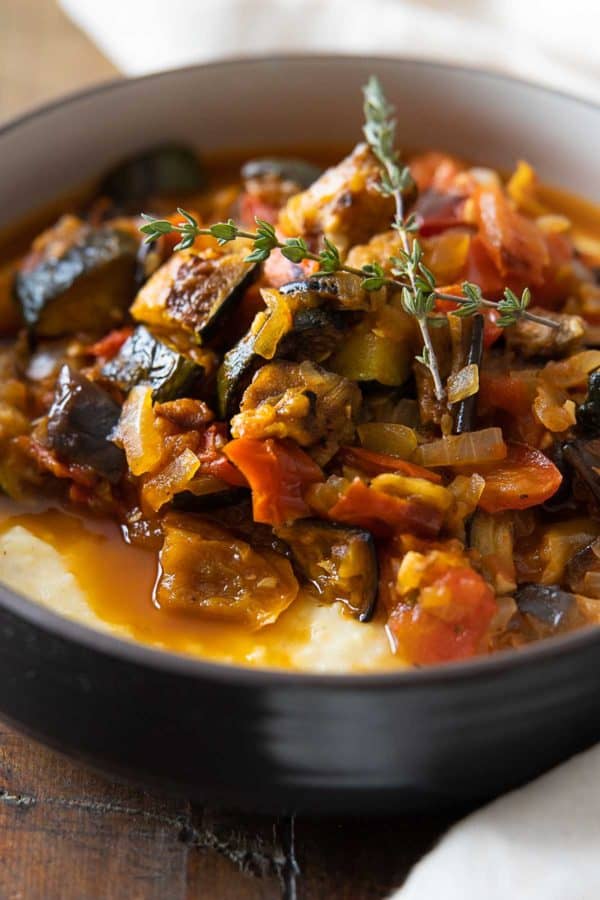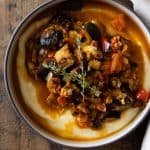 Ratatouille With Creamy Polenta
This is the quickest and easiest way to prepare the delicious French Ratatouille recipe. It's incredibly flavorful and with this cooking method you shave off 30 minutes of cooking time.
Print Recipe
Pin Recipe
Ingredients
1

large eggplant

-

or 2 small

1

yellow bell pepper

1

red bell pepper

2

medium zucchini

2

Tbsp

olive oil

2

cup

water

1/2

cup

cornmeal

1

large yellow onion

3

cloves

garlic

6

large tomatoes on the vine

-

very ripe!

1/2

cup

grated Parmesan

1

Tbsp

butter

sea salt

pepper

1

Tbsp

fresh thyme leaves

1

Tbsp

fresh rosemary leaves, chopped
Instructions
Preheat the oven to 400F.

Cut the eggplant into 1/2" dice and add to a colander placed on top of a plate. Season generously with sea salt and let it drain to remove bitterness. Then deseed and dice bell peppers, and zucchini, too.

Add diced vegetables to 1-2 large baking sheets ensuring they are all in one layer and spread out a lot. You want to avoid steam building under the vegetables. Drizzle olive oil over all the vegetables and use your hands to evenly coat.

Place the baking sheet(s) in the preheated oven for 20-25 minutes tossing once in between to avoid burning on one side. (Set an alarm for this).

Now is a good time to get started on the Creamy Polenta side dish: For that, bring 2 cups of water to a boil in a small saucepan and once boiling add the cornmeal to it and whisk vigorously until it starts to thicken (this takes about 2 minutes). Once thick and no big clumps are visible anymore, reduce the heat to low, cover and let simmer for 20 minutes. (Set an alarm for this).

Now, preheat a large pot over medium-low heat, and while it is heating finely chop the onion and garlic.

Add a drizzle of olive oil to your hot pot and then add the chopped onion and garlic to it and sauté until translucent.

In the meantime, cut the green parts off the tomatoes and quarter them, then add them together with some sea salt, pepper, thyme, and chopped rosemary to the translucent onions and let simmer, occasionally stirring, until the tomatoes melt and can easily be squished against the sides of the pot.

By now your polenta should be cooked and it's time to add the grated Parmesan to it, give it a quick stir and cover again quickly and let sit for 10-15 minutes or until ready to serve.

Once your roasted vegetables are ready add them to the tomatoes in the large pot and stir once or twice. This is a good time to give your stew a taste to see if it requires more sea salt or pepper.

To serve, add butter to your polenta and stir until super creamy and serve at the bottom of a bowl. Then ladle the Ratatouille on top and enjoy!
Nutrition
Calories:
314
kcal
|
Carbohydrates:
36
g
|
Protein:
11
g
|
Fat:
16
g
|
Saturated Fat:
5
g
|
Cholesterol:
19
mg
|
Sodium:
242
mg
|
Potassium:
1004
mg
|
Fiber:
9
g
|
Sugar:
12
g
|
Vitamin A:
2283
IU
|
Vitamin C:
131
mg
|
Calcium:
198
mg
|
Iron:
2
mg
What's your clean eating vibe?
Take this fun QUIZZ and find out in 10 seconds!