Can someone please explain to me why some people call it Shish Taouk and others Sish Tawook? Apparently there is no difference in terms of definition of what it is: a Middle-Eastern Grilled Chicken Skewer that smells like heaven and tastes like glory.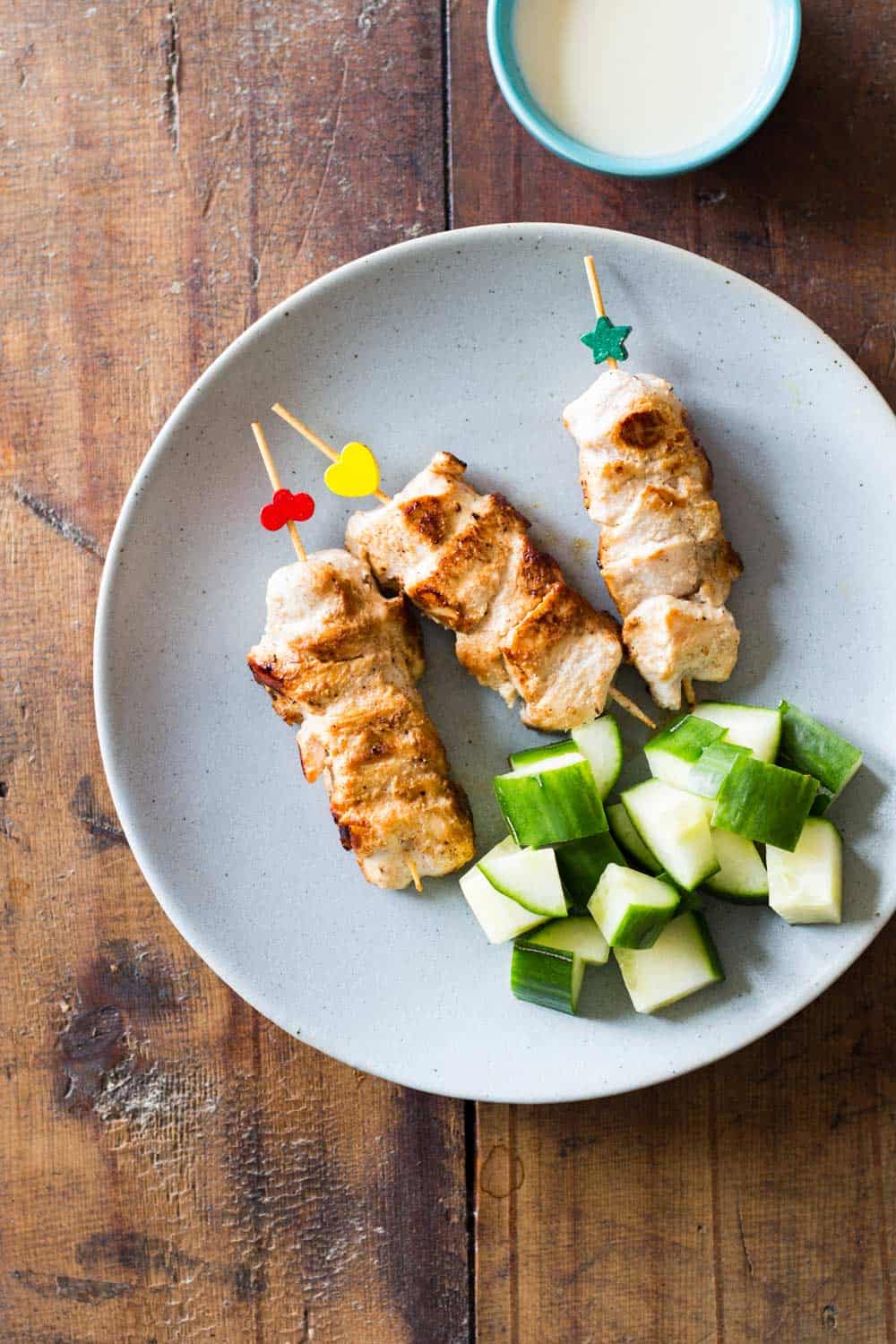 Have I ever told you that Middle-Eastern food is MY kind of junk food? Fits the "healthy blogger" definition perfectly, right? Picture this: it's 11 pm, I haven't had dinner (and probably not even lunch), all I want is finally sit on the sofa and watch something stupid on Netflix. No cooking, no washing dishes, no nothing. Most people will probably order pizza. Not me! If my man wants to make me happy he orders me a GIANT order of Beef Shawarma or Shish Taouk or Sish Tawook (whatever) with an extra blop of creamy garlic sauce, hummus and ice cold cucumber on the side. Just writing about this makes me drool.
Yes, you read that right, this food blogger right here, author of this blog post you are reading, orders in food, too every once in a while ;) No big deal, hehe.
This time I figured though it'd be fun to find out how to prepare this beyond delicious Middle Eastern dish at home. I'm sure I will win  some MAJOR mommy points today, because I sent this to summer camp as lunch. This is a great Back to School lunch option and I will make this several times this coming school year for sure.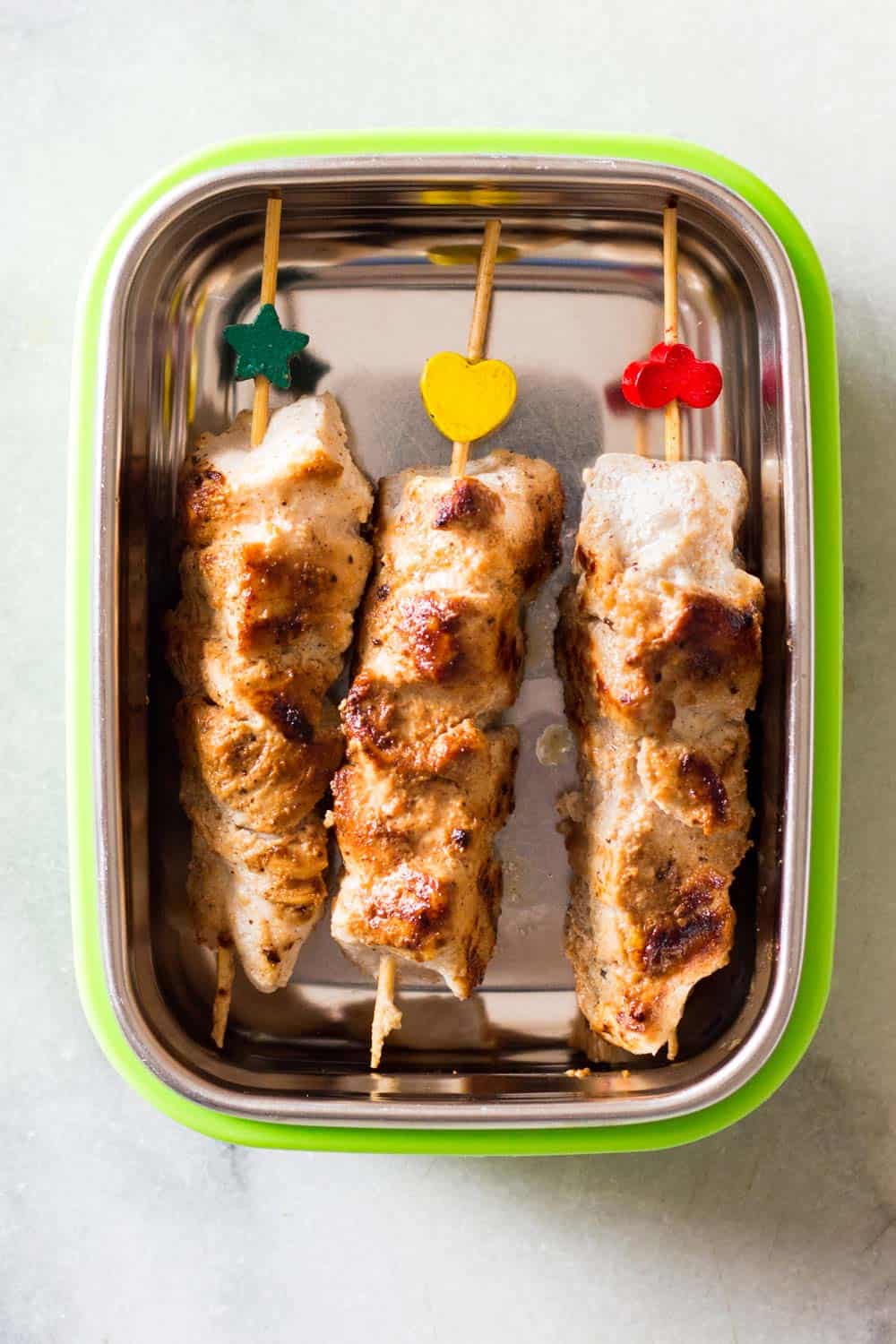 We had this for dinner last night simply as chicken cubes cooked in its marinade and I set aside a couple cubes to grill afterwards for them to take to summer camp today. The cute skewers with a heart, a star and a cloud on it obviously help make this lunch even more fun.
Dinner was a success already but lunch will cause excitement. I know it! I mean look at this: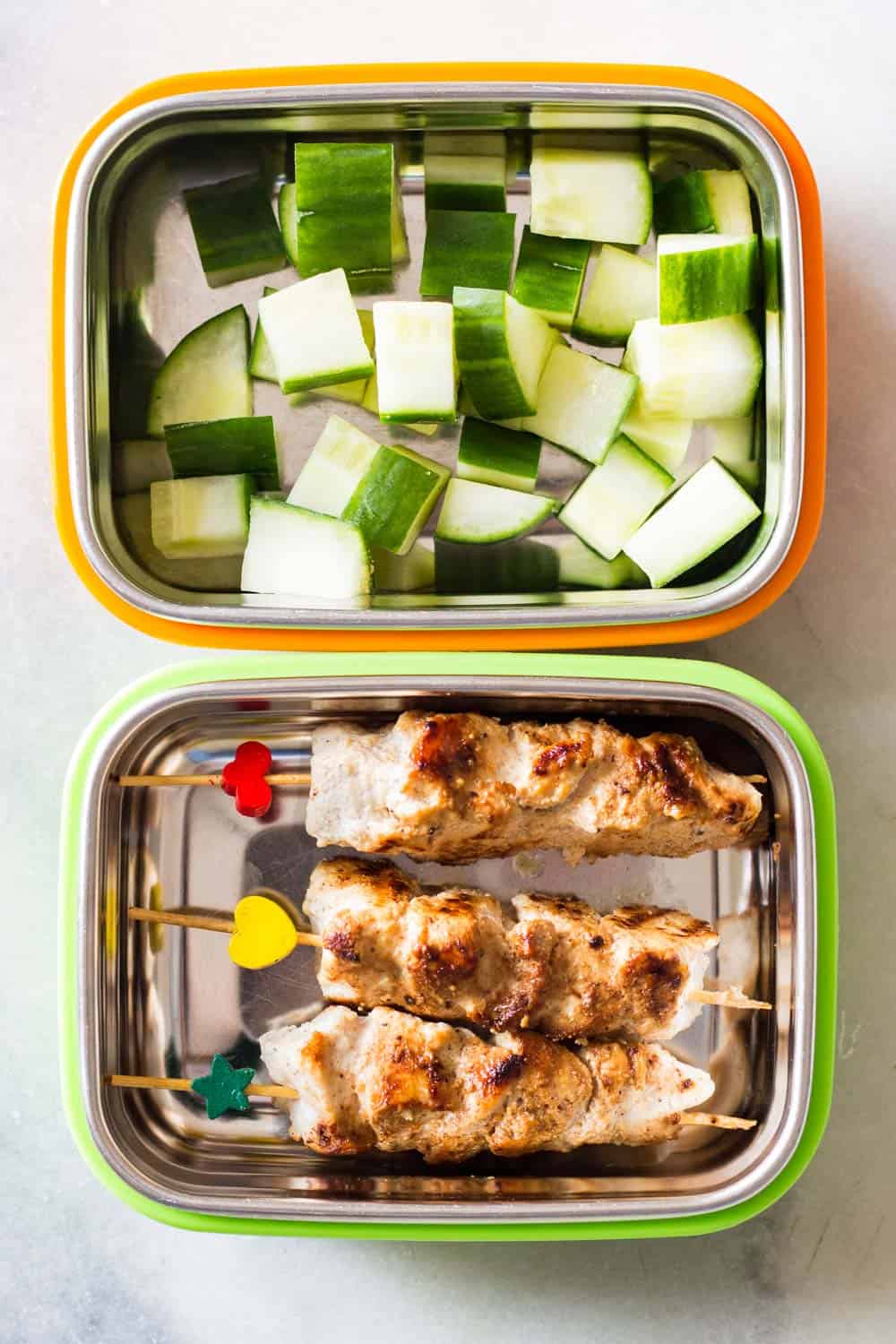 Ok, now to "where have you been so long Lorena"?
I've told you the week before last week that I needed to work on some major technical things on the blog and change theme. Well, if you want to take a look. You can do that here. It looks okey-ish now. I still have to work a lot on it but for now it's ok. The main problem with all was that it felt like playing a video game. All went well at first, then when I thought I was about to pass the finish line of one level……ba.ba.ba.baaaam…..game over! Everything broken! Blank website. Ups!
Let me know what you think about the new theme. I know it's not as pretty as the old one from a design point of view but it is a lot faster now. And recipes like this Shish Taouk recipe taste the same on a pretty but slow or a not so pretty but super fast theme anyway, right? *chuckle*
Look out for Friday. I will share the recipe for a creamy garlic sauce for the adult version of this lunch box idea. A wrap this time. The sauce is to fend off both, vampires and annoying co-workers or supervisors. Kill two birds with one wrap ;)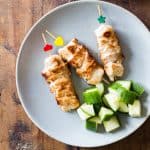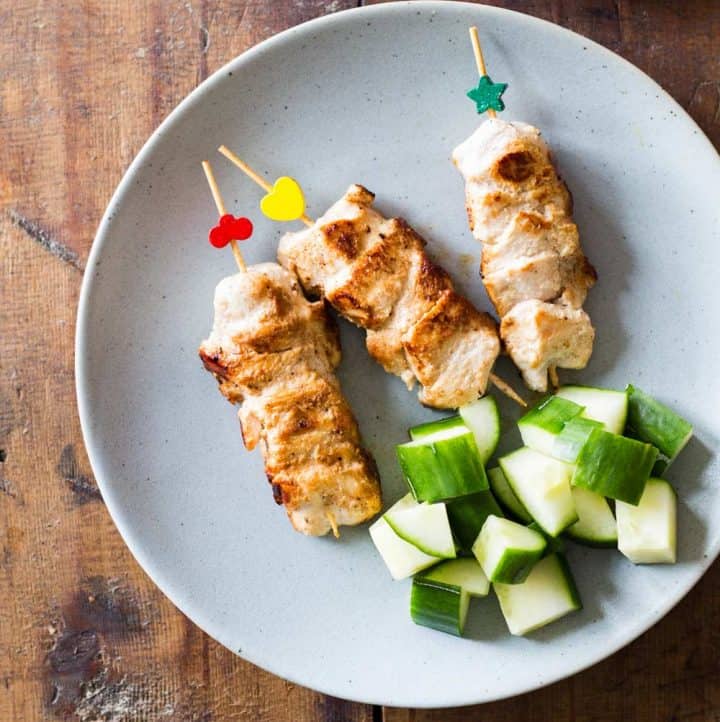 Back to School Shish Taouk
What is Shish Taouk or Shish Tawook? A Middle-Eastern Grilled Chicken Skewer that smells like heaven and tastes like glory.
Print Recipe
Ingredients
2

Tbsp

lemon juice

2

Tbsp

vegetable oil

-

(avocado or sunflower work well)

1/2

cup

plain full fat yogurt

-

(Greek yogurt works well, too)

2

cloves

garlic

-

(crushed)

1/2

tsp

Salt

1

pinch

Pepper

1

pinch

allspice

1

pinch

cinnamon

1

chicken breast

-

(about 245/ 16 oz)

1/2

cucumber

creamy garlic sauce

-

optional
Instructions
Add lemon juice, oil, yogurt, crushed garlic, salt, pepper, allspice and cinnamon in a medium sized bowl and whisk until well combined.

Wash and dry chicken breast and cube into small cubes (about 1"/2.5cm).

Add cubed chicken to marinade and let marinate for about 1 hour. It's probably smart to put the bowl in the fridge. I didn't though.

Heat a grilling pan or cast iron pan over medium heat.

In the meantime stick the marinated chicken cubes onto skewers that will fit into the lunch box.

Grill the skewers (no oil needed, it's already in the marinade) for 1-2 minutes per side until golden. I used thongs and leaned against each other when they wouldn't stand on their own and keep falling onto the side that was grilled already.

Serve with cut up cucumber and if desired creamy garlic sauce.
What's your clean eating vibe?
Take this fun QUIZZ and find out in 10 seconds!