Let the vegan grilling season begin with this Grilled Cauliflower Steak with cilantro chimichurri, delicious homemade hummus, burst sweet cherry tomatoes, soft and creamy avocado and crunchy blackened sweet corn. Most vegans and vegetarians are usually left with eating only the sides when invited to a BBQ. Why not make a delicious cauliflower steak? It's easy to prepare, takes only a couple of minutes on the BBQ or in the grilling pan and tastes absolutely amazing.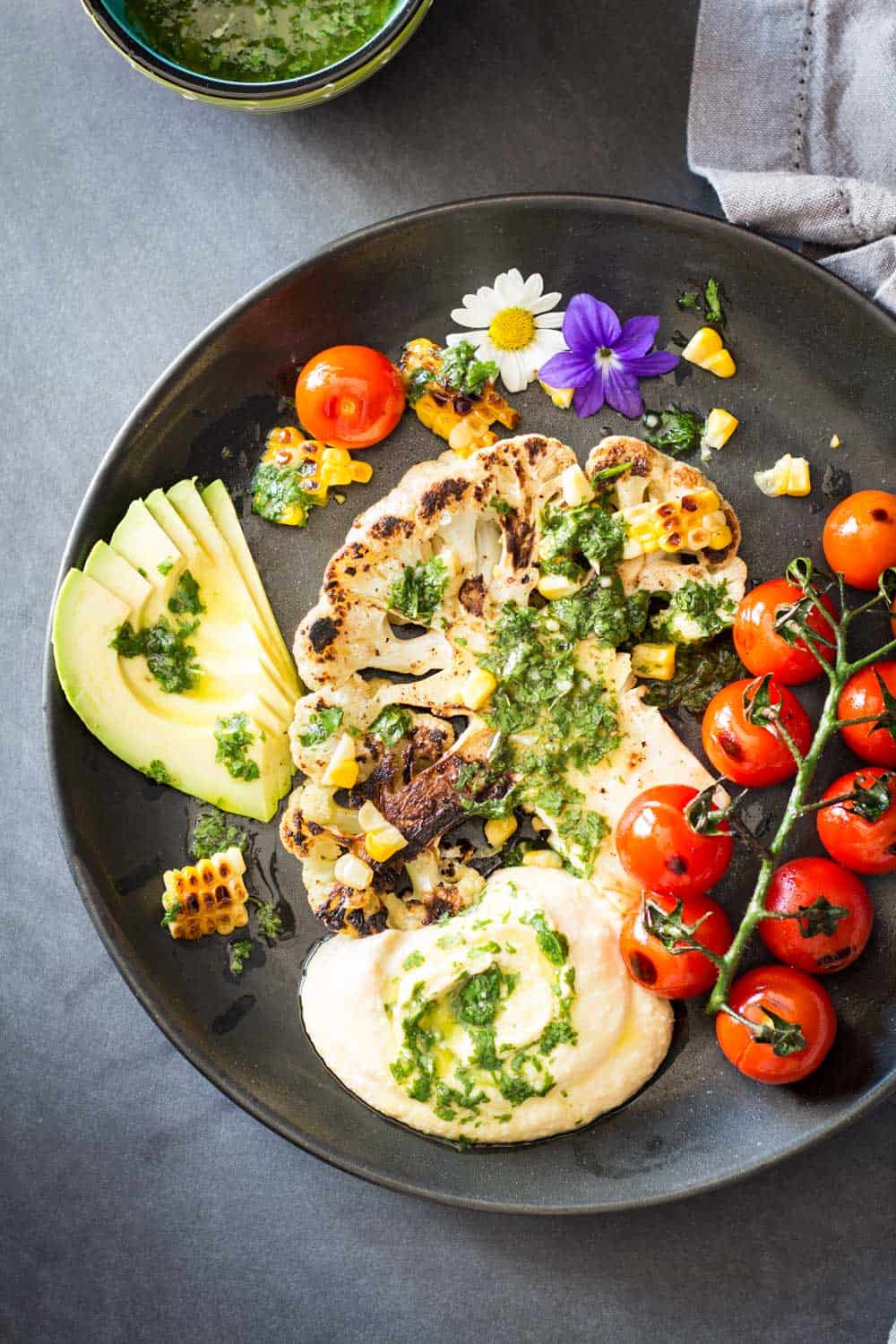 Homemade hummus on the side serves as sauce and protein at the same time and cilantro chimichurri, avocado, tomato and corn give the Grilled Cauliflower Steak a real true Mexican feel. Who doesn't love a Mexican-style Barbecue dish??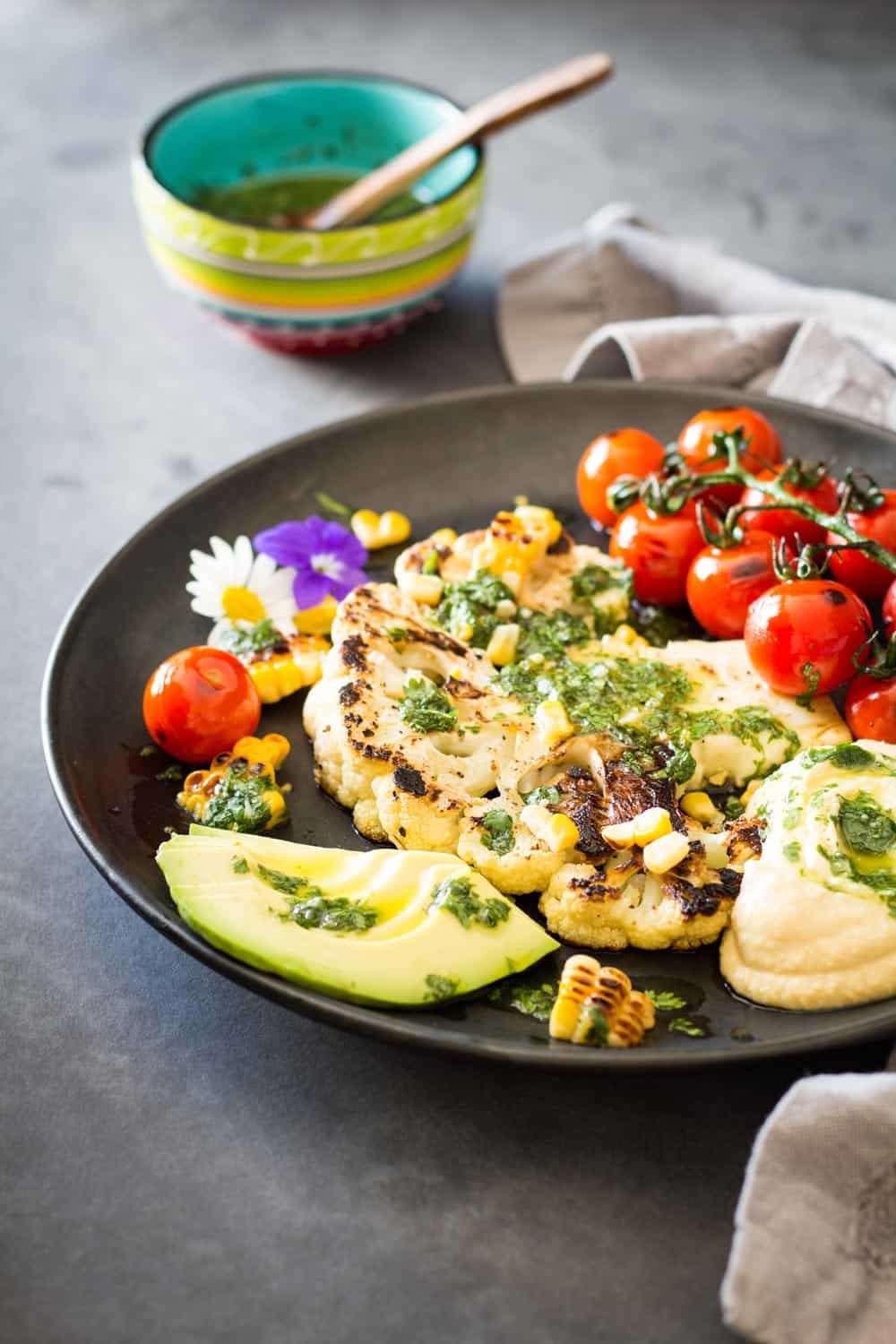 How to grill cauliflower steak
Leave the stem on completely, only cut off the leaves, then use a vegetable peeler to remove last bits and pieces of leaves.
Cut the steak into at least 1 1/4″ (3cm). What I like to do is cut right through the middle and then outwards. I usually get 4 steaks out of one large cauliflower. (The corners that break apart into florets I store in an airtight container and use for another recipe the next day such as this

Chicken Cauliflower Curry

)
Season the steaks really well with olive oil, salt and pepper. Turmeric, curry, paprika, cumin or coriander in addition to salt and pepper work really, really well as well.
Cut the steaks as evenly as possible to ensure the steaks brown evenly and don't burn on one end while being completely raw on the other end.
Don't grill for too long. The steaks should still be crunchy, otherwise it'll become mush. 3-4 minutes per side are more than enough.
Serve with one or more protein-rich side dishes. Cauliflower does not provide much protein and you shouldn't use it as nutritional replacement for meat. To replace the meat protein serve legumes, nuts, seeds or a soy product such as tofu as side dish. In this case I chose hummus because it's nice and creamy and serves as "sauce" at the same time :)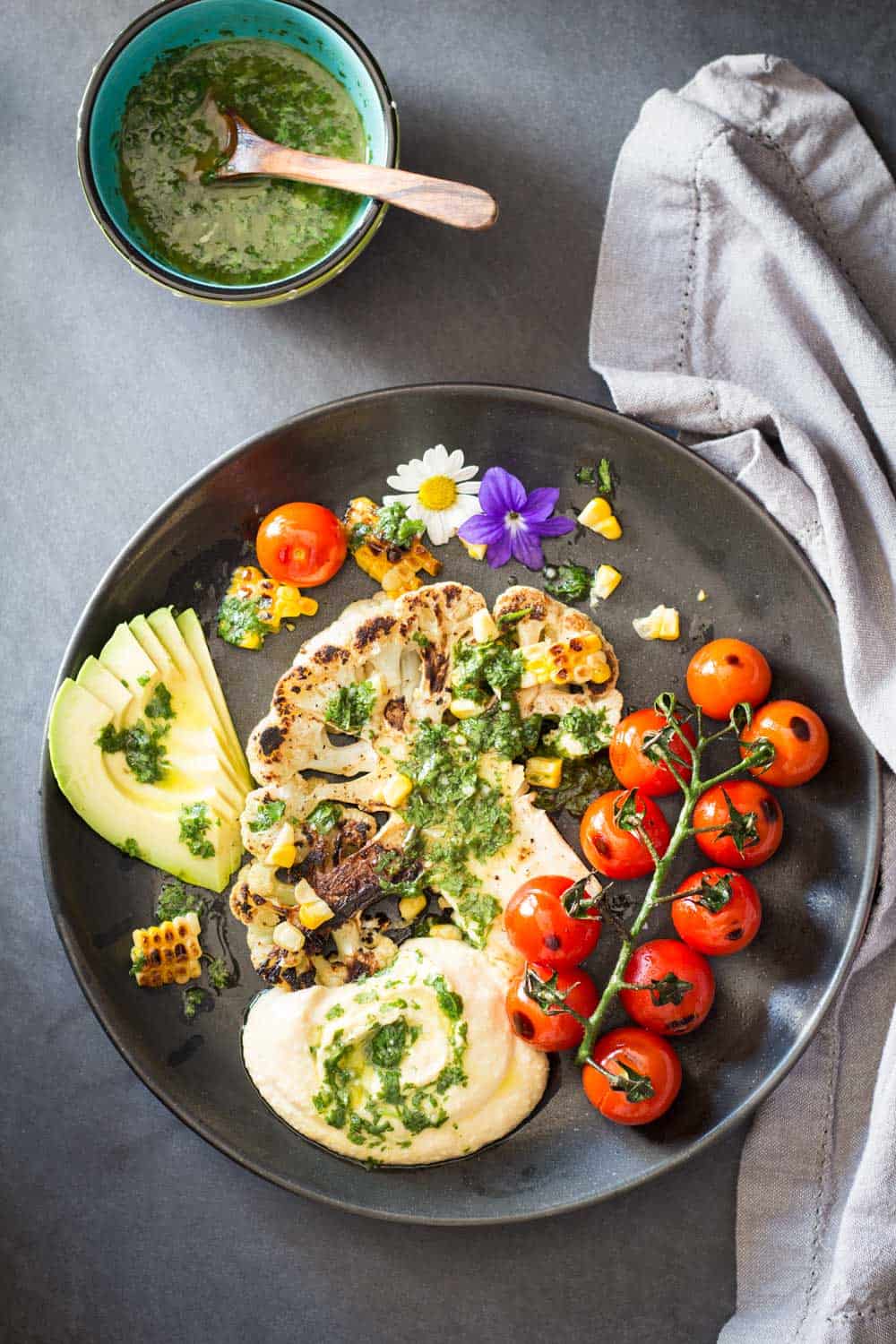 To all my American readers: have a wonderful 4th of July and celebrate with loads and loads of barbecues, friends and family. Enjoy the sun and enjoy the holiday to the max.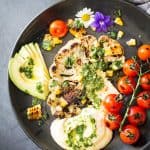 Grilled Cauliflower Steak
Print Recipe
Ingredients
1

large

cauliflower

1

cups

fresh coriander leaves

1

cloves

garlic

1/4

tsp

salt

1/4

cup

olive oil

1.5

Tbsp

lime juice

2

cups

cooked chickpeas

3/4

cup

chickpea brine

1/4

cup

olive oil

1

Tbsp

Tahini

1

clove

garlic

1

tsp

salt

lime juice

20

cherry tomatoes on the vine

1

avocado

1

cob

cooked corn
Instructions
Heat grill or cast iron grilling pan over medium heat until very hot.

In the meantime prepare coriander chimichurri by adding fresh coriander leaves, garlic, salt, olive oil and 1.5 Tbsp lime juice to blender and blend until coriander leaves are chopped very small (scraping down the sides with a spatula, while the blender is off (!), might be necessary.

Wash and dry cauliflower and cut about 1 1/4" (3 cm) thick cauliflower steaks (store the left overs in an airtight container and use for another recipe).

Brush olive oil on cauliflower steaks and generously salt and pepper.

Place in hot pan and grill for about 3-4 minutes per side.

In the meantime, prepare hummus by adding chickpeas, chickpea brine, Tahini, garlic, salt and a squirt of lime juice to either a heavy duty kitchen blender or a food processor and blend/process until smooth.

Once cauliflower steaks are nice and golden place on plates.

Wash cherry tomatoes and add to grill/pan and grill until they are about to burst. This only takes a couple of minutes.

Add ear of corn too to blacken a little.

Peel avocado and slice thinly.

Serve cauliflower steaks with burt cherry tomatoes, blackened corn, hummus and slices of avocado and top with cilantro chimichurri for extra flavor.
What's your clean eating vibe?
Take this fun QUIZZ and find out in 10 seconds!