This three ingredient Green Smoothie For Kids a.k.a. Hulk Super Drink is a shot of healthy nutrition for your little one. Vitamins, fibre and iron, all packed into one cup of gorgeously green liquid.
I love all green smoothies no matter what but my kids are a little harder to convince. This Hulk Super Drink has a deliciously tropical sweet taste because it combines coconut milk and kiwifruit and thus went down (as they say) "in one shot". I'm always looking into getting as many nutrients and healthy fats as possible into my children's tiny bodies. When I was asked to create a recipe with Zespri SunGold Kiwifruit I immediately knew it had to be a smoothie for my boy and girl.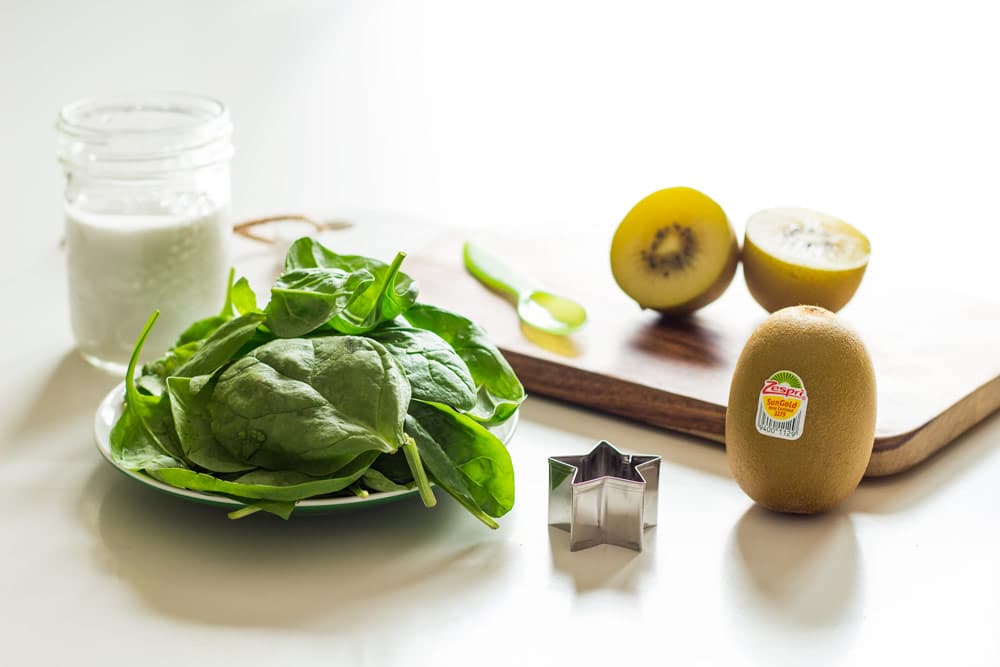 How to make a green smoothie your kids will love
There are two challenges when creating green smoothies for kids. One is to put in as many greens as possible making sure however that it doesn't taste grassy. The other is to make it taste sweet without adding sweeteners like sugar or even honey. Honey is definitely a better option than sugar but always try to avoid adding sweeteners altogether.
Best greens for green smoothies
So far, I found fresh baby spinach to be the least grass-flavored green for smoothies. Emphasis on fresh. The crunchier and greener the better. The more a green leafy vegetable wilts the more it tastes like grass. Use only baby spinach for your kid's green smoothie.
Best base for green smoothies for kids
Use canned coconut milk as a base because it is the creamiest and sweetest milk containing very little natural sugar and loads of healthy fats as a base.
How to sweeten a green smoothie
"Sweeten" the smoothie with a tropical fruit such as kiwi, pineapple or mango. Right now Zespri SunGold Kiwifruit is your best option because it's in season right now and available at local supermarkets from May to October. In addition, it is a low GI fruit that tastes very sweet. You have the best of both worlds here. Make sure you get some extra kiwifruits for simple snacks on the go. Cut in half and use a spoon to scoop out the delicious flesh full of Vitamin C, E, potassium and fibre. To read more about this amazing fruit head over to Zespri's website.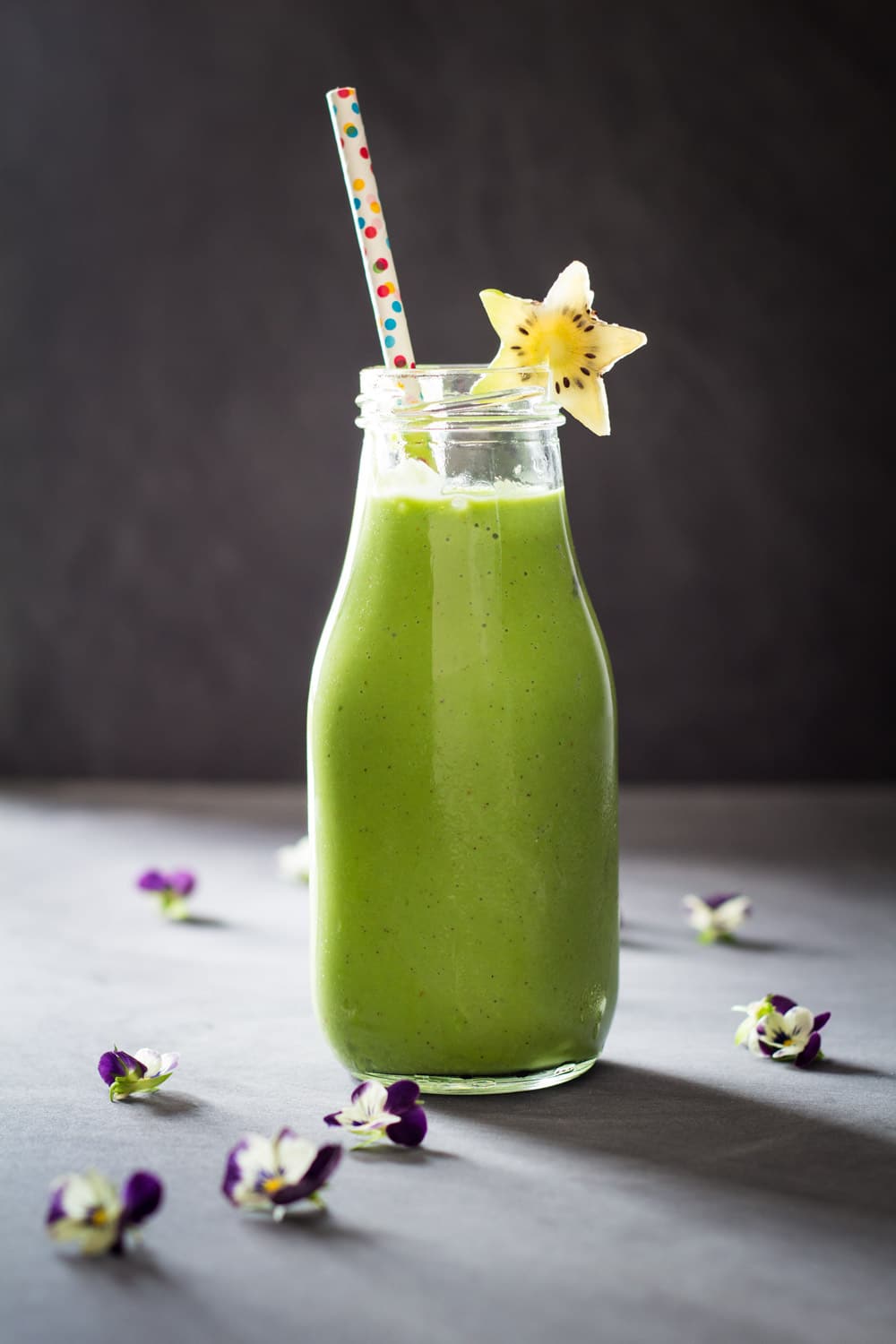 Will my kid really drink this?
There are a few tips and tricks I have for you.
Be an example and drink it WITH them. It's good for you, too ;) If you don't drink it, why should they trust you it's good?
Involve them in the process of making it and talk to them about the benefits of each ingredient and how it's good for their bodies. Explain to them how anything green such as this green Hulk Super Drink will make them super strong like Hulk.
Present the smoothie in a fun way such as with edible flowers frozen into ice cubes. You can also use green colored ice cubes you made from the same smoothie the night before. In addition you can punch out a nice fruit shape like the kiwi star in the picture to make it look pretty. And lastly, add a fun paper straw to the drink and make it a challenge. The smoothie has to be drunk as fast as possible or the paper straw will get all mushy. Aaaaaaahhh.
As a las resort, you can always add a little bit of honey to sweeten it up even further. A green smoothie with honey will always be healthier than no green smoothie at all ;)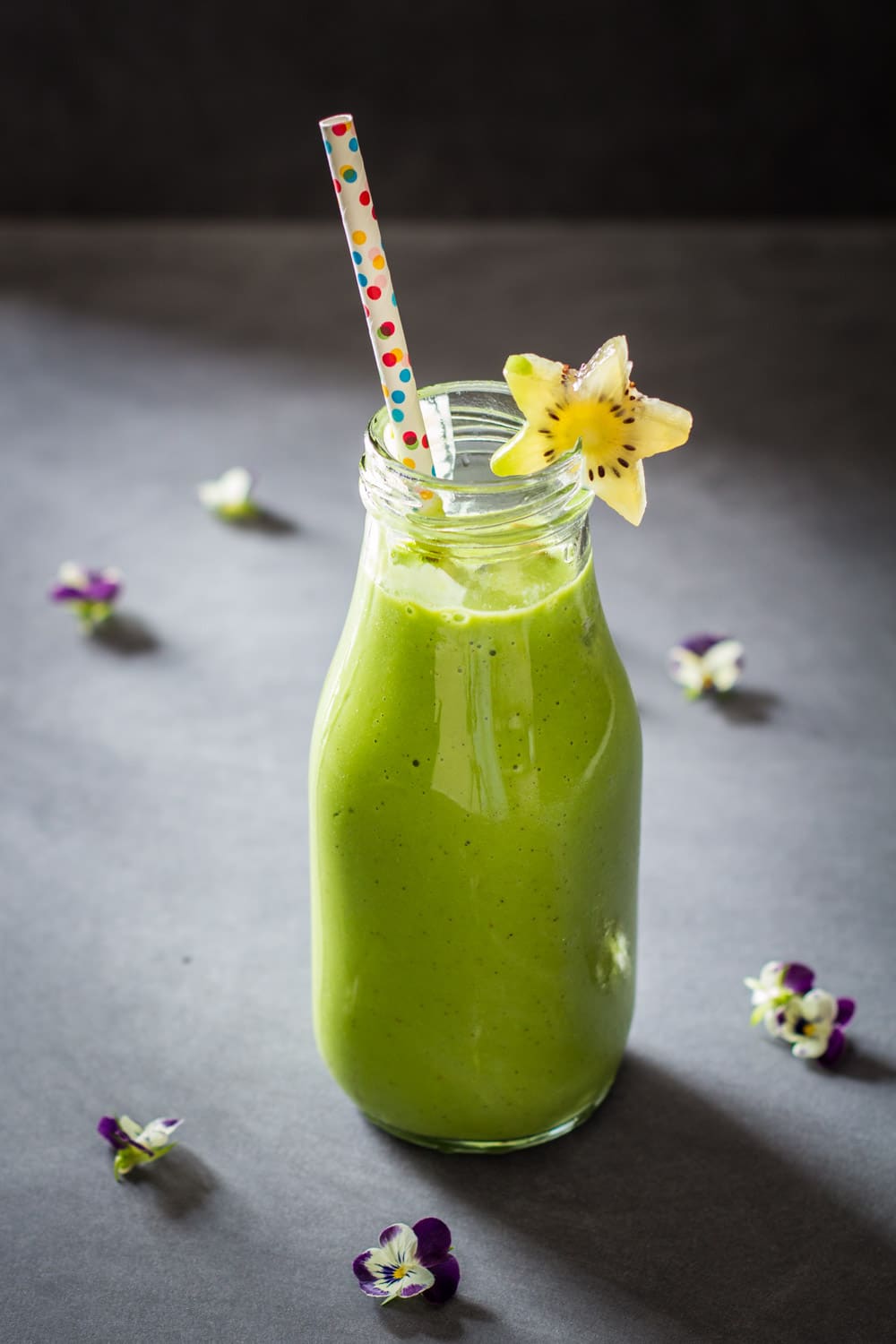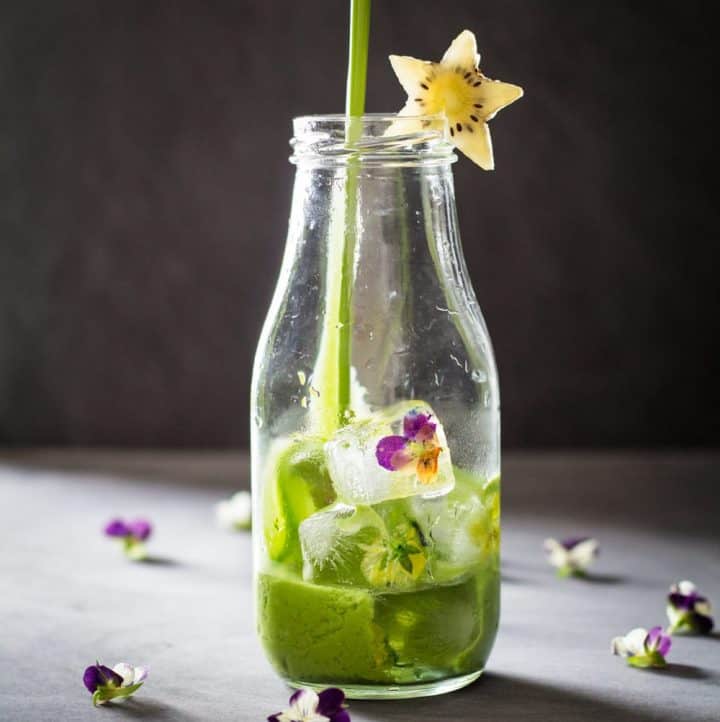 Green Smoothie For Kids
Print Recipe
Ingredients
1

cup

canned coconut milk

2

Zespri SunGold Kiwifruits

2

cups

fresh and crunchy baby spinach
Instructions
Add coconut milk and baby spinach to blender and blend until smooth and no bits of spinach can be seen anymore.

Add peeled kiwifruits and blend as shortly as possible and as long as necessary to blend them into the smoothie. The reason you don't add the kiwifruit until the end is to avoid overblending them and risking the black seeds to get crushed which ends up making the smoothie a bit bitter.

Serve over ice. The colder the smoothie, the nicer it tastes. If you remember, put the can of coconut milk into the fridge overnight before using.
What's your clean eating vibe?
Take this fun QUIZZ and find out in 10 seconds!
Disclosure: This post is sponsored by Zespri Kiwifruit, who compensated me for my time and provided me with delicious SunGold Kiwifruits.