Looking for Healthy Halloween Treats? I've got you covered with these Healthy Halloween Gummies! Grass-fed gelatine, pumpkin puree, coconut milk and maple syrup is all you need for them!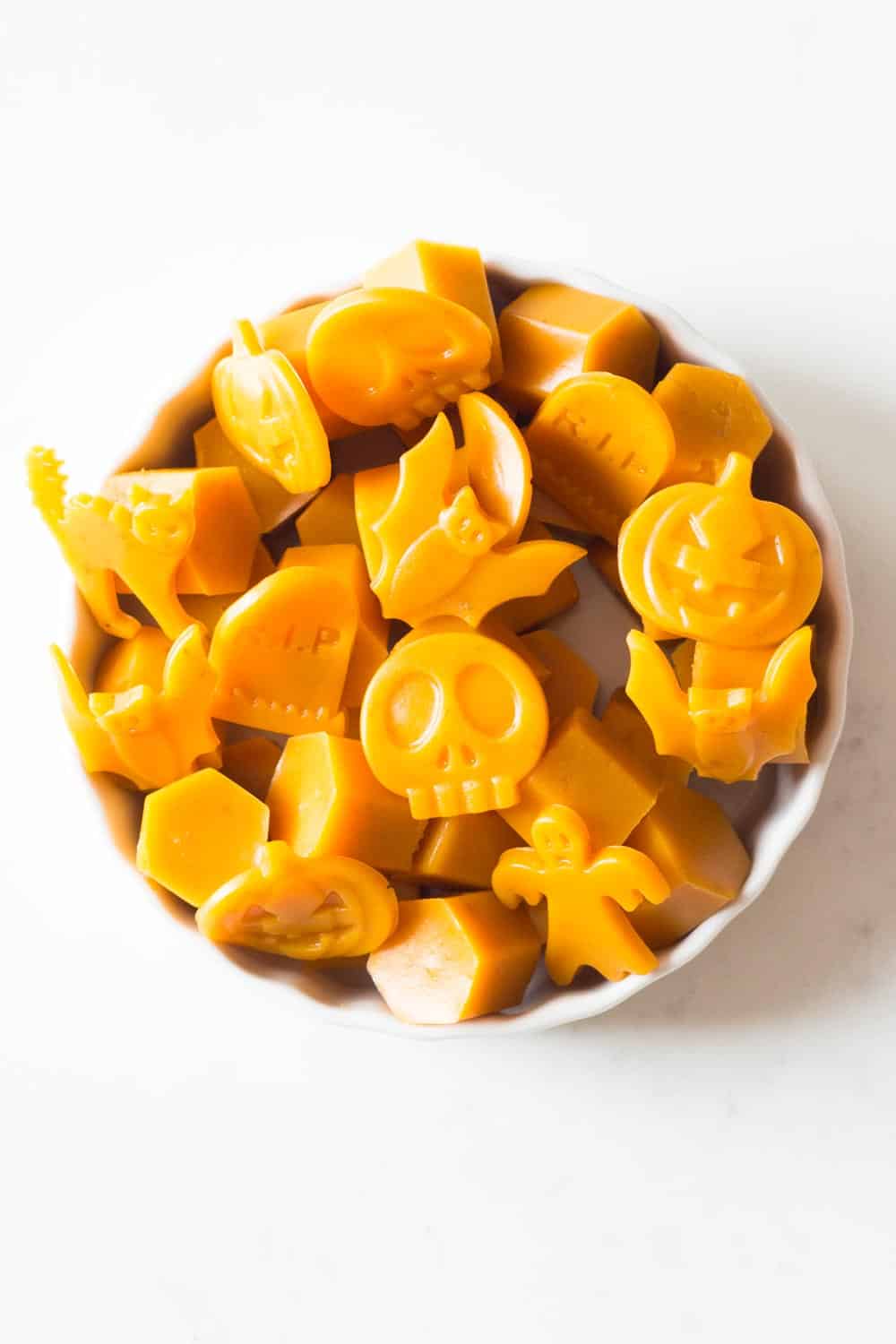 It's getting close to that time of year again and many moms concerned with their kiddo's diet are dreading it. I'm German, so I didn't grow up with Halloween and I never understood the hype around it.
I'm getting there though. We've been here in Canada for over 4 years now. My kids have lived the majority of their live here now and are becoming more and more Canadian. And they submerge us into Canadian culture, too.
Last Halloween was the first one I kind of understood what it's all about. I opened my heart and didn't just reject the holiday because of its massive amounts of crappy candy. I tried to look beyond that and I got it, you know?
Suddenly I could see and enjoy the feeling of neighborhood community. I could see the joy and dedication of people decorating their houses. Walking around with friends to trick or treat and knocking at houses of either people we know or people we've seen around the neighborhood was fun.
I obviously STILL believe it would be much better if people handed out carrot and celery sticks or pieces of apple and pear but hey, I'm getting better at not obsessing while still keeping it balanced.
How to maintain a healthy balance around Halloween
So here are my tips and basically how we handle the whole candy situation at our house. Unfortunately candy isn't handed out JUST on Halloween night, no it's handed out many days before Halloween sometimes!!
We have a candy rule for this. Whenever they get a bag of candy before Halloween, say from karate class, or the music teacher or the swim instructor or or or….they get to choose ONE small item to eat right then right there, the rest is stored in a big bag until Halloween.
ON Halloween, we walk around with them until they are cold or tired or simply done and go home with aaaaalll that candy and add it to the big bag. They get to eat however much they want right then right there.
(Important note: I feed them the biggest healthy dinner of their lives before going out and we can't go out until they finish ALL their dinner. This to make sure their bellies are as full as possible).
And once they're done eating candy, which is when they start feeling sick, we do an extensive tooth brushing session with minute-long dental flossing. They go to bed super happy but knowing that the big bag disappears over night forever.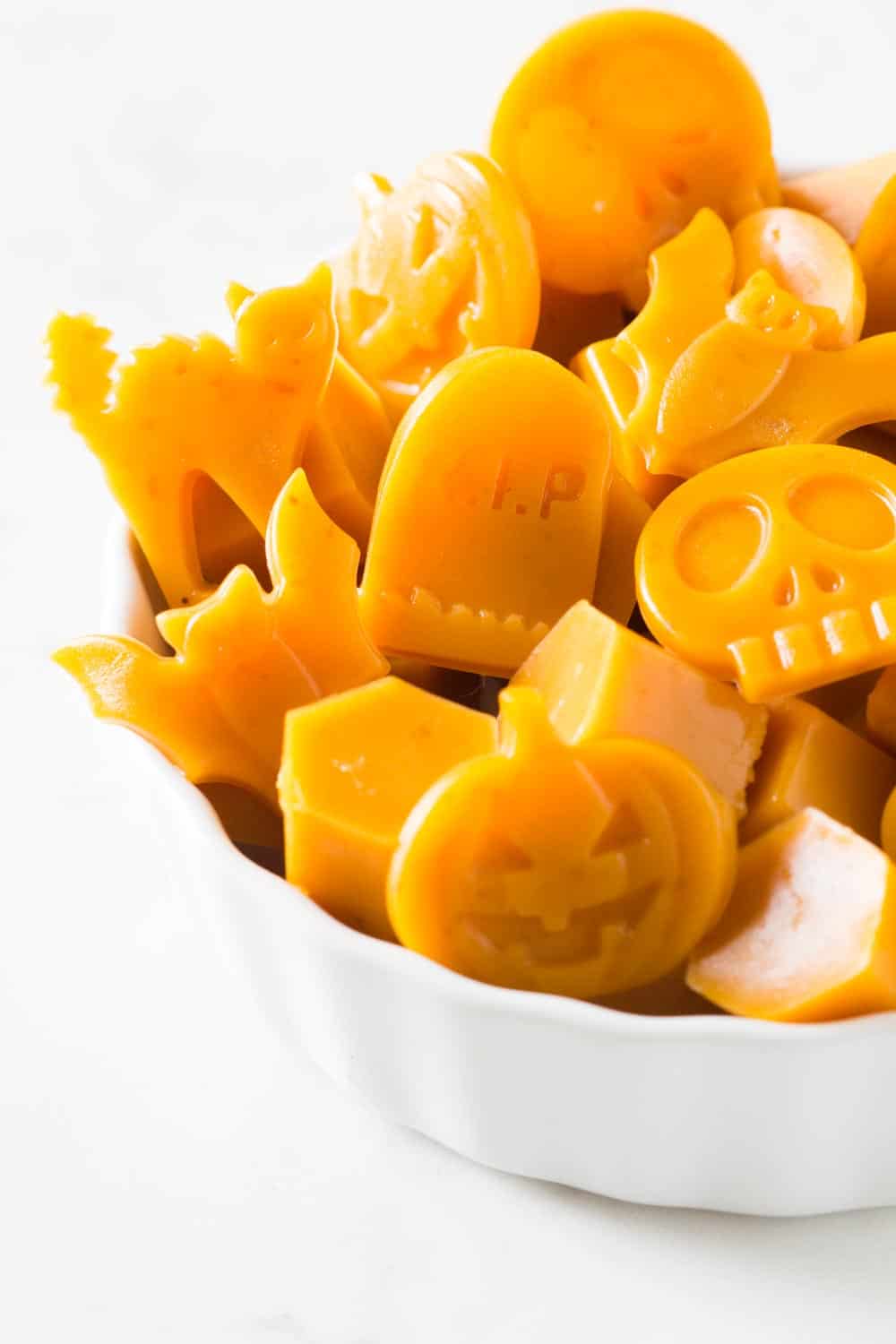 How to exchange candy for Healthy Halloween Treats
In order for them to not feel all left out before Halloween, when many other kids already started the candy craze just leading up to the candy climax, I provide them with healthy or at least healthy-ER alternatives.
I make them the most fun possible and let me tell you, they have friends who envy them for their cool Healthy Halloween Treats!
Create things nobody else has! Everybody can bring a chocolate bar to school, but who can bring a scary pumpkin face shaped gummy?? Huh??
It's all about creativity! For inspiration you may want to check out all my other healthy desserts. You'll find plenty that can be "halloweened" somehow :P
Healthy Halloween Gummies
I felt super creative when I came up with pumpkin flavored Healthy Halloween Gummies ;) Sneaky mama, hiding vegetables in the "candy", hahahaha.
You can make them with literally ANYTHING really. Vegetable juice or fruit juice both work just fine. I just recommend adding enough maple syrup of honey so they really taste like "candy". Especially when using vegetables you need to add quite a bit. In liquid form the gummies taste much sweeter than once they set.
I used 1/3 cup in my recipe but maybe 1/2 cup would actually have been better. My kids are not used to sweets and candy so it worked just fine. It all depends on what your kids are used to.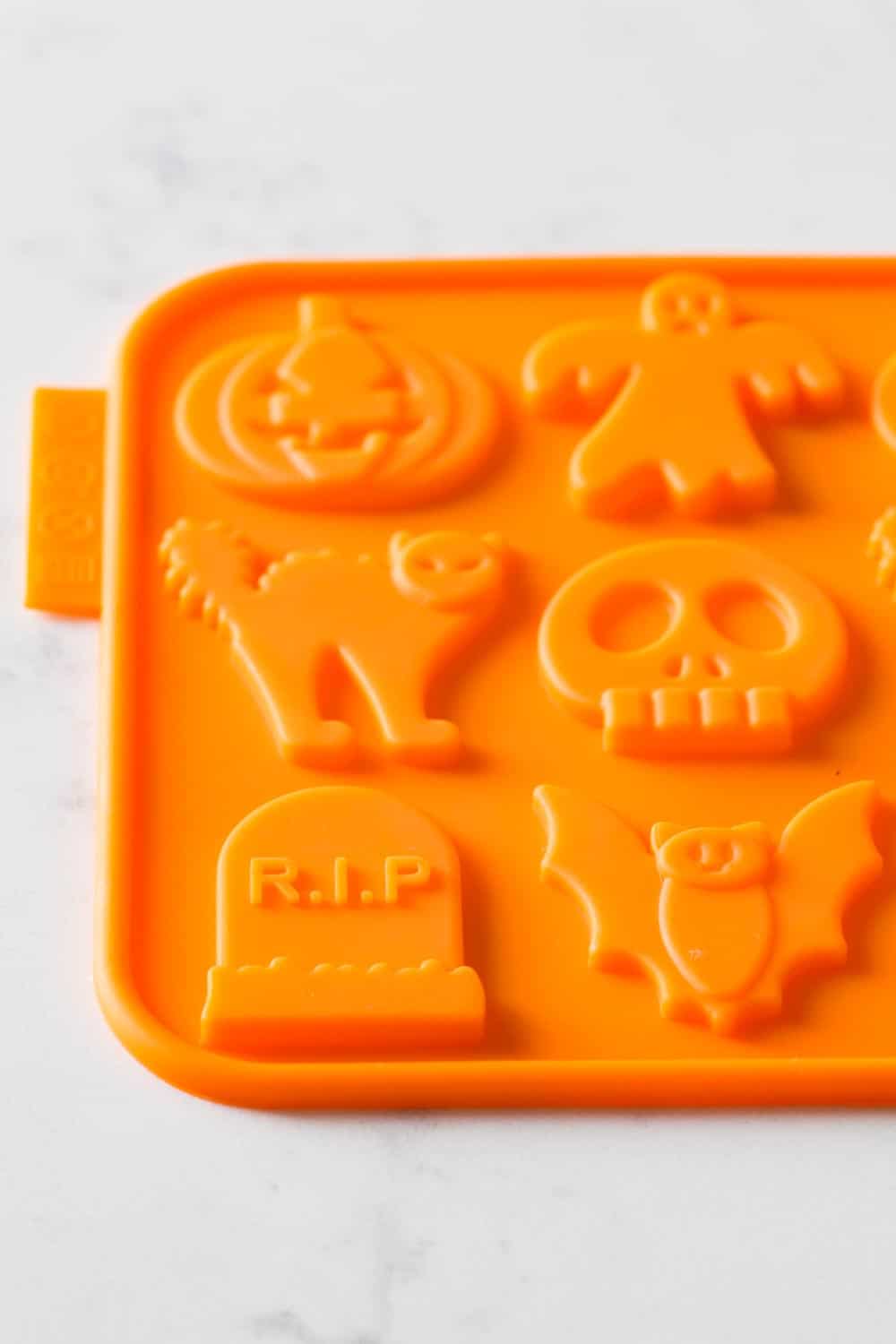 Great tools to make these Healthy Halloween Treats
You don't have to be a super crafty person to be creative in the kitchen. There are several tools take make being creative a lot easier. I bought this Halloween Silicone Mold * for example to make these Healthy Halloween Gummies.
I've also already tried melting dark chocolate and pouring it into the mold. The mini Halloween shaped chocolates are the cutest thing ever! The chocolates are so thin also, that 3 of those would make up maybe one chocolate square.
The grass-fed gelatine I used for this recipe and always use is from the brand Great Lakes *. I like it because it's flavorless and thus great for gummies. I have no idea if it's the best though. I've also heard great things about the Vital Proteins * brand. Will have to try one day to compare.
* the links above are affiliate links and I earn a couple cents commission if you buy the product through the link. All earnings go towards buying coffee and keep my brain running to create more blog posts for you :P
More Healthy Halloween Treats
For more healthy halloween treats check out this cute clementines with faces drawn on the peel or these peeled clementines disguised as pumpkins.
You can also simply make boiled eggs and draw scary faces on the shell with a sharpie. No need for any fancy tool or equipment. Easy peasy!
Healthy Halloween Treats Video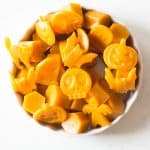 Healthy Halloween Gummies
Looking for Healthy Halloween Treats? I've got you covered with these Healthy Halloween Gummies! Grass-fed gelatine, pumpkin puree, coconut milk and maple syrup is all you need for them!
Print Recipe
Ingredients
1/2

cup

canned pumpkin puree

1/2

cup

coconut milk

1/3

cup

maple syrup

2

Tbsp

grass-fed gelatine

1/4

tsp

pumpkin spice mix

-

(optional)
Instructions
Heat medium-sized sauce pan over low heat.

Add pumpkin puree, coconut milk and maple syrup to pan and whisk until well combined.

Once the sauce starts to get warm, add gelatine (and pumpkin spice if desired) and whisk vigorously until all gelatine is dissolved.

Remove from heat and pour into any small shape silicone mold. It has to be silicone because it's sticky and you won't be able to remove otherwise.

Put in the freezer for 20-30 minutes or fridge for 1-2 hours or until set.

Remove from mold and enjoy! Keep refrigerated in an airtight container and eat within few days.
Nutrition
Calories:
156
kcal
|
Carbohydrates:
21
g
|
Protein:
9
g
|
Fat:
6
g
|
Saturated Fat:
5
g
|
Polyunsaturated Fat:
0.1
g
|
Monounsaturated Fat:
0.2
g
|
Sodium:
58
mg
|
Potassium:
60
mg
|
Fiber:
1
g
|
Sugar:
18
g
|
Vitamin A:
4500
IU
|
Vitamin C:
1.7
mg
|
Calcium:
30
mg
|
Iron:
0.9
mg
What's your clean eating vibe?
Take this fun QUIZZ and find out in 10 seconds!