This is a hard one for me to post because I rely entirely on the opinion of others for this recipe. I, myself (and my kids), didn't like the pasta much at all :S However, my kids and I find brussels sprouts, what can I say? mmm, not so yummy, to say it in a nice way. I always considered myself to not be a picky eater at all but the more I cook for the blog and include exclusively seasonal things I notice, there are quite a few things I don't like. I don't like brussels sprouts, I don't like kohlrabi, I don't like rhubarb, I'm not a huge fan of eggplant and I absolutely detest beets. Don't get me wrong. I still eat all of them, I just don't enjoy eating them like other foods. This Shaved Brussels Sprouts Pasta with Herb Pesto was an attempt to "hide" brussels sprouts into a pasta dish (rare at this house and thus special) with a herby, cheesy, yummy pesto sauce that would make even the brussels sprouts taste amazing.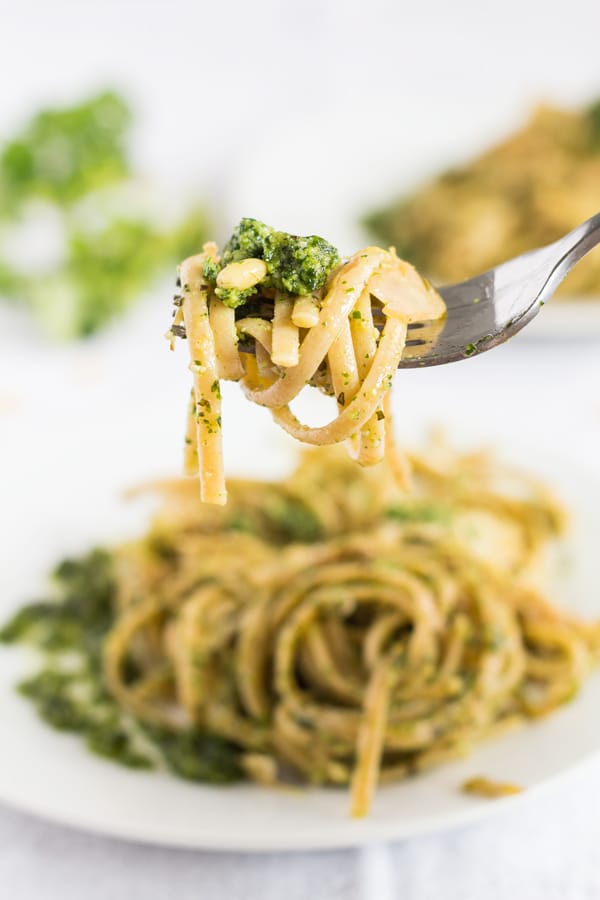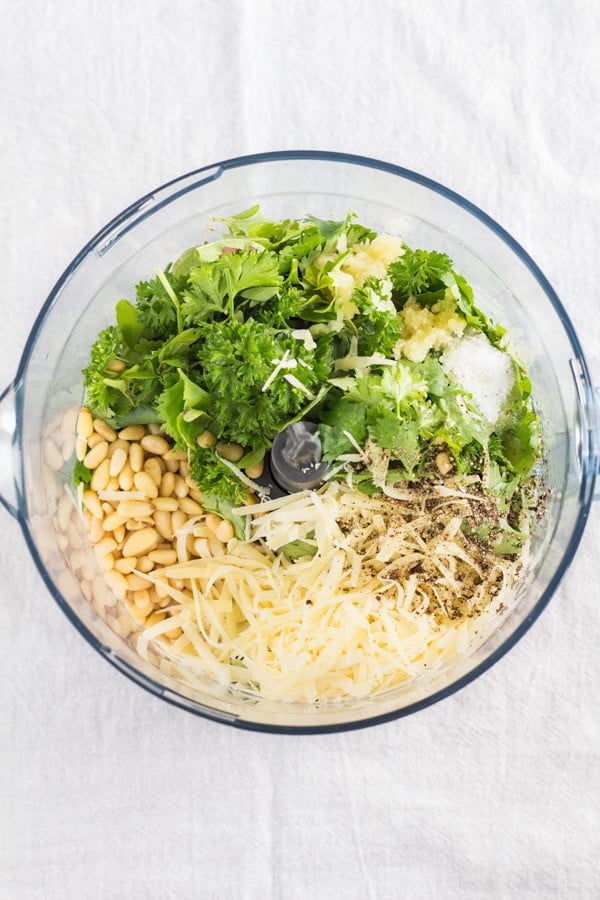 Well, I'm happy to announce that the pesto was indeed amazing and delicious but the brussels sprouts were so bitter I could taste them all the time. Now, the reason I'm posting this recipe is because friends came over for dinner that day and their little 2-year old daughter ate like half of the pot of pasta all by herself because she liked it that much and our friends, too said it was really, really good. Seriously?!? Then, my husband gave it a try and said he loved it. Huh?!?! What is wrong with their taste spuds? Maybe something is wrong with mine and my kids' instead. I guess I should warn you, if you don't like brussels sprouts, you won't like this recipe but if you do like brussels sprouts you will absolutely LOVE this recipe.
Brussels Sprout have an extraordinary high amount of Vitamin K and Vitamin C and if you like them it is definitely a good idea to include them in your diet on a regular basis. For in-depth information about the health benefits of brussels sprouts you can read this article. You'll be blown away with the information. I so wish I'd love their taste to eat them at least once a week. Buhuu.
For all of those that don't really like brussels sprouts but think this recipe looks amazing, I encourage you to just make the pesto and instead of brussels sprouts use some other green vegetable such as chard or kale. I'm sure that will make the dish more enjoyable for us brussels-sprouts-non-likers (is that a word?).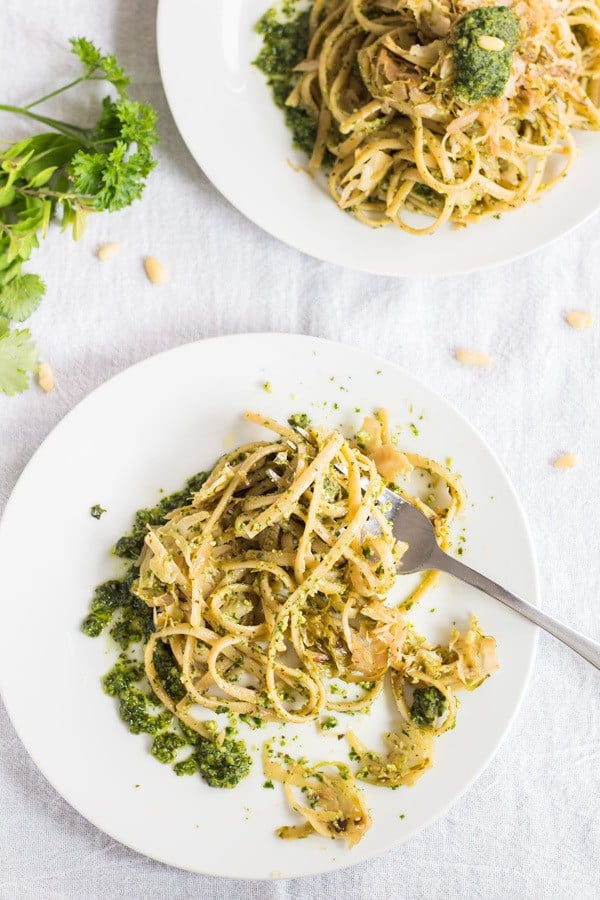 On a different note, I found a barn wood shop/warehouse today at the end of the world outside Montreal and seriously almost freaked out when I saw all those beautiful planks with chipped paint and overall weathered look to them. I bought several planks and soon you'll see them in my photographs. Aaaaahhh, so excited!!!!
Shaved Brussels Sprouts Pasta with Herb Pesto
Print Recipe
Ingredients
1

lbs

brussels sprouts

-

(450g)

500

g

whole wheat linguine

3

cups

mix of fresh basil, coriander, and parsley

1/2

cup

flavourless oil such as sunflower or avocado oil

1/2

cup

Gruyère cheese

-

(100g)

1/3

cup

pine nuts

2

cloves

garlic

1

tsp

salt

pepper

Parmesan cheese
Instructions
Bring 4 liters in a big pot to the boil.

Heat a little oil in a large pan over medium heat.

Wash and shave your brussels sprouts with the shaving attachment of your food processor (a mandolin will do the trick as well but can be quite time consuming).

Add to hot pan and fry brussels sprouts moving frequently to avoid burning until soft and starting to brown all over.

Wash and destalk herbs and add about 1 cup basil leaves, 1 cup coriander leaves and 1 cup parsley leaves into your food processor.

Peel and crush garlic and add to food processor.

Add pine nuts, salt, pepper, oil and grated Gruyère cheese to food processor and process until reaching a smooth consistency (about 3-4 minutes).

Add pasta to boiling water and cook as instructed on the package.

Drain pasta when al dente, add back to pot, add fried brussels sprouts and pesto and mix well.

Serve with Parmesan cheese sprinkled on top.
What's your clean eating vibe?
Take this fun QUIZZ and find out in 10 seconds!
You are a brussels sprout lover? This is how your plate will look like in 4-3-2-…..