Easy Banana Oatmeal Cookies so healthy you can even eat them for breakfast! Use your food processor to make them all in "one bowl". This is a great recipe to add to your grab-and-go breakfast recipes collection.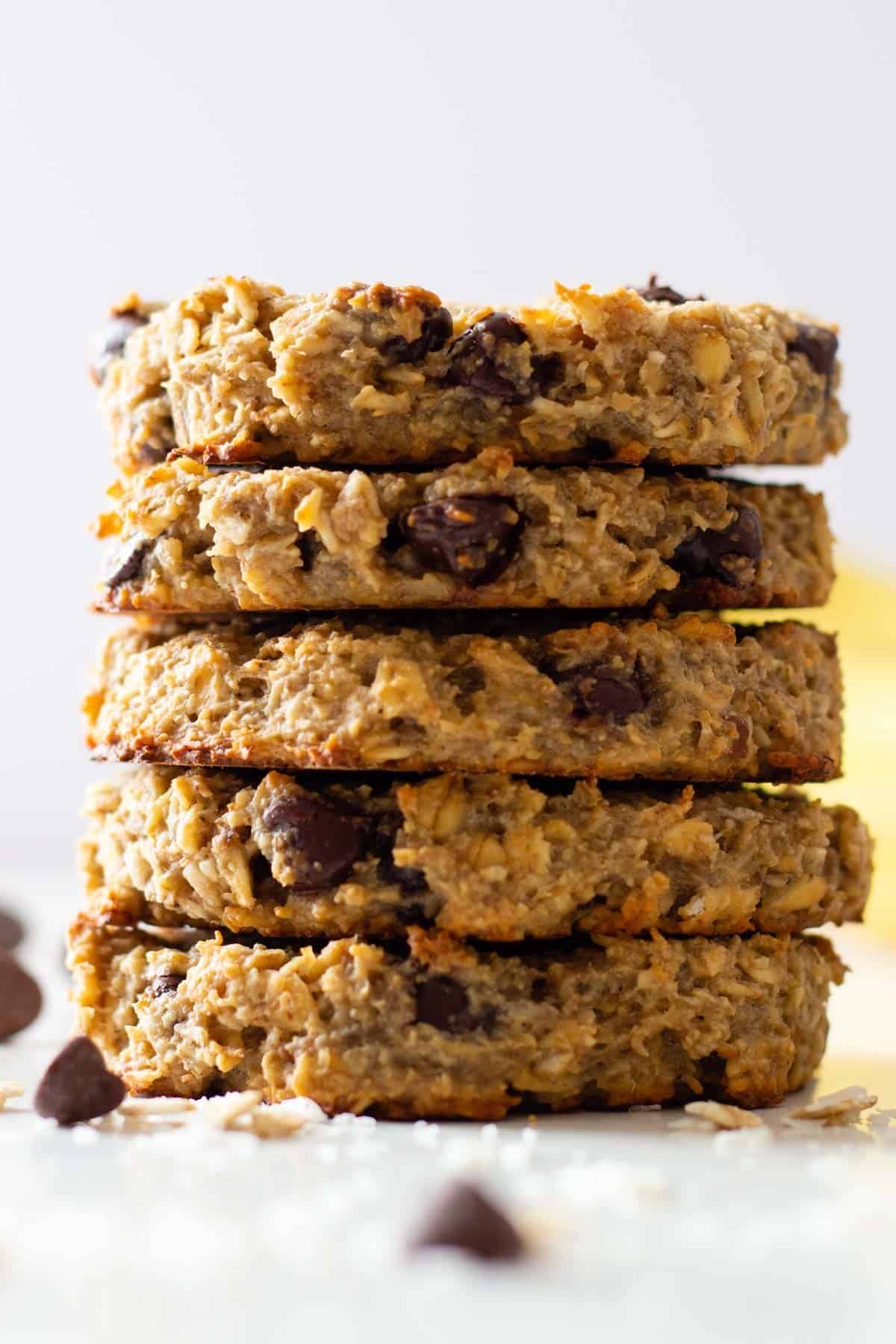 After the huge success of my Oatmeal Breakfast Cookies, I had to come up with banana-flavored Oatmeal Cookies to complete the delicious cookies series.
Ingredients And Substitutions
1 cup old-fashioned rolled oats (made into flour): You can also use store-bought already ground oat flour but make sure to only use about 3/4 cup, not a whole cup. No, you cannot replace this with regular wheat flour it will make the cookies way too dense. Read down below on how to make oat flour yourself. It takes less than 30 seconds.
Ripe bananas: The riper/browner the bananas the sweeter your oatmeal cookies.
Medjool dates: You can use any dried fruit but these dates are the sweetest and give a really nice sweet flavor.
Coconut oil: this oil is super delicious in banana oatmeal cookies but you can also replace with butter. Don't use another oil as we need a fat that is solid at room temperature and liquid when warm. I don't recommend leaving out the oil as your cookies will get pretty hard without it.
Egg: to make the recipe vegan you can replace the egg with a flax egg. To make a flax egg add 1 Tbsp ground flax seeds and 4 Tbsp water to a bowl and stir and let sit for approx 10 minutes until it gels and resembles an egg white. The cookies will be denser but still delicious.
Whole old-fashioned rolled oats: it's crucial that you use "old-fashioned rolled" oats here. If you use quick-cooking your cookies will be very dense and dry.
Unsweetened shredded coconut: if you're not a fan of coconut flavor and already replaced the coconut oil with butter you can also simply replace the shredded coconut with finely chopped nuts or seeds of any kind.
Dark chocolate chips: this is optional but highly recommended. Also, who doesn't like chocolate chips in their banana oatmeal cookies?
How to make Oat Flour
You will need a little bit of oat flour for these cookies but no need to buy an expensive bag of it. You can very easily make your own oat flour in about 30 seconds.
Add old-fashioned rolled oats to a food processor or a blender and pulse for 30-60 seconds until you have a coarse or fine flour. That's all there is to it.
How To Make Banana Oatmeal Cookies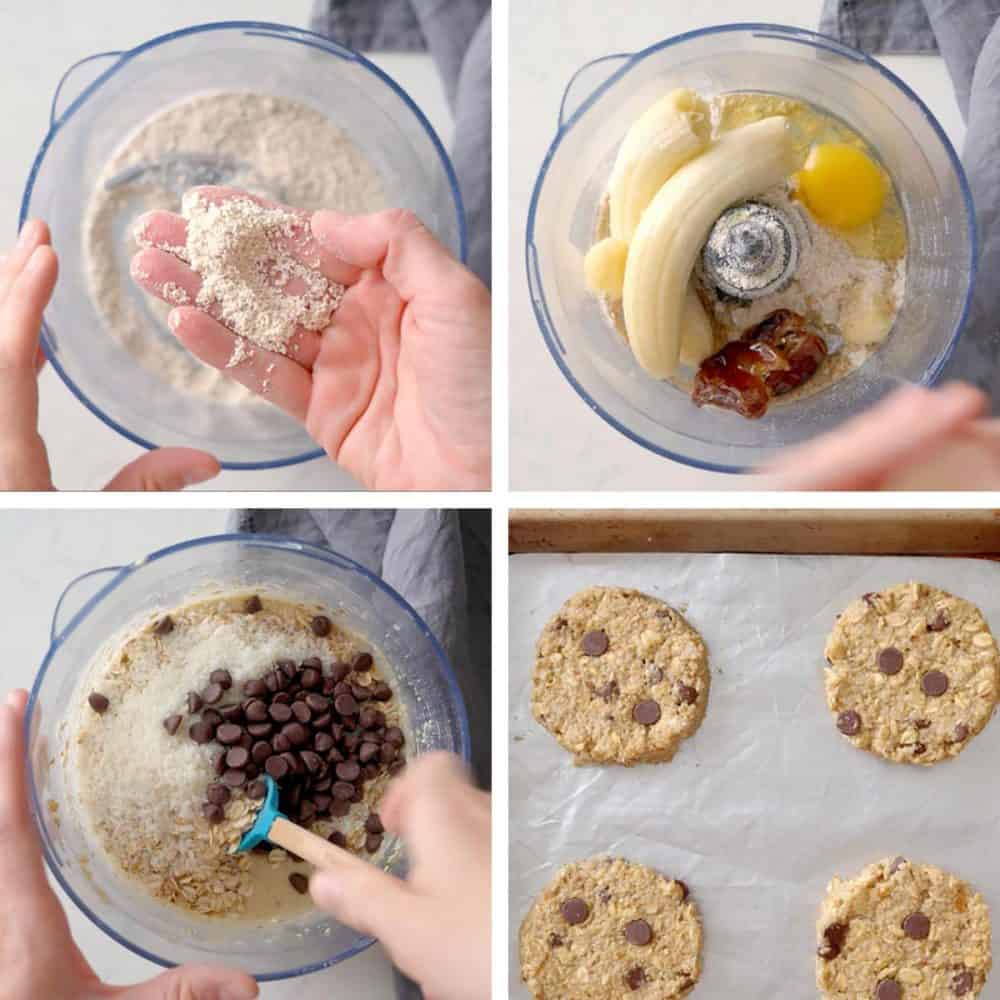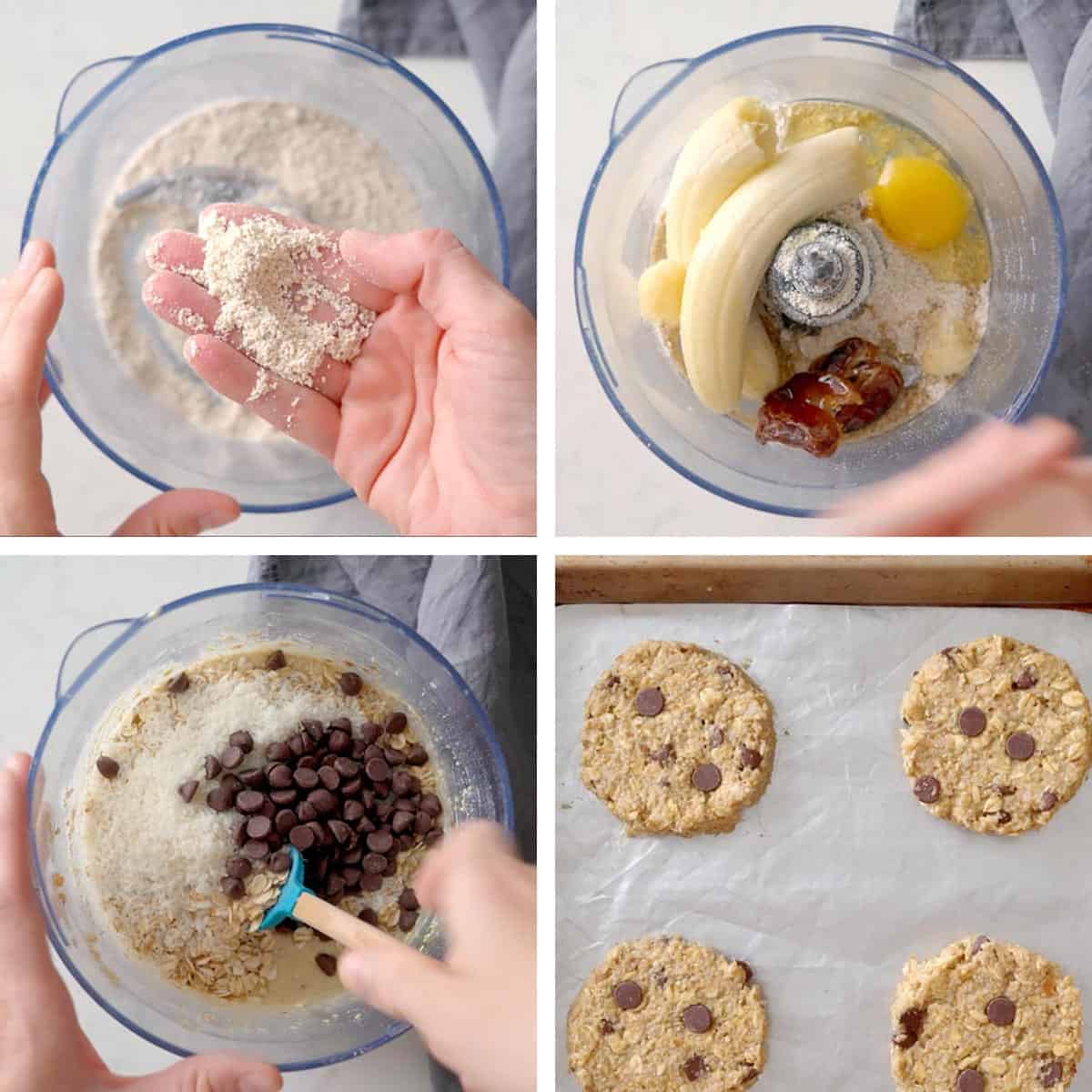 Make oat flour: Add 1 cup old-fashioned rolled oats to your food processor or blender and make oat flour if you're not using store-bought. Doesn't have to be fine. Coarse is fine.
Add all wet ingredients: Add ripe bananas, dates, egg, and coconut oil to your food processor or blender, either works. Then blend until well combined and nice and liquid.
Add dry ingredients: If you used a blender up until this point I recommend using a bowl to mix wet and dry ingredients because it'll be easier to get the dough out. If you used your food processor, remove the blades and add the dry ingredients right into the processor bowl: old-fashioned rolled oats, shredded coconut, chocolate chips and mix with a spatula. Do not process or you'll end up with a super sticky mushy mass.
Form your cookies and bake: For super even cookies you'll want to use a 1/4 cup measuring cup and then form round cookies about 1/2″ thick. The dough is pretty sticky so be patient. You can also just eyeball it and use your hands to form little "blobs" and place on a parchment-paper-lined baking sheet. The important thing to pay attention here is to flatten them to 1/2″ thickness or else they won't bake evenly in the time recommended. Then bake at 350F for 18-22 minutes or until golden.
Let cool on wire rack: I know it's tempting to bite right into them but I do strongly recommend you let them cool on a wire rack for at least 20 minutes so they finish cooking while they're cooling.
Special Tip To Make this Recipe
If you are like me and have zero self-control when it comes to cookies, make them only when you expect guests or you're going to meet someone so you can share them or else you'll end up eating the whole batch. Oh-oh!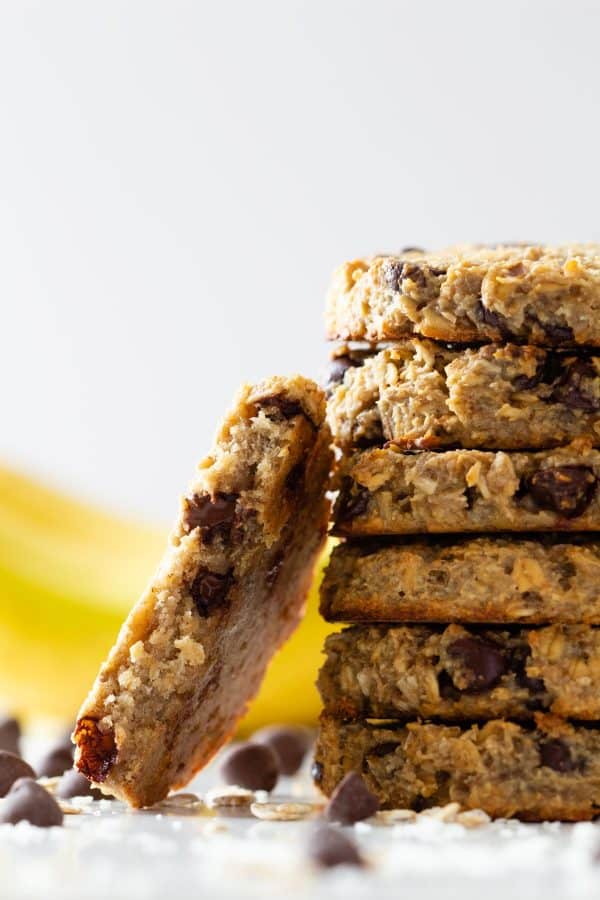 Frequently Asked Questions
Can I Freeze Banana Oatmeal Cookies?
Yes, they are perfect for freezing. They last for at least 4 days in the refrigerator, too. To defrost simply transfer the cookies from the freezer to the fridge the night before, or place them under the broiler for 3-4 minutes.
Is Oatmeal And Banana Healthy?
Both ingredients are high-quality carbohydrates. As always, healthy nutrition is never about individual ingredients but about diet in general over the span of a day and week. Simply take into consideration what macro-nutrient categorization they belong to when planning your day.
Are Oatmeal Cookies A Healthy Snack?
This depends entirely on what you eat the rest of the day. If you are low on carbs for the day they will be perfect. If you're already high on carbs you might want to grab a high-protein snack such as hard-boiled eggs instead.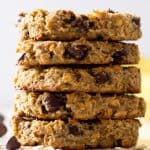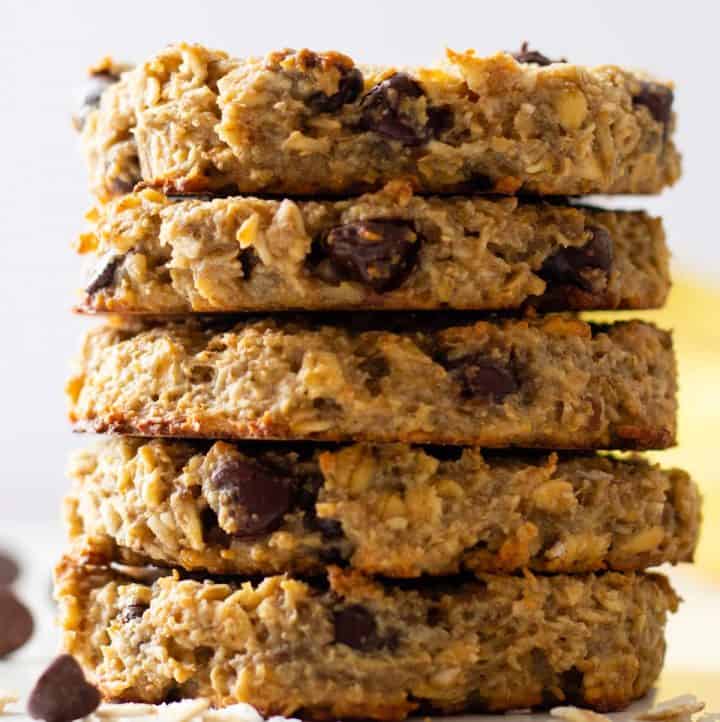 Banana Oatmeal Cookies
Easy Banana Oatmeal Cookies so healthy you can eat them for breakfast!
Print Recipe
Pin Recipe
Ingredients
1

cup

old-fashioned rolled oats (made into flour)

2

very ripe bananas

2

Medjool dates

2

Tbsp

coconut oil

1

egg

1

cup

old-fashioned rolled oats

1/4

cup

unsweetened shredded coconut

1/2

cup

dark chocolate chips
Instructions
Preheat the oven to 350F.

Add 1 cup oats to a food processor or blender and pulse until you get coarse oat flour.

If using a food processor now add bananas, pitted dates, coconut oil, and an egg to it and process until well combined. If using a blender, empty oat flour into a bowl and then add bananas, dates, coconut oil, and egg into the blender and blend until liquid, then empty into the bowl with oat flour.

Now add whole old-fashioned rolled oats, shredded coconut, and chocolate chips to the other ingredients and mix with a spatula. Take your time at this step because the oat flour absorbs liquid only slowly.

Now use a 1/4 cup measuring cup to make uniform sized cookies and place them on a parchment-paper-lined baking sheet. Flatten them with your fingers until about 1/2" thick.

Bake for 18-22 minutes or until golden. Then let them cool down completely.
Nutrition
Calories:
189
kcal
|
Carbohydrates:
26
g
|
Protein:
4
g
|
Fat:
9
g
|
Saturated Fat:
7
g
|
Cholesterol:
16
mg
|
Sodium:
18
mg
|
Potassium:
252
mg
|
Fiber:
3
g
|
Sugar:
9
g
|
Vitamin A:
46
IU
|
Vitamin C:
2
mg
|
Calcium:
42
mg
|
Iron:
1
mg
What's your clean eating vibe?
Take this fun QUIZZ and find out in 10 seconds!