These slow cooker chicken thigh recipes are the best ones to use for healthy and delicious chicken dinners! Slow cooking your chicken will give you more time for the things that matter the most to you. Plus, you will walk into the house after a long day and a delicious chicken dinner will be ready to serve!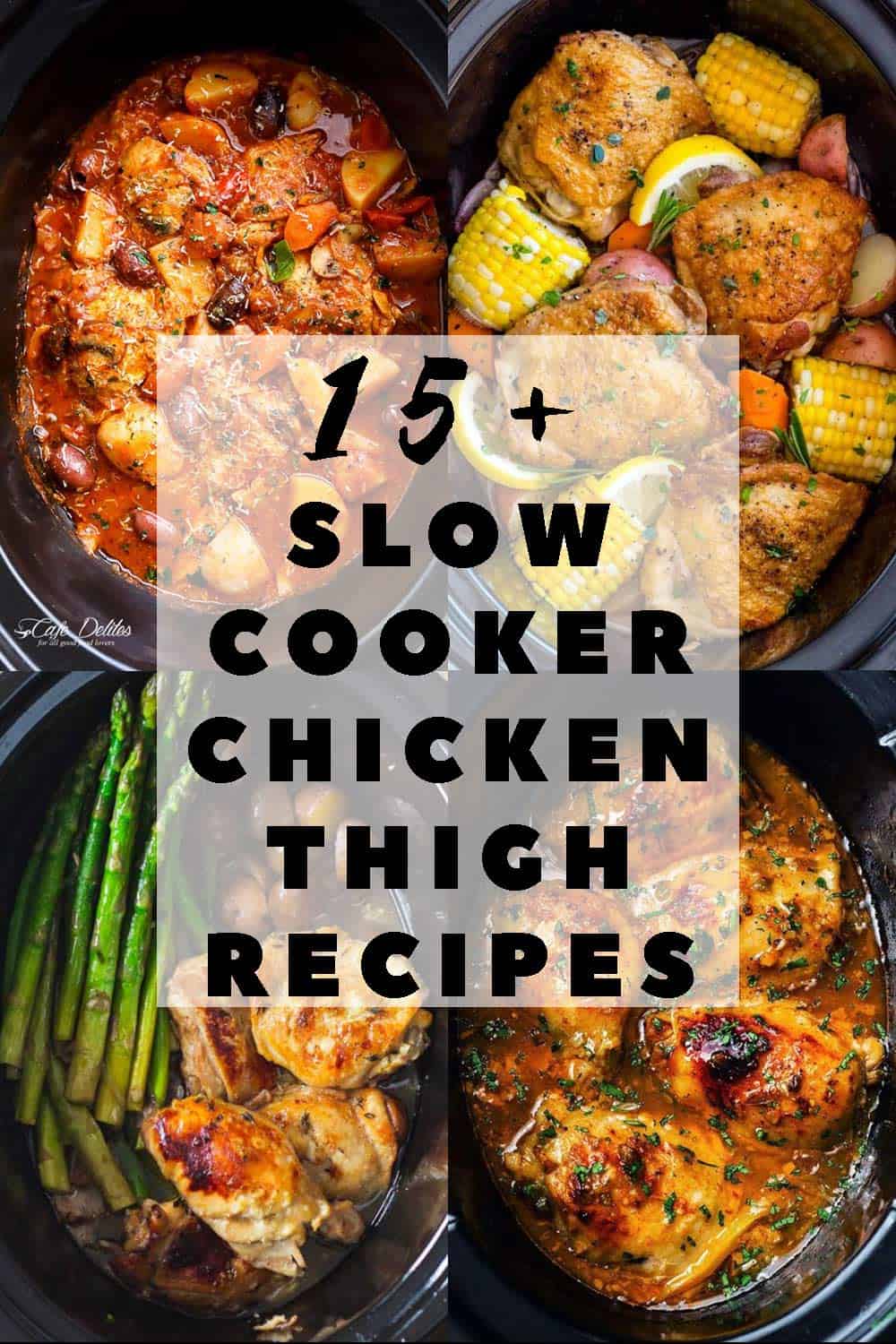 Can you put frozen chicken thighs in a slow cooker?
This question comes up often, and the topic is, to say the least, controversial. Technically, yes; You can cook frozen chicken in a slow cooker. More importantly, though is the question, should you cook frozen chicken in a crockpot?? The answer boils down to an issue of food safety and the risk of food poisoning.
According to the Crock-Pot manufacturer's website, it should be done with caution. They offer the following advice:
To assure that foods are properly cooked, use a food thermometer to determine the internal temperature. In the case of slow cooker chicken thigh recipes, the rule is simple. Chicken is properly cooked when the internal temperature reaches 165 degrees Fahrenheit.
A direct quote from Crock-Pot says, "Add at least 1 cup of warm liquid to the stoneware before placing frozen meat in the stoneware. Do not preheat the slow cooker. Cook recipes containing frozen meats for an additional 4 to 6 hours on low, or an additional 2 hours on high."
Now that you have those recommendations, it's time to find some new favorite slow cooker chicken thigh recipes to try!
Browse through the recipes below. When something catches your eye, get the recipe by clicking on the recipe link. Or, you can click on the photo beneath the link.
Be sure to bookmark, print, or Pin your favorite recipes. By doing so, you'll have access to the chicken thigh recipes when you are ready to make them!
Slow Cooker Chicken Thigh Recipes
Easy Slow Cooker Lemon Chicken
There's no need for side dishes when you make this chicken thigh recipe! Tender white potatoes and healthy veggies are cooked right in the crockpot with the bone-in chicken thighs.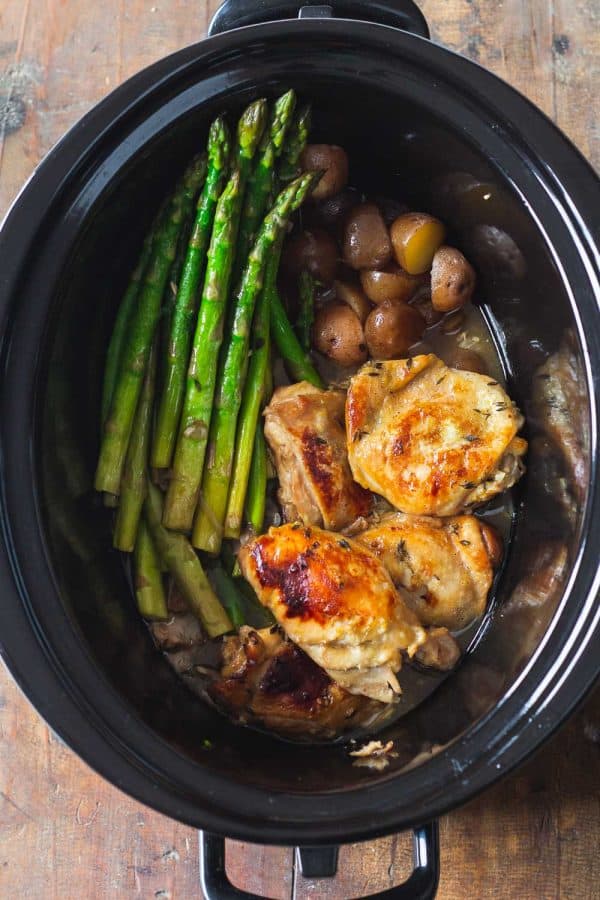 Slow Cooker Chicken Thighs in Garlic-Lemon Sauce, from Jessica Gavin
Easy to make, slow cooker chicken thighs with hearty vegetables is a flavourful, complete meal! Everything is simmered together in a delicious, lemony garlic herb sauce.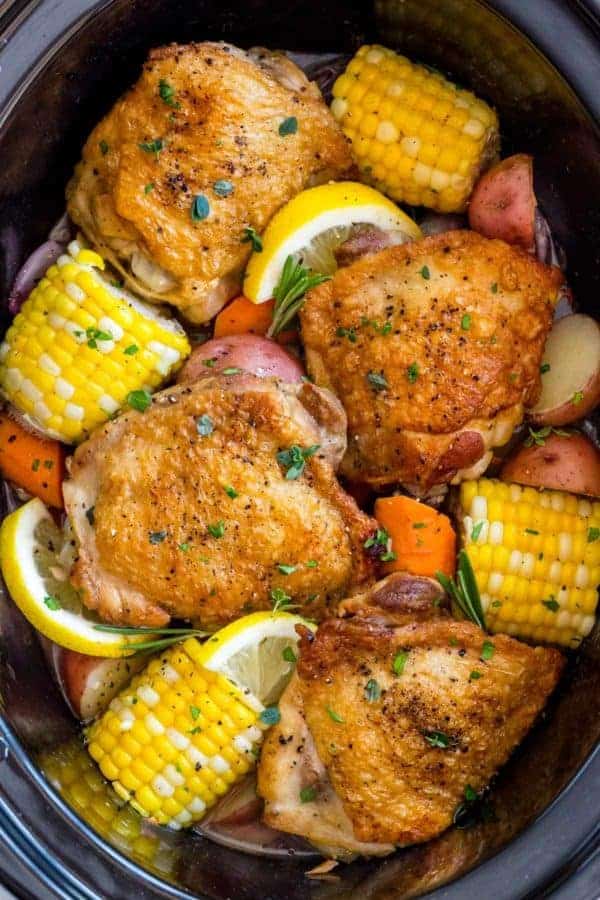 Healthy Crock Pot Chicken and Rice
This Peruvian-inspired chicken dinner is one of our favorite slow cooker chicken thigh recipes! Full of vegetables, delicious seasonings, fiber-rich brown rice, and juicy chicken thighs.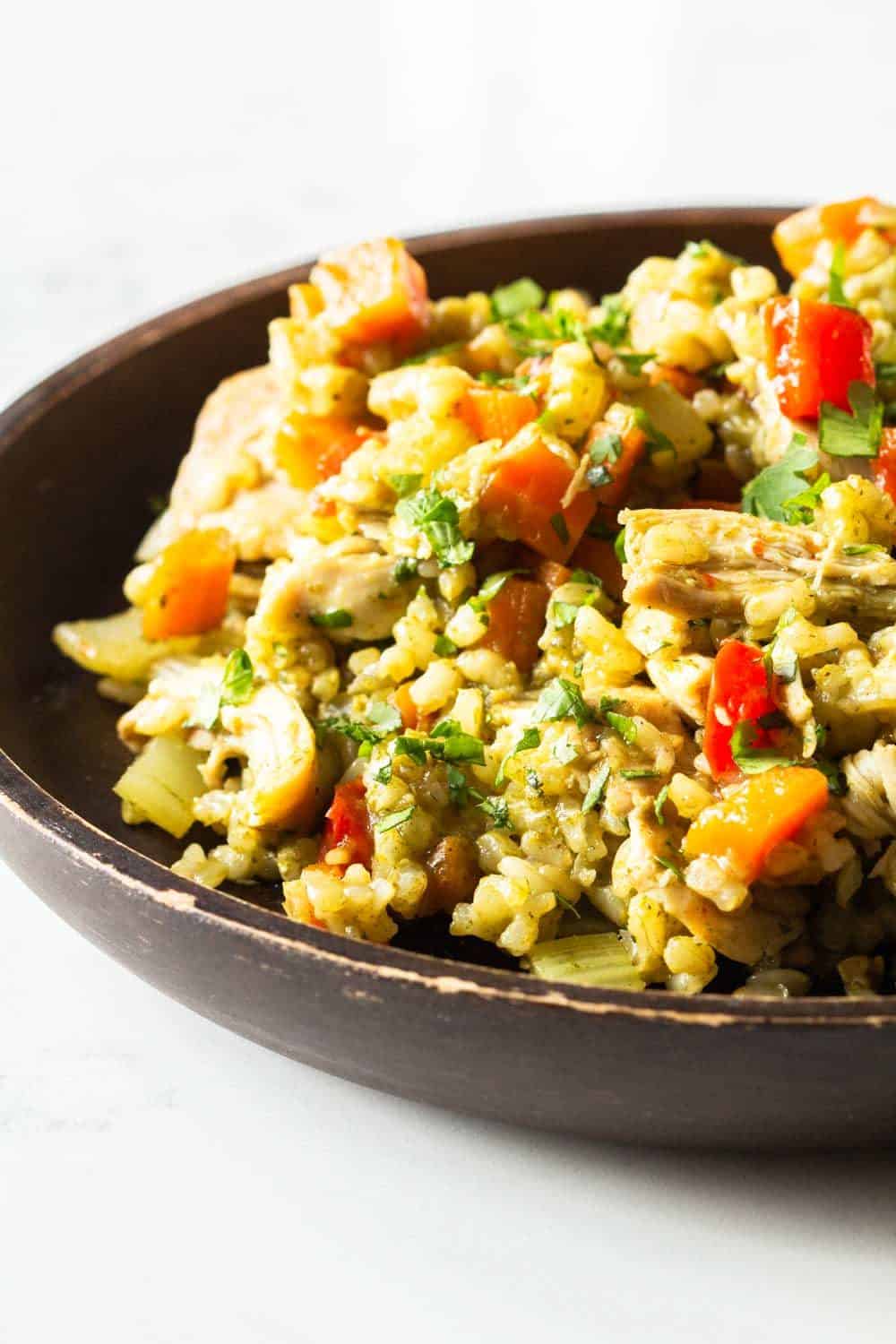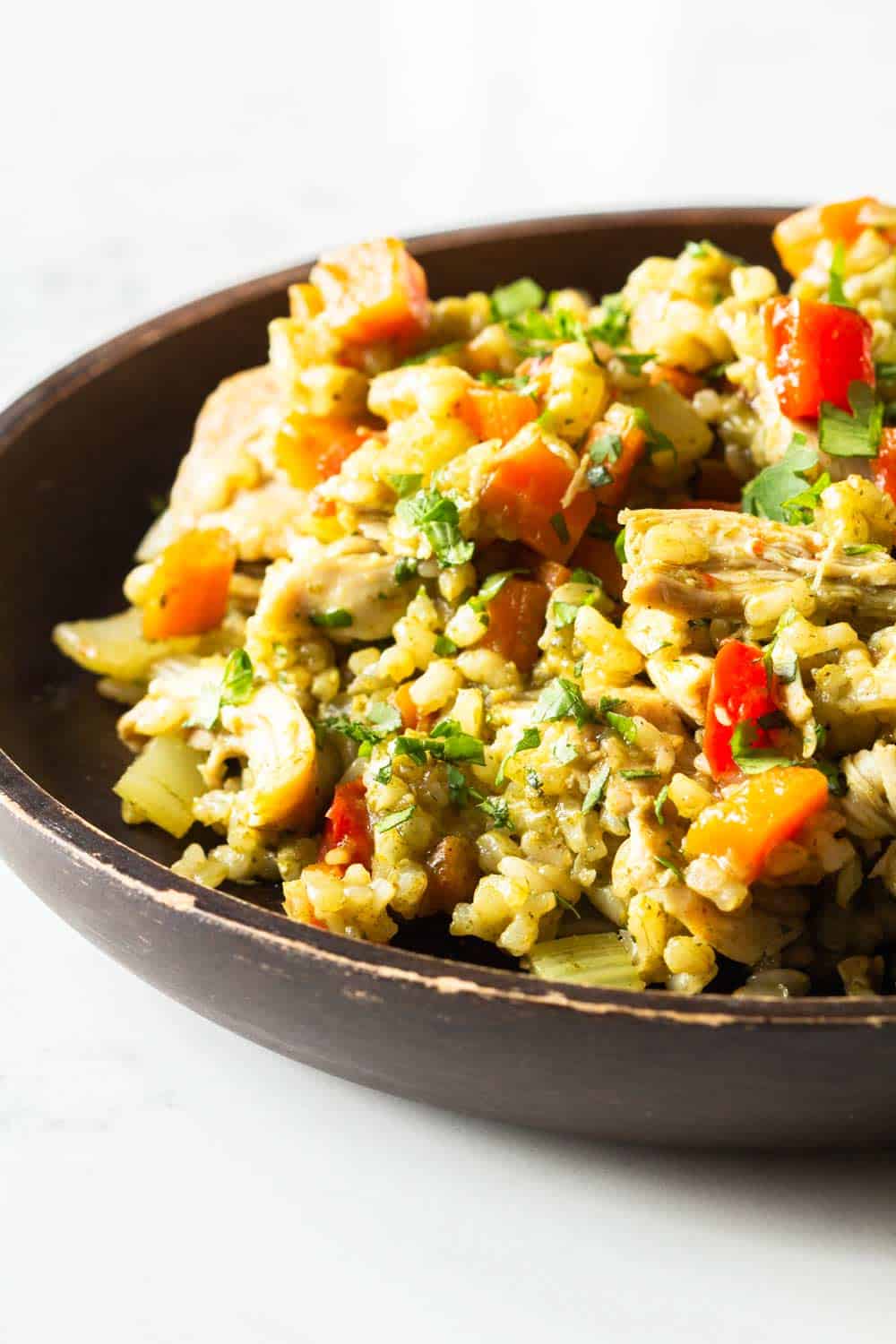 Slow Cooker Honey Garlic Chicken Thighs, from Sweet Peas & Saffron
These chicken thighs have a deliciously sticky, sweet and savory sauce that is perfect for spooning over rice and vegetables. This makes a great weeknight dinner or meal prep recipe.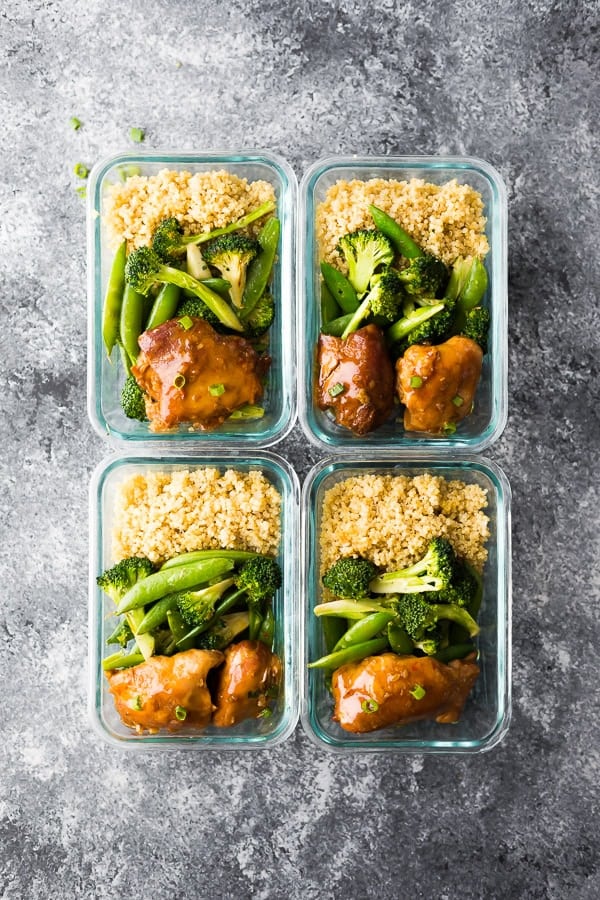 Slow Cooker Butter Chicken, from One Lovely Life
This crock pot take on paleo butter chicken is so easy and delicious it's become one of the all-time best slow cooker chicken thigh recipes on One Lovely Life!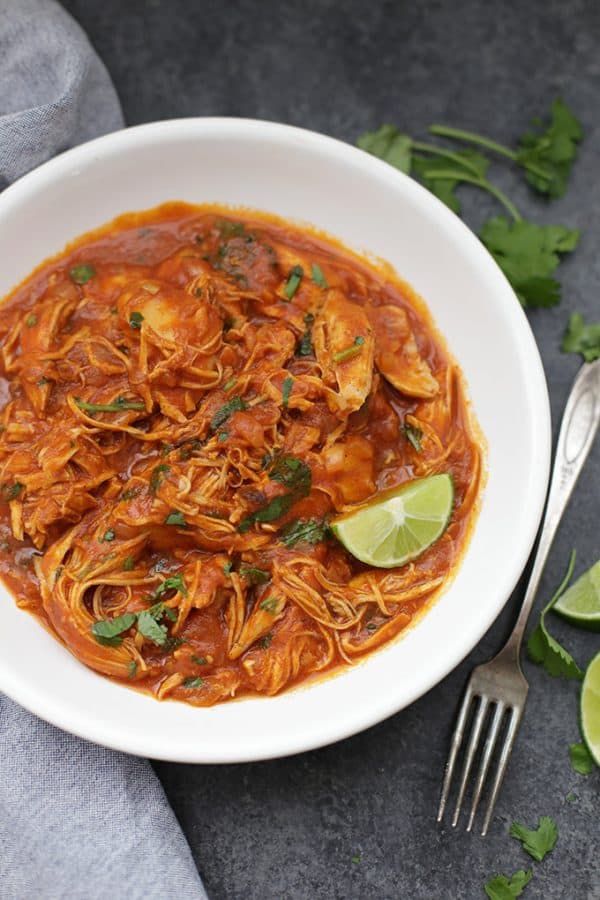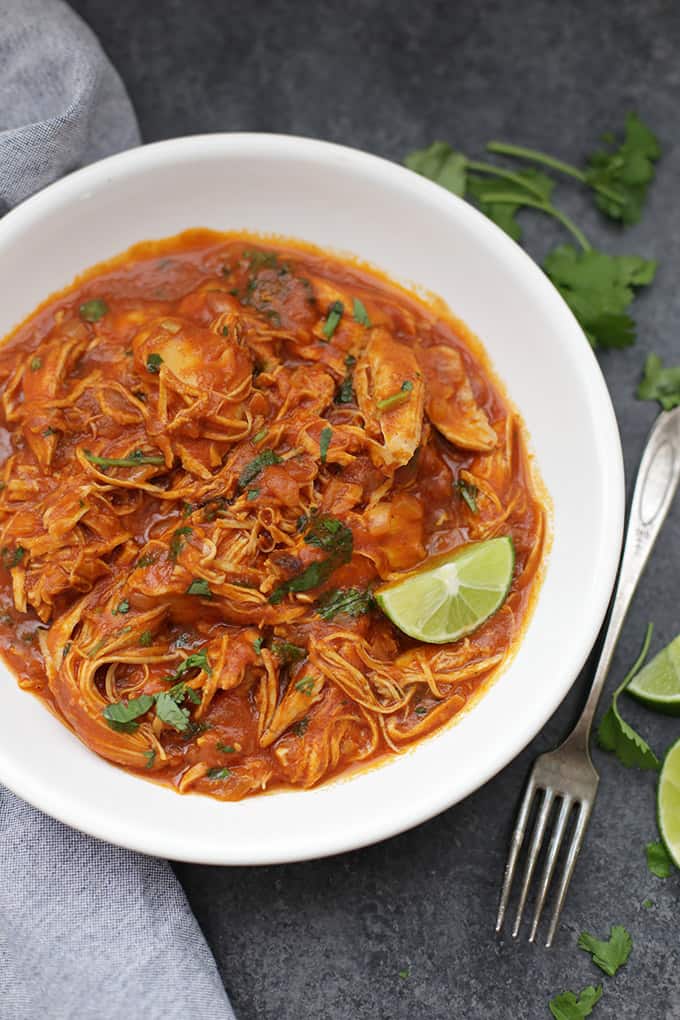 This recipe delivers all of the teriyaki flavors of Asian take-out, made easily in your slow cooker. This dish features juicy chicken thighs and fresh vegetables tossed in a sweet teriyaki sauce.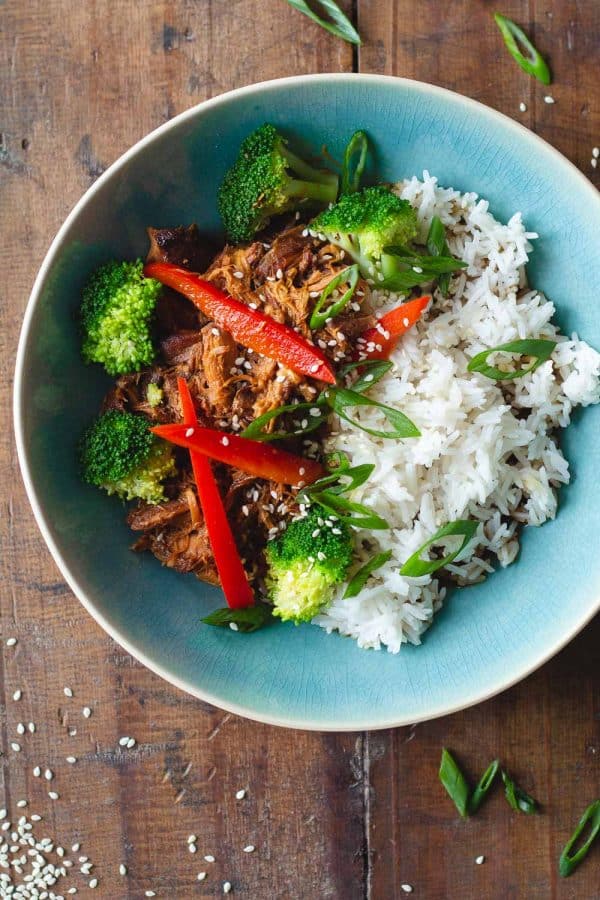 Slow Cooker Herbed Chicken and Rice Pilaf, from Half Baked Harvest
Whether it's for Sunday dinner or a hearty, healthy weeknight meal, this is one of the slow cooker chicken thigh recipes you'll make often!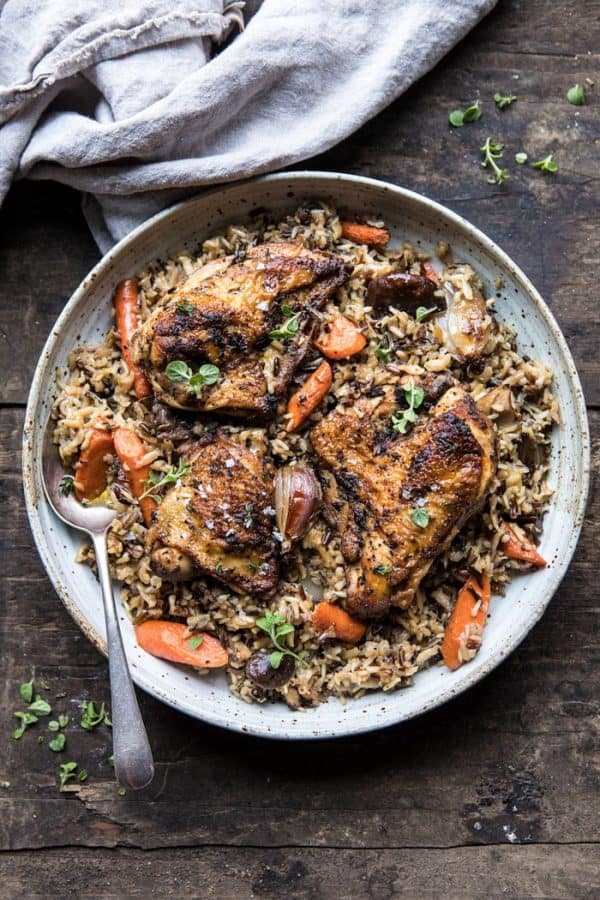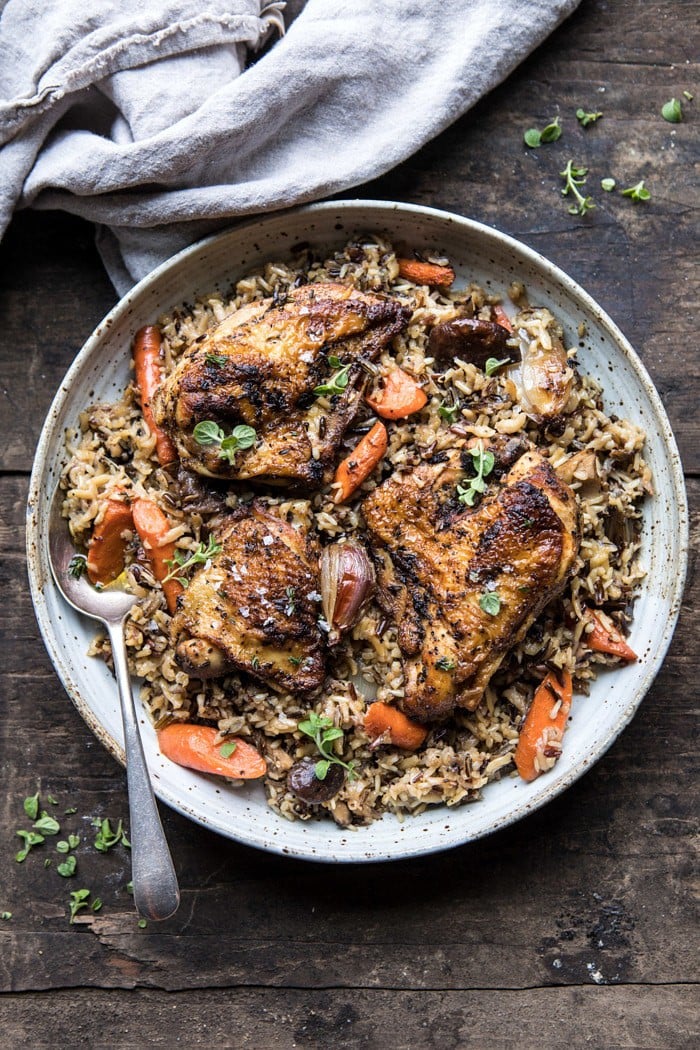 Thai Slow Cooker Chicken Wild Rice Soup, from Sweet Peas & Saffron
This Thai Slow Cooker Chicken and Wild Rice Soup is a twist on a classic comfort recipe. A bit spicy, savory and sweet, and completely comforting!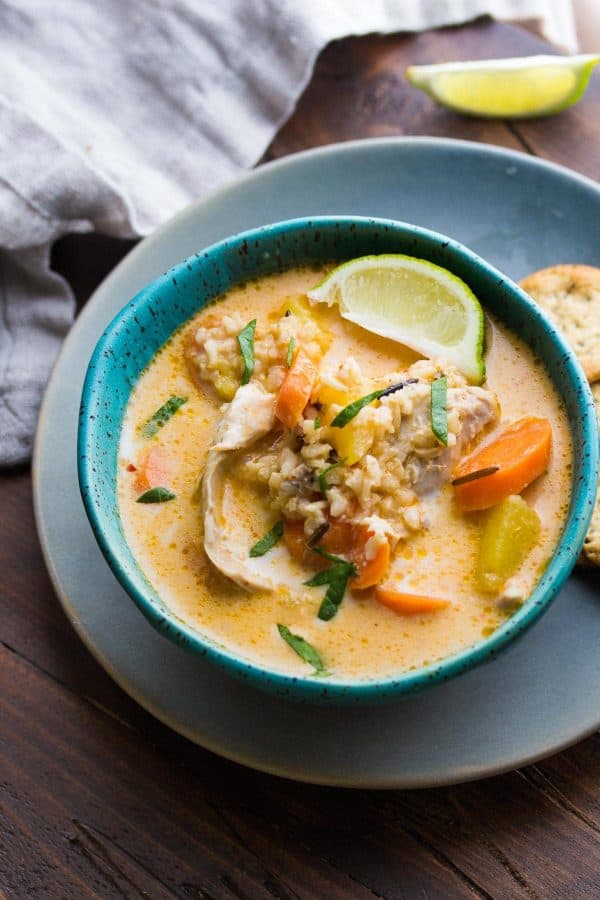 Slow Cooker Chicken Cacciatore With Potatoes, from Cafe Delites
A classic Italian dinner made easily in a crock pot, Chicken Cacciatore With Potatoes features chicken falling off the bone in a hearty Italian stew!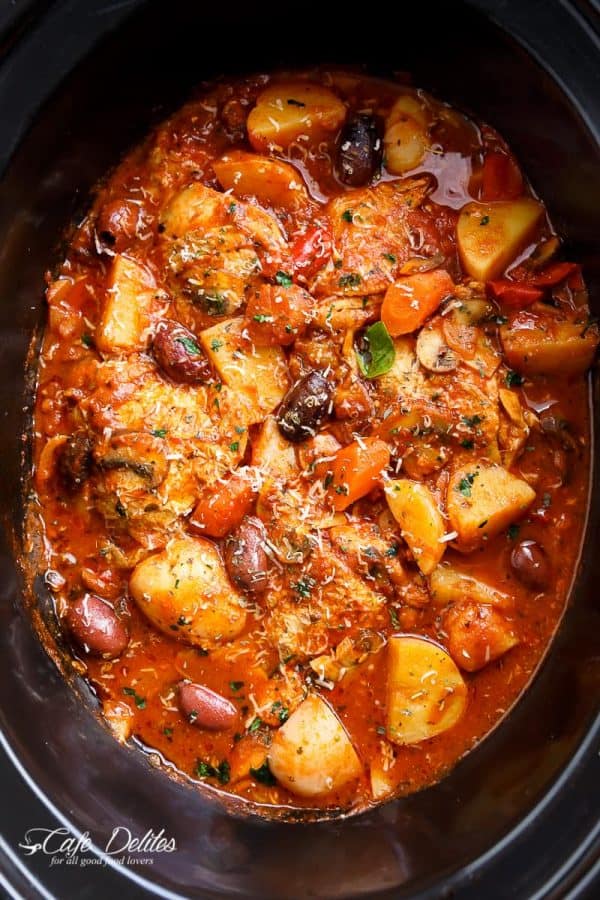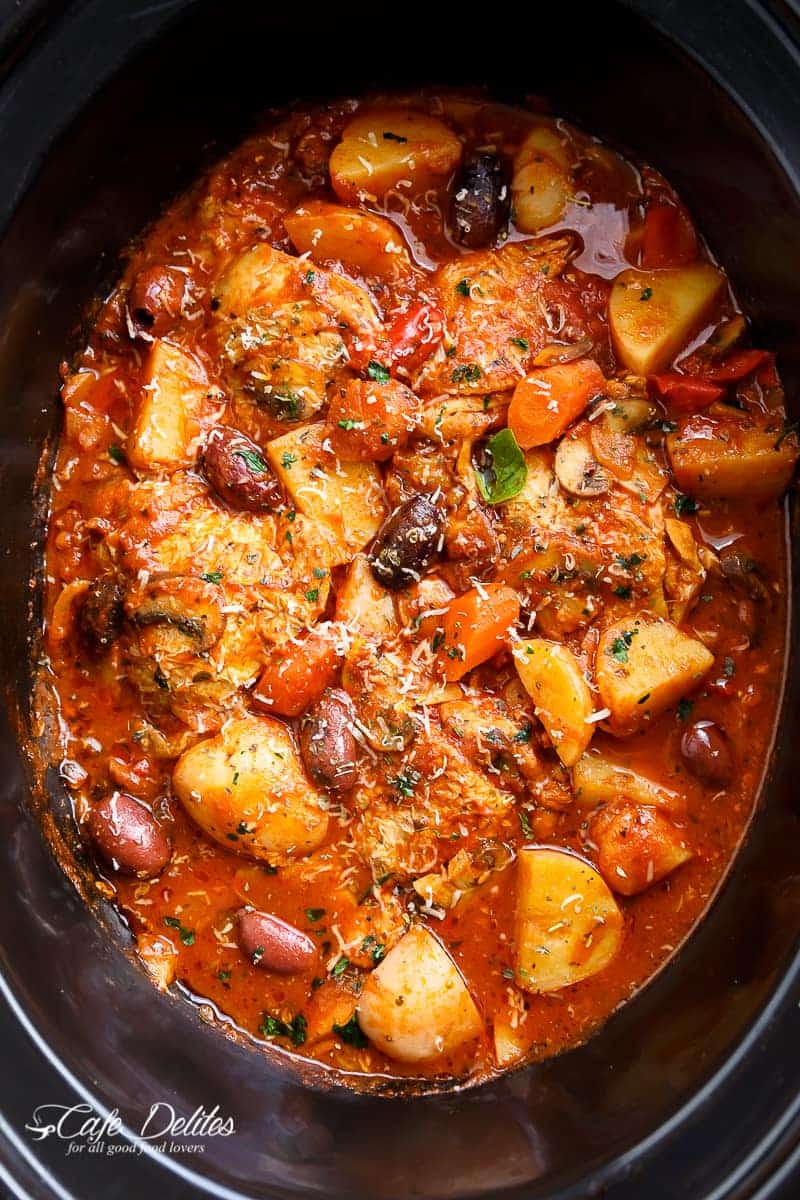 Slow Cooker Balsamic Chicken Thighs, from Slow Cooker Gourmet
This healthy chicken thigh recipe creates a delicious dinner with a beautiful presentation that will have everyone's mouth watering before you get it to the table!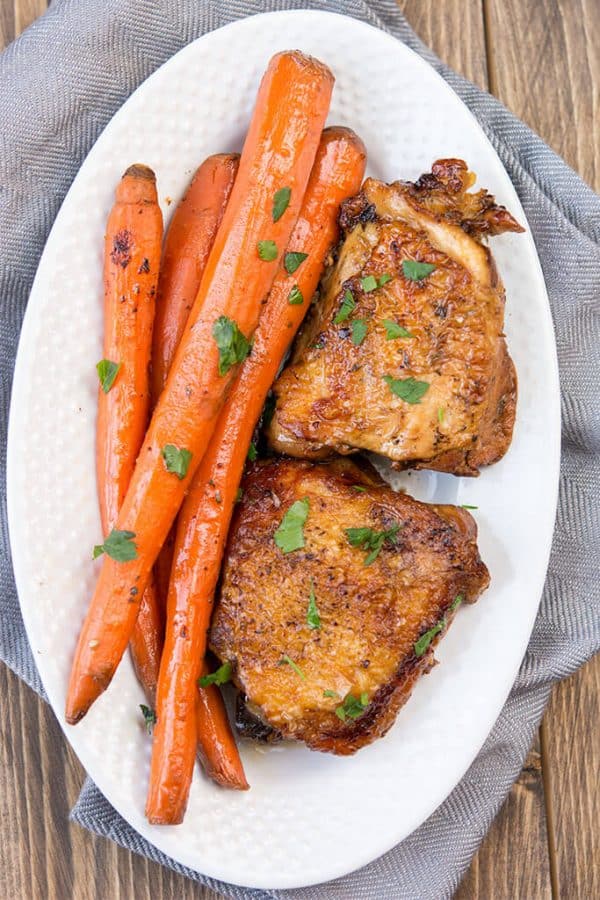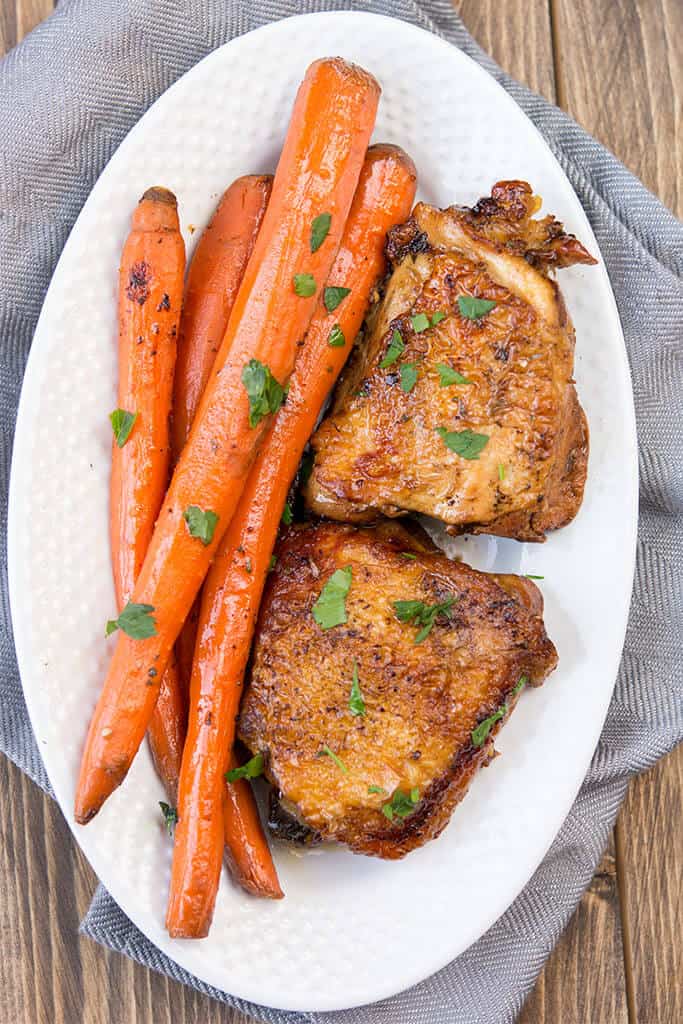 Slow Cooker Mediterranean Chicken, from Slender Kitchen
With tender chicken thighs, olives, sweet red peppers, and onion, this slow cooker chicken thigh recipe couldn't be more delicious, and it's healthy too!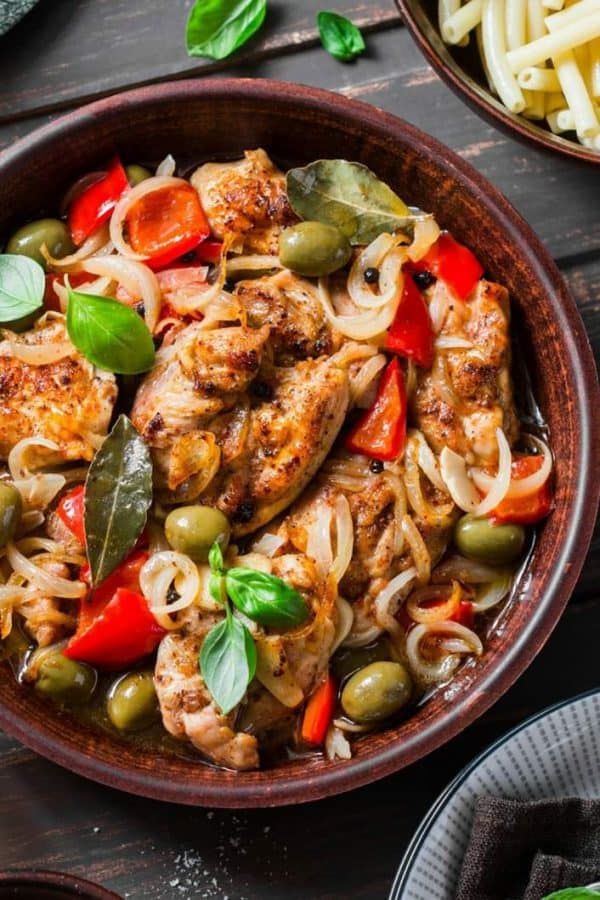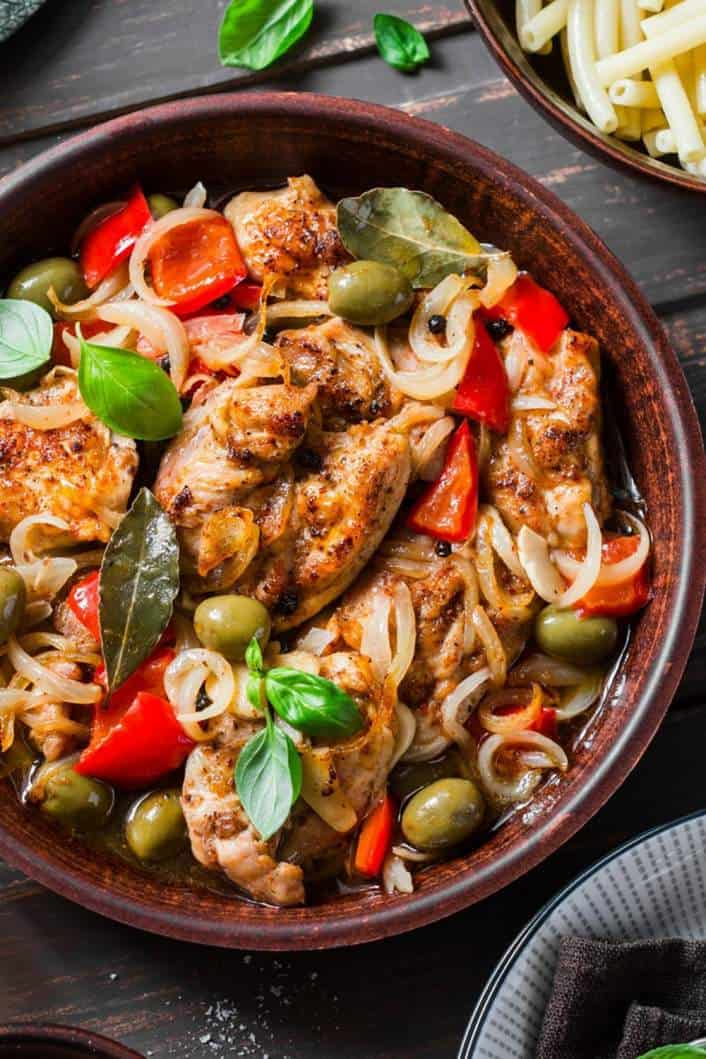 Slow Cooker Chicken Tacos, from The Real Food RDs
Turn simple chicken thighs into a delicious and healthy Mexican meal in your slow cooker. When you do that, you'll have a Taco Tuesday winner chicken dinner!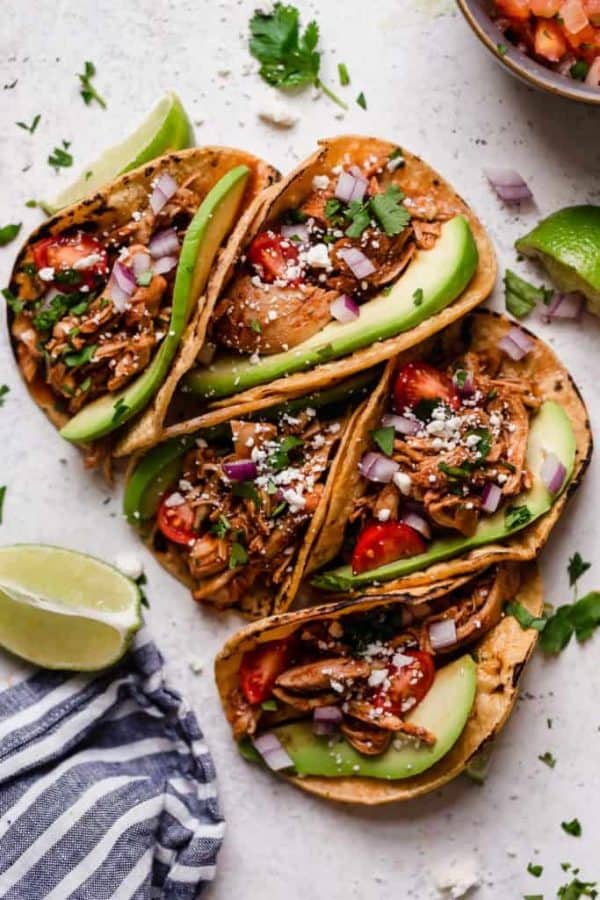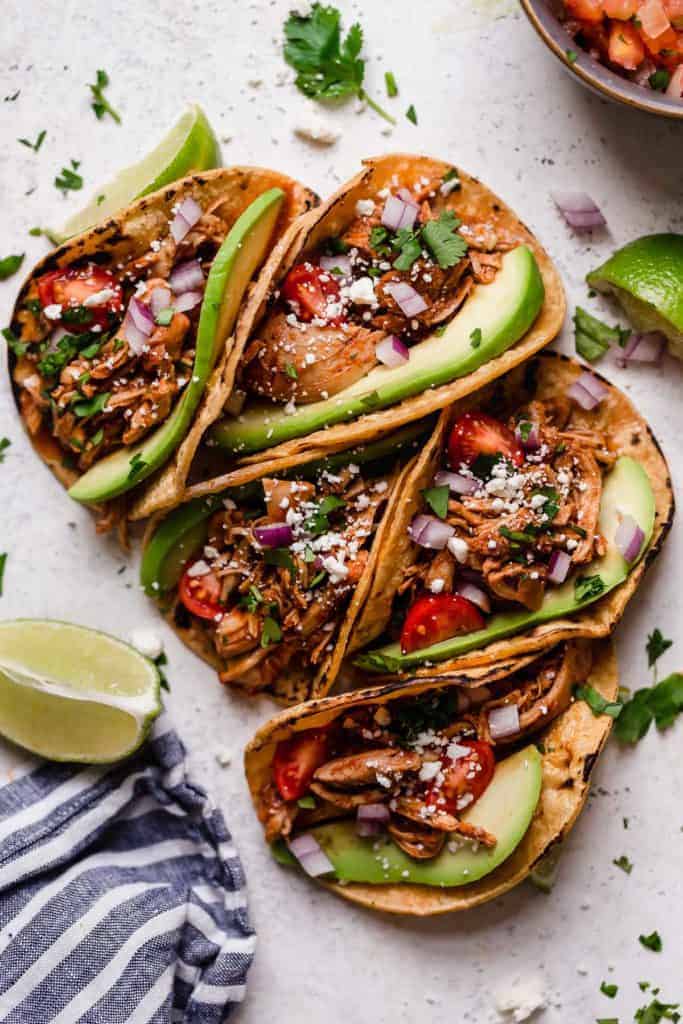 Crockpot Salsa Verde Chicken, from Eat Well 101
Loaded with salsa verde, lime juice, and sliced bell peppers, this deliciously healthy slow cooker chicken thigh recipe is easy to make and full of amazing flavors!
Slow Cooker Coconut Chicken Curry, from The Food Charlatan
Slow cook your way to one of the best chicken curries you will ever eat! The sauce has coconut milk, jalapeno, and red onion. It's not too spicy, but it has tons of flavor.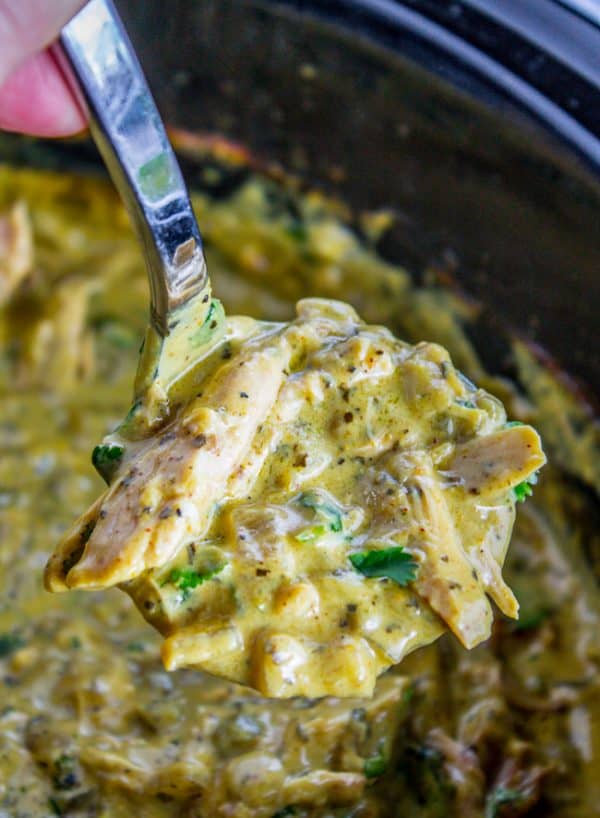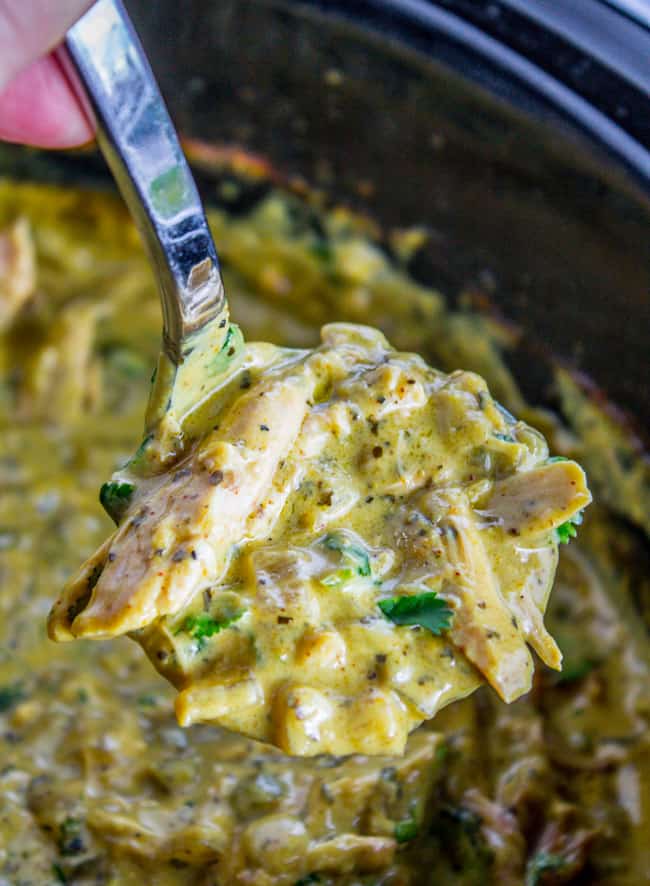 Slow Cooker Spicy Shredded Mexican Chicken, from Host the Toast
This slow cooker chicken thigh recipe creates chicken taco meat that's incredibly hearty! Plus, now there's yet another delicious reason for hosting Taco Tuesday.