Mega delicious Greek Chicken Meal Prep Bowls using baked chicken breast, zucchini, bell pepper and a homemade authentic tzaziki sauce.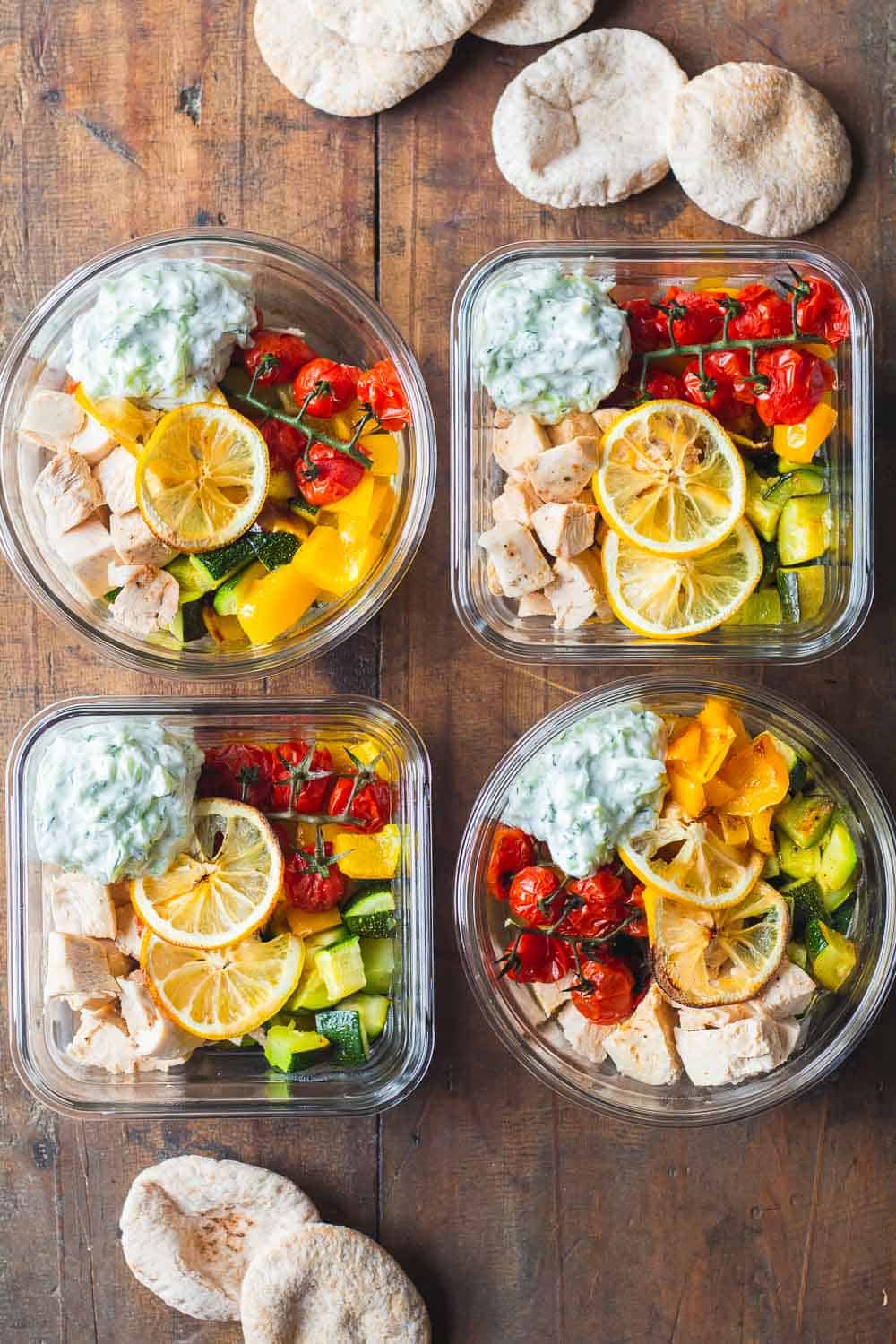 I recently asked you all on Facebook if you needed more Meal Prep or more Dinner Recipes and the poll's result came out even so get ready for loads of meal prep AND loads of dinner recipes.
Today I've got this delicious Greek Chicken Meal Prep Bowls for you that are nutritionally balanced with protein, plenty of vegetables and whole wheat pita bread as healthy carbohydrate.
Also, just read the ingredients of that tzatziki sauce you guys!!! Don't you just want to dive into it? So incredibly delicious!
So let's get into the details:
How to Make Greek Chicken In the Oven
There is plenty of ways of course but my favorite for chicken breasts in general is always "short on high". Meaning bake the chicken breast for a short amount of time on high temperature.
Bone-in dark meat parts such as thighs and drumsticks do well with "long on low". The chicken breast meat does much much better with short cooking times though.
Which is also why I don't like cooking chicken breasts in slow-cookers, unless they are drenched in sauce.
Typical Greek spices or spices used in Mediterranean cuisine in general for chicken are oregano, thyme and cumin. And typical herbs for their sauces are dill and mint. And just like the Mexican's they love love love their lemons. Lemons, herbs and spices and chilis are the reason I adore Greek and Mexican cuisine.
Use any and all you like on your chicken. I love fresh thyme, salt and pepper on my chicken breast and I love adding thinly sliced lemon on top so everything tastes lemony.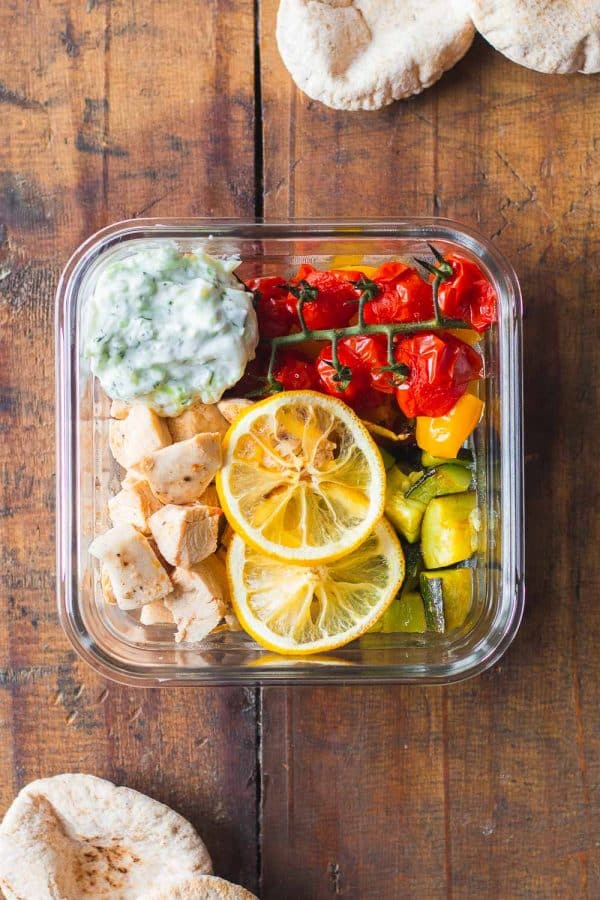 Greek Chicken and Potatoes
If you are not a fan of pita bread or bread in general the easiest way to replace that carbohydrate is by roasting some baby potatoes on the same sheet pan as the chicken and vegetables.
You just cut them in half or quarter them (depending on size), season with olive oil, sea salt and pepper, too, just like the veggies and roast the same amount of time.
If you like them nice and brown and crunchy you may want to use a separate baking sheet so they actually roast instead of cook in the chicken breast's liquids.
Greek Chicken and Potatoes is absolutely delicious, too.
I, myself, prefer pita bread for this because I can dip it into the tzatziki and the lemon-flavored chicken and veggie juices. Yum!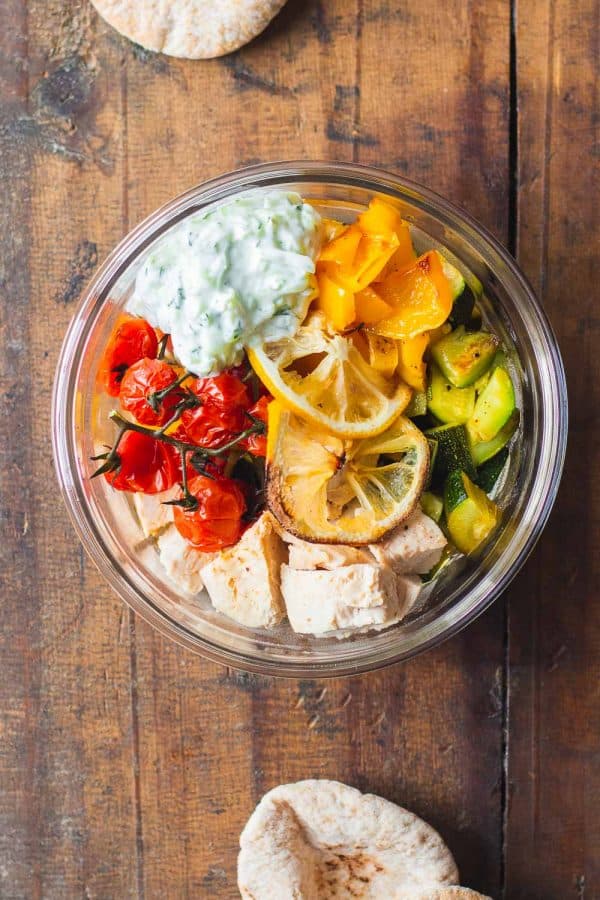 How Long Does Chicken Last in the Fridge?
According to the FDA 3-4 days if constantly refrigerated, which is the reason why you'll find most meal prep recipes being written for only 4 (not 5) servings. This actually applies to most protein, both plant-based and animal protein.
Now, that being said…..I do make 5 bowls sometimes and I do eat chicken on the 5th day. So far so good. I live a risky life though in general when it comes to food.
I'm just not scared enough of food poisoning. You'll have to make a sensible decision here and base it off of your or your family member's general health and what you feel comfortable with. 3 days it'll be absolutely fine though if you cooked the chicken all the way through until it reached 165 F internal temperature and you stored it in the fridge within a short amount of time after cooking.
How Do You Make Tzatziki?
Tzatziki is a Greek yogurt based sauce and it's a staple in Greek cuisine.
It's delicious and healthy and gives tons of flavor to any dish.
There is several ways to prepare it but general consensus shows that peeling and grating the cucumber is the traditional way to go.
The most important is that you press the water out of that cucumber so the sauce doesn't become all watery and that you use high quality creamy Greek Yogurt for it.
Use fresh garlic, not dried and use quite a bit of dill. Optional are adding mint and more spices such as nutmeg, paprika, cumin etc.
I like to keep it simple so this Tzatziki is just Greek yogurt, lemon juice, the grated cucumber, dill, garlic, sea salt and pepper. Sooo delicious just like that.
Feel free to add more or less of each ingredient and adjust to your liking.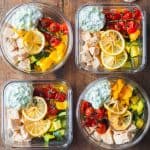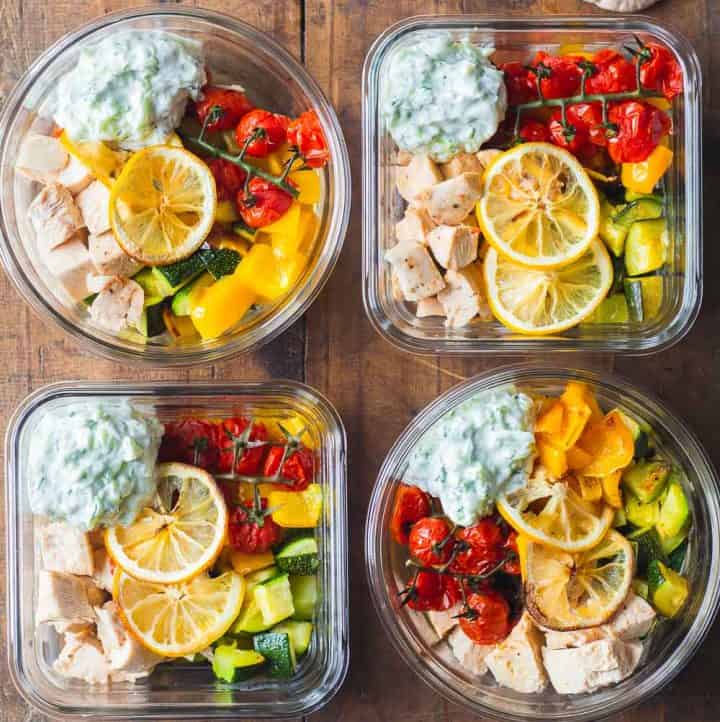 Greek Chicken Meal Prep Bowls
Mega delicious Greek Chicken Meal Prep Bowls using baked chicken breast, zucchini, bell pepper and a homemade authentic tzaziki sauce.
Print Recipe
Ingredients
1

English

cucumber

2

diced yellow bell pepper

4

small

diced zucchinis

40

cherry tomatoes

2

large

chicken breasts

2-3

Tbsp

olive oil

4-5

sprigs

fresh thyme

sea salt

pepper

1.5

lemons

1

cup

Greek yogurt

1/4

cup

fresh dill

3

cloves

crushed garlic
Instructions
Preheat your oven to 450F.

Peel an grate the cucumber and set aside in a colander over a bowl to let the moisture drip into the bowl. Press it out with your hands at the end to get rid of all the moisture.

Add chopped bell pepper and zucchini to a large baking sheet together with the cherry tomatoes and chicken breasts, drizzle with olive oil, season with sea salt and pepper and top with finely sliced lemon and sprigs of thyme.

Bake for 20-25 minutes or until the chicken reaches an internal temperature of 165F.

In the meantime, add Greek Yogurt to a bowl, add pressed out grated cucumber, chopped dill, crushed garlic and juice of half a lemon and mix well.

Remove chicken from the sheet pan and cut into cubes on a cutting board, then return onto the sheet pan to marinate in all the juices.

Divide all ingredients between 4 meal prep containers and once cool store in the fridge for up to 4 days. Serve with pita bread on the side.
Nutrition
Calories:
189
kcal
|
Carbohydrates:
23
g
|
Protein:
10
g
|
Fat:
8
g
|
Saturated Fat:
1
g
|
Cholesterol:
2
mg
|
Sodium:
57
mg
|
Potassium:
1165
mg
|
Fiber:
4
g
|
Sugar:
11
g
|
Vitamin A:
1615
IU
|
Vitamin C:
209.3
mg
|
Calcium:
136
mg
|
Iron:
2.8
mg
What's your clean eating vibe?
Take this fun QUIZZ and find out in 10 seconds!