If you struggle with sticking to a healthy diet then maybe all you have to do is meal prep some healthy meals so you're better prepared for those moments when you're "not feeling it". It's much easier to be disciplined when you have healthy meals literally waiting for you in the fridge instead of having to convince yourself day in and day out that it's worth it to spend time in the kitchen to change your lifestyle. Do the convincing once, do the work once, and enjoy the results every day!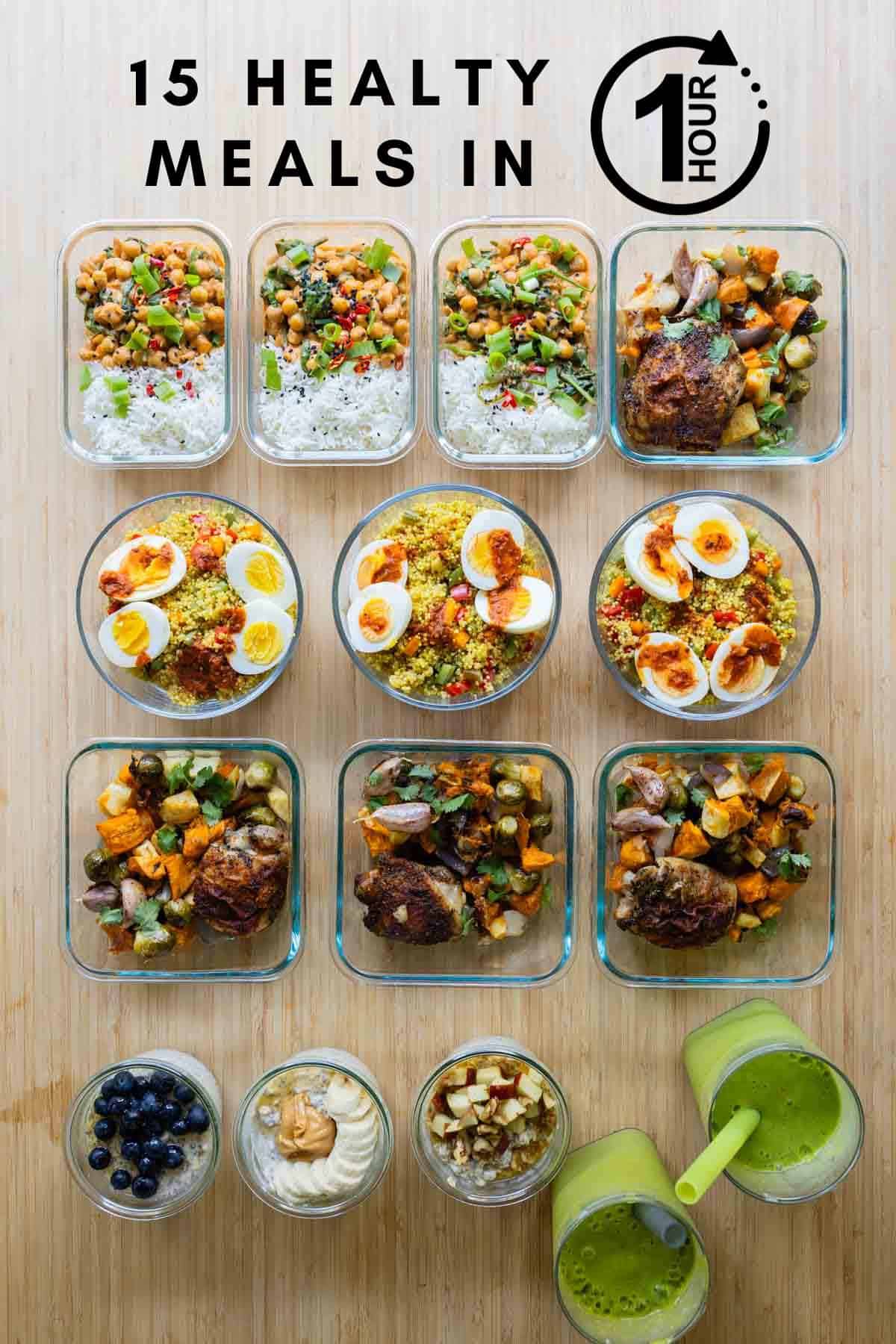 In my Clean Eating For Beginners post, I share all the basics of meal planning and meal prepping for ONE day but now it's time to step it up a little. Let's tackle the whole week but let's not spend our whole Sunday on this, shall we? Let's do this all in just a little over an hour and then go for a walk with friends. OK? K!
Once you made your 15 healthy meals in the time it would take you to watch an episode of your favorite Netflix show you won't stop thanking yourself all work-week long. It's worth it and also: the meals are delicious! Double win!
Let's start with the ingredients for the different recipes and what you can substitute some of in case you're allergic or you simply don't like them.
Ingredients and Substitutions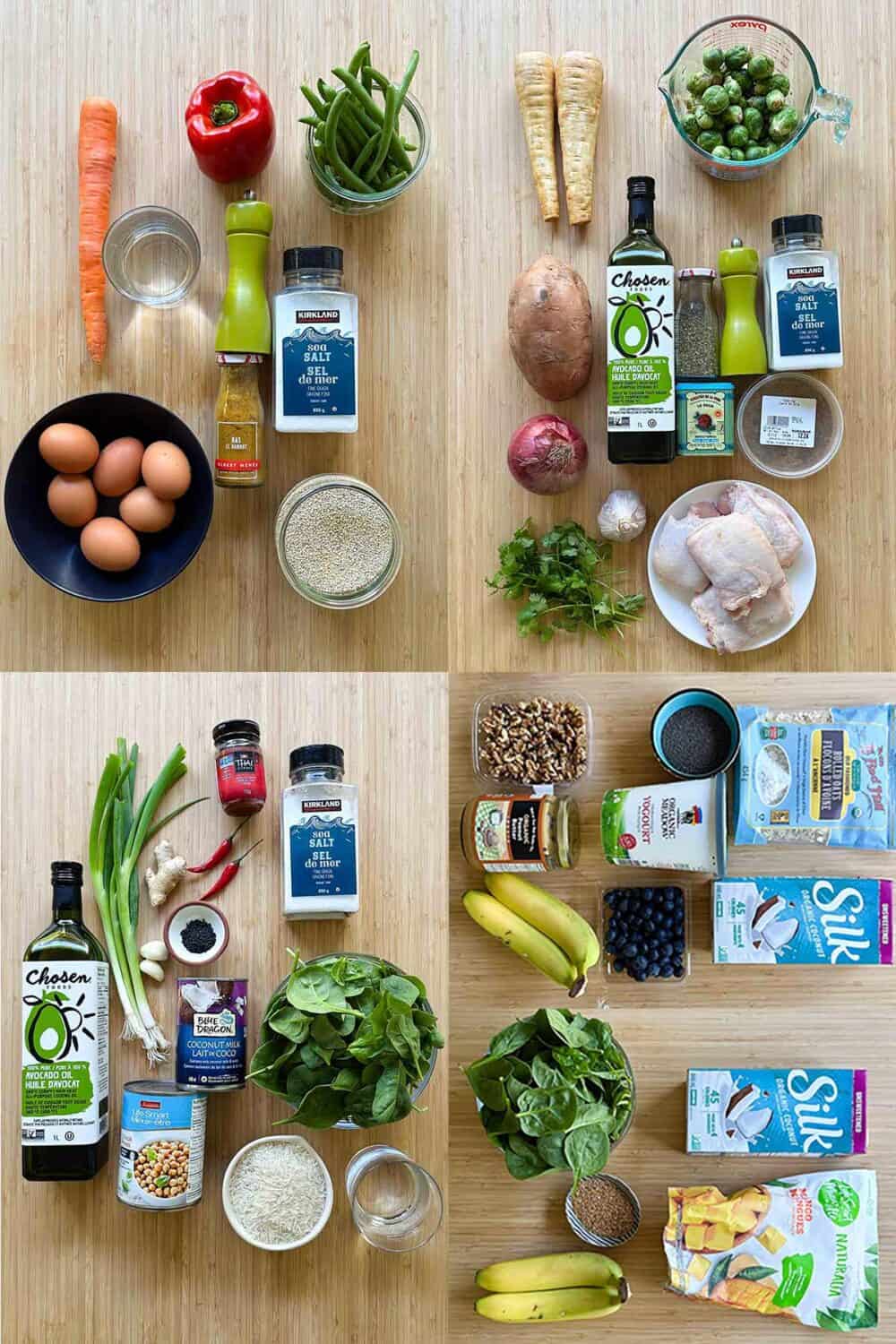 Veggie Quinoa With Eggs
Quinoa – any other grain works but only quinoa and rice can be cooked at the same time in the Instant Pot insert thingy dingy. So if you want to cook say brown rice or farro, you'll have to add extra cooking time to your meal prep session and cook it separately. You could also use couscous and make it super quick in a bowl without adding to the cooking time.
Veggies – choose veggies that cook in about the same time. My favorite combo is carrot, bell pepper, and green beans. You could however replace any of these with sugar snap peas, celery, broccoli, and cauliflower.
Eggs – eggs are an easy and quick-to-cook protein that keeps well in the fridge. You can use any other protein you like though. Shrimps cook fast, or you could add canned tuna to make the meal even faster.
Spices – huge huge fan of Ras el Hanout. A spice mix that has turmeric, ginger, cumin, cinnamon, and more and goes incredibly well with quinoa. You can use any other spice mix you have on hand though. Garam Masala for example is a great alternative. Always add salt to your grains to enhance their flavor.
Roasted Chicken & Veggies
Chicken – bone-in skin-on chicken thighs are my favorite for this recipe. If you want to use chicken breasts I recommend following this recipe for 10-Minute baked chicken breast and simply add the chicken 10 minutes before the veggies are done.
Veggies – choose veggies that take quite a while to roast and all roast in about the same time. Your options are: sweet potatoes, potatoes, parsnips, rutabaga, turnips, celery, carrots, Brussels sprouts, onions, and garlic.
Spices – I love the combination of paprika, cumin, Italian seasoning, salt and pepper for roasted chicken but the sky is the limit when it comes to seasoning chicken. You could also simplify this part and just use a ready-made poultry seasoning.
Chickpea Curry with Rice
Chickpeas – chickpeas are delicious in curry but if you're not a fan of legumes you can make this curry with any other protein such as chicken or fish or shrimp for example.
Veggies – use any kind of onion. Scallions are the best in curries but if you don't want to get two different kinds of onion for your meal prep session you can also just use some of that red onion you chopped for the chicken and veggies. Use baby spinach to make it quick and easy or take an extra few minutes and chop up some broccoli and snow peas and cook them in the sauce with the chickpeas right form the start.
Thai Curry Paste – you can use red, yellow, or green. They all taste different but they all taste delicious. I don't recommend using curry powder or curry leaves, those are a whole different thing.
Coconut milk – if you're not watching your calories you can use full-fat coconut milk but if you're trying to keep your calories on the lower side then I recommend using light canned coconut milk. Whatever you do, don't use the coconut milk sold in cartons. That's mainly water and the sauce won't thicken at all.
Overnight Oats
Oats – for overnight oats you need to use old-fashioned rolled oats. You can't use quick oats because they'll get super mushy and you can't use steel-cut oats because they don't soften enough without cooking. Here is everything you need to know about overnight oats.
Chia Seeds – chia seeds aren't necessary but they add to the texture of the oats. They make them creamier and also offer a certain crunch, while at the same time offering plenty of antioxidants.
Yogurt – yogurt offers extra protein in you breakfast but if you want to keep your breakfast dairy-free feel free to skip the yogurt and simply add a tiny bit more plant milk. To add dairy-free protein you could add a scoop of plant-based protein powder.
Milk – you can use any milk you like. Plant milk or dairy. In a pinch you could even use water but the end result isn't as delicious with just water.
Toppings – use a combo of fruit, nuts, seeds, nut butter, natural sweeteners…. the sky is the limit.
Green Mango Smoothie
Mango – for a green smoothie to not taste like grass you need a sweet and strong fruit in it to counterbalance the bitterness of the green. Mango and pineapple are your best friends. To save time buy frozen chunks instead of peeling and dicing.
Banana – bananas offer sweetness and make your smoothie extra creamy. If you're not a fan of bananas you can simply add more mango or pineapple or a combo of both.
Baby spinach – the best leafy green for green smoothies because it's so mild but you can also use baby kale. Stick to "baby" though so it tastes better.
Flax seeds – totally optional, just like the chia seeds in the oats. I just love seeds for all of their health benefits.
Milk – you can use any milk you like. Plant milk or dairy. In a pinch you could even use water but the end result isn't as delicious with just water.
How To Meal Prep Healthy Meals In Just 1 Hour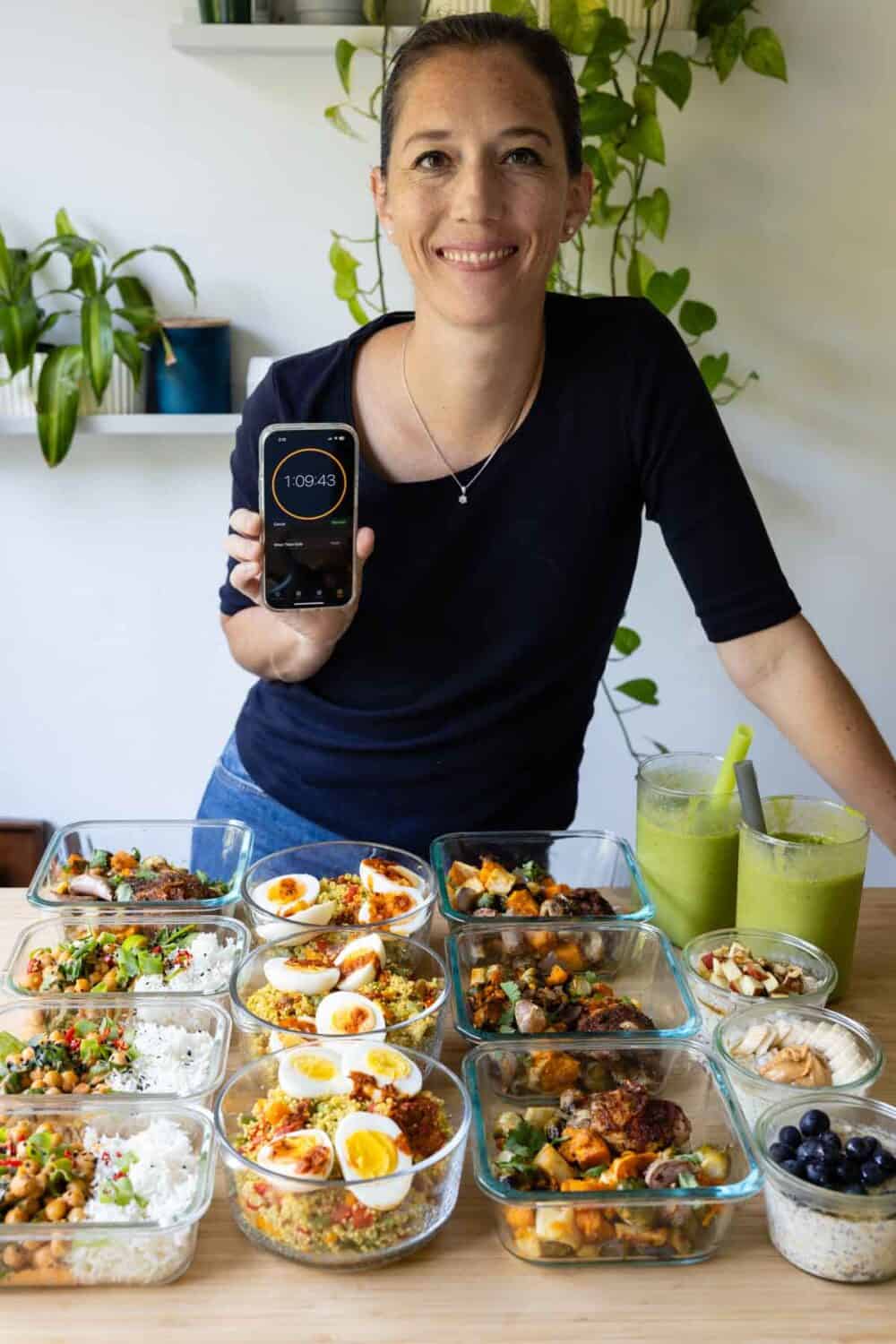 The trick to being fast and efficient during meal prep is to plan meals that need little to no "babysitting". No flipping things in pans or keeping and eye on. Just "set and forget" types of meals that have a lot of roasting or simmer time during which you can prep other things.
It's much easier to meal prep fast when you use all heat sources available in your kitchen. The oven, the stove, instant pots, slow cookers, air fryers, toaster ovens or whatever else you might have in your kitchen. Or if all you have is your oven and stove, then use all 4 burners at the same time and plan for meals that need little to no stirring so nothing burns.
For these 15 healthy meals for example we use the oven for roasting chicken and veggies. The Instant Pot for cooking rice and quinoa both at the same time in the insert thingy dingy. And the stove to cook hard-boiled eggs, as well as the chickpea curry.
How Long Can These 15 Healthy Meals Be Stored And How To Store Them
Animal and plant protein is safe to be stored in the refrigerator for up to 4 days. Now that does not mean it gets poisonous on day 5 but simply that there is some risk associated with eating it.
If you feed this to a baby, are an elderly person, pregnant, or immunocompromised it's always best to freeze some of the meal prep after cooking it and leave only enough in the fridge that can be eaten within those 4 days. Then on day 4, you can place the frozen meals in the refrigerator to defrost and reaheat on day 5.
The best way to store your healthy meals is in airtight containers. I prefer glass but plastic or stainless steel work great as well of course. Just make sure you have the corresponding lids and that you get a tight seal on them. You can find my favorite meal prep containers here.
Always refrigerate your meals as soon as they cool down slightly. I usually put them in my containers, leave them uncovered for about 10 minutes, and then close them and put them right in the fridge.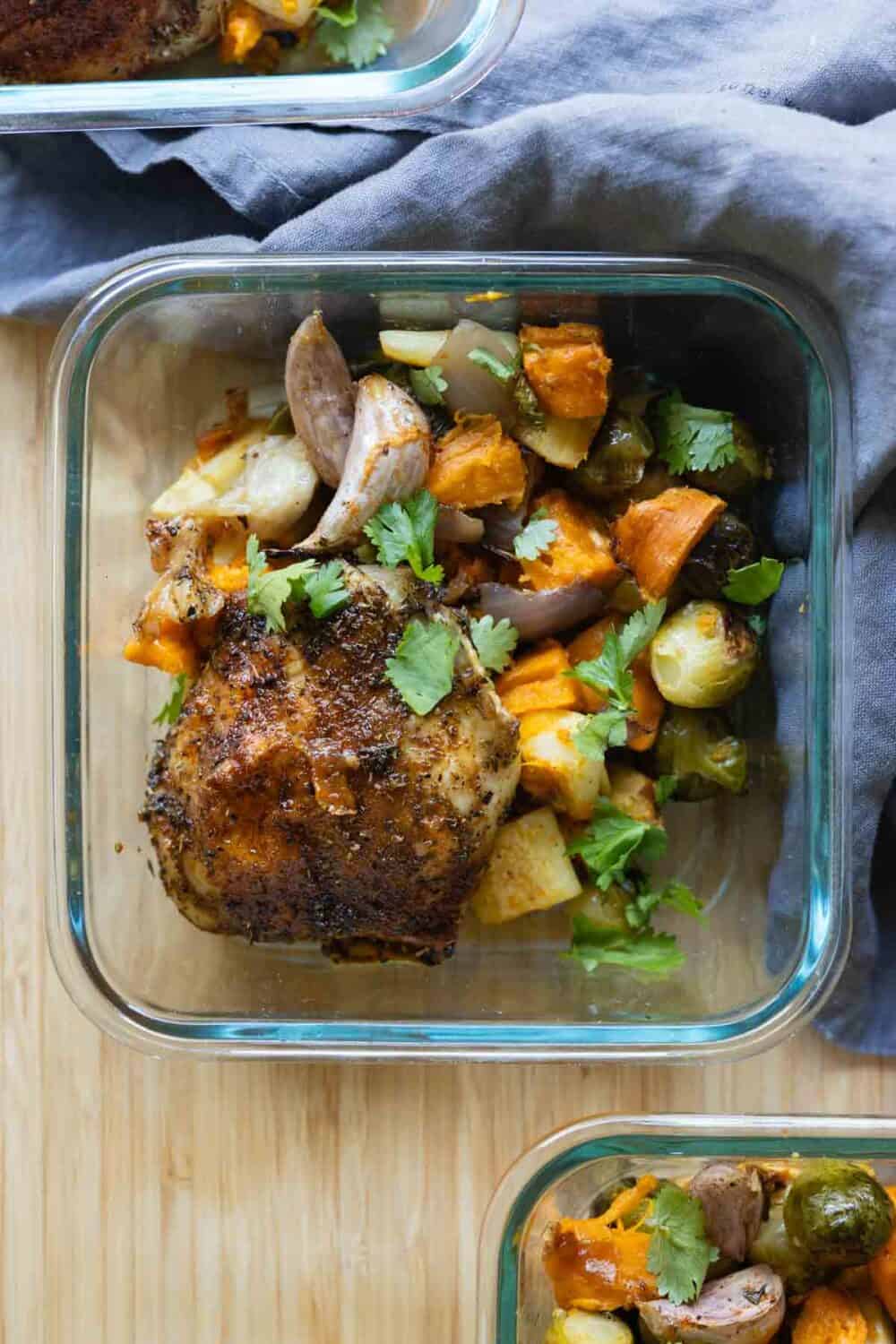 How Many Calories A Day Are In These Healthy Meals?
Each day will vary obviously depending on how you mix and match but in the end, the average per day is roughly 1,300 calories. With 56g of protein, 169g of carbohydrates, and 10g of fat a day from your main meals alone. That leaves enough room for snacks. I recommend sticking to fruit or raw veggies as a snack and finishing that big container of yogurt you got for the oats to up your protein if you want.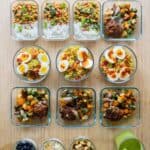 15 Healthy Meals In 1 Hour
If you struggle with sticking to a healthy diet all you have to do is meal prep healthy meals so you're better prepared for the hard days!
Print Recipe
Pin Recipe
Ingredients
1

large sweet potato

2

parsnips

1

large red onion

2

cups

Brussels Sprouts

4

bone-in skin-on chicken thighs

1

tsp

paprika

1

tsp

cumin

1

tsp

Italian seasoning

8

cloves garlic

cilantro for garnish

1

cup

Basmati rice

1.5

cups

quinoa

1

carrot

1

red bell pepper

1

cup

green beans

1

tsp

Ras el Hanout

6

eggs

hot sauce

2

cups

cooked chickpeas

1

can light coconut milk

3

Tbsp

Thai curry paste

3

scallions

2

cloves garlic

1

Tbsp

grated ginger

4

cups

baby spinach

1

red chili

3

tsp

sesame seeds

1.5

cups

old-fashioned rolled oats

3

Tbsp

chia seeds

3/4

cup

plain unsweetened yogurt

1.5

cups

milk

1

cup

fruit for topping oats

2

bananas

2

cups

frozen mango

2

Tbsp

flax seeds

2

cups

baby spinach

2

cups

milk

2

Tbsp

avocado oil

-

for chicken, veggies, and curry

sea salt

pepper
Instructions
Preheat the oven to 400F.

Peel and dice sweet potato, parsnips, and onion. Cut off dry ends of Brussels sprouts. Add all veggies to a large baking sheet and season with sea salt and pepper and drizzle with oil. Mix with your hands and spread out evenly in one layer.

Pat chicken dry with a paper towel, then add a drizzle oil and work in with your hands. Season chicken with cumin, paprika, Italian seasoning, sea salt, and pepper, and work seasoning in with your hands. Place on a separate baking sheet or oven-proof dish. Add garlic cloves still in their skin to remaining oil and seasoning on the plate and mix and then add to the chicken. (See video).

Place vegetables and chicken into the oven for 45 mintues. Set a timer!

In the meantime, peel and dice carrot, dessed and dice bell pepper, and chop green beans into small pieces. Set aside.

*for help converting to stovetop message me, please.

Add 1 cup rice, 1 cup water, and a little sea salt to the bottom pot of your Instant Pot Insert, and 1.5 cups quinoa, 1.5 cups water, a little sea salt and Ras el Hanout to the top bowl of your insert and shake or stir both to ensure all grains are submerged in water. Put chopped veggies on top of quinoa, don't mix. Place lid on top and use the closing mechanism to seal.

Add 1.5 cups to the Instant Pot and add the insert inside. Turn the valve to the sealing position and set the Instant Pot to 10 minutes on high pressure and let pressure release naturally.

In the meantime, add water to a small pot and bring to a boil.

Slice 3 scallions separating white and green parts, and grate ginger and garlic.

Preheat a large pan over medium heat and while waiting for it to heat open coconut milk and chickpea cans and rinse and drain chickpeas.

Once the water is boiling, add eggs and set a timer for 8 minutes.

Once the pan is hot, add a drizzle of avocado oil and then stir-fry the white parts of the scallions as well as ginger and garlic for about 1 minute, then add Thai curry paste and stir-fry until fragrant. Add coconut milk and mix well, then add rinsed and drained chickpeas to the sauce. Season with sea salt if necessary at this point. Bring to a boil, reduce the heat to low, and let simmer for 10 minutes.

In the meantime, remove eggs from boiling water and place in an empty bowl to cool down and prepare breakfasts.

Prepare overnight oats by adding 1/2 cup oats, 1 Tbsp chia seeds, 1/4 cup yogurt, and 1/2 cup milk to each of 3 jars and mix well. Then store in the refrigerator.

Prepare smoothies by adding 1 banana, 1 cup frozen mango, 1 Tbsp flax seeds, and 1 handful of baby spinach to a freezer-friendly container and put in the freezer.

Add 4 cups of baby spinach to the chickpeas and stir until it wilts.

Divide roasted veggies and chicken thighs among 4 meal prep containers and garnish with cilantro. Divide veggie quinoa among 3 meal prep containers and top with 2 halved hard-boiled eggs each. Add some hot sauce if you like. Divide rice among 3 meal prep containers and top with chickpea spinach curry and then garnish with red chili, the green parts of the scallions, and sesame seeds.
Nutrition
Calories:
6435
kcal
|
Carbohydrates:
845
g
|
Protein:
281
g
|
Fat:
228
g
|
Saturated Fat:
49
g
|
Polyunsaturated Fat:
67
g
|
Monounsaturated Fat:
90
g
|
Trans Fat:
1
g
|
Cholesterol:
1560
mg
|
Sodium:
2591
mg
|
Potassium:
11949
mg
|
Fiber:
142
g
|
Sugar:
185
g
|
Vitamin A:
80481
IU
|
Vitamin C:
673
mg
|
Calcium:
3137
mg
|
Iron:
62
mg
What's your clean eating vibe?
Take this fun QUIZZ and find out in 10 seconds!