Super easy to prep Teriyaki Chicken made in the oven and transformed into meal prep bowls. Super thick teriyaki sauce and loaded with veggies!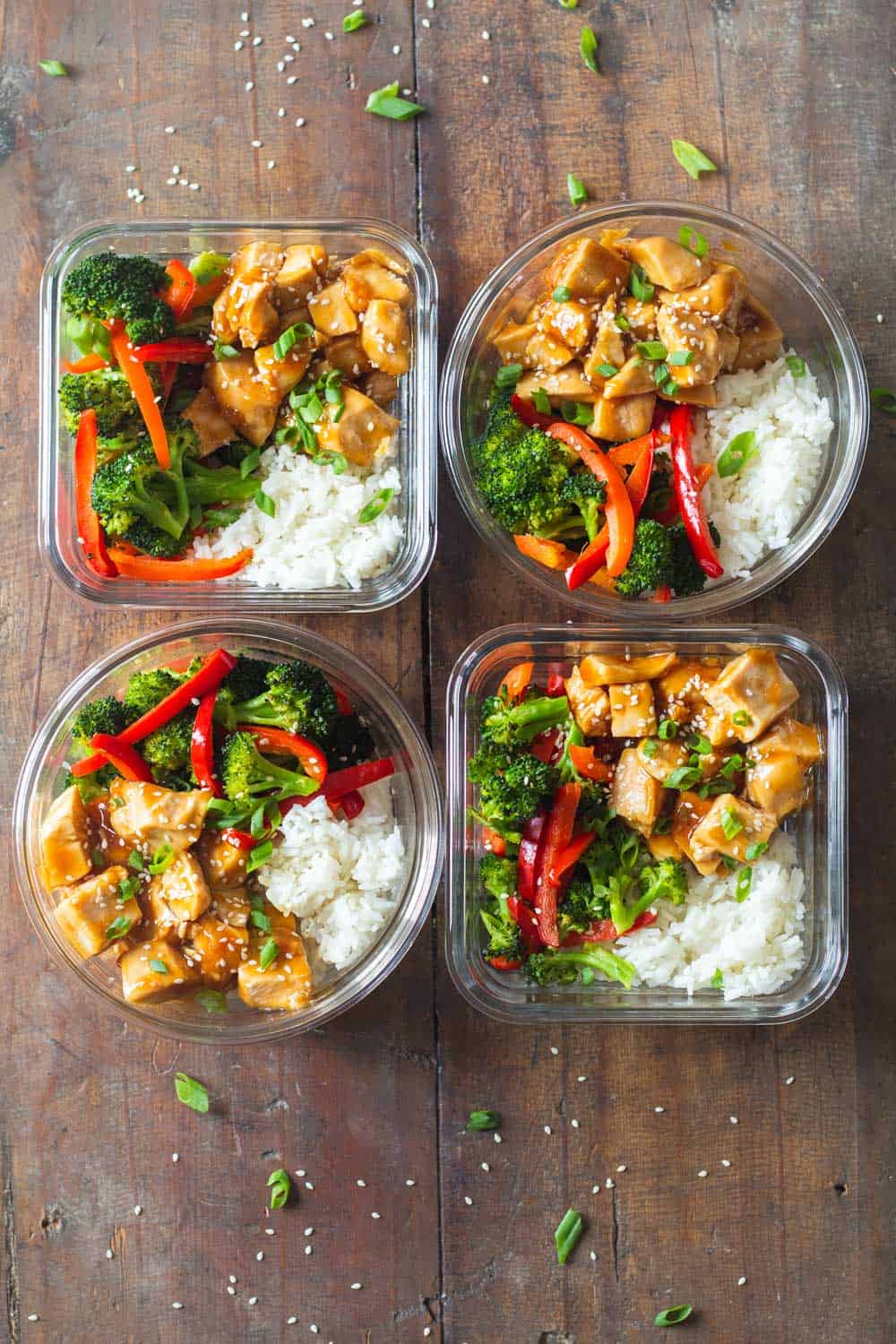 Baked Teriyaki Chicken is by far one of my favorite ways to eat chicken breast. Delicious juicy chicken breast smothered in a thick teriyaki sauce that sticks onto each bite-sized piece of chicken. All made in the oven without babysitting a pot for the sauce. *insert-angelical-ahhh*
Serve it over Instant Pot White Rice or Brown Rice and you're golden!
How To Make Baked Teriyaki Chicken
Most teriyaki chicken recipes are designed for stir-frying. While that's super delicious, it also involves quite a few dishes and a lot of babysitting.
When I meal prep I always look for ways to incorporate non-babysitting time so I can prep my breakfasts or pre-chop dinner ingredients while stuff is cooking in a pot or baking in an oven.
The idea is to use meal prep time as efficiently as possible to prepare as much as possible in as little time as possible.
If you make your teriyaki sauce in a pot you get that silky consistency because you add the cornstarch slurry at the end of the sauce cooking process.
In the oven, it becomes more jelly-like because the slurry is in there from the beginning. However, I noticed that this way it actually sticks a lot nicer to the bite-sized pieces of chicken breast. And the juices of the chicken released when dicing make it nice and silky again.
So, feel confident prepping your sauce, adding the chicken breasts as a whole to make sure they stay nice and juicy, bake until chicken reaches 155F, remove from the oven and let rest for 10 minutes (during that time the temp rises to 165F, which is considered safe for consumption). A digital meat thermometer is a little over 10 bucks. Best purchase I've ever made. (This is an affiliate link and I earn a small commission at no extra cost to you if you buy through the link).
Tadaaa, Baked Teriyaki Chicken.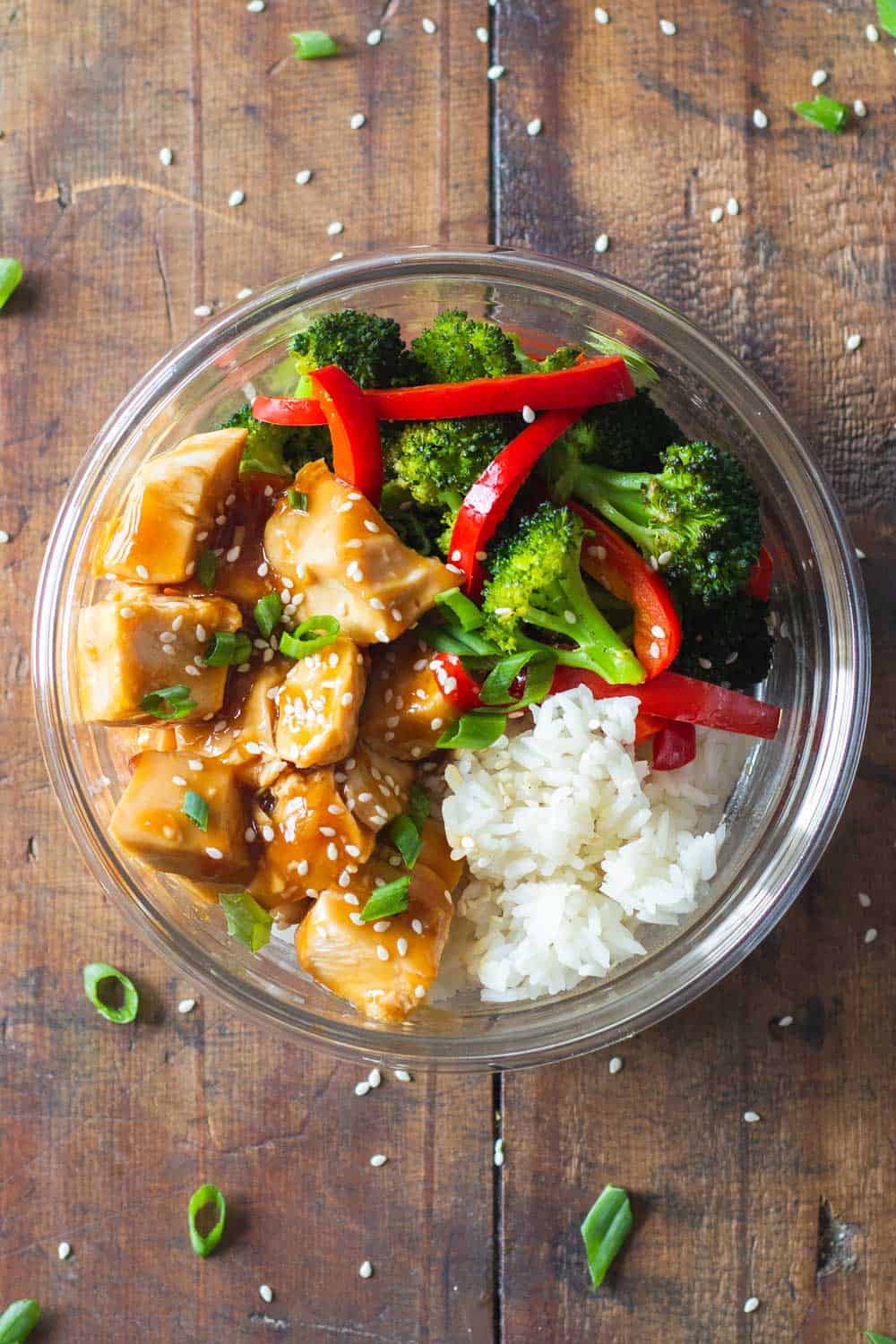 How Do You Make Teriyaki Sauce?
In the oven: Add a cornstarch slurry (mix of cornstarch and water) to a baking dish, soy sauce, genuine mirin (affiliate link), honey, fresh ginger and garlic and stir until super well combined.
Then you add your chicken breast or breasts and off it goes into the oven until the chicken is cooked through.
In the saucepan: Stir-fry fresh garlic and ginger until nice and fragrant, then add, real mirin (affiliate link), soy sauce
and honey, whisk well and bring to a boil. Then prepare slurry and add to the boiling sauce. Reduce heat and constantly stir until the sauce thickens. Once thick and silky, remove from the heat and keep stirring until it cools down.
Your chicken breast can be either baked or stir-fried in another pan for this version.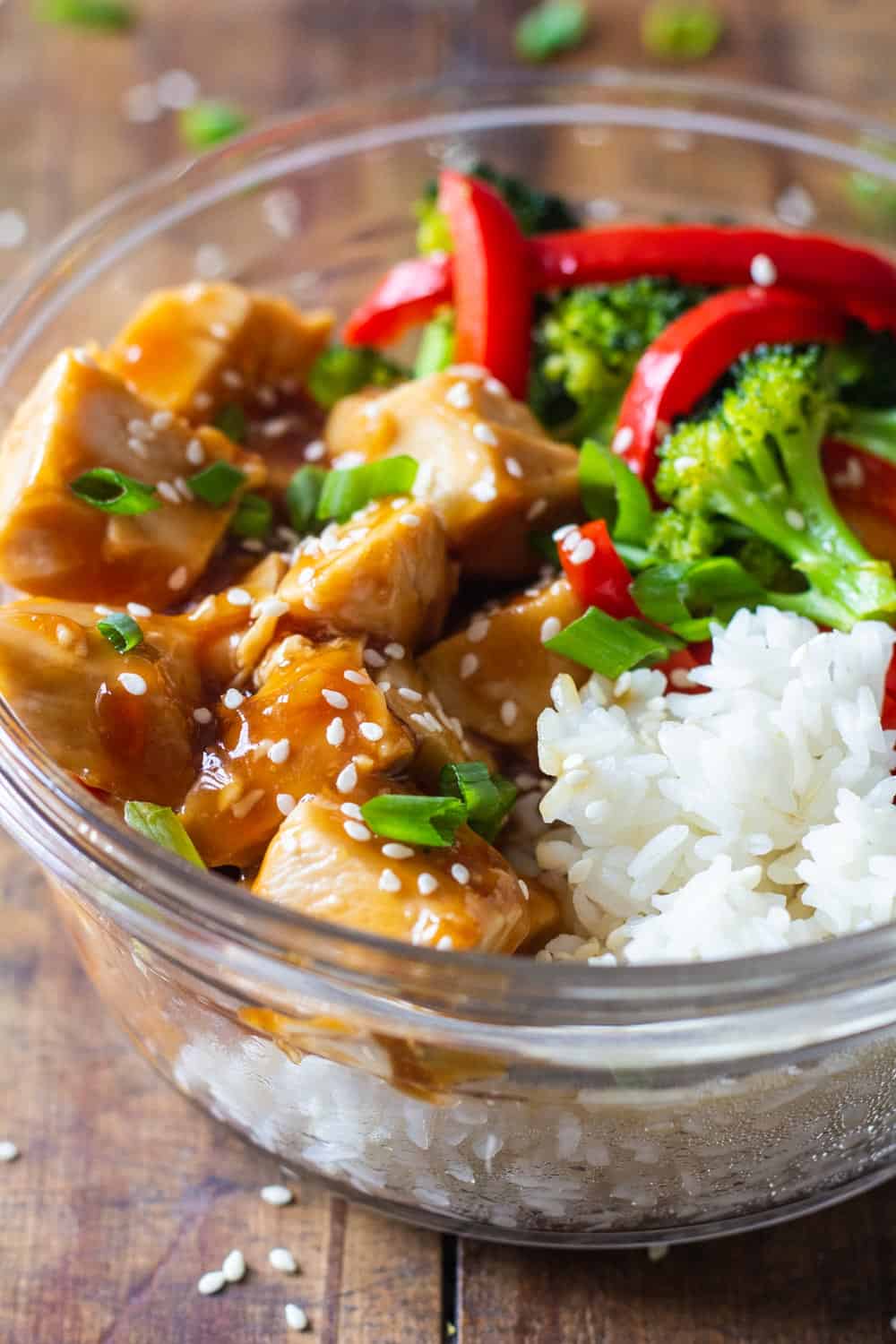 What To Serve Teriyaki Chicken With
My favorite side dish for teriyaki chicken are vegetables that can be roasted in the oven. Always take advantage of the already hot oven.
Broccoli and bell pepper roast perfectly well in less time than a large chicken breast. That means, you can place your chicken breast in the oven and then calmly add your veggies to a baking dish, season, and then place next to the chicken in the oven.
Since the teriyaki sauce is already super flavorful, no need to add tons of seasoning to your veggies.
Teriyaki chicken tastes fantastic over both, white rice and brown rice. If you serve it over white rice, there is enough time if you start prepping that in the instant pot once everything is in the oven. If you serve it over brown rice, make sure you start the instant pot before you start prepping the chicken and veggies. That way everything is hot at the same time.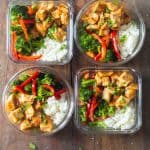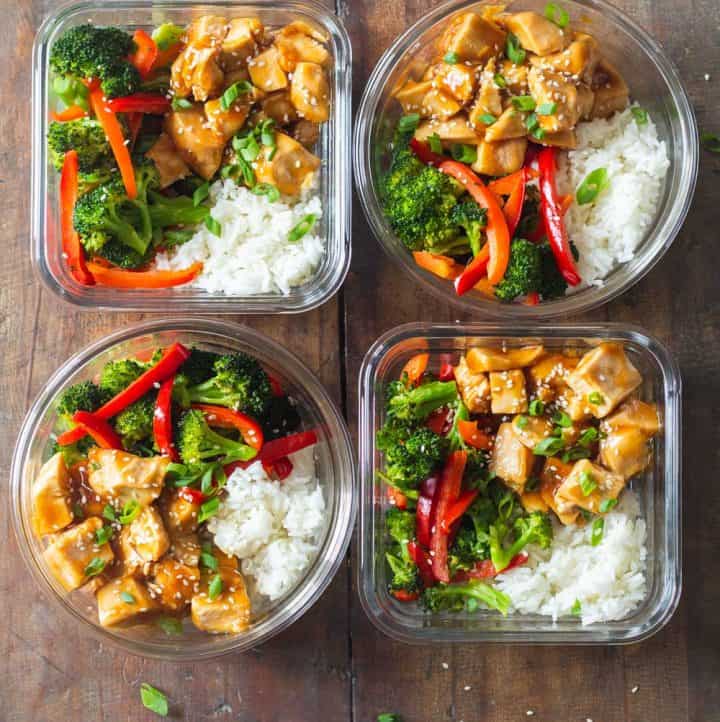 Teriyaki Chicken Meal Prep Bowls
Super easy to prep Teriyaki Chicken made in the oven and transformed into meal prep bowls. Super thick teriyaki sauce and loaded with veggies!
Print Recipe
Ingredients
1

Tbsp

corn starch

1

Tbsp

cold water

1/2

cup

low sodium soy sauce

1/4

cup

real mirin

1

inch grated ginger

2

cloves chopped garlic

1/4

cup

honey

2

chicken breasts

-

(10 oz / 300g each)

1

cup

white Jasmine or Basmati Rice

1

cup

water

-

(more if cooking in a pot)

4

cups

broccoli florets

2

sliced red bell peppers

1

Tbsp

avocado oil

sea salt

pepper

sesame seeds for garnish

spring onions for garnish
Instructions
Preheat oven to 400F (200C).

Add cornstarch and cold water to a small bowl and whisk until no lumps are left.

Add cornstarch slurry to an oven-proof baking dish, soy sauce, real mirin, ginger, garlic, honey and whisk until well combined.

Add chicken breasts to teriyaki sauce and place in the hot oven for approximately 25 minutes or until the chicken has an internal temperature of 155F. (Internal temperature will rise to 165F during resting time).

In the meantime, add broccoli florets and bell pepper slices to a large baking sheet, drizzle with avocado oil, season with sea salt and pepper and then place next to the chicken in the oven for 15-20 minutes depending on how crunchy or soft you like your veggies.

While everything is in the oven, cook your rice in either the Instant Pot or on the stovetop.

Remove chicken and veggies from the oven and let the chicken rest for approximately 10 minutes.

Then remove the chicken from the sauce and place on a cutting board, cut chicken into bite-sized cubes and return to the thick jelly-like teriyaki sauce and stir to combine.

Divide chicken, teriyaki sauce, veggies and rice into 4 meal prep containers, garnish with sesame seeds and sliced spring onion and store in the fridge for up to 4 days.
Nutrition
Calories:
427
kcal
|
Carbohydrates:
69
g
|
Protein:
24
g
|
Fat:
6
g
|
Cholesterol:
48
mg
|
Sodium:
1188
mg
|
Potassium:
812
mg
|
Fiber:
4
g
|
Sugar:
22
g
|
Vitamin A:
2450
IU
|
Vitamin C:
158.5
mg
|
Calcium:
72
mg
|
Iron:
2.3
mg
What's your clean eating vibe?
Take this fun QUIZZ and find out in 10 seconds!