This recipe is inspired by one of my dad's favorite recipes. He used to make something similar a lot when he was in charge of cooking lunch for the day and too busy to stand in the kitchen for too long. Preparation is done in no time and while baking you can get other things done.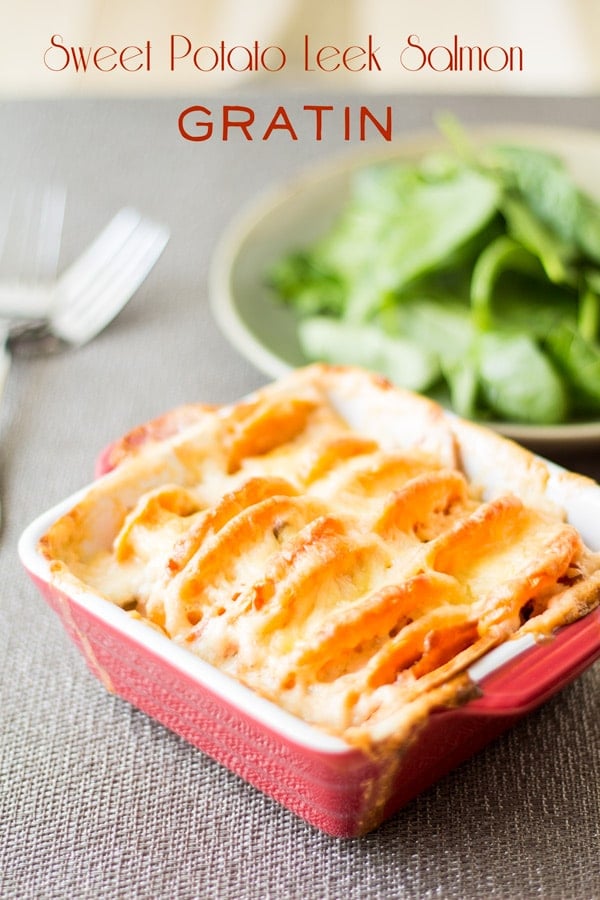 I made this for dinner and paired it with a pre-wached packaged lettuce, whipped up my favorite salad dressing (maple syrup, mustard, olive oil, lemon) and voila a 20 mins prep and 40 mins baking time dinner. I love making meals that require some sort of waiting period while they simmer or bake or whatever to do all the dishes. Eating knowing there will only be a couple of plates and cutlery left to wash is so much more relaxing. Can you hear my inner voice telling you "I hate washing the dishes"? If I had a dishwasher again I would literally be the happiest person on the planet. That is the one thing I miss most about my old flat in London. Yes flat, not apartment *lol*.
I made a one person serving of this and the ingredient amounts are for one person so they can easily be calculated for as many people you plan on feeding. One single sweet potato covers your daily requirement of Vitamin A. Sweet potatoes are also a great source of Vitamin C, Manganese and Vitamin B6. Their consumption has high anti inflammatory benefits and the orange kind have been shown to have anti-carcinogenic properties. Paired with the salmon's omega 3 fatty acid and protein and calcium and protein of cream and cheese this is an extraordinarily nutritious meal. The best part though, it is out of this world d.e.l.i.c.i.o.u.s.!
Sweet Potato Leek Salmon Gratin
Print Recipe
Ingredients
1

orange sweet potato

85

g

smoked salmon

1

small leek

100

ml

35% cream

1/8

tsp

nutmeg

1/3

tsp

salt

pepper

70

g

cheddar or gouda cheese
Instructions
Preheat oven to 350 F (180 C).

Peel and cut sweet potato in 1/4" (0.5 cm) rounds.

Wash leek and cut into 1/4" (0.5 cm) rounds.

Layer sweet potato rounds, leek rounds and salmon vertically as shown in the picture above in an ovenproof dish.

In a small bowl whisk together cream with spices then pour into ovenproof dish.

Grate cheese and cover sweet potatoes all over.

Bake for 35-45 minutes or until sweet potato is cooked and cheese golden brown.
What's your clean eating vibe?
Take this fun QUIZZ and find out in 10 seconds!