This chicken satay recipe makes an impressive dinner or a healthy prepared meal prep bowl. The peanut sauce gives the recipe its unique flavor.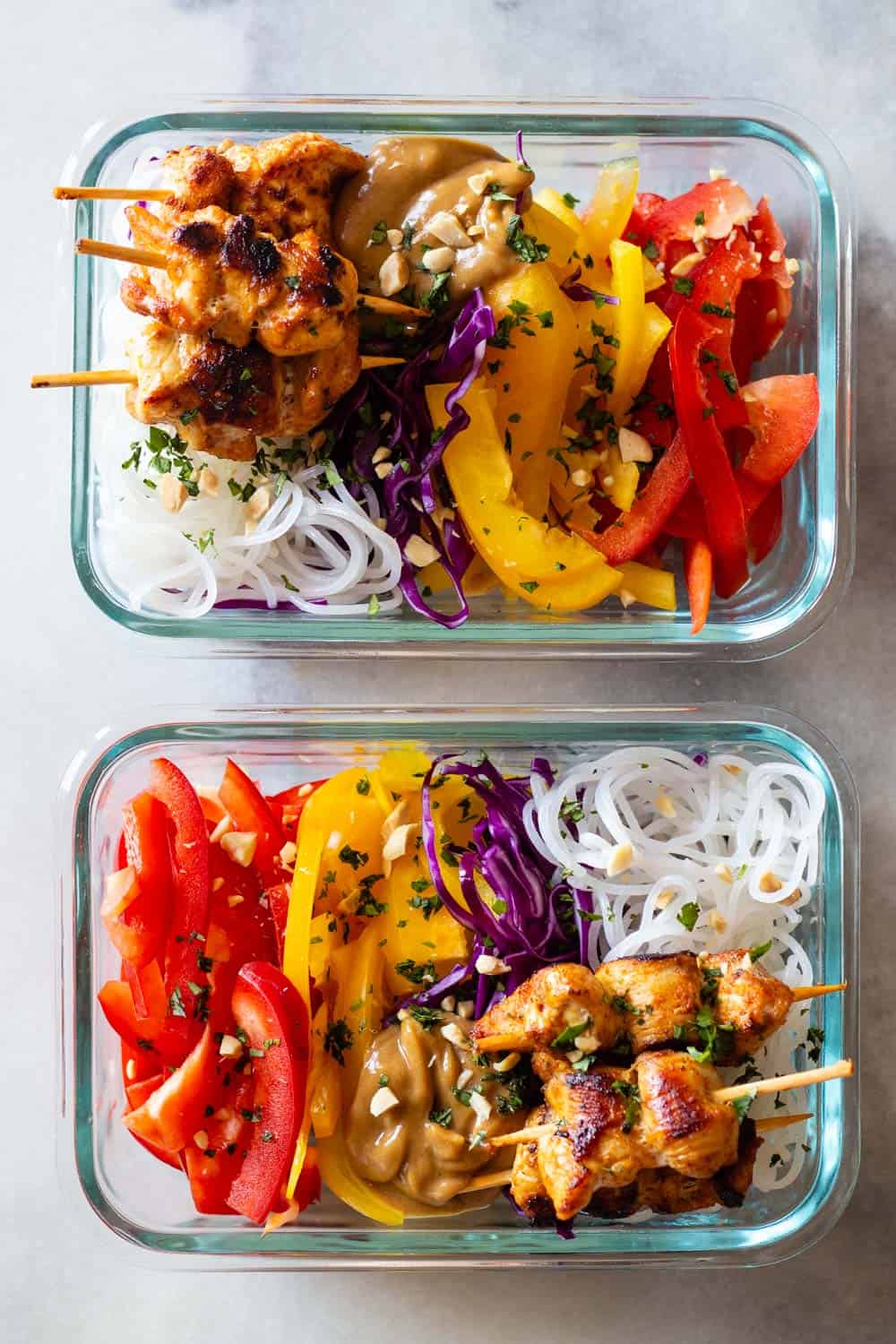 Chicken satay is a traditional Southeast Asian dish of meat (often chicken) seasoned and grilled on skewers. It is served with a peanut dipping sauce.
The chicken is seasoned with a Thai curry paste. Dilute the paste with avocado oil to create a marinade for the chicken. I like red or yellow curry paste. The green curry paste is the hottest and probably too much for this dish. Red curry has red peppers as the base and still has notes of sweetness.
What is satay sauce made with?
Satay sauce is actually a simple peanut sauce. It is an amazing accompaniment to the chicken skewers. The key ingredients in the sauce are
peanut butter
coconut milk
soy sauce (or tamari sauce)
and spices.
Click here to see the peanut sauce recipe.
To make this a complete meal, it includes rice noodles and veggies. The bell peppers and cabbage give the dish some crunch and a fresh taste.
How is chicken satay cut?
The first step in this recipe is to cut chicken escalopes. This is a French term for a very thin piece of chicken breast meat.
To prepare escalopes:
Place the chicken breast in between two pieces of wax paper or parchment paper.
Next, use a rolling pin to flatten the breasts. As a result, you will have one wide, flat piece of chicken breast.
After that, cut each flattened piece into diagonal half-inch slices.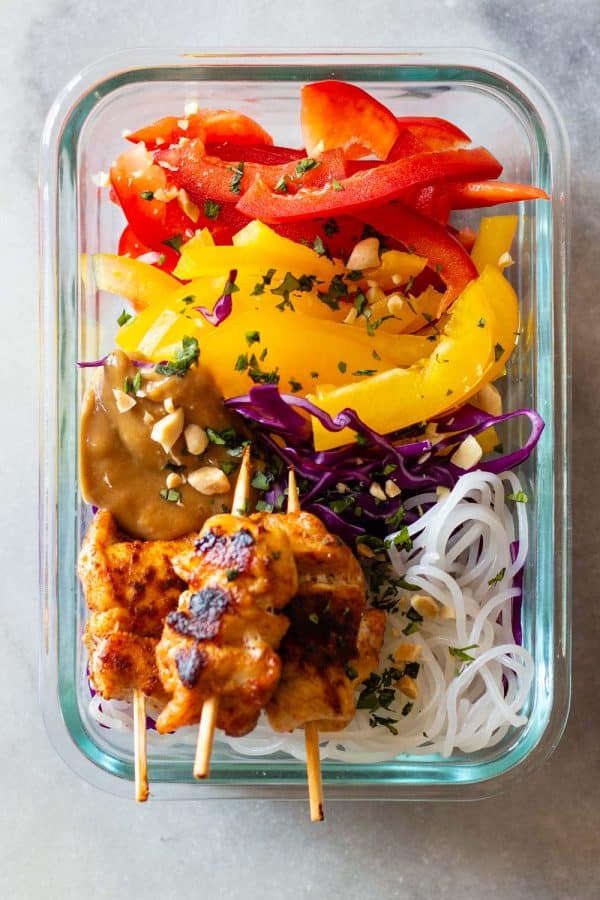 Is this a healthy chicken recipe?
For it to be a completely healthy chicken recipe, chicken satay is a meal that requires some balance.
The chicken and peanut butter are full of protein that will leave you sated for a long time. However, the peanut butter is also high in fat and calories.
In addition to chicken, Satay can also be made with beef, which is even higher in fat.
Also, keep in mind that you are not consuming large amounts of peanut sauce; it's just for dipping. Using it in moderation will help keep your diet plan in check while still enjoying this ethnic dish.
Considering the rice noodles and all the veggies, this meal is low in carbs as well.
However, soy sauce does contain gluten. If you need a gluten-free meal, replace the soy sauce with tamari.
How do you make easy meal prep dinners like this?
It is ridiculously easy to prepare meal prep bowls. Plus, make-ahead meals save you time and money throughout the rest of the week. Everything in meal prep containers is in portions, so you don't have to make any decisions. Best of all, meal prep recipes can be a healthy grab-and-go meal.
Sure, chicken satay is a delicious dinner for the whole family. But the nice thing is, easy meal prep recipes like this one can serve double duty. Meals like chicken satay are delicious for dinner AND lunches for a busy week.
To build this meal prep bowl requires nothing more than layering the ingredients.
The base of this dish is rice noodles. Place them into the bowl first.
Next, place the sliced veggies and grilled meat on top of the noodles.
Finally, top everything in the meal prep bowl with a drizzle of peanut sauce and if desired, crushed peanuts.
These bowls last in the fridge for four days. Simply grab one on your way out the door in the morning, or stick one in a child's lunch box. It's a complete meal in one container!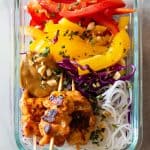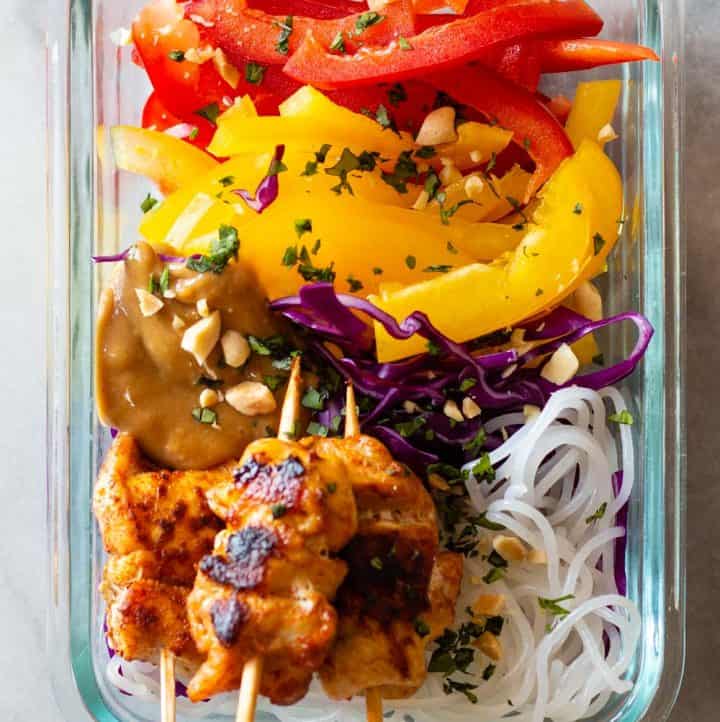 Chicken Satay Meal Prep Bowls
Chicken Satay with veggies and rice or rice noodles are one of those meal prep recipes I can eat again and again and again. So flavorful and nutritious and topped with a delicious peanut sauce super filling as well.
Print Recipe
Pin Recipe
Ingredients
10

oz

chicken escalopes

-

300g

1

Tbsp

Thai curry paste

-

red or yellow

1

Tbsp

avocado oil

5

oz

rice noodles

-

140g

8

Tbsp

peanut sauce

1

red bell pepper

1

yellow bell pepper

2

cups

thinly sliced red cabbage

chopped cilantro

chopped peanuts
Instructions
Cut chicken escalopes into 1/2" strips.

Add Thai curry paste and avocado oil to a freezer bag (I use silicone freezer bags), then add sliced chicken, close the bag and swoosh around the marinade to cover all the chicken. Store in the fridge to marinate for 1 hour or up to overnight.

1 hour before cooking chicken add sandwich picks or tooth picks to cold water.

Get a big pot with water to the boil and once boiling cook rice noodles as instructed (most need about 3 minutes). After cooking drain and rinse with cold water to avoid from sticking together.

Thread chicken strips onto picks.

Preheat a cast iron pan or grill over medium heat and once very hot, add a splash of oil and then place chicken skewers. Cook for 3-5 minutes per side or until golden brown.

In the meantime, wash, deseed, and thinly slice bell peppers, and thinly slice red cabbage.

Add cooked rice noodles and sliced veggies to a meal prep container, top with chicken skewers, a big dollop of peanut sauce, freshly chopped cilantro and chopped peanuts.
Notes
Meal Prep Bowls will last in the fridge for up to 4 days.
Peanut Sauce Recipes: Peanut Sauce
Nutrition
Calories:
395
kcal
|
Carbohydrates:
44
g
|
Protein:
27
g
|
Fat:
11
g
|
Saturated Fat:
1
g
|
Cholesterol:
68
mg
|
Sodium:
619
mg
|
Potassium:
638
mg
|
Fiber:
3
g
|
Sugar:
8
g
|
Vitamin A:
2110
IU
|
Vitamin C:
119.5
mg
|
Calcium:
40
mg
|
Iron:
1.4
mg
What's your clean eating vibe?
Take this fun QUIZZ and find out in 10 seconds!