Lemon Chicken Orzo Soup is the ultimate comfort food! It tastes fresh and hearty at the same time and gives your belly kisses from the inside!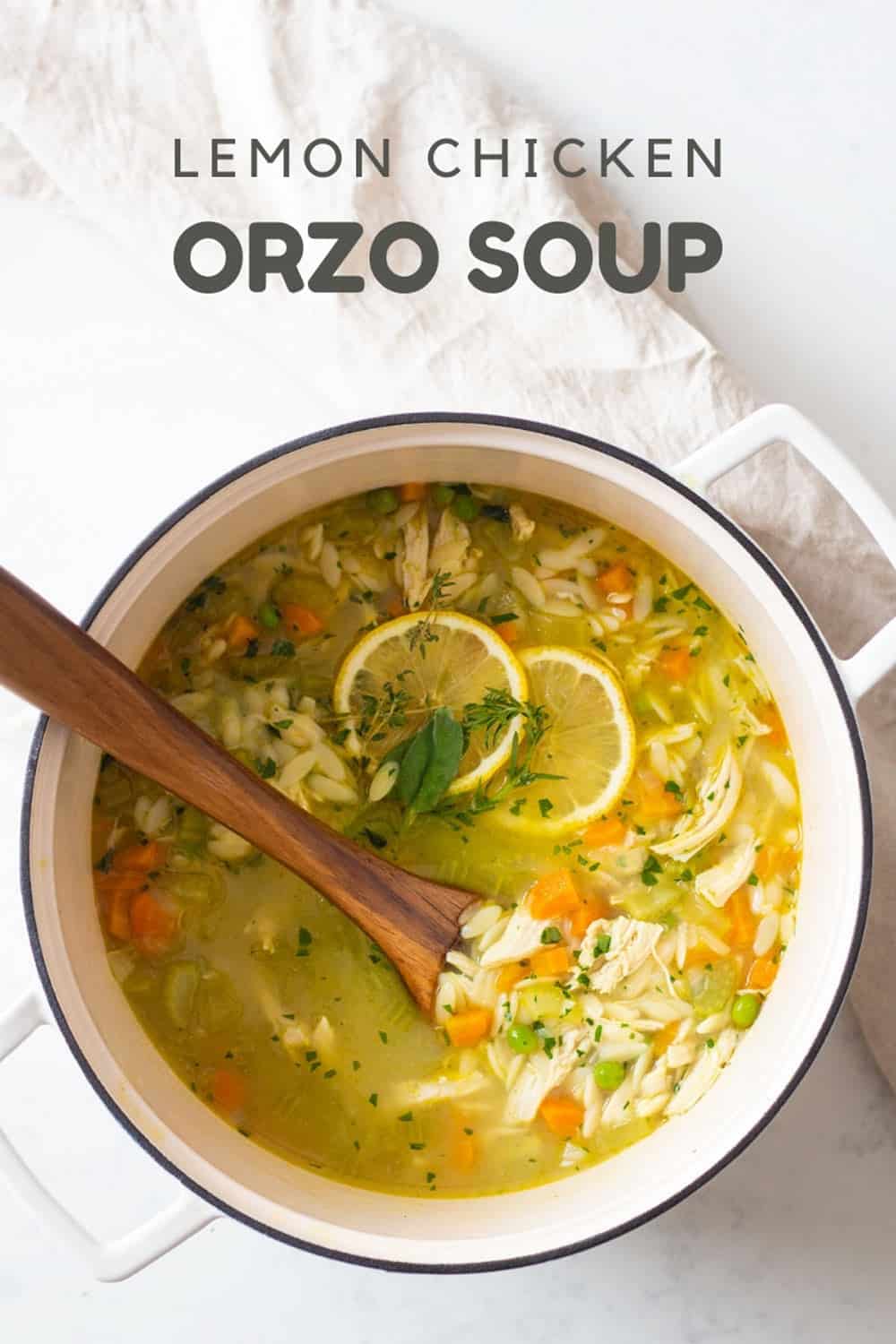 If there is one thing that screams fall and winter food, it's soup! But what if you're just not ready yet for the colder months? How do you hang on to that last hope for warm weather? By warming your body from the inside with a hot lemony soup that tastes "fresh".
What is Orzo?
So, if you're like me, you might have mistaken orzo for rice when you were first served it in an Italian restaurant. Even though it looks like rice……guess what….it's not rice. Ha! It's PASTA!
Orzo is made out of durum wheat just like any other regular pasta. The texture is really nice though because it's like firm rice.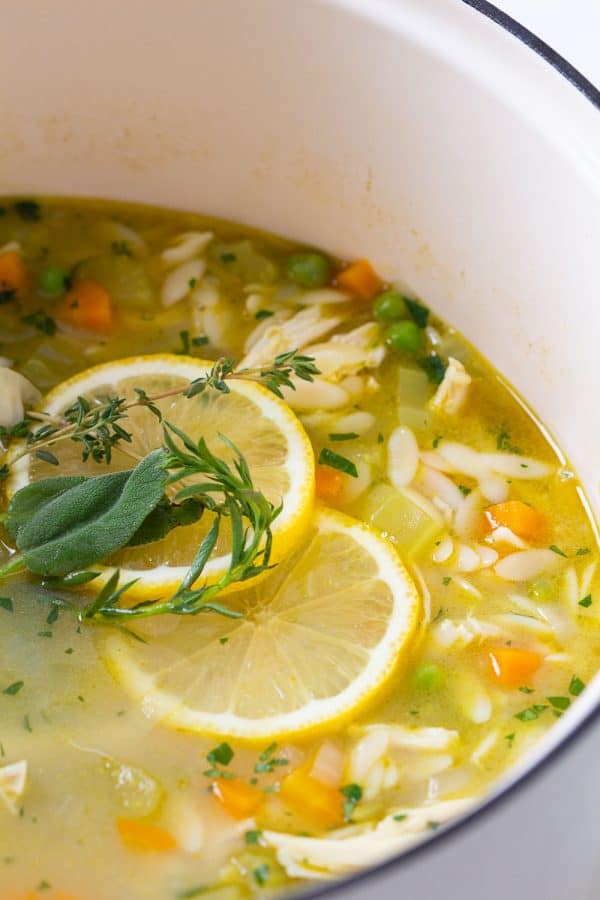 What is Lemon Chicken Orzo Soup made of?
The main components of the soup are broth, chicken, orzo, and obviously lemon soup. From there it's all about getting creative. I like adding sautéd onion and garlic for extra flavor and carrots and celery because they are vegetables that hold their shape after cooking.
It is basically a fancy version of my Slow-Cooker Chicken Noodle Soup. The orzo makes it so much fancier.
Can Orzo Soup be frozen?
As a whole, no. Decomposed, yes!
The problem with freezing pasta and chicken breast is that it overcooks when warming it up again. So I like freezing this soup in the form of individual ingredients.
You can freeze the broth with onion, garlic, & diced veggies as one. The chicken breast, once you shredded it, freeze it in a separate container. And the orzo I recommend cooking fresh on the day you're eating it. Simply in water like you always cook pasta.
12 hours before you plan on eating the soup, place the broth and shredded chicken in the refrigerator to defrost. 20 minutes before eating, cook orzo as instructed on the packaging and then drain it. Pull the broth out of the fridge and bring the broth to a rolling boil in a pot, add your cooked orzo and defrosted shredded chicken and cook it all for maybe 30-60 seconds, then immediately serve.
That way you avoid soggy orzo that soaked up all the broth and overcooked chicken.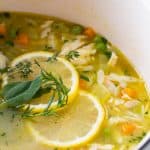 Lemon Chicken Orzo Soup
Print Recipe
Pin Recipe
Ingredients
1

onion

2

cloves garlic

2

carrots

3

stalks celery

2

small chicken breasts (7oz each)

8

cups

flavorful chicken broth

2

sprigs rosemary

3-4

sprigs thyme

3-4

sage leaves

1.5

cups

orzo

1/2

cup

frozen peas

sea salt

pepper

1

juice of whole lemon

parsley
Instructions
Peel and finely chop onion and garlic.

Peel and dice carrots and wash and dice celery.

Preheat a large pot over medium heat, once hot add a splash of olive oil and then sauté onions and garlic until translucent. Add diced vegetables and stir-fry until bright (about 5 minutes).

Add chicken breasts to pot and then pour broth over everything. Add herbs either loosely or in an herb infuser.

Bring everything to a boil and once boiling, put on the lid, reduce the heat to low and cook for 10-12 minutes or until the chicken breasts are cooked through to 165F internal temperature.

Remove chicken breasts from the soup and place on a cutting board.

Add orzo to the broth and cook for about 10 minutes or until al dente.

In the meantime, take two forks and shred the chicken breasts. Once the pasta is cooked, add the chicken back into the soup to reheat for about 1 minute.

Add frozen peas (they will defrost immediately in the hot broth).

Remove the herb infuser, add lemon juice, and taste test to see if it needs more seasoning with sea salt and pepper (this will depend on how flavorful your broth was).

Serve in a bowl, sprinkle with freshly chopped parsley, and enjoy!
Nutrition
Calories:
334
kcal
|
Carbohydrates:
54
g
|
Protein:
22
g
|
Fat:
3
g
|
Saturated Fat:
1
g
|
Cholesterol:
32
mg
|
Sodium:
1807
mg
|
Potassium:
879
mg
|
Fiber:
4
g
|
Sugar:
5
g
|
Vitamin A:
5313
IU
|
Vitamin C:
51
mg
|
Calcium:
67
mg
|
Iron:
2
mg
What's your clean eating vibe?
Take this fun QUIZZ and find out in 10 seconds!