The creamiest and most delicious Instant Pot Chicken Wild Rice Soup! This soup is loaded with vegetables, protein, and healthy carbs. 10 minutes prep is all you need.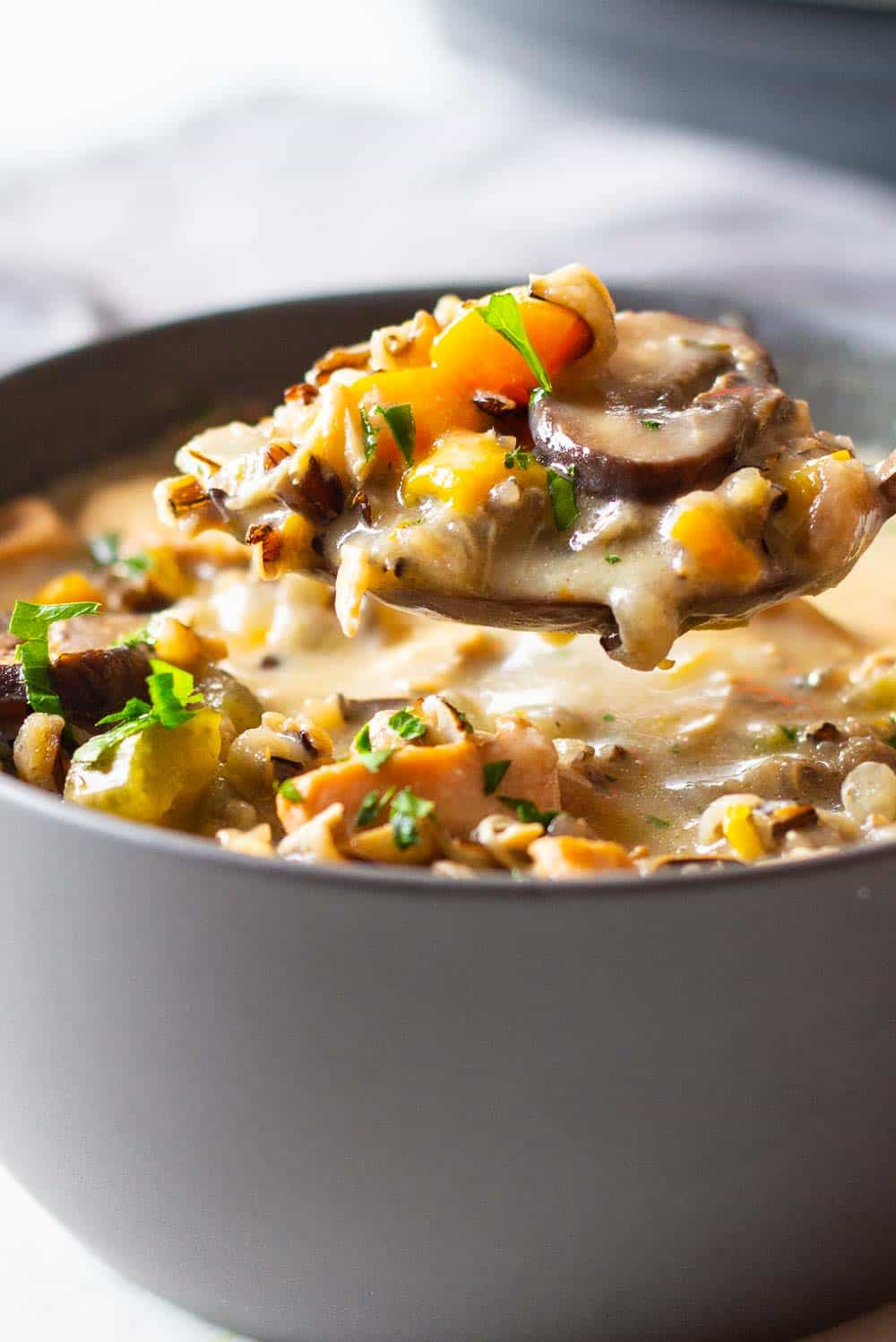 After cooking Instant Pot wild rice for the first time I was shocked to say the least. Up until then, brown rice was my favorite in terms of taste and white Jasmin rice in terms of quick and easy to prepare. Now, I'm Mrs. Wild Rice!
Wild rice is delicious, that was always clear, but oh man it takes FOREVER to cook. Right?!? Well yes, but only in a regular pot on the stove. Not so much in the pressure cooker. Woot woot!
Mix that pressure cooked wild rice with chicken and a boatload of vegetables, add some broth and then make it creamy and you've got the most delicious Instant Pot Chicken Wild Rice Soup of all times!
This is one of those soups that warm up your bones. One of those soups that warm your soul!! If you know anybody that currently needs a little more than a hug to feel good again, make this Instant Pot Chicken Wild Rice Soup for them, they'll be grateful forever. Promise!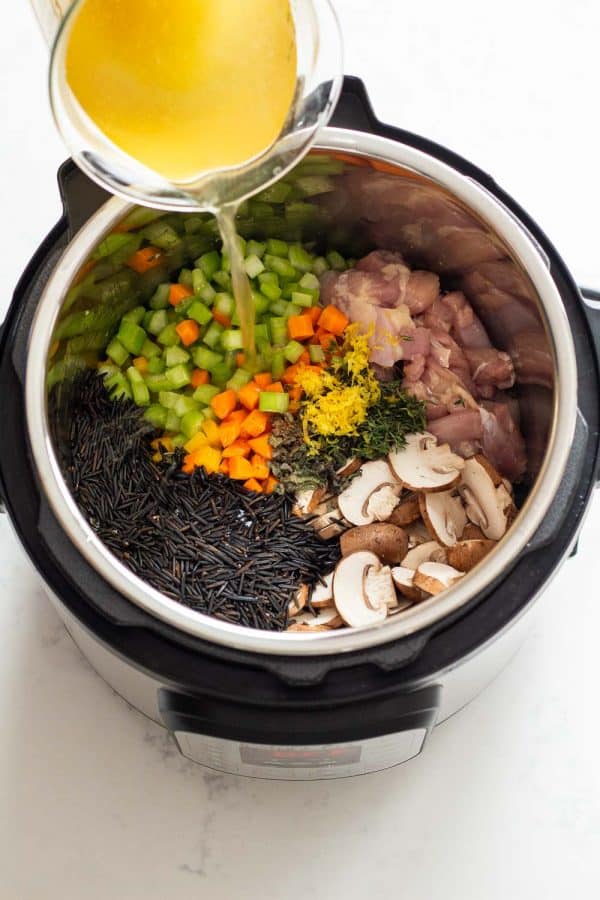 Is Chicken Wild Rice Soup Healthy?
Absolutely! You've got a well-balanced soup recipe here loaded with vegetables, protein and healthy complex carbs.
Yes, it contains a béchamel sauce to make it creamy that some people might argue isn't the healthiest. It's made from scratch though folks, and remember we need healthy fats in our diet.
Also, the béchamel can easily be made gluten-free if you need it. Best gluten-free flours to make béchamel: rice flour, buckwheat flour, or millet flour.
And, it can also be easily be made dairy-free: replace the butter with olive oil and the milk with dairy-free milk such as soy or almond.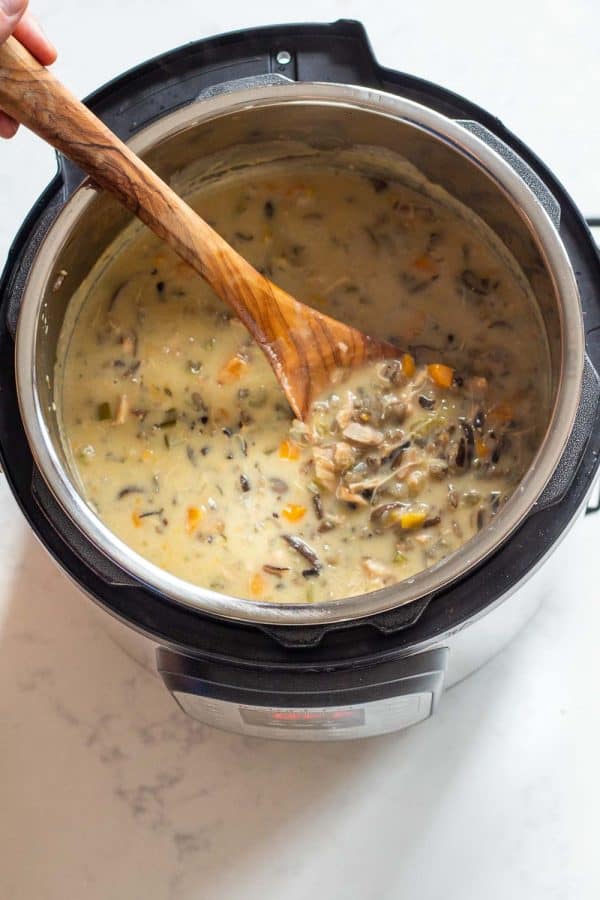 How Long Does It Take To Cook Wild Rice in the Instant Pot?
A mere 30 minutes + natural pressure release. So, no, it's not done in the blink of an eye. However, remember you don't have to babysit it!!
You don't even have to be in the kitchen while the Instant Pot Chicken and Wild Rice Soup cooks itself. Because it does just that, it cooks itself.
And, you don't have to cook the wild rice separately as in some soup recipes I've seen out there. You cook all together in ONE pot and you're done with it.
You can in theory even skip the browning the onions and garlic part and just dump all ingredients into the pressure cooker, close it and program it and walk away. That would make it a 15 minute prep time meal (if you're a real slow veggie washer and chopper).
I honestly don't recommend it though. Making a sofrita out of the chopped onions and garlic makes a huge difference in flavor. It's worth the extra five minutes.
Now let's not talk any more about this Instant Pot Chicken Wild Rice Soup and rather get right into the recipe, shall we?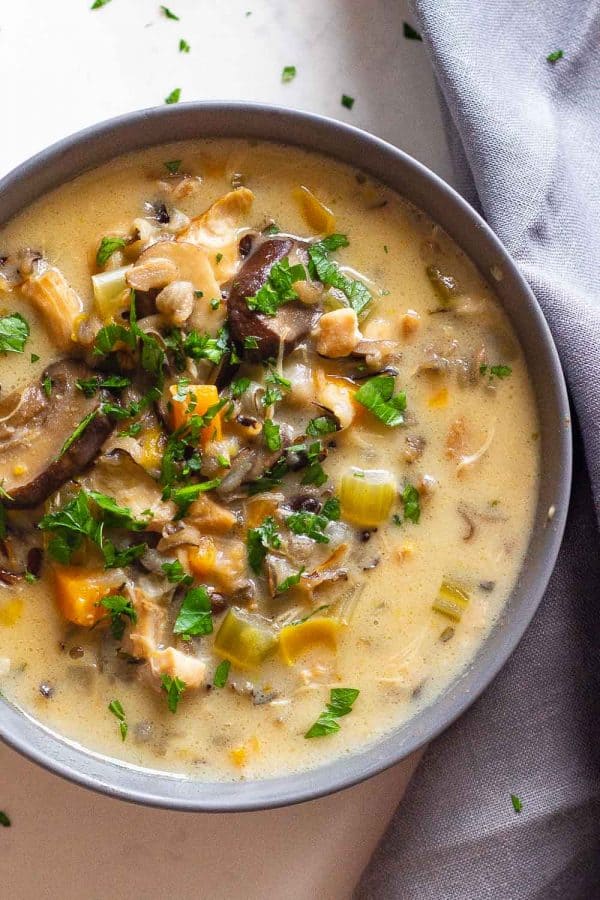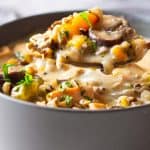 Instant Pot Chicken Wild Rice Soup
The creamiest and most delicious Instant Pot Chicken Wild Rice Soup! This soup is loaded with vegetables, protein and healthy carbs. 10 minutes prep is all you need.
Print Recipe
Ingredients
1

onion

2

cloves

garlic

4

skinless boneless chicken thighs

-

(chicken breast can work will be VERY dry though)

3.5

oz

brown mushrooms

-

(100g)

1

cup

cubed carrots

1

cup

cubed yellow bell pepper

1

cup

cubed celery

1

cup

wild rice

-

(only wild rice will work, not brown rice or wild rice mix)

2

Tbsp

chopped fresh sage

1

Tbsp

fresh thyme leaves

zest of 1 lemon

1

pinch

nutmeg

4

cups

chicken broth

1/4

cup

butter

1/4

cup

all purpose flour

1/2

cup

whipping cream

-

(35% fat)

1/2

cup

milk

sea salt

pepper
Instructions
Peel and chop onion and garlic. Peel and cube carrots and wash and cube celery and bell pepper. Slice mushrooms. Cube chicken thighs.

Press "sautée" and once the Instant Pot says "hot" add a dollop of oil, chopped onions and garlic and brown them.

Once nice and brown add a splash of water to deglaze, then add cubed chicken, mushrooms, cubed vegetables, wild rice, 4 cups of chicken broth, sage, thyme, lemon zest and nutmeg and season with salt and pepper if your broth is not already seasoned.

Securely close the lid and turn the valve to the sealing position.

Hit "cancel" and then set the Instant Pot to high pressure for 30 minutes, then let the pressure release naturally (this can take anywhere from 20-25 minutes).

When the high pressure cooking time is over and the Instant Pot's alarm goes off prepare a Béchamel sauce.

Béchamel: Add 1/4 cup butter to a small saucepan and melt over medium-low heat. Once melted, add 1/4 cup flour and whisk until well combined. Add cream and whisk well (don't worry if it curdles), then add 1/2 cup milk and whisk until well combined and keep whisking until milk is heated up, then immediately remove from heat and continue whisking until it thickens (about 5 minutes without stopping).

Add Béchamel to ready cooked soup in Instant Pot and stir.

You can serve like this, or wait a little and keep stirring. The longer you stir, the thicker the broth will become. For super-duper, extra creamy broth, hit the soup button (keep the lid OFF) to bring everything to a boil and keep stirring for 10 minutes so the broth and béchamel become one creamy soup.

Season with sea salt and pepper if necessary, sprinkle with freshly chopped parsley and enjoy.
Nutrition
Calories:
614
kcal
|
Carbohydrates:
52
g
|
Protein:
36
g
|
Fat:
30
g
|
Saturated Fat:
16
g
|
Cholesterol:
180
mg
|
Sodium:
346
mg
|
Potassium:
1133
mg
|
Fiber:
5
g
|
Sugar:
6
g
|
Vitamin A:
6525
IU
|
Vitamin C:
76.6
mg
|
Calcium:
148
mg
|
Iron:
3.6
mg
What's your clean eating vibe?
Take this fun QUIZZ and find out in 10 seconds!
This recipe was inspired by Pinch of Yum's Wild Rice Soup.