After pounds and pounds of bean pressure cooking I got it right. Here is your fail-proof guide for Instant Pot Beans. Instant Pot black beans, Instant Pot pinto beans, instant pot kidney beans, and many more, basically an encyclopedia about cooking beans in the instant pot.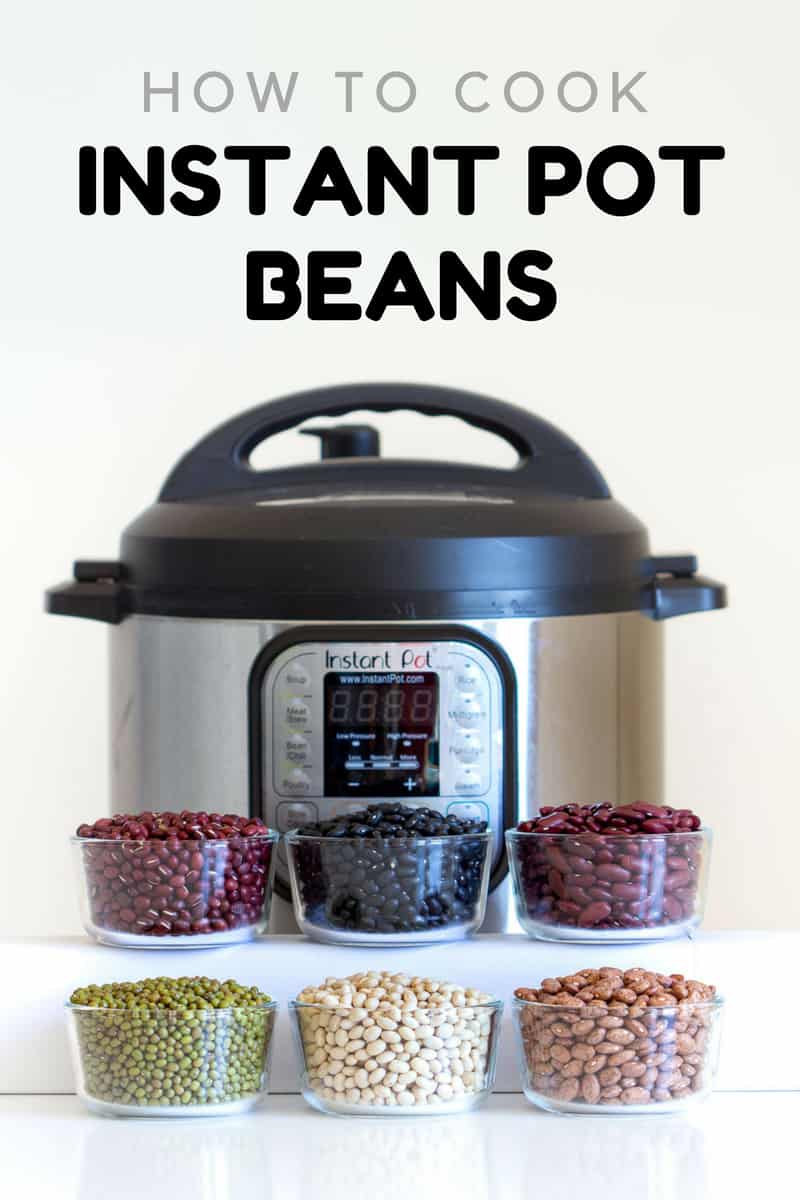 After seeing the same question popping up over and over again in several Facebook groups: "how to cook beans in the instant pot", and after reading answers that couldn't differ any more, I felt the urge to find out timings for myself. Just like back when I saw the same happening for Instant Pot Rice.
I've read people recommending cook times anywhere from 10 minutes all the way up to 60 minutes. How can that be? Why do the recommended times differ SO MUCH?!? I had to get to the bottom of it.
Well, first of all, many times it isn't even specified what kind of beans. There are soooooo many  kinds and they all cook in different times. Asking "how to cook beans in the instant pot" is basically an incomplete question and often results in incomplete answers.
Second of all, it is never specified what the beans are meant for. Depending on if you want them for a salad or a soup makes a huge difference. For a salad you want them barely cooked so they hold their shape, stay dry and don't become mushy. For a soup you want them super cooked and falling apart by themselves so you can blend them and create a creamy soup.
And lastly,it is rarely specified if the cooking time is requested or suggested for soaked or dry beans. This also plays a huge role in timing.
Which brings us to the first question and answer in our Instant Pot Beans Encyclopedia.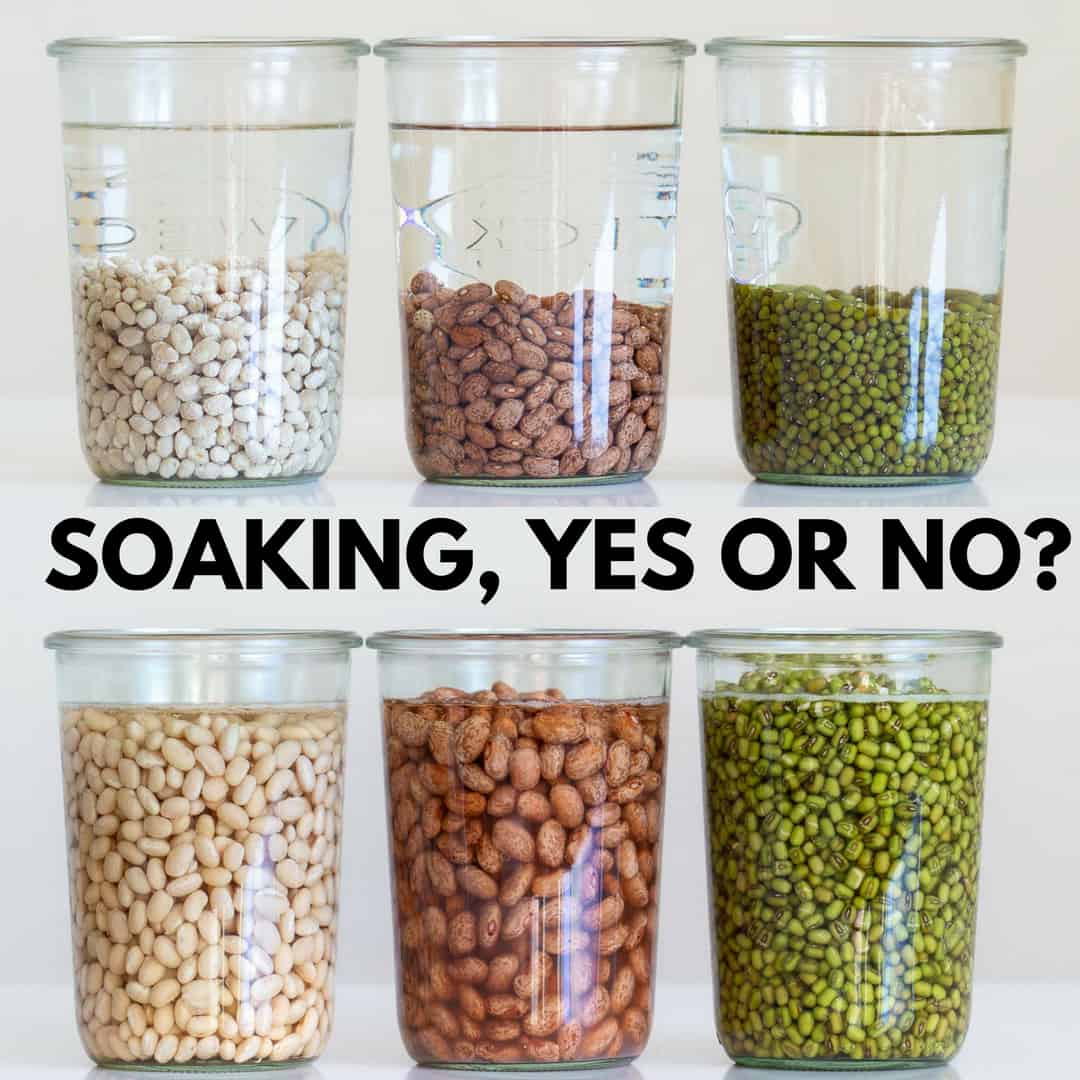 Soaking or No Soaking for Instant Pot Beans
Let me answer one important thing first: yes, you CAN cook both, soaked and unsoaked beans in the pressure cooker. So if you desperately want to skip the soaking process you absolutely CAN.
The question, however, should not be if you CAN cook no soak beans. The question is: do you really want to skip the step?
I never (literally never!) skip soaking. Why? Because it eases digestion A LOT. I, for one, don't love feeling bloated and passing wind. If you enjoy that, by all means, go ahead and skip the step ;)
If you're more like me and like eating healthy and yummy food without bloating and farting (high five my friend) then soak your beans for 8-12 hours before pressure cooking.
Generations and generations before us already knew about this trick and I rely a lot on their experience. A pressure cooker doesn't break down the beans to a point where soaking isn't necessary anymore to ease digestion. Maybe one day someone will invent a magical machine that can but for now, there isn't one on the market that I know.
What the instant pot does it cook beans faster to reach the same consistency a regular pot with water does. That's the advantage of pressure cooking. The soaking is still necessary.
There are other tricks to ease digestion such as adding "epazote" during the cooking process and/or removing the foam that forms on top. The most important and most effective is soaking though. Don't skip the soaking even if you add epazote and remove the foam.
Sooooo, all experiments run for this post are for beans soaked for 12 hours at room temperature using filtered water. Then drained and rinsed and cooked in just plain, fresh, unsalted water.
Ok, now that we've had have that discussion let's get to the next point.
Instant Pot Black Beans
My fist tests were run with Black Beans and that's how I found out that the discrepancies of timing are often times likely due to what the beans are meant for.
After cooking for 30 minutes + complete natural pressure release the beans were nice and soft and perfect to use for a soup. They were cooked to the necessary consistency to blend into a smooth black bean soup.
However, they were way too soft to drain and use for a salad. They were much much softer than the black beans you'd find in a can for example.
The canned black beans are pretty firm and after draining ideal for a salad for example.
So the next goal was to find the best pressure cook timing to achieve firm beans for salad AND a consistency somewhere in between for Instant Pot Beans and Rice. Not too firm and not too soft.
After 20 minutes of high pressure cooking and full natural pressure release the Instant Pot Black Beans were thoroghly cooked through but still firm. I was able to drain them and use them in a salad.
After 25 minutes they had that perfect consistency for Instant Pot Beans and Rice.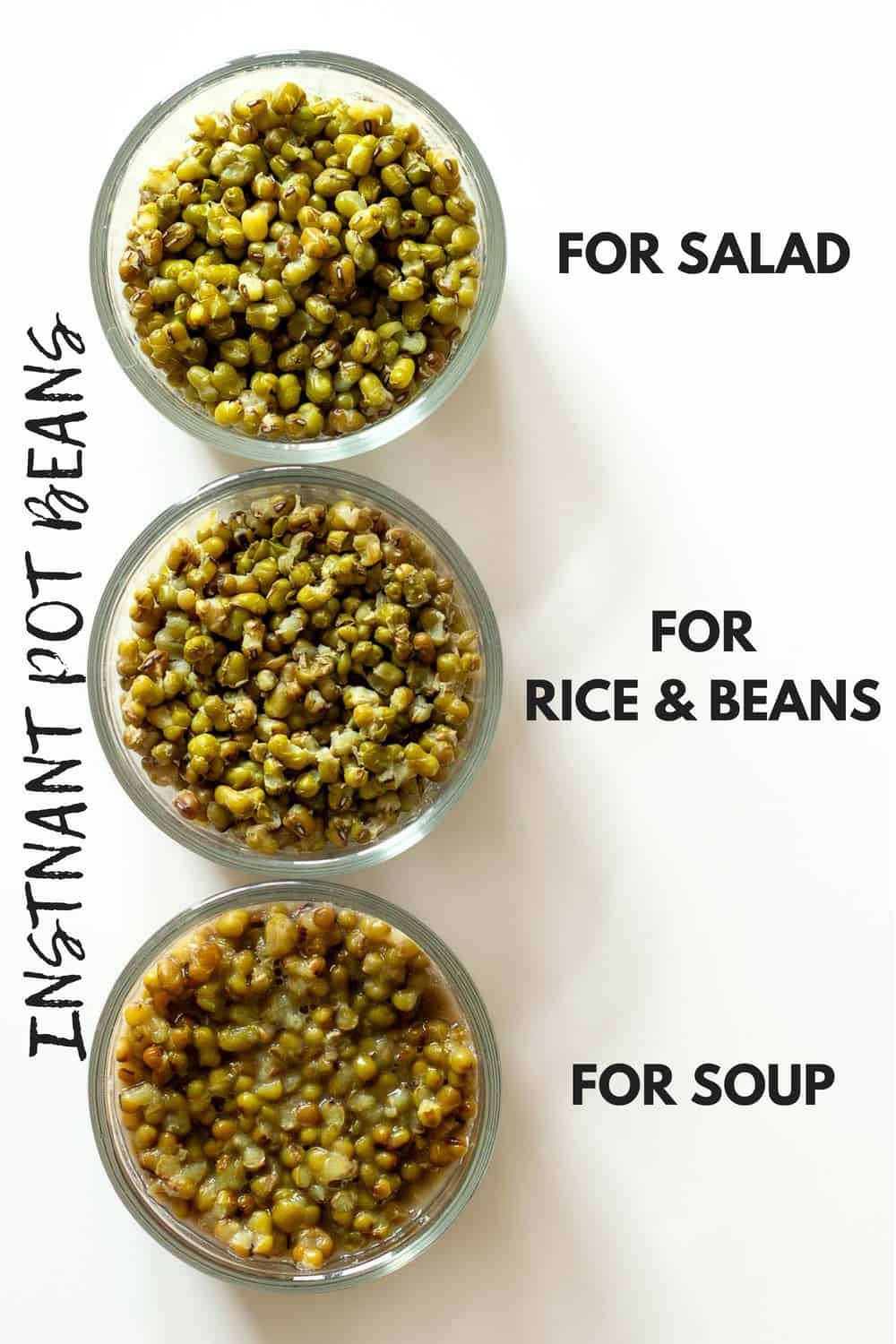 Instant Pot Pinto Beans
I thought all beans the same size would cook in the same time but no. It seems different beans have a different composition and cook differently.
Pinto Beans cooked faster in my experiment compared to black beans. I was very surprised actually. So much so, that I will have to rerun this experiment. Pinto Beans were the last beans I experimented with and I'm wondering if my Instant Pots (<– yes, plural, I have several because I'm obsessed, haha) were maybe overheating and cooking stuff faster?
Anyway, the Adzuki Beans definitely confirmed the fact that different beans cook at different times regardless of size.
The Instant Pot Pinto Beans were perfect for draining and using in salads after just 15 minutes high pressure and full natural pressure release.
Perfect for rice and beans after 20 minutes high pressure cooking + NPR. And suitable for soups after 25 minutes HP + NPR.
Flavoring Instant Pot Beans (salt while or after cooking)
Depending on what you want your Instant Pot Beans for you may or may not want to flavor them.
If you want your beans for a salad which will have a salad dressing it's probably best to simply cook them in filtered water and nothing else. Drain the water and use the unflavored beans for your salad.
For Instant Pot Beans and Rice or for soup you'll probably want to flavor while cooking. There is a couple simple rules to follow. Add onion, garlic, spices (except salt) before or during cooking but salt after cooking. Salt can keep beans from softening up so you want to avoid adding while they are cooking but rather once they're already soft.
What I love to do is to prepare a "sofrita" first. You hit the sautée button first and while the pot heats you peel and finely chop onion and garlic. Once hot, add a splash of oil, the chopped onion and garlic and sauté until nice and brown. Then add beans and water and cook as instructed in the recipe card below.
And here the printable fool-proof timing guide for Instant Pot Beans: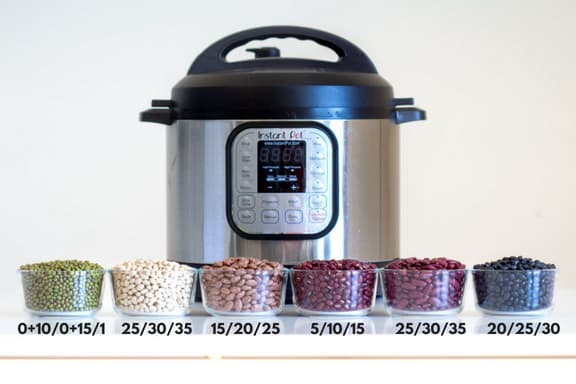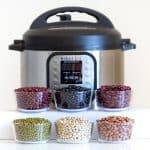 Instant Pot Beans
Here is your fail-proof guide for Instant Pot Beans. Instant Pot black beans, Instant Pot pinto beans, instant pot kidney beans, and many more, basically an encyclopedia about cooking beans in the instant pot.
Print Recipe
Ingredients
1-3

cups

beans

-

(black beans, pinto beans, adzuki beans, kidney beans, navy beans, or mung beans)

water
Instructions
Add beans to a large bowl and cover with abundant filtered water. At least 4 times as much water as beans. Cover with a clean dish towel. Soak for 8-12 hours on the kitchen counter. (If you soak them longer timings will differ!)

Drain beans and rinse really really well.

Add beans to instant pot and cover with fresh water to about 2 inches above the beans (two thumbs thick).

Put on the lid and turn the knob to the sealing position.

Press manual (or pressure cook on newer models) set to high pressure and adjust timing follows depending on if you need the beans for salad/rice and beans/soup:

Black Beans: 20/25/30 minutes + 20 mins NPRPinto Beans: 15/20/25 + 20 mins NPRNavy Beans: 25/30/35 + 20 mins NPRKidney Beans: 25/30/35 + 20 mins NPRAdzuki Beans: 5/10/15 + 20 mins NPRMung Beans: 0 + 10 min NPR / 0 + 15 min NPR / 1 + 20 mins NPR

Let pressure release naturally for specified time above, then, if safety pin hasn't dropped on its own yet, release remaining pressure manually.
Notes
Calorie information for 1 cup black beans cooked in water.
Very puzzled with some people getting mushed black beans and kidney beans with my times stated above and been trying to figure out why the discrepancies. I've tested the cooking times again with organic and conventional beans of different brands to figure out if that made a difference and it didn't so not sure what this could be attributed to. 
I know the age of the beans plays a role. If you were not successful with the times please let me know what brand you used, how many cups, what size and model Instant Pot you used, what timing you used, and if you can send me a photo or your mushy beans (via e-mail) that would mean the world to me! 
At 10 minutes + NPR for black beans MY beans in MY pot had a sandy texture and tasted undercooked.
Nutrition
Calories:
227
kcal
|
Carbohydrates:
40
g
|
Protein:
15
g
|
Sodium:
1
mg
|
Potassium:
610
mg
|
Fiber:
14
g
|
Calcium:
46
mg
|
Iron:
3.6
mg
What's your clean eating vibe?
Take this fun QUIZZ and find out in 10 seconds!