Ok, so after SEVERAL requests for a dip that one can serve as an appetizer at a party that is NOT hummus, I finally went ahead and played laboratory in my kitchen. Dips can be quite a challenge: the consistency has to be right, the taste, the color, the smell…all of it has to be juuuust right and only my kids know how many dips have never made it onto the blog, or worse, have landed in the garbage. Ugh! Today I can happily tell you all about a successful "lab day". Wohooo. It's title: Greek Yogurt Tahini Dip with Roasted Veggies. It's not only super delicious, it's also gorgeous like no other. I first tried it with raw vegetables but figured they are too hard and too, ummmm, bland? Boring? After only 20 minutes of roasting they released a great part of their natural sugar and became sweet and glossy while still maintaining their shape and crunchiness. This dip HAS to be served with slightly roasted vegetables instead of raw because that's what makes it p.e.r.f.e.c.t.!
Sprinkle with some extra sesame seeds because tahini and sesame oil simply aren't enough sesame already and make sure you have some fresh coriander on hand to chop up and sprinkle all over as well for some extra beautiful green. The celery looses some of its greenness after roasting so we have to make sure we add a fresh green so make this dish even more eye-pleasing. Don't you think it looks absolutely gorgeous?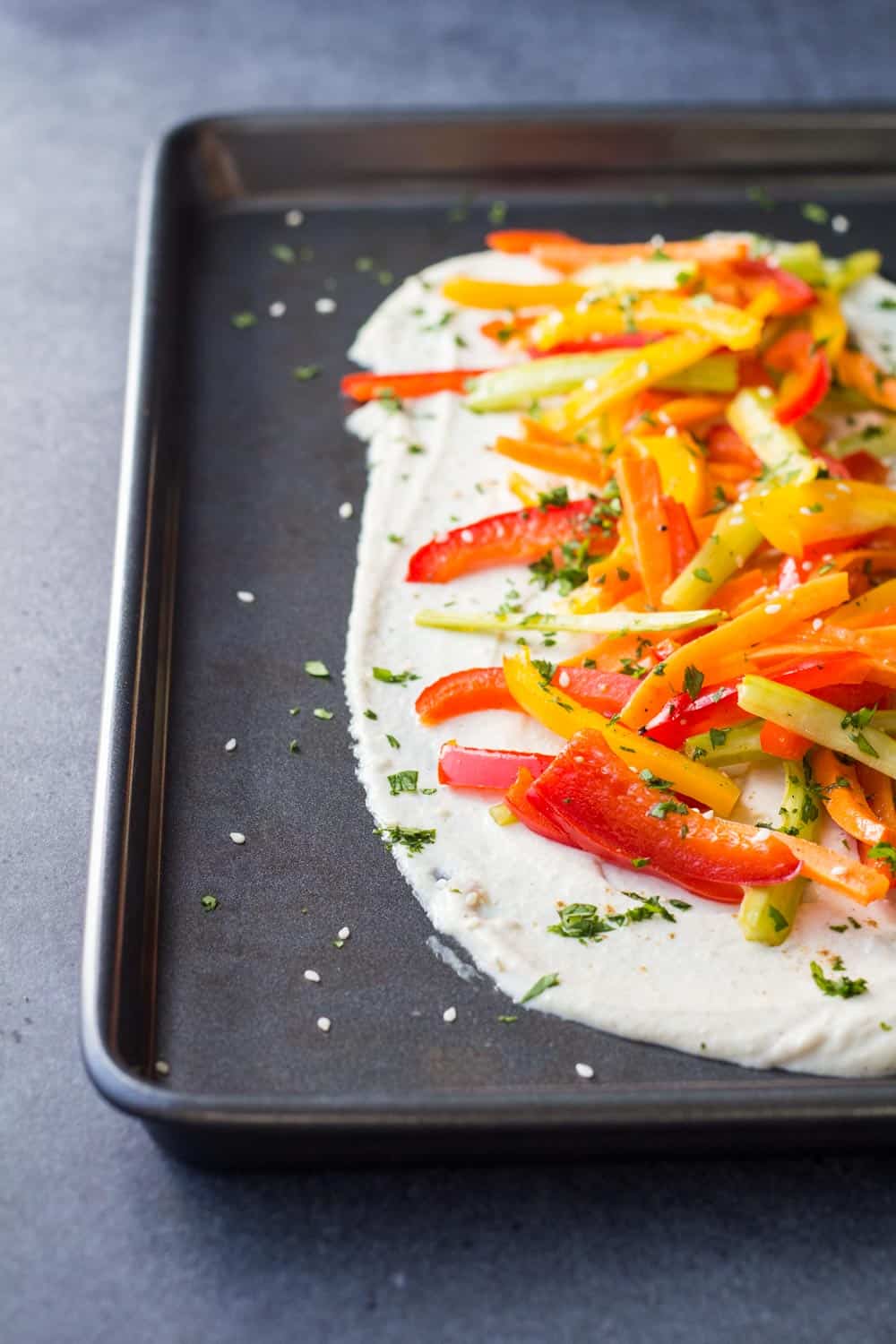 Lay some crackers (homemade if you can) around the dip and let everyone sink their crackers into the dip and scoop up some veggies along the way. Or place some spoons around so they can spoon the dip and veggies onto some fresh bread or toast. The vegetables are a very obvious nutritional benefit of this but the Greek yogurt, too. In my opinion, Greek yogurt surpasses all other yogurt's health benefits and besides, it is the most delicious one. I never buy flavored or sweetened yogurts because they are mostly sweetened with refined sugar and we all know that's not ideal. That doesn't mean you can't eat sweet yogurt, just buy unsweetened and sweeten yourself at home with cut up or mushed fresh fruit and/or a little honey and/or real maple syrup instead. You can control how much you put in (try and keep it low) and you can control the quality of the sweetener. Greek yogurt is full of Vitamin B12 and is creamy like creme fraiche. It works well in sweet and in salty dishes like this dip and it pairs well with fruit or vegetables. A perfect protein-rich base for dips and sauces. Say hello, to your new best friend ;)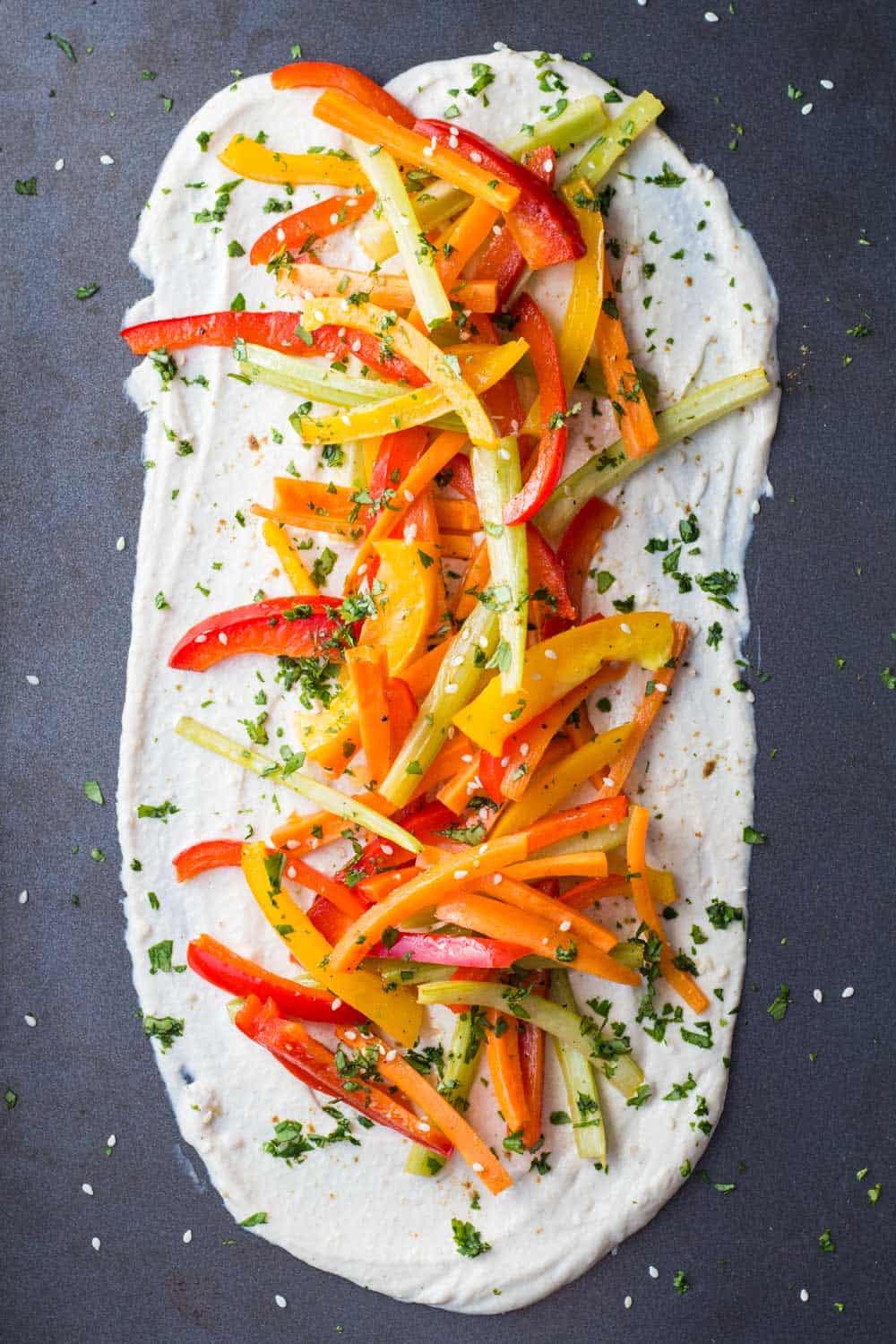 Greek Yogurt Tahini Dip with Roasted Veggies
Print Recipe
Ingredients
1

medium

carrot

1

large

celery stalk

1/2

red bell pepper

1/2

yellow bell pepper

1

Tbsp

olive oil

salt

pepper

1/2

cup

10% fat greek yogurt

-

(125g)

2

Tbsp

tahini

1

Tbsp

sesame oil

1

Tbsp

lemon juice

1/2

Tbsp

honey

1/4

tsp

cumin

salt

a few fresh coriander leaves

extra cumin for sprinkling

sesame seeds for sprinkling
Instructions
Preheat oven to 350 F (180 ºC).

Peel carrot and cut into thin (1/4"/0.5cm) sticks.

Wash bell peppers and cut into thin (1/4"/0.5cm) sticks.

Wash celery, remove white part and leaves and cut into thin (1/4"/0.5cm) sticks.

Add vegetable sticks to a bowl, add olive oil, salt and pepper and mix well with your hands.

Lay out vegetables on a large oven-proof dish in one layer.

Roast for about 20-25 minutes or until desired texture.

In the meantime, add greek yogurt, tahini, sesame oil, lemon juice, honey, cumin, and salt to taste to a small bowl and mix together until smooth.

Spread out tahini dip onto a plate or cookie sheet, place roasted vegetables on top, sprinkle with chopped fresh coriander leaves and a pinch of cumin.

Serve with Homemade Crackers.
What's your clean eating vibe?
Take this fun QUIZZ and find out in 10 seconds!