Usually, when I ran out of oats and have only one egg left for next day's breakfast I either make my unsweetened Endless Possibility Pancakes or some sort of muffins so I can feed my whole family with this single egg. Of course, things like flour and baking powder are never out in this household. I stock up way before the ones I have run out because they can easily be stored for what seems a lifetime. Cow's milk of course is also out sometimes but cow's milk can be substituted by either canned coconut milk or homemade coconut milk or homemade almond milk or homemade rice milk….there are endless possibilities and be sure you will have at least one ingredient of which you can make milk out of. Butter sometimes – rarely but yes, sometimes – runs out as well here. However, that one can easily be replaced by coconut oil, which is also something that can be stored well forever and thus be stocked up before running out. And last but not least, even if you run out of eggs you can replace the egg with ground chia seeds or ground flaxseeds that just as the other ingredients I mentioned before can be stored a very long time and thus can always be stocked up before running out. You want to know what is best about this recipe and all its replacement options? You can make your pancakes vegan! Use a plant based milk, coconut oil, chia or flax seed and wooosh, all animal products gone! It is that simple.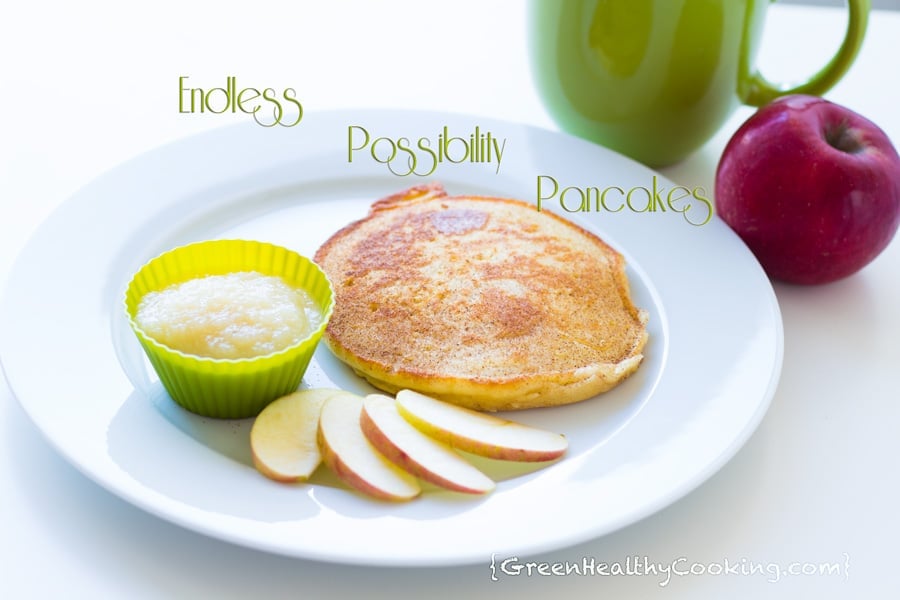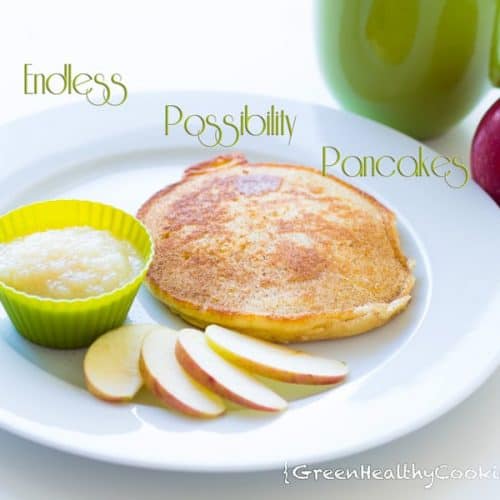 Endless Possibility Pancakes
Print Recipe
Ingredients
1

cup

all-purpose white flour

2

tsp

baking powder

1

egg OR 1 Tbsp ground chia seed egg OR flax seed egg

3/4

cup

cups milk

-

1 cup if using chia/flax instead of egg

1

Tbsp butter or coconut oil

Butter or coconut oil for cooking
Instructions
Mix flour and baking powder (and if using ground chia or flax seeds this as well) with a whisk until very well mixed.

Melt butter or coconut oil in a heavy bottomed saucepan on very low and let cool down to room temperature*.

In a separate bowl whisk together milk, room temperature butter or coconut oil and egg (if using).

Mix wet and dry ingredients together with a rubber spatula and ready is your batter for cooking.

Heat a little butter or coconut oil in a saucepan over low-medium heat**.

Once hot pour about ½ cup of batter onto the pan and cook until desired color.

Serve with homemade unsweetened apple sauce*** or store bought unsweetened apple sauce and some cinnamon. These are American style pancakes, so they will be small and thick as opposed to the French crêpes.
What's your clean eating vibe?
Take this fun QUIZZ and find out in 10 seconds!
Notes:
* If the still too hot fat gets in contact with very cold milk it will solidify immediately. Wait for the fat to be at room temperature and the milk preferably, too. If you are in a hurry you might as well warm up the milk to a little higher than room temperature and whisk together with fat. Beware of mixing in the egg, if using, though. If the milk/fat is too hot, the egg will cook in it.
** Keep the heat on the lower side. If the saucepan gets too hot, the butter or coconut oil will simply burn and give your pancake a burnt taste. Apart from that the pancake will cook unevenly. Almost being burnt on the outside and remaining uncooked in the inside. Be patient! It's well worth it.
*** To make homemade unsweetened applesauce simply peel and core a couple of apples and throw in the blender. Yes, that's all, it is that easy!