Clean Eating does NOT have to be complicated. Simple whole food recipes with everyday ingredients available at any grocery store, and no more than 1 hour of standing in the kitchen for the whole day.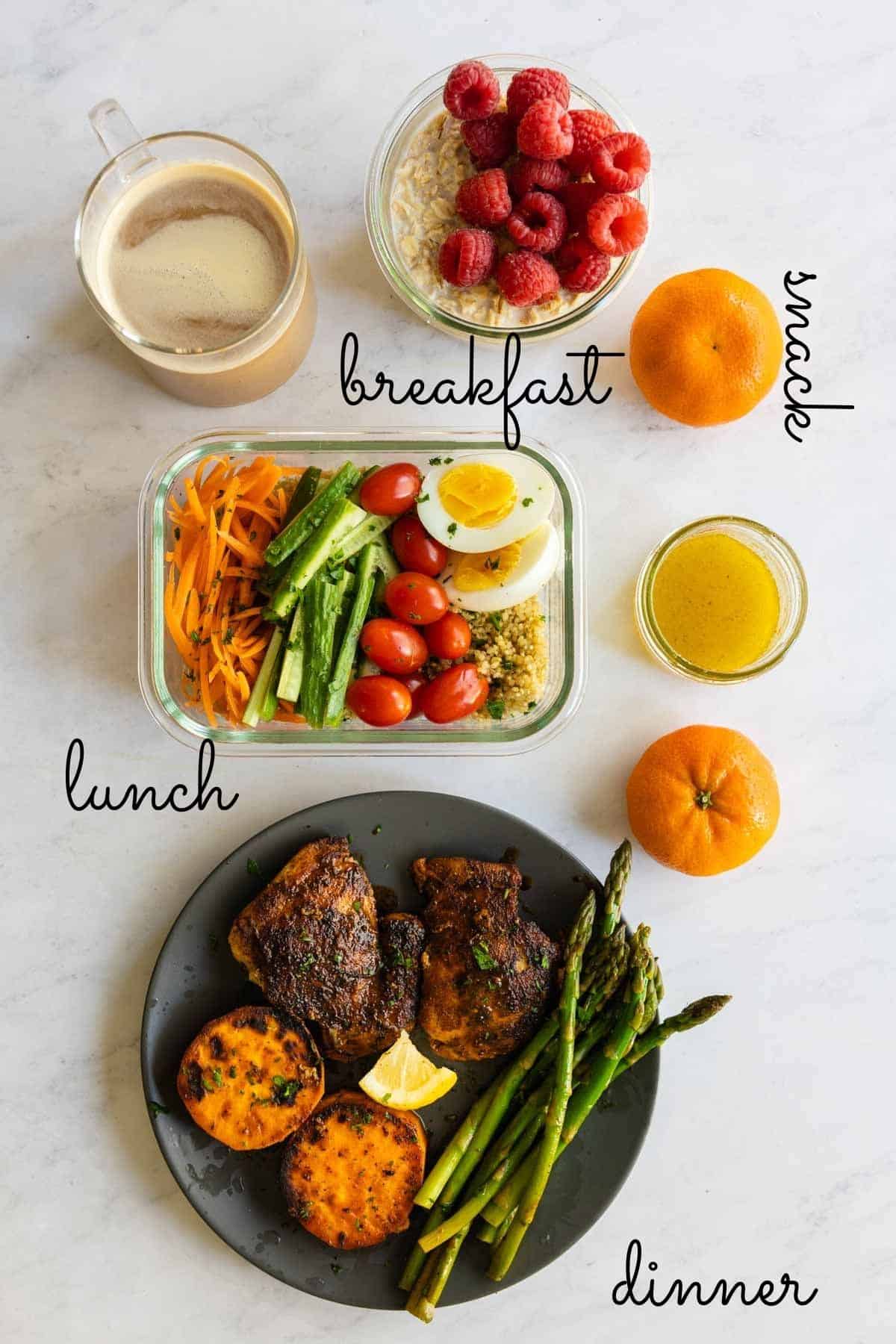 The old saying "we are what we eat" couldn't be more true. We don't want to be fast, cheap or fake, right? When you focus on preparing meals almost entirely from scratch, your body and mind will thank you.
My goal is to help you choose consistency over perfection when it comes to cooking. My Clean Eating Meal Plan is an amazing place to start. Meet all your nutritional needs in a delicious way and enjoy cooking!
How to start a Clean Eating Diet
1. Include a lot of healthy whole foods in your diet.
If you are currently on a diet full of highly processed foods containing large amounts of refined sugar and sodium, don't start by excluding anything in your diet, but rather by INCLUDING a lot of healthy whole foods.
Go to the grocery store and first fill your cart with all the things you want to include in your diet that will nourish your body.
Buy tons of vegetables, a lot of fruit, a reasonable amount of protein, and healthy carbohydrates. You will most likely reduce the amount of processed food in your cart by 80% simply because your cart is already full.
2. Meal Plan.
Meal planning is key for successful grocery shopping. You will not only buy the ingredients you need, avoid food waste AND save money! But you'll also spend way less time wandering around the aisles with the chance of grabbing some junk food.
Before going to the store, go with a plan. Write down the recipes for the days you want to plan ahead for and make a list of the ingredients.
Plan ahead your meals from breakfast to bedtime. Some people like to plan day by day and include their cravings for certain foods or deals of the day in the store. Others like to plan out the whole week. Do whatever works best for you, but write it down on a list and bring it to the store with you.
Buy all the things your clean eating meal plan calls for. Only then, when you have all of it in your cart, if you can't help it, then go down the junk food aisle.
3. Choose easy recipes.
Go for recipes that don't take longer than 30 minutes to prepare. Over time, you will feel more confident and might want to try more complicated recipes. But first, keep it simple. It will help you realize that cooking healthy meals from scratch is not a daunting task, and it will make it easier to continue eating healthy in the long run.
Cook ahead! Have your meals ready to eat or half prepped, ready to cook. How likely do you think you will grab a microwave dinner or go to a fast-food restaurant if you could have your delicious planned dinner instead?
Aim for only having healthy things ready to grab instead of unhealthy stuff, and you'll automatically improve your diet.
Exactly like my 6-Week Clean Eating Mastery Program. More about that at the bottom.
Recipes for One Day of Clean Eating For Beginners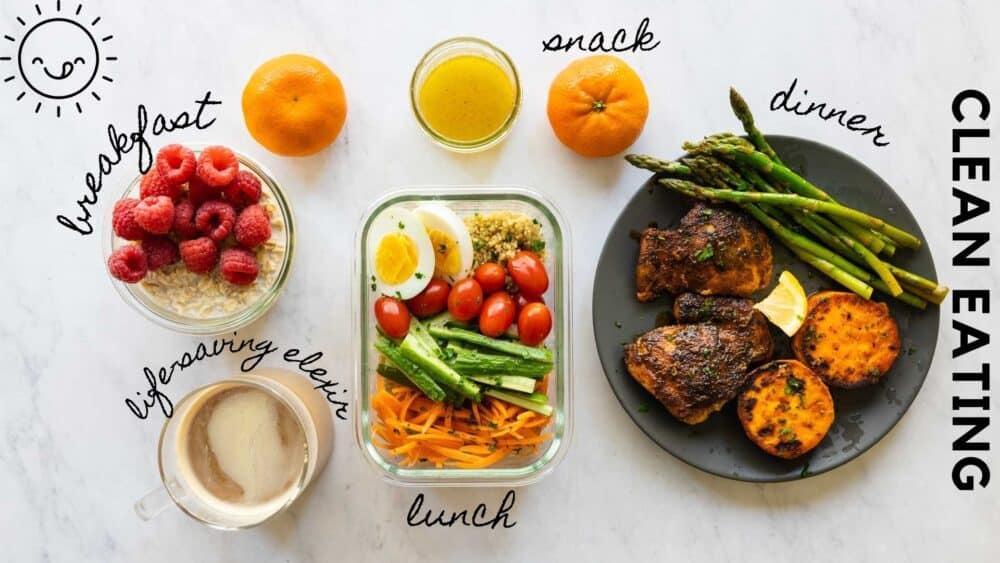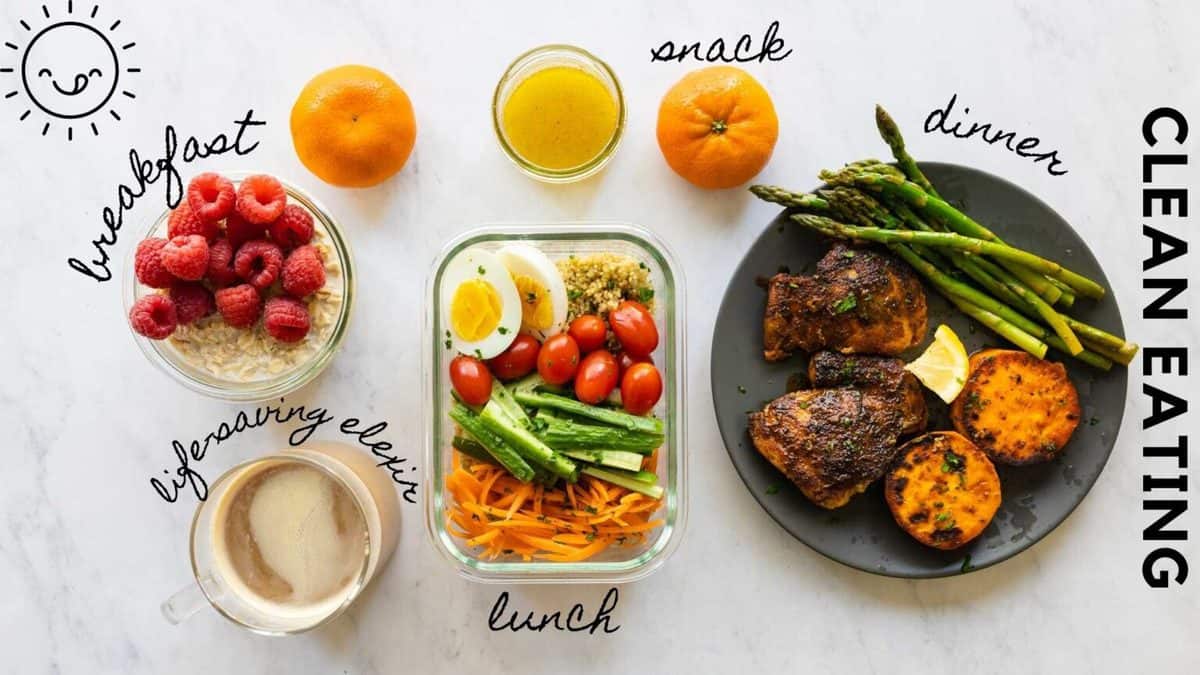 Breakfast: Overnight oats with berries and coffee with a splash of milk.
Lunch: Quinoa meal prep bowl with lemon dressing
Snack: clementines
Dinner: Chicken thighs with sweet potatoes and asparagus
How to Make:
Clean Eating Breakfast:
The simplest way to make a healthy wholesome breakfast is to take a minute the night before to prepare it.
1 . Add ¾ cups of old-fashioned rolled oats and ¾ cups of your favorite milk into an airtight container, mix with a spoon and place it in the fridge overnight. That's it!
2. The next morning, take it out of the fridge and top it with some berries and a drizzle of maple syrup. Enjoy!
Clean Eating Lunch:
If you work outside the home, you might want to prepare your lunch the night before. But even if you work from home, having lunch prepared and waiting in the fridge is always nice isn't it?
1. Add 1 cup of quinoa and 1 cup of water to the Instant Pot. That is the minimum necessary to get it to pressure. Then place a trivet into the pot as well and add 2 large fridge-cold eggs to it. Set the timer for just 1 minute on high pressure + full natural pressure release. I love that I can cook quinoa and hard-boiled eggs at the same time.
We will only need one egg for the lunch bowl, but since you're cooking double the amount of quinoa, you might as well add another egg and have everything ready for a second lunch bowl for another day.
2. While the quinoa is cooking, prepare an ice bath for the eggs and set it aside.
3. Prep your veggies. Get a Lebanese cucumber, a carrot, a handful of grape or cherry tomatoes, and a small handful of parsley. Peel the carrot and then julienne or grate it. Cut the ends of your cucumber and cut it into slices. Lastly, finely chop your parsley and set it aside.
4. Prep your dressing. In a sealable jar add the juice of half a lemon, 1 Tbsp of olive oil, sea salt, and pepper to taste. Shake until well combined and place it in the fridge.
5. By now your quinoa and eggs are probably ready. Remove the eggs immediately after the safety pin dropped. Add them to the ice bath to stop them from cooking further.
6. Assemble your quinoa lunch bowl. Add half of the cooked quinoa into a sealable container, then top it with the julienned carrot, sliced cucumber, grape tomatoes and the hard-boiled egg. Sprinkle some chopped parsley on top and seal it. Place it in the fridge overnight.
7. Pour the dressing over your lunch bowl only seconds before you're ready to eat it, and dive in!
Clean Eating Dinner:
Let's keep it simple but still super delicious!
1. Get two skinless boneless chicken thighs and season the heck out of them. Use ½ tsp paprika, ½ oregano, ¼ chili powder ½ tsp sea salt, and black pepper to taste.
2. Rub the spices well on both sides of the chicken and set them aside.
3. Get a small sweet potato, peel it, and cut it into ½ inches slices. Make sure they are not much thicker than that or they won't cook through.
4. Preheat a large pan over medium heat. Once it's really hot, add a splash of avocado oil then place the chicken thighs and the sweet potato slices into the sizzling oil. Sear brown for 5 minutes on one side, flip and sear for another 5 minutes on the other side.
5. Add a handful of green asparagus to the pan and a splash of water to deglaze the bottom. Cover the pan with a lid and reduce the heat to low. Steam for approximately 20 minutes or until sweet potato is tender.
6. Serve the chicken thighs, sweet potatoes and asparagus on a plate, and pour the delicious pan juices all over it. It's the best part!
How To Make Clean Eating Part Of Your Lifestyle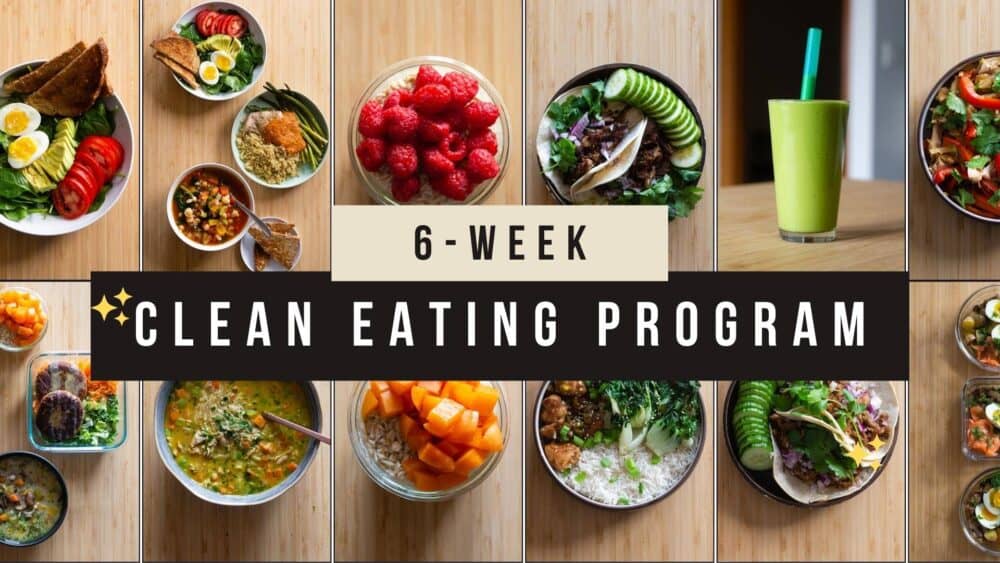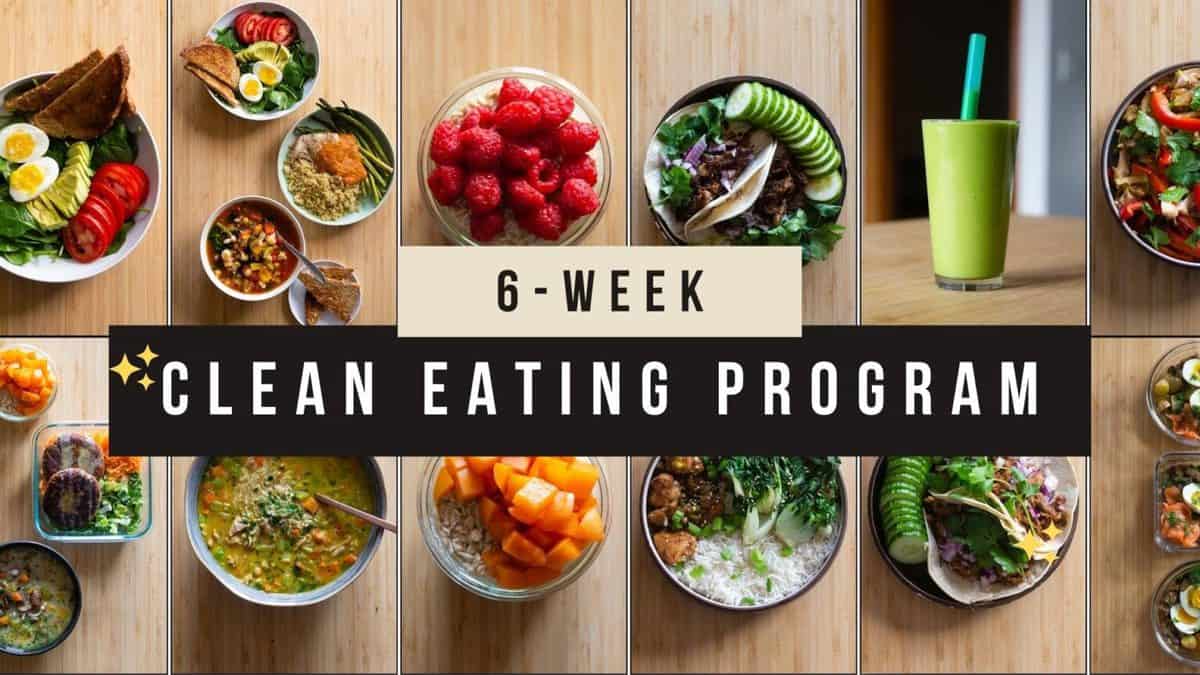 And there you have it! A full day of Clean Eating! Breakfast takes 1 minute to prepare the night before and another minute to top in the morning. Lunch takes 15-20 minutes to prepare, and dinner takes 40 minutes tops, of which 20 minutes require you to do nothing at all but wait.
Now, if this day sounds delicious to you and you want to make healthy clean eating a part of your lifestyle, the best way to change your eating habits is to commit to the change for at the very least 6 weeks, so it really sinks in and becomes part of your routine. You will find that later it will become an automatic daily decision. After 6 weeks of eating healthy, you feel amazing and can't imagine eating junk food or processed food on the regular ever again.
My 6-Week Clean Eating Mastery Program is a complete "done-for-you" solution. A macro-nutritionally balanced meal plan with grocery lists and recipes all in one place so all you have to do is follow the plan and not spend any time worrying if you're "doing it right".
If you are finally COMMITED to turning your life around, then start TODAY!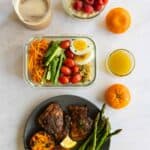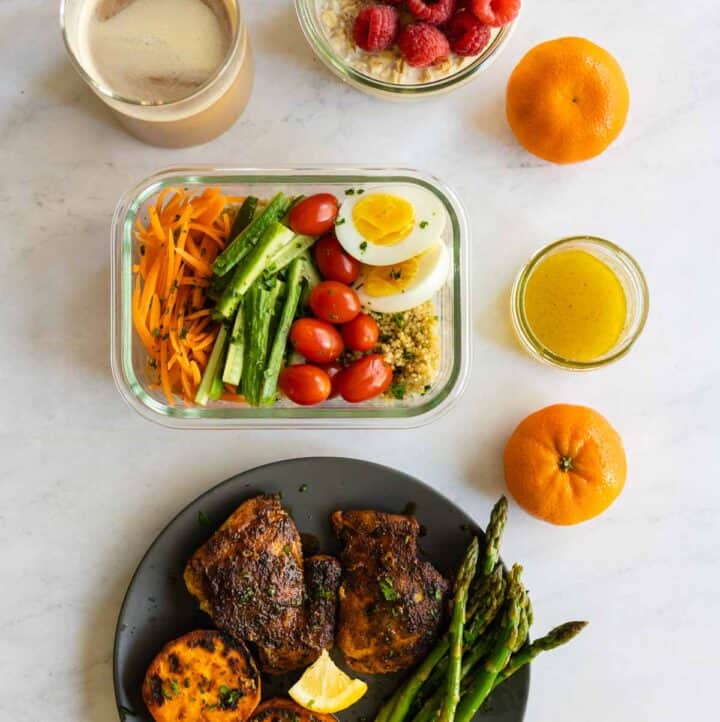 Clean Eating For Beginners
Clean Eating does NOT have to be complicated. Simple whole food recipes with everyday ingredients available at any grocery store, and no more than 1 hour of standing in the kitchen for the whole day.
Print Recipe
Pin Recipe
Ingredients
3/4

cup

old-fashioned rolled oats

3/4

cup

milk of choice

1/2

cup

raspberries

-

or any other type of berries

1

Tbsp

maple syrup

1

cup

quinoa

2

eggs

1

carrot

1

Lebanese cucumber

1/2

cup

grape tomatoes

1

Tbsp

chopped parsley

1/2

lemon

1

Tbsp

olive oil

2

boneless skinless chicken thighs

1

small sweet potato

10

asparagus

2

tsp

avocado oil

1/2

tsp

paprika

1/2

tsp

oregano

1/4

tsp

chili powder

sea salt

pepper

1

cup

coffee with splash of milk

2

clementines
Instructions
Breakfast: Add oats and milk to a sealable container, place in fridge overnight, top with berries and maple syrup the next morning.

Lunch: Cook quinoa and eggs, add half of quinoa and one egg to sealable lunch container, top with julienned carrot, sliced cucumber, and tomatoes. Add lemon juice, olive oil, sea salt and pepper to a sealable jar and shake to combine. Add dressing on lunch bowl minutes before eating.

Dinner: Season chicken thighs with spices, sea salt, and pepper. Peel and thinly slice sweet potato. Preheat a large pan over medium heat, then brown chicken and sweet potato in a little oil for 5 minutes per side, then add a splash of water to the pan to deglaze it. Add the asparagus to the pan, cover it, and let everything steam on low for 20 minutes or until the sweet potato is tender.
Nutrition
Calories:
1630
kcal
|
Carbohydrates:
216
g
|
Protein:
85
g
|
Fat:
52
g
|
Saturated Fat:
9
g
|
Polyunsaturated Fat:
12
g
|
Monounsaturated Fat:
26
g
|
Trans Fat:
1
g
|
Cholesterol:
384
mg
|
Sodium:
737
mg
|
Potassium:
3829
mg
|
Fiber:
36
g
|
Sugar:
56
g
|
Vitamin A:
45826
IU
|
Vitamin C:
159
mg
|
Calcium:
712
mg
|
Iron:
17
mg
What's your clean eating vibe?
Take this fun QUIZZ and find out in 10 seconds!