Full instructions on how to make Chia Seed Pudding 3 ways. Chocolate chia seed pudding, chia seed pudding recipe with coconut milk and with almond milk. Easy ways to make it vegan, keto and paleo!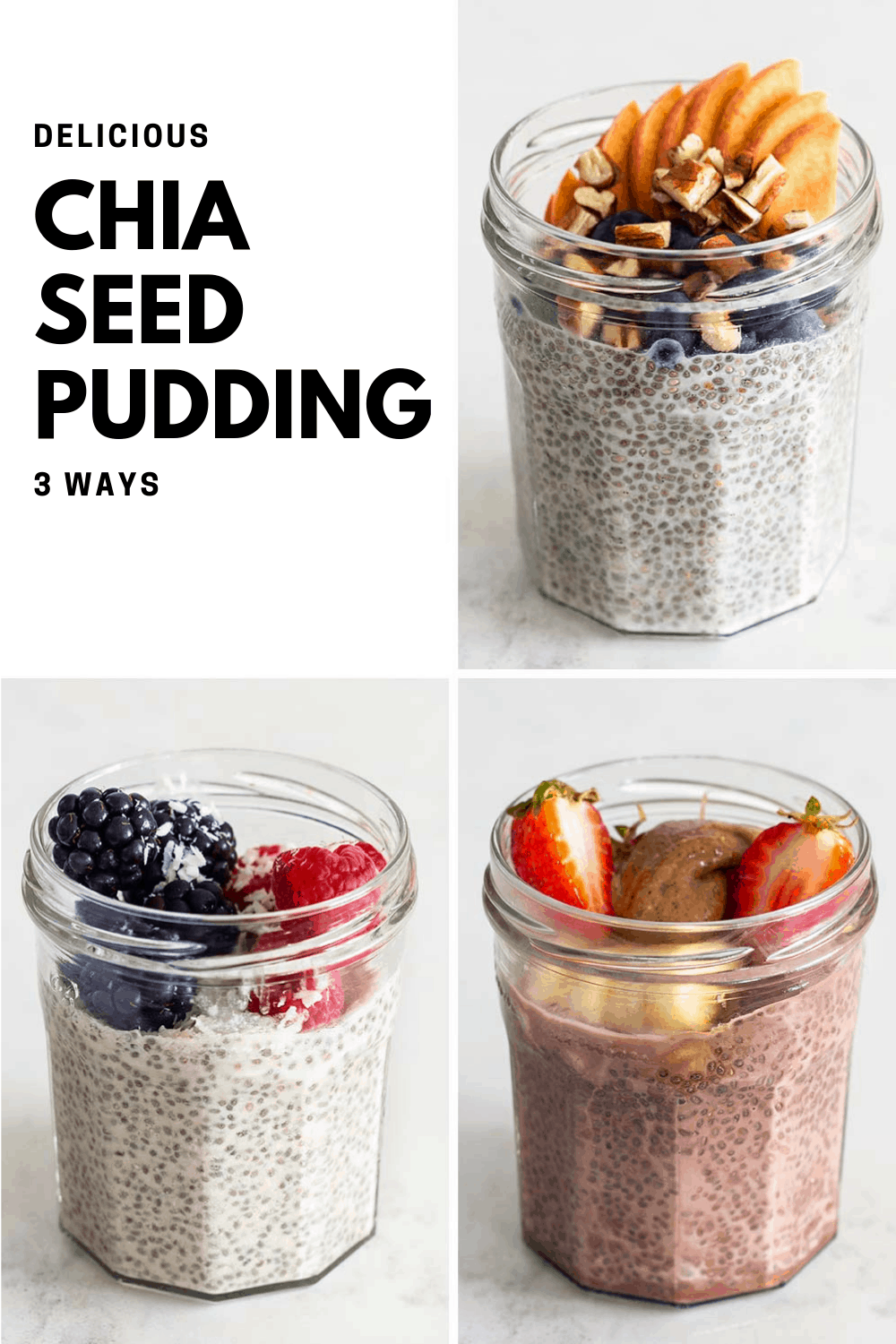 Can we just start by admiring how AWESOME these little seeds are? Chia seeds are a super most nutrient-dense foods!
A super food so to speak even though I don't like to call them that because all real food is super and all are equally important.
Still, chia seeds are simply one of a kind. The seeds are rich in omega-3 fatty acids, calcium, iron and magnesium and have a super high fiber content. So if you are amongst the unfortunate that need a little extra help with digestion, start having chia seed pudding once a day and say goodbye to any toilet issues.
The pudding is amazing for breakfast, snack or dessert! So you can easily incorporate it into your daily diet.
How to Make Chia Pudding
The base recipe is 3 tablespoons of chia seeds to 1 cup of liquid. And with liquid I mean ANY liquid really. Chia seed pudding can be made with juice, milk or even simply water.
My favorite is using milk because it makes the pudding super creamy. Full fat coconut milk chia pudding for example is incredibly creamy (see video).
Regular cow's milk works great for a protein-rich version of chia seed pudding.
Almond milk is perfect for the dairy-intolerant or people on the paleo diet.
Full fat coconut milk is high carb and very filling so it's great for people on the vegan diet.
Cream is a great liquid for people on the keto diet.
As you can see, chia seed pudding fits just about any diet, especially a clean healthy diet overall.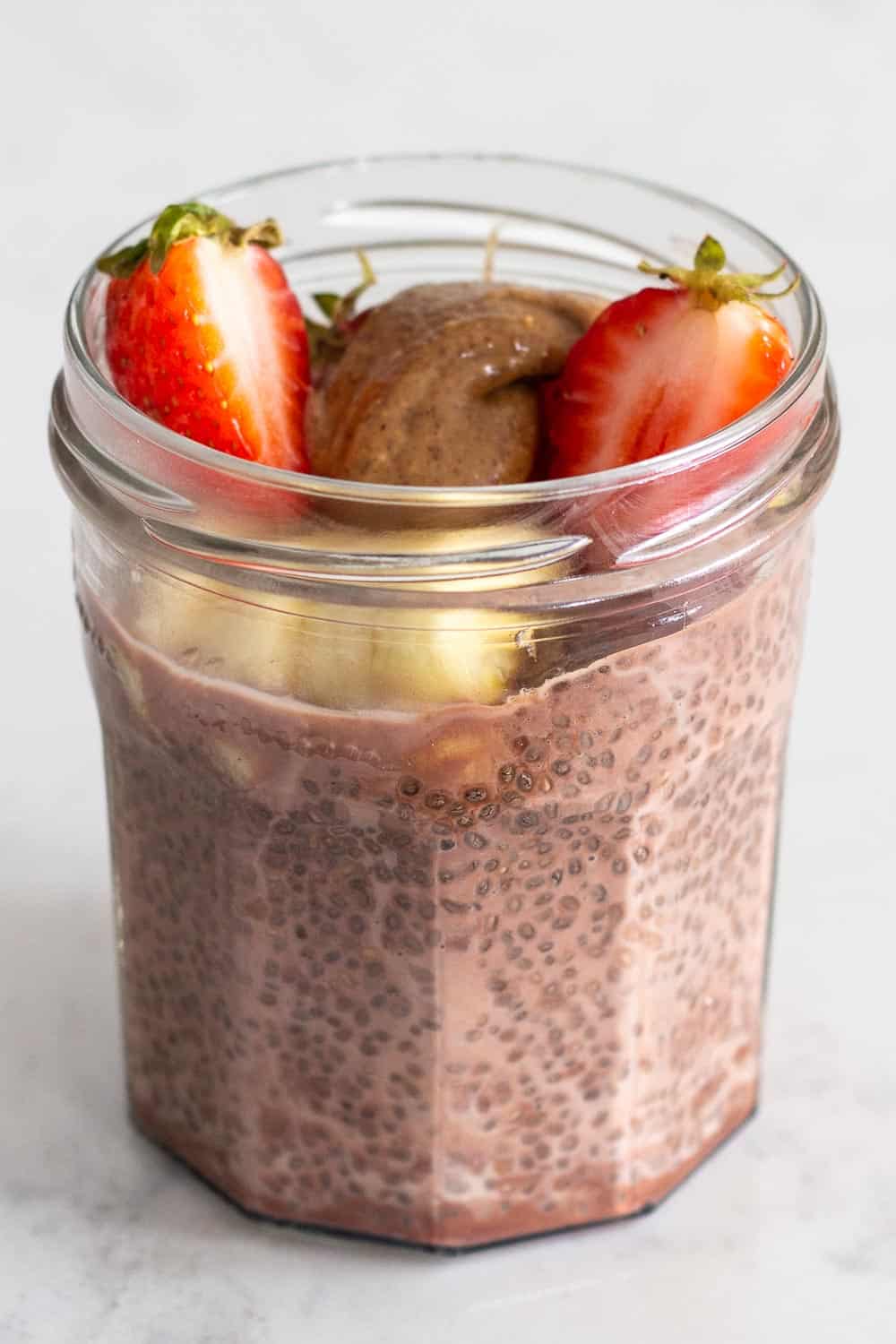 Chocolate Chia Seed Pudding
For chocolate chia seed pudding I recommend dissolving cocoa in boiling water. Undissolved cocoa form little lumps of cocoa and in my opinion that's not as yummy.
Use a tablespoon of cocoa and dissolve it in 2 tablespoons of boiling water from the kettle and stir until smooth.
Then go ahead and prepare your base pudding recipe by adding your chia seeds, the chocolate cream and milk of choice to a sealable container. Voilà your chocolate chia seed pudding is ready to rest in the fridge until pudding-like consistency.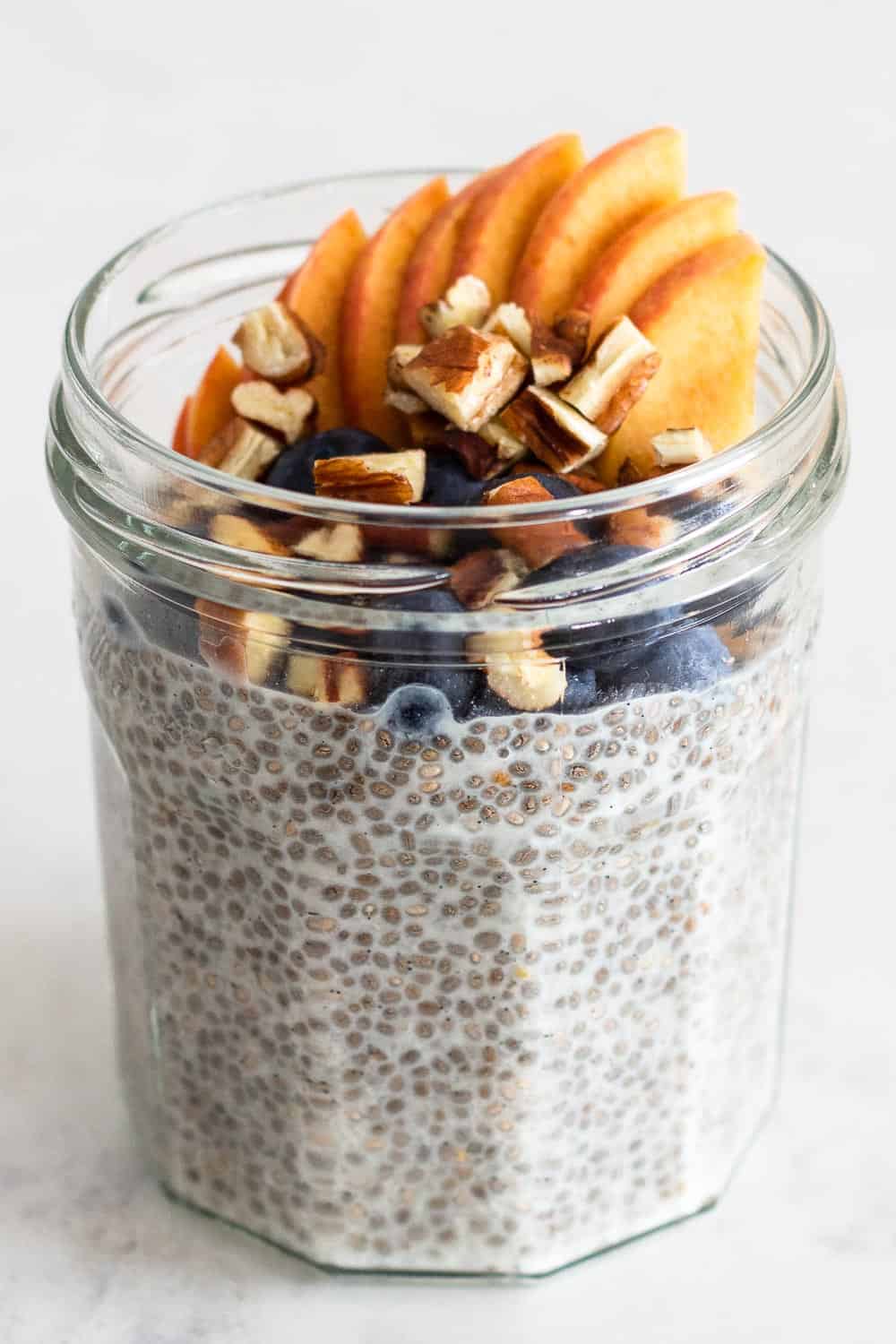 Chia Seed Pudding Recipe with Almond Milk
Chia seed pudding with almond milk is amazingly tasteless so you can add all kinds of subtle flavors such as vanilla extract. I love using almond milk for vanilla-flavored chia pudding.
Natural vanilla isn't very strong so it's hard to taste it when there is other dominant flavors accompanying it.
Since almond milk isn't as creamy as cow's milk or coconut milk I recommend adding another 1/2 tablespoon of chia seeds OR some almond butter right into the mix.
I don't mind it being a little more liquid though and just make the regular basic chia seed pudding recipe with it.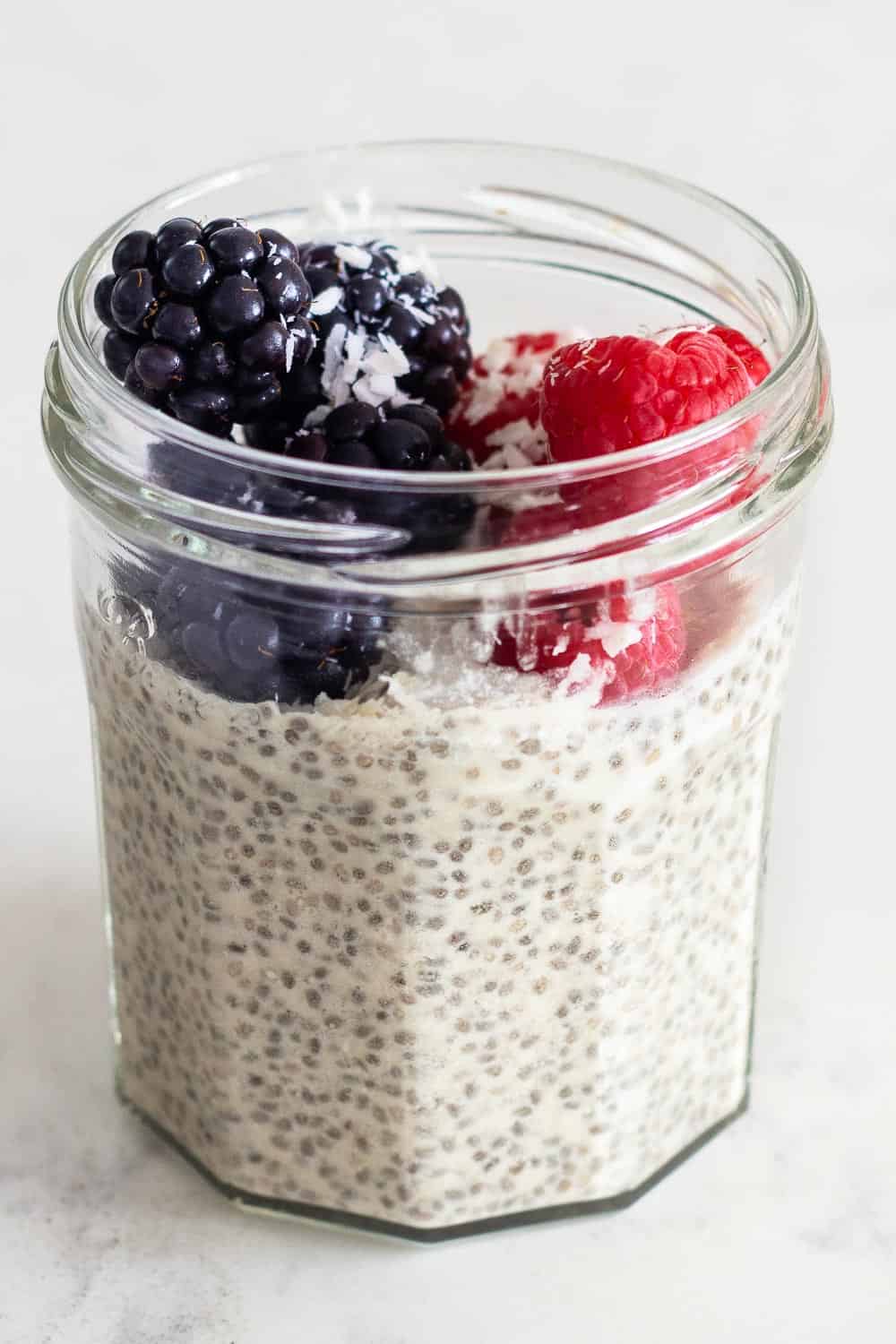 Chia Seed Pudding Recipe with Coconut Milk
Full-fat canned coconut milk is by FAR my favorite liquid to use for chia pudding. It gives the creamiest texture of all liquids.
It is on the calorie-richer side though of course so definitely better as breakfast than as snack or dessert, or maybe share a jar with someone for dessert…….if you can, lol.
Using coconut milk makes it taste VERY coconutty though, no matter what spices you add in. Even dark chocolate can't overpower the coconut flavor. I recommend you only use this milk if you loooove coconut.
If you're looking for a high-fat but low-carb liquid for your keto diet for example, use dairy cream and you'll get the same consistency with less carbs.
How long does chia seed pudding last
That's a tricky question and the answer is 2-7 days continuously stored in the fridge.
It depends mostly on what kind of liquid you use and its expiration date. I've noticed that coconut milk chia seed pudding lasts the longest without smelling funky. I've tested all the way to 7 days and it smelled and tasted great.
Always go by what you feel most comfortable with though. I don't think there is an FDA approved "best before" date for home made chia seed pudding.
Cow's milk chia seed pudding often smells weird after only 3 days. I never make more than 2 containers worth when using cow's milk for example. Will however make 5 or more when using coconut milk.
Always give it a little sniff before diving in. You'll immediately be able to tell that it's gone bad. It smells different.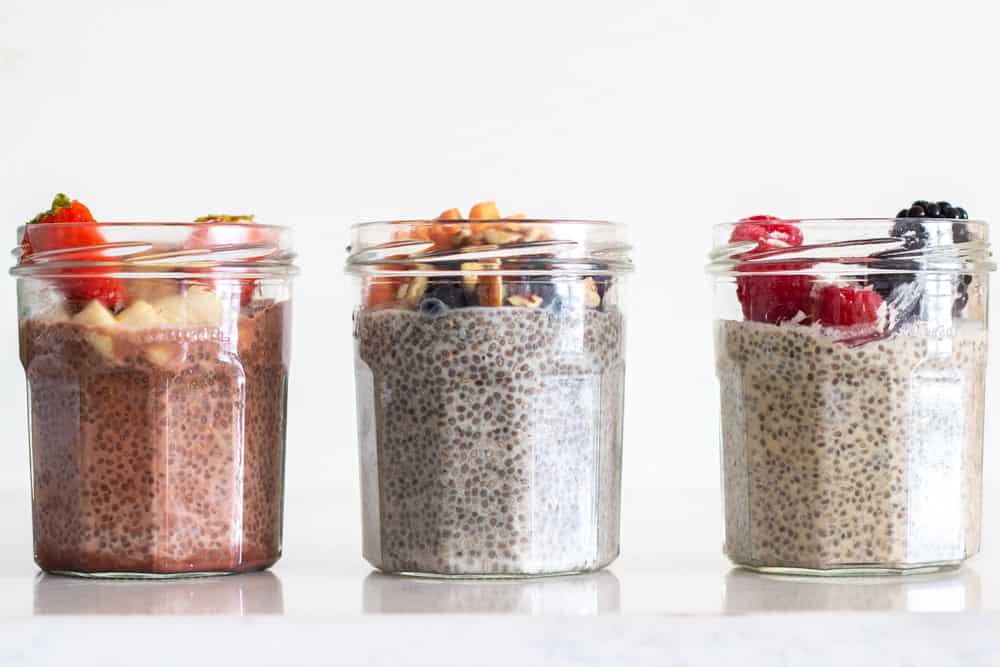 To Blend or Not to Blend Chocolate Chia Seed Pudding
I've seen recipes that call for blending the chocolate chia seed pudding ingredients in a high-speed blender before letting them sit and expand in their container in the fridge. Basically as a way to "hide" the seeds.
I tried this method and didn't like it AT ALL.
Not only do a lot of chia seeds stay stuck to your blender but the pudding gets a really weird gum consistency. I don't even know how to describe it but maybe like the glue that we used to make with grandma out of flour and salt and water? GROSS!
In my opinion, the unblended chia seed pudding recipe has a muuuch better consistency, so just save yourself the mess and work and enjoy it that way.
How Long Does it Take Chia Seeds to Expand
It takes a mere 10 minutes for chia seeds to start expanding and release their gum. However, the chia pudding consistency shown in the photos and videos doesn't happen until several hours resting time.
The longer you leave the seeds to rest, the less liquid the consistency is. I've noticed that after 6-8 hours they will basically stop expanding. The consistency won't change much from then on.
If the pudding is still liquid after 6-8 hours in the fridge too little chia seeds or too much liquid was used in the recipe.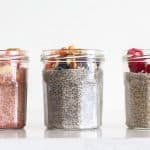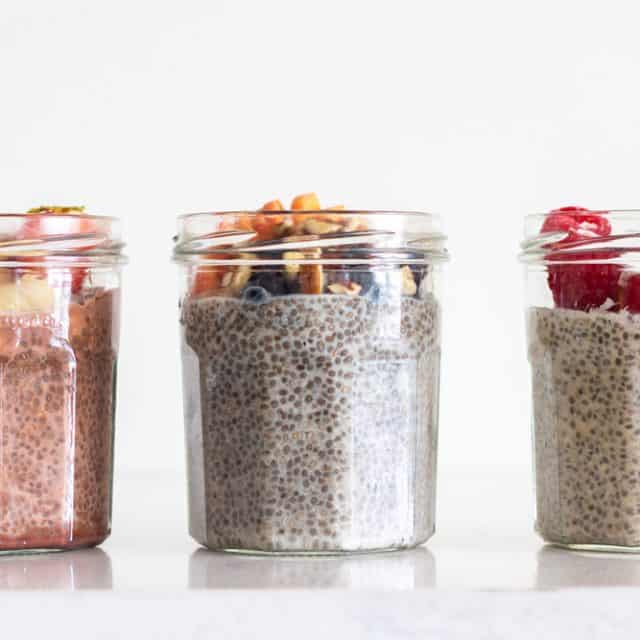 Chia Seed Pudding
Full instructions on how to make Chia Seed Pudding 3 ways. Chocolate chia seed pudding, chia seed pudding recipe with coconut milk and with almond milk. Easy ways to make it vegan, keto and paleo!
Print Recipe
Ingredients
3

Tbsp

chia seeds

1

cup

liquid

-

water, juice, milk (plant of dairy)

1

Tbsp

sweetener

-

optional (honey, maple syrup, sugar, etc.)
Instructions
Add 3 Tablespoon to a sealable container, add about 1 Tablespoon of sweetener of choice, top it with 1 cup of liquid of choice.

Seal container and shake vigorously.

Store in refrigerator for 6-8 hours until pudding-like consistency.

Store for 2-7 days in the refrigerator.
Notes
Nutritional info for 3 Tbsp chia seeds, 1 cup almond milk, 1 Tbsp honey.
Nutrition
Calories:
273
kcal
|
Carbohydrates:
33
g
|
Protein:
7
g
|
Fat:
14
g
|
Saturated Fat:
1
g
|
Sodium:
331
mg
|
Potassium:
146
mg
|
Fiber:
13
g
|
Sugar:
17
g
|
Calcium:
527
mg
|
Iron:
2.8
mg
What's your clean eating vibe?
Take this fun QUIZZ and find out in 10 seconds!