This 2-Ingredient Quinoa Crust is both a naturally gluten free pie crust and a naturally vegan pie crust. It serves amazing as quiche crust and if made flat even as quinoa pizza crust.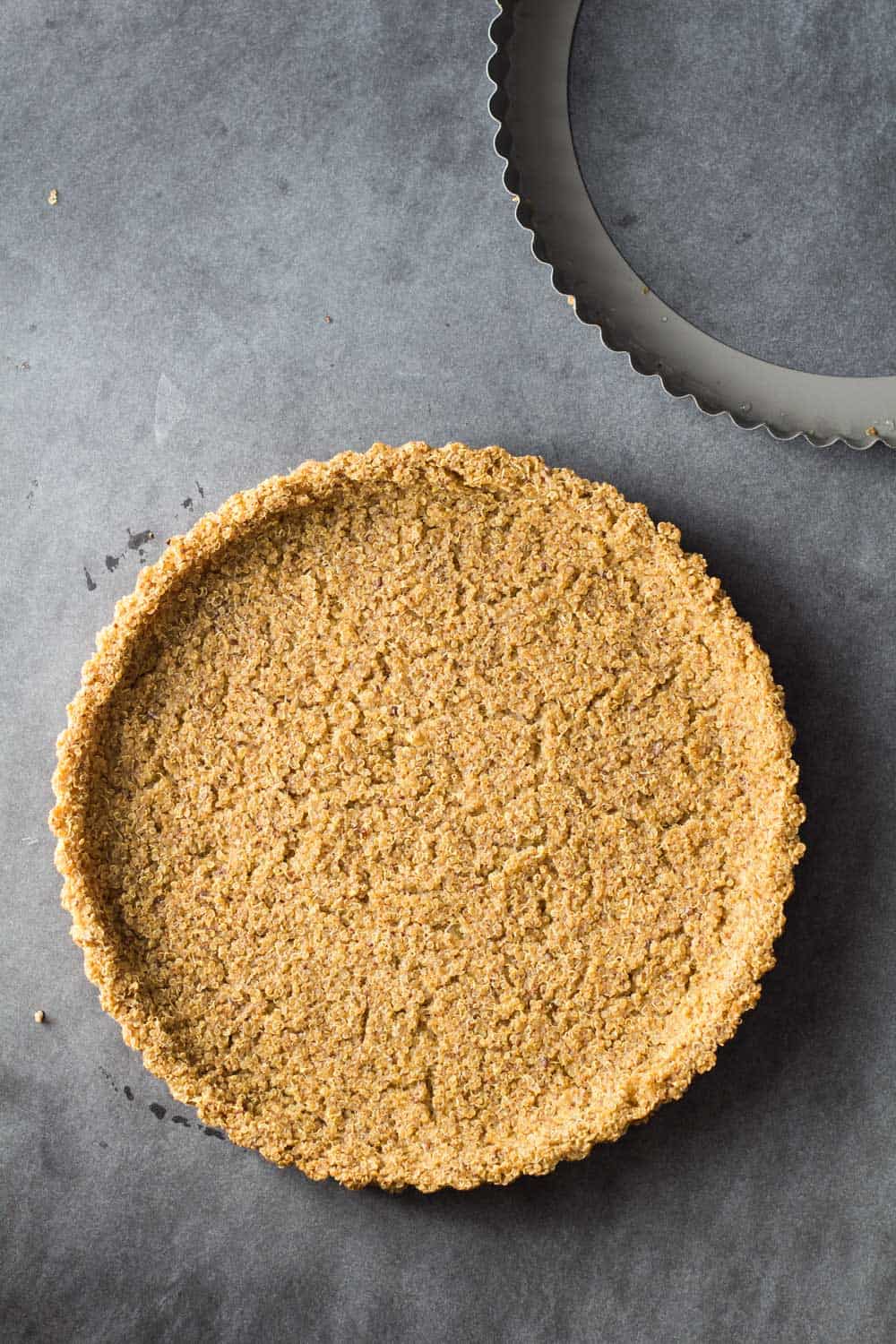 I am SO proud of this recipe! SO SO SO proud! I mean 2-Ingredient Quinoa Crust, the title says it all. It screams amazingness!!!
Ok, so, usually a gluten free pie crust has an ingredient list that makes you dizzy. In order to get the crust to resemble a regular wheat flour butter crust one has to work with several different gluten-free flours and/or all kinds of sticky stuff that isn't egg or butter.
In case you haven't noticed, all my gluten-free recipes are always recipes that do not try to imitate anything other than what they are. Gluten-free recipes should be naturally gluten-free in my opinion. Without trying to resemble anything other than what they are. That way they aren't compared to anything else and just enjoyed without thinking something is missing.
Was this too confusing? I mean, I don't like all those gluten-free "tastes like flour" sponge cakes that don't taste like the real thing AT ALL and are almost always made of 10 million different flours to get a semi similar consistency to wheat flour.
Enough of the rants. Let's get started!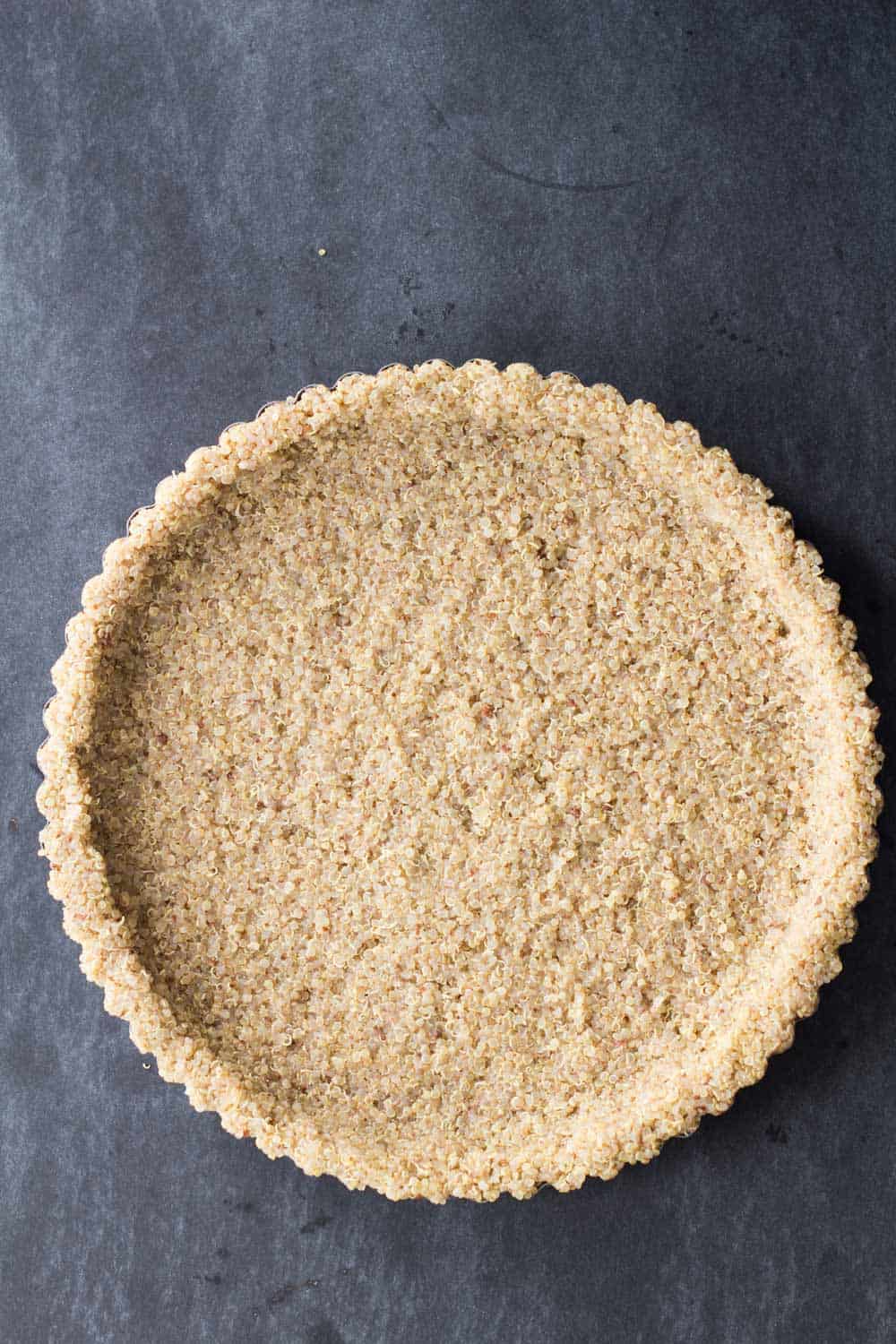 A Quinoa Crust that Serves as Gluten Free Pie Crust and Quiche Crust And Pizza Crust
Yes, you can use this crust for savory quiches or sweet pies and even pizza crust. It's super versatile. Quinoa has somewhat of a nutty flavor and tastes amazing both salty and sweet.
The first time I made it, I did have in mind that I wanted to make a vegan quiche. However, I didn't want to experiment with brown rice flour, tapioca starch, egg replacer stuff, some sort of oil to replace butter and what not. I wanted something simple that tastes good and if possible boosts the quiche's nutrition even further. The crust being gluten-free was simply a nice "side effect" :)
I figured, if the crust didn't stick together as planned, and fell totally apart after baking, I could simply eat as a side. Right?
It did however hold its shape amazingly! Which is why I'm here today to share the recipe for the naturally gluten free crust itself. It deserves a whole blog post and recipe card.
I still have to experiment with it and use as gluten-free pie crust as in "sweet pie". You can read in comments though that others have already had success with it. Add a little honey or maple syrup to the crust to make it sweet.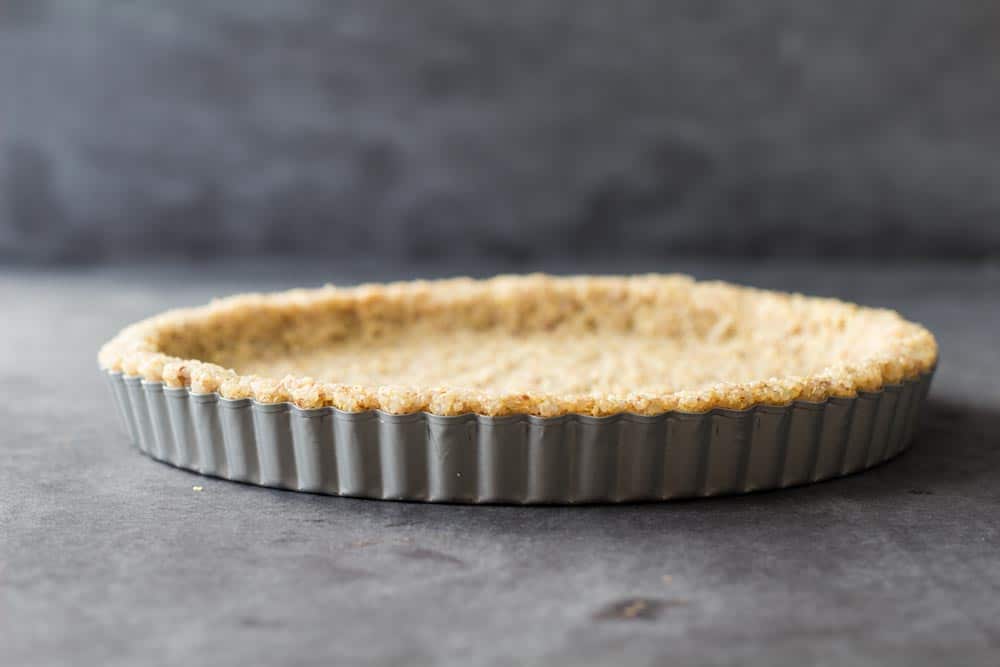 Naturally Vegan and Gluten Free Pie Crust or Quiche Crust
Quinoa is vegan, flax seed is vegan and water is vegan. Which makes this a naturally vegan pie crust or quiche crust in the most simple way that can be.
Ever heard of a 2-ingredient quinoa crust (3-ingredient if you count water) before? Ya, me neither. That's why I had to invent it, hehe.
No egg needed to make it sticky, the quinoa itself mixed with the gooey sticky ground flax form the 'dough' into a beautiful crust. I mean look at this: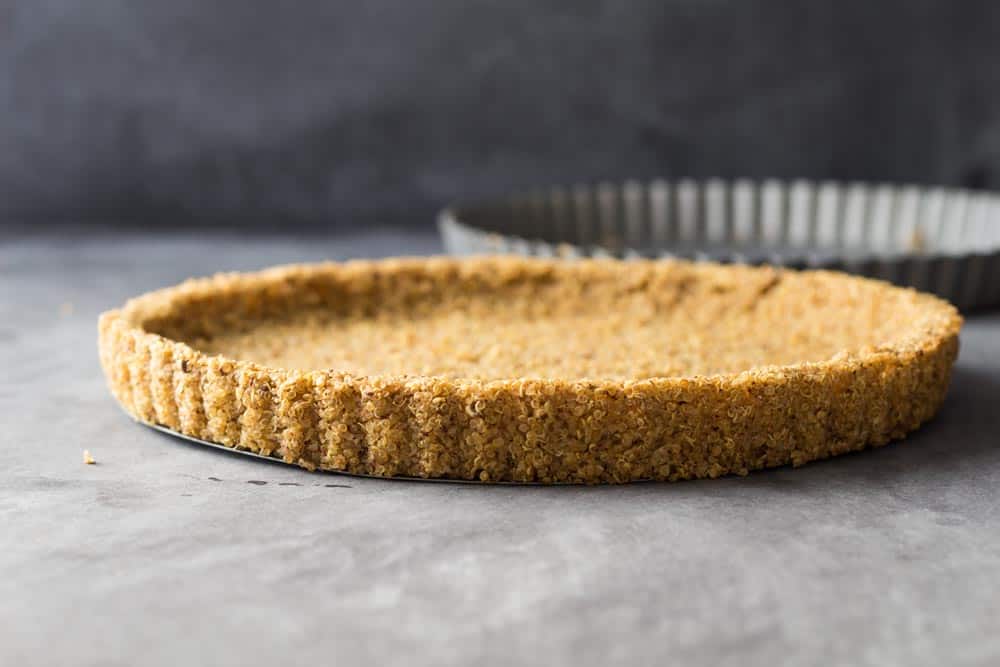 2-Ingredient Quinoa Crust Also Good as Quinoa Pizza Crust?
Absolutely! It didn't occur to me until I made the crust alone without a quiche filling. But look at the picture. Think away the border and you've got a wonderful quinoa pizza crust.
I can totally imagine putting some delicious homemade tomato pizza sauce on this quinoa crust, top it with some delicious sliced fresh mozzarella and fire roasted veggies. *pure bliss*
I've never been a big pizza fan but I might just have converted into one with the pure thought of quinoa crust pizza.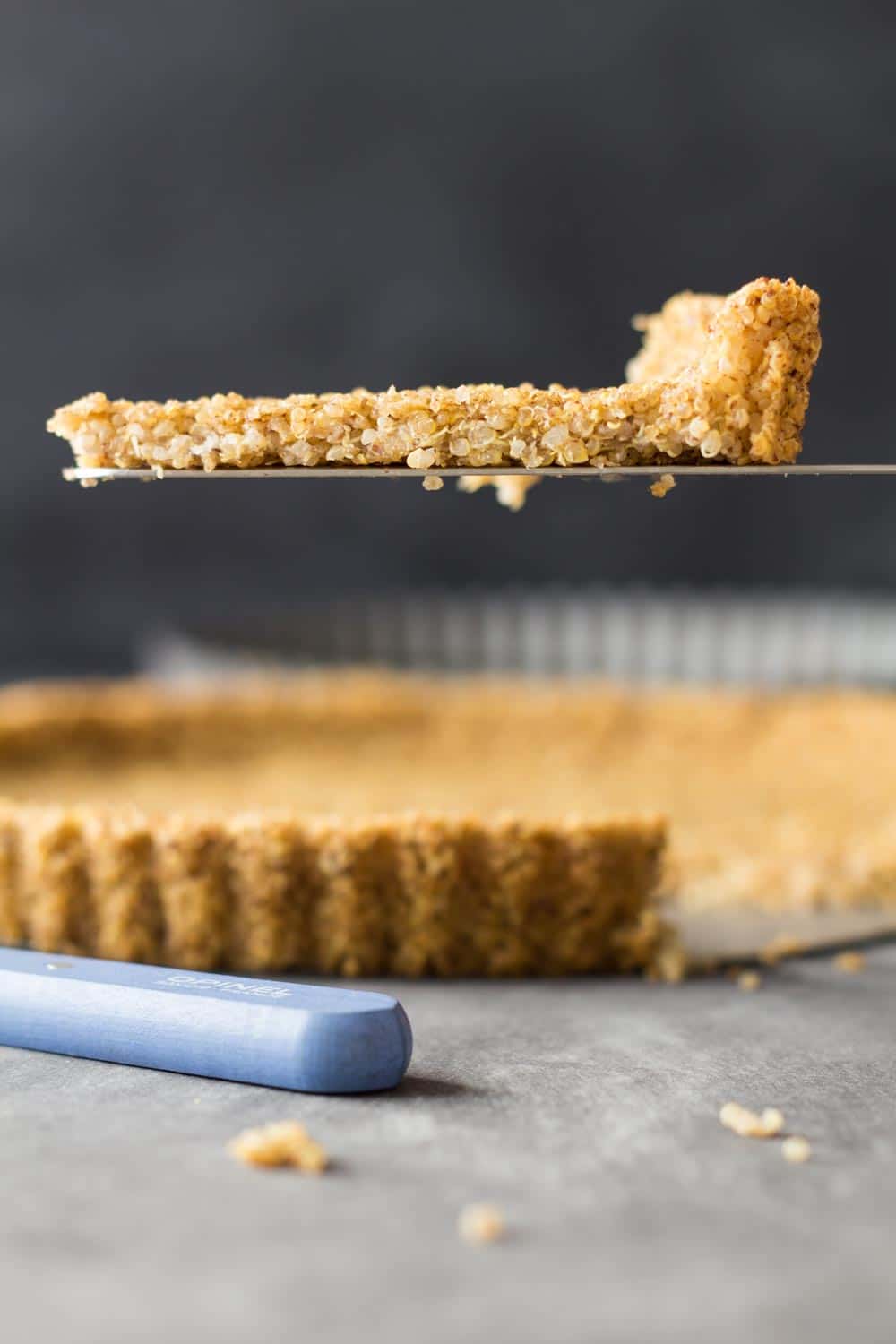 Gluten Free Pie Crust Video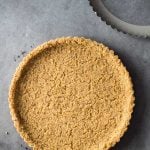 2-Ingredient Quinoa Crust
This 2-Ingredient Quinoa Crust is both a naturally gluten free pie crust and a naturally vegan pie crust. It serves amazing as quiche crust and if made flat even as quinoa pizza crust.
Print Recipe
Ingredients
1

cup

quinoa

-

(170g)

1.5

cups

water

-

(350ml, or vegetable stock if making something salty)

2

Tbsp

flax seeds

2

Tbsp

water

-

(possibly more water)
Instructions
Grind flax seeds in a small coffee grinder and mix flax meal with 2 Tbsp water in a small bowl. Set aside.

Cook quinoa in water as you would rice. Add 1 cup quinoa and 1.5 cups water into pot, bring to the boil, stir well, cover and immediately reduce heat to simmer. Simmer for about 10 minutes or until water is completely absorbed.

Remove from heat and fluff with a spoon to prevent from sticking to bottom of pot and quickly cover again to keep in steam.

Preheat oven to 400 F (200ºC).

Let quinoa cool down enough to be able to work with it with your hands.

Once quinoa is touchable, add flax meal mush to it and knead together with your hands until the flax seed is thoroughly mixed into the quinoa and everything forms kind of a dough.

If the quinoa falls apart into its individual little seeds, add a little more water (1 Tbsp at a time) to make it stickier.

The dough may kind of fall apart but in big chunks, not the individual seeds.

Put dough in a lightly greased (especially the sides) 9" (24cm) separable tart pan and press into the pan with your fingers until bottom and sides are covered up to the edge.

Place in the oven and bake for 25-30 minutes or until golden.

This crust serves for both sweet dessert tarts or pies or savory quiche-like tarts or pies.
Nutrition
Calories:
732
kcal
|
Carbohydrates:
114
g
|
Protein:
27
g
|
Fat:
18
g
|
Saturated Fat:
1
g
|
Sodium:
34
mg
|
Potassium:
1119
mg
|
Fiber:
17
g
|
Calcium:
142
mg
|
Iron:
8.9
mg
What's your clean eating vibe?
Take this fun QUIZZ and find out in 10 seconds!