This super flavorful Avocado Egg Salad is made with super simple ingredients. All the nutritious goodness of an avocado mixed with hard-boiled eggs, crunchy asparagus and fragrant dill. Perfect busy weeknight dinner or potluck contribution.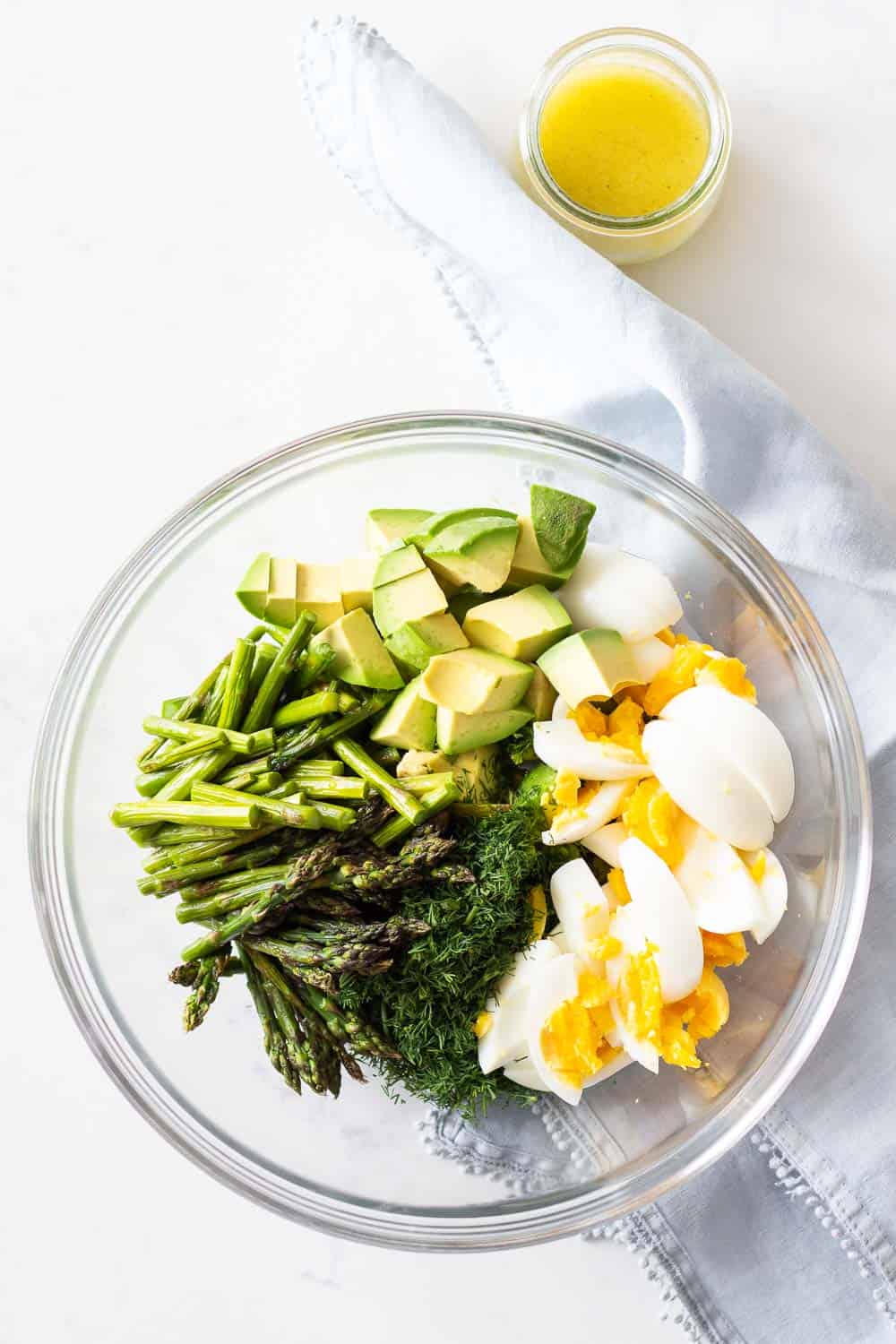 In case you've missed the start of my avocado salad series, check out the most delicious Avocado Chicken Salad on the blog and also the just as delicious Avocado Tuna Salad.
Avocados are probably my favorite fruit ever!! They are so versatile, super creamy and absolutely delicious. Did you also know they are super nutrient dense? They have all those healthy fats nutritionists keep talking about.
"Eat healthy fats"…..but what does that even mean? Most mean avocados and nuts and seeds and salmon and stuff like that. Eat any of those and you're good by the books of most nutritionists. No problem at all for me. I could eat avocado pretty much every single day.
How to Make Avocado Egg Salad
There is obviously a million and one recipes out there but this one is special because we're adding asparagus, which makes it extra healthy.
For me, a salad without veggies isn't really that much of a salad. I experimented with all kinds of vegetables an lettuces and by far the most delicious combo was asparagus!
Eggs and asparagus are meant to be together. So all you have to do for this Avocado Egg Salad is boil some eggs, roast some asparagus, find a fairly ripe but not mushy avocado, cut up everything into bite sized pieces, add dill, olive oil, lemon juice, sea salt and pepper. Tadaaaaa, that's all there is to it.
It takes a mere 15 minutes to have the salad on the table. The perfect quick weekday dinner!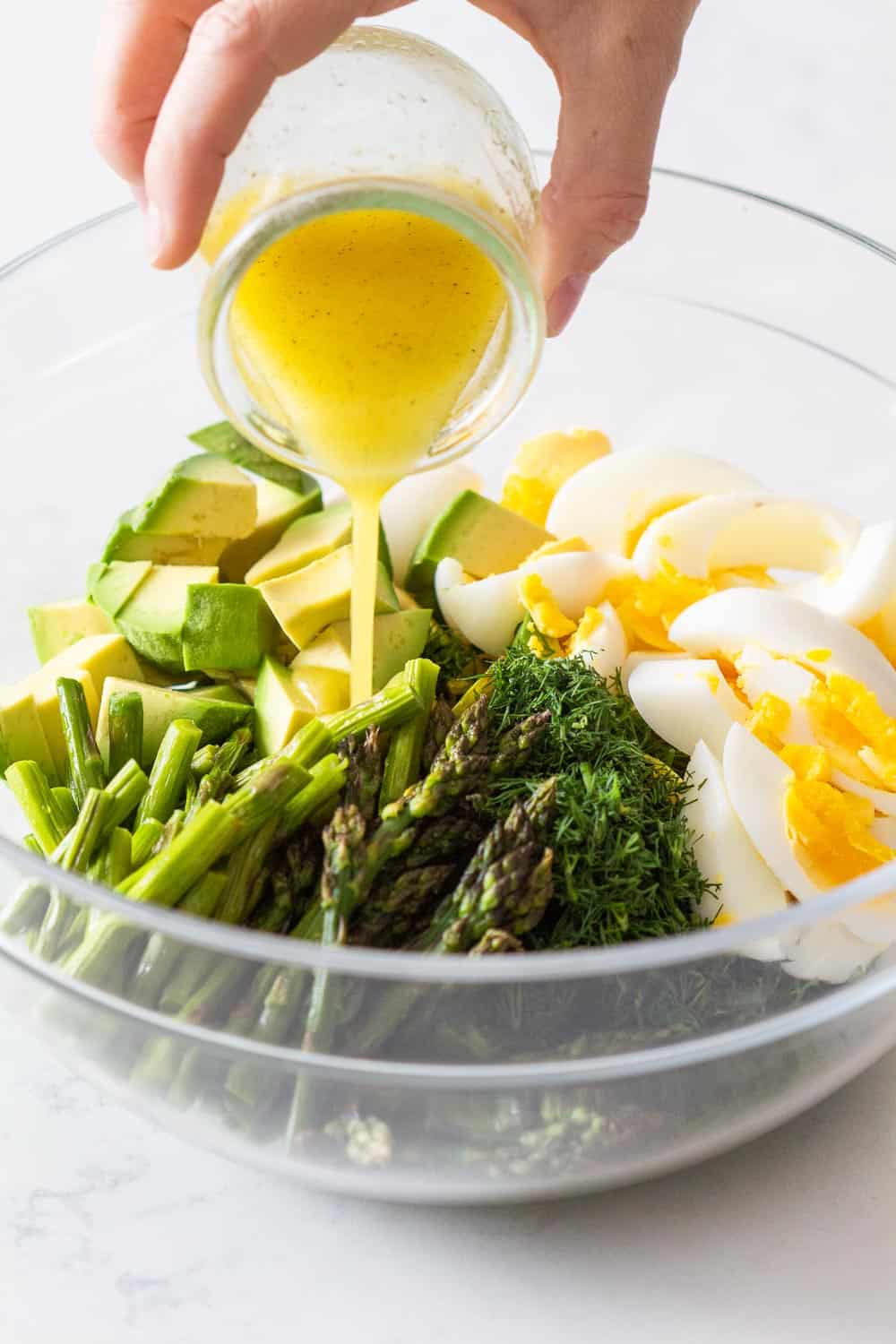 How Long Does Avocado And Egg Salad Last?
I've experimented with leaving the avocado and egg salad at room temperature for over an hour and the avocado was only starting to brown and was still totally delicious.
The CDC does not recommend leaving hard-boiled eggs at room temperature for more than 2 hours. So make sure you store leftovers in the fridge as soon as possible.
The best way to store Avocado and Egg Salad is in an air-tight container WITH the dressing smothered all over. Most salads (especially when containing lettuce) last longer when the dressing is kept separate.
When it comes to cut up avocado it's better to store with dressing all over though. The acid from lemons or vinegar keep the avocado from browning. In the fridge this salad will be fine for about a day.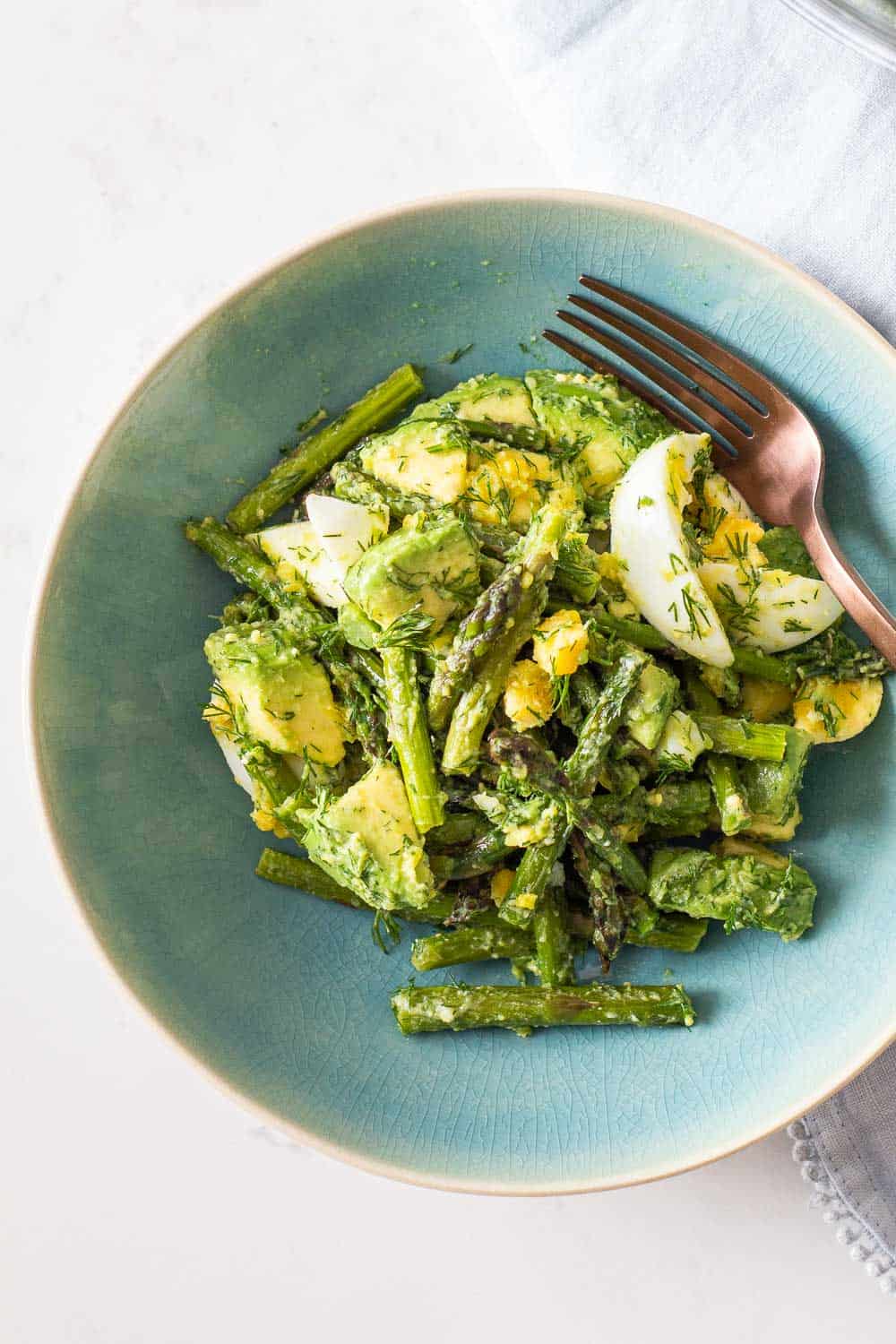 Does Egg Salad with Avocado Turn Brown?
YES! Unfortunately. No matter how well and fast you store your egg salad with avocado, it will definitely brown.
Now, the faster you store it in an air-tight container and in the fridge, the slower the process will be. I find that if I store avocado in acidic dressing it's still pretty good 24 hours later.
It's also important to note that if avocado browns a little it's not the end of the world and definitely no reason to through out your entire salad. It still tastes great. It's not until it's completely brown and mushy that it gets gross to eat. That usually doesn't happen until day 2 after preparing.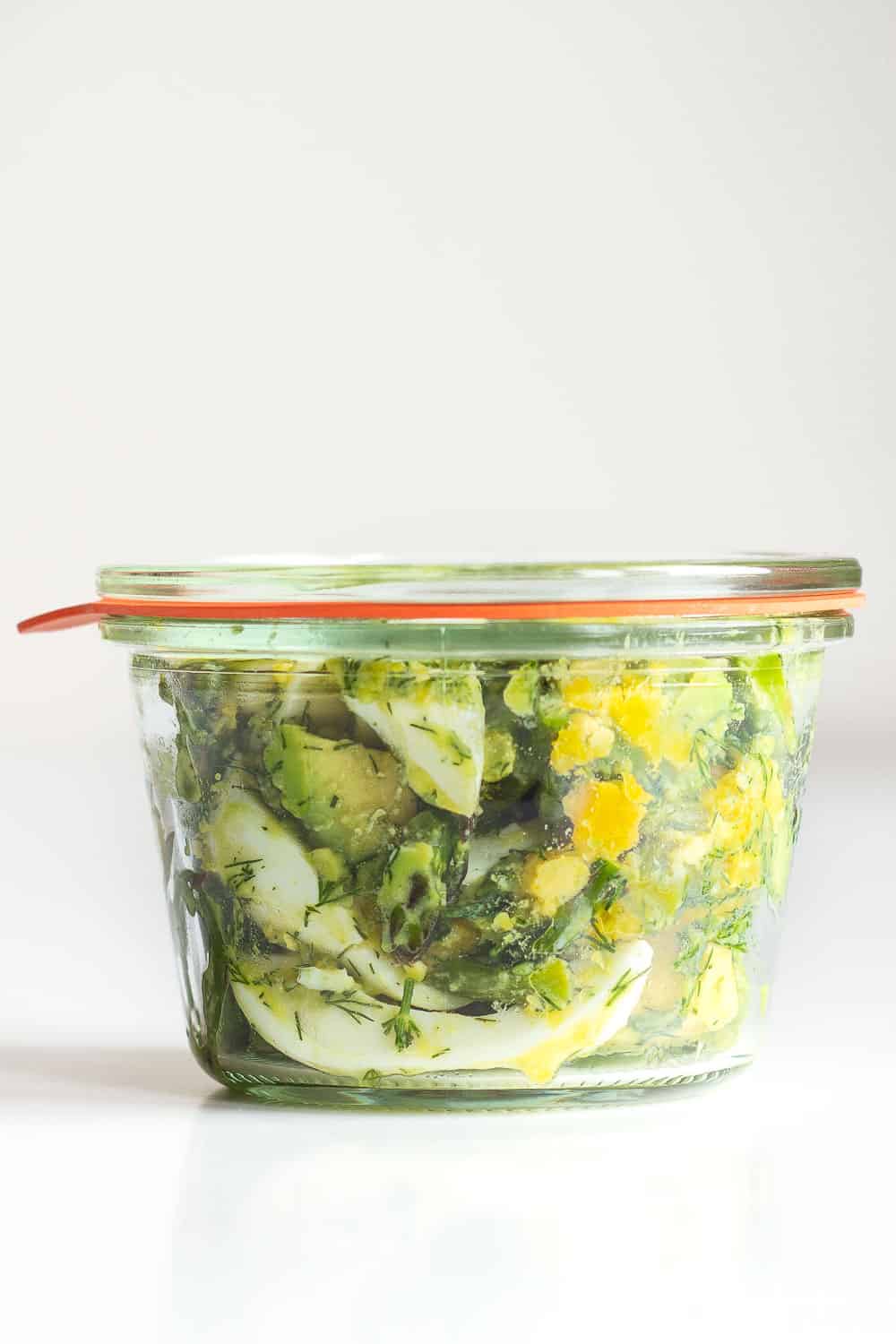 Avocado Egg Salad as Meal Prep
To meal prep and avocado egg salad the best way is to prepare it in the morning and then just take to work that same day. It just takes 15 minutes to make so you can totally fit it in in the morning while sipping your morning coffee ;)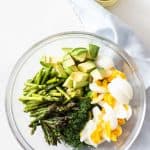 Avocado Egg Salad
This super flavorful Avocado Egg Salad is made with super simple ingredients. All the nutritious goodness of an avocado mixed with hard-boiled eggs, crunchy asparagus and fragrant dill. Perfect busy weeknight dinner or potluck contribution.
Ingredients
1

large avocado

1

lbs

asparagus

avocado oil

4

eggs

1/2

cup

chopped dill

1

lemon

2

Tbsp

olive oil

sea salt

pepper
Instructions
Preheat oven to 400F and bring water to the boil in a small pot.

Trim dry ends of asparagus, add to a baking sheet in one layer and drizzle with a little bit of avocado oil and sprinkle with sea salt. Massage in oil and salt and then roast for 5-10 minutes depending on thickness.

Carefully add fridge cold eggs to boiling water and cook for 8 minutes.

In the meantime, half, pit, peel and cube avocado and add to a large mixing bowl.

Wash, dry and chop dill and add to avocado.

Cut up roasted asparagus into bite size pieces and add to other ingredients.

Peel and cut eggs into wedges and add to mixing bowl.

In a small sealable container shake together juice of whole lemon, olive oil, sea salt and pepper, then drizzle over salad and toss well.

Serve immediately or store in an airtight container in the fridge for up to 12 hours.
Recipe Video
Nutrition Facts
Avocado Egg Salad
Amount Per Serving
Calories 476
Calories from Fat 333
% Daily Value*
Total Fat 37g 57%
Cholesterol 327mg 109%
Sodium 145mg 6%
Potassium 1228mg 35%
Total Carbohydrates 23g 8%
Protein 19g 38%
* Percent Daily Values are based on a 2000 calorie diet.
WHAT CAN BE PRESSURE COOKED WITH WHAT?
Get access to my FREE cheat sheet to help you mix and match ingredients + all of Green Healthy Cooking's new recipes directly into your inbox.