Sugar-free ice pops with vibrant colors thanks to watermelon, honeydew, cantaloupe and pineapple. Sweetened with all natural apple juice. YUM!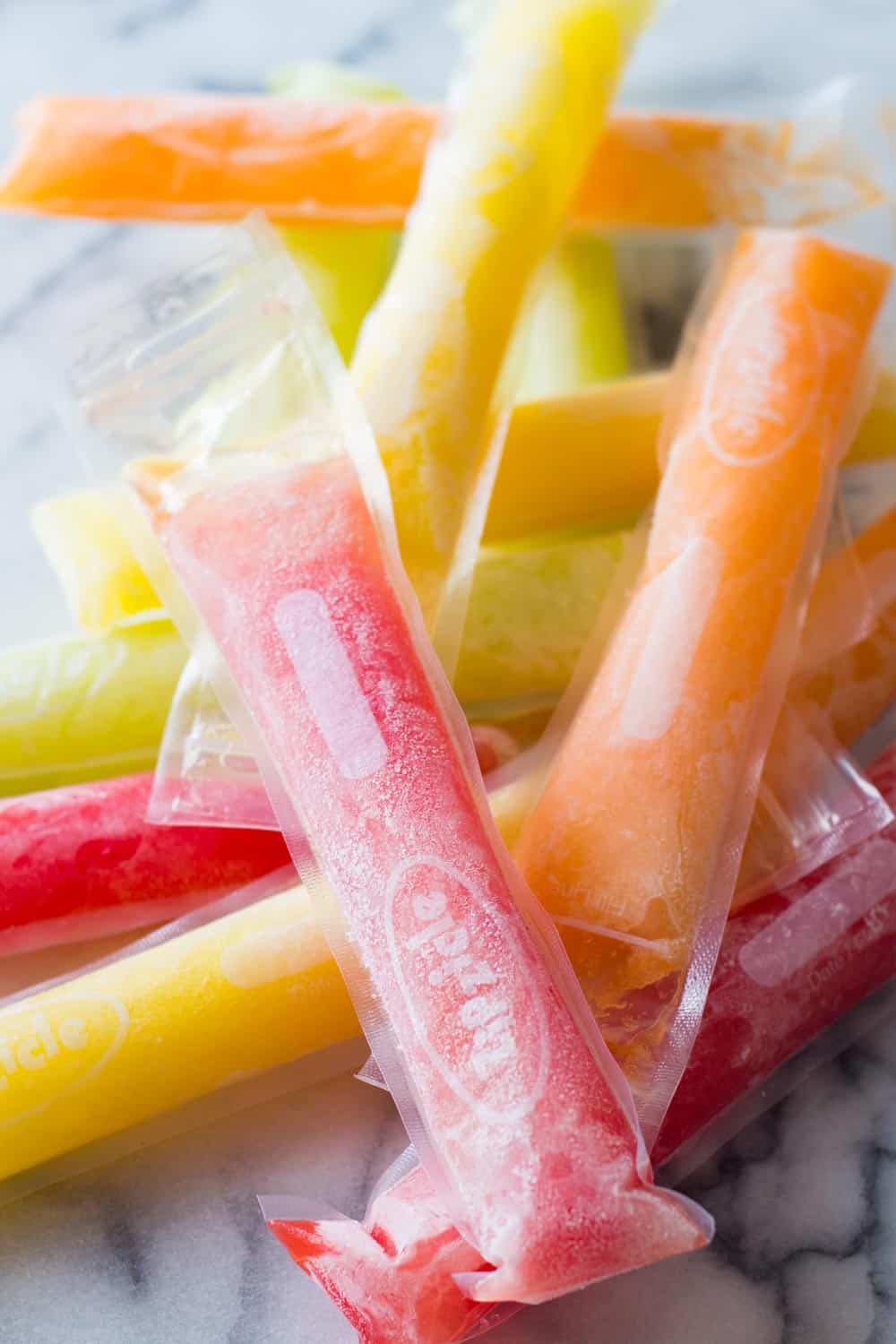 Ever since my kids saw "freezies" for the first time they have been begging me to buy them some. They are incredibly attracted by the colors and the long pop form. While I don't mind buying them treats every once in a while there is a limit to the ingredient list. A bit of refined sugar in a hand-made cookie from the coffee shop I can totally deal with. Highly processed sweets that will color their intestines….um, no, just no.
Of course I don't want to be THAT mom that NEVER treats them to something special. So I'm always on the lookout for new creative ways to offer them the "cool stuff" but in a healthier way.
Regular homemade popsicles didn't cut it this time unfortunately. They wanted the "long thin colorful thingies".
There you have me scanning the world wide web and Amazon trying to find a solution. I was pleasantly surprised when I found these "Ziplzicles"*. I was very tempted to buy silicone ice pop molds * instead of the plastic, however, I knew they weren't going to be as fun for the kids as the "real ones". So as long as the hype goes on I'll wash and reuse the plastic ones until they die. Eventually, I hope I can replace with longer-lasting silicone molds.
You should have seen their faces when I picked them up from school and told them to have a look in the freezer. I'm certain I just won the best-mom-of-the-year award from them ;)
* the links above are affiliate links and I earn a couple cents commission if you buy the products through the links. All earnings go towards buying coffee and keep my brain running to create more blog posts for you :P.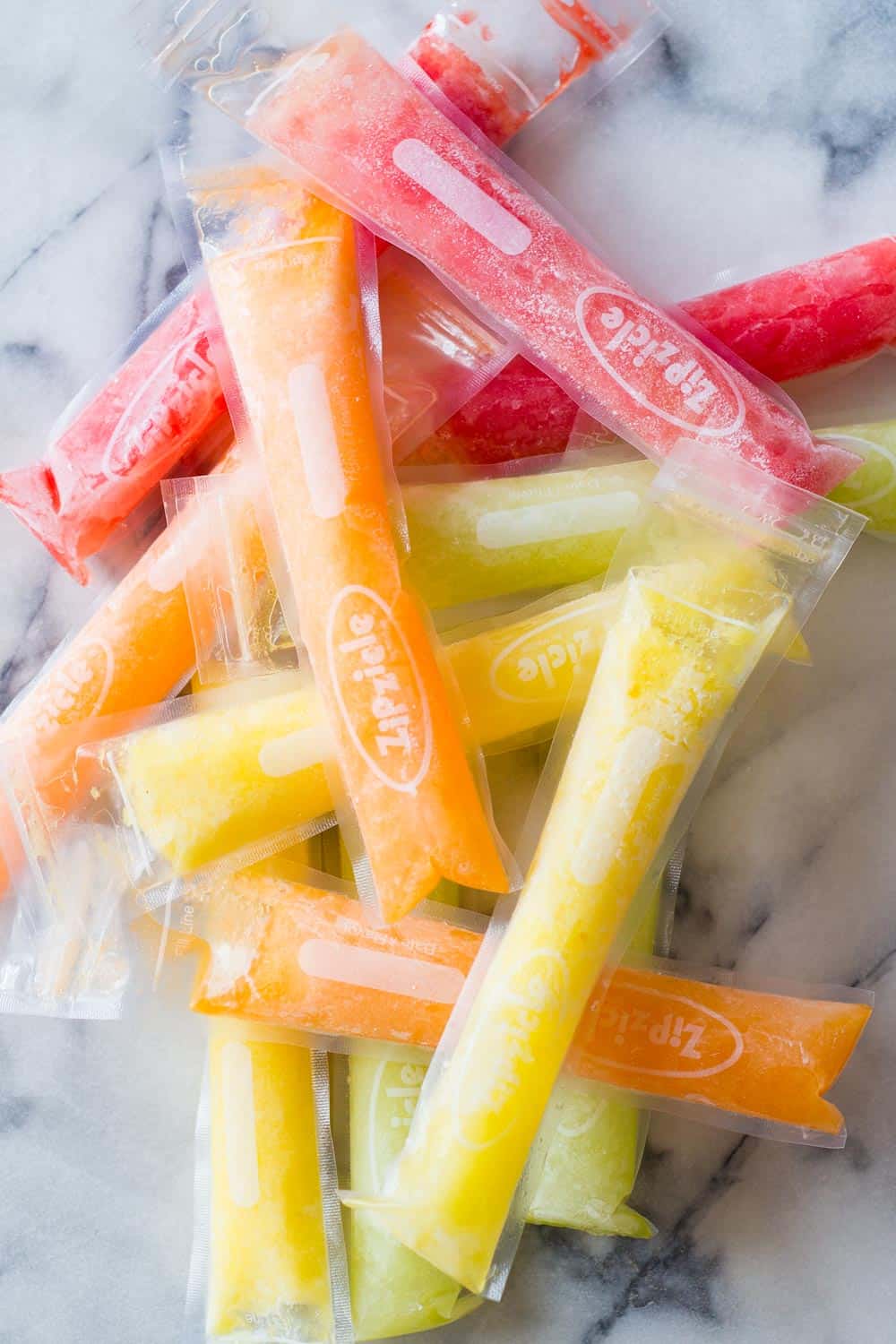 How to naturally sweeten ice pops
In theory one would think, why sweeten them at all? Isn't a fairly sweet fruit like a ripe watermelon sweet enough? Here is the thing, when you eat them fresh they are super sweet. As soon as you freeze them they become A LOT less sweet. Unfortunately frozen treats tend to have an even higher amount of sugar because cold things don't taste as sweet as warm things.
Most naturally sweetened treats are sweetened with honey or maple syrup, right? Well, guess what, honey and maple syrup don't really freeze that well. Plus, they have a pretty strong taste and then then all pops taste like honey or maple syrup.
The best way to sweeten ice pops without the use of refined sugar: apple juice. YES! Natural, sugar-free, apple juice made of just apples, some water, and maybe a little bit of ascorbic acid to avoid from turning brown. You can either make your own if you have a juicer or you can buy one paying attention to the ingredient list.
The apple juice gives sweetness without completely covering up the different fruits' taste. Watermelon ice pops taste like watermelon. Pineapple ice pops taste like pineapple. YAY! And now you also found out the secret to getting colorful ice pops >> FRUIT!
How to make ice pops with fruit
It's so easy you won't believe it. Take about a cup of cut up fruit and put in the blender, add a splash of apple juice and blend blend blend. Fill into your Zipzicle*, freeze for about 2 hours and voilá you're DONE! The amount of apple juice will depend greatly on the water content of the fruit and how sweet you will like your ice pops. In order to keep the fruit as dominant flavor and not the apple juice I recommend to not add too much though.
For my watermelon popsicles for example I used 1/4 cup juice to 1 cup cut up watermelon. For the honeydew, cantaloupe and pineapple I used 1/3 cup juice to 1 cup cut up fruit because they contain less water than watermelon.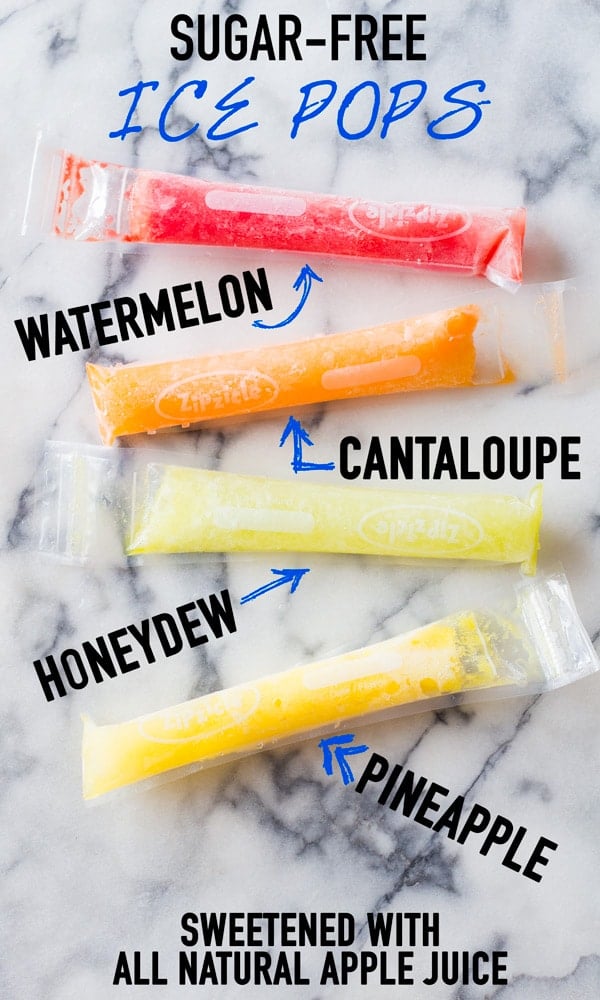 How to freeze ice pops faster
So, the hardest part about this recipe is obviously the waiting game. I recommend making the ice pops withOUT kids of impatient partners :P They simply can't wait. Make them secretly and then pop in the freezer and don't say anything until 2 hours later, haha.
Now, for the fastest freezing I recommend not throwing them into the freezer as a "bunch" but rather freeze them without them touching each other. The more space you have in the freezer for that, the better. Lay or stand them separately all over the place. After about an hour they START to freeze but are still fairly soft. After about 2 hours a couple were completely hard frozen. Not all though. After 4 hours all of them were rock solid and absolutely perfect!
P.S. make sure you use a funnel to fill the Zipzicles. You can definitely do it without but, ugh, don't. It's so much easier with a funnel. If you don't have one, these are my favorite stainless steel funnels*
* the link above is an affiliate link and I earn a couple cents commission if you buy the product through the link. All earnings go towards buying coffee and keep my brain running to create more blog posts for you :P.
Video will be up by the end of the day hopefully :)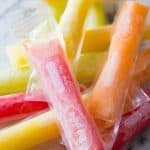 Sugar-free Ice Pops
Sugar-free ice pops with vibrant colors thanks to watermelon, honeydew, cantaloupe and pineapple. Sweetened with all natural apple juice. YUM!
Total Time
2
hours
10
minutes
Ingredients
1

cup

cut-up watermelon

1

cup

cut-up honeydew

1

cup

cut-up cantaloupe

1

cup

cut-up pineapple

1-1 1/2

cups

all natural unsweetened apple juice
Instructions
Add one fruit and 1/4-1/3 cup of apple juice into blender and blend until completely liquid, then fill into Zipzicles, all the way up to the max line, close and set aside.

Repeat with other fruits. No need to wash the blender in between blending different fruits. If you want "true" colors, maybe rinse a little.

Make sure your Zipzicles are properly closed or they'll leek. Put in the freezer for at least 2 hours, better 4. ENJOY!
Recipe Notes
Nutrition Facts
Sugar-free Ice Pops
Amount Per Serving
Calories 30
Calories from Fat 1
% Daily Value*
Total Fat 0.1g 0%
Polyunsaturated Fat 0.04g
Monounsaturated Fat 0.01g
Sodium 6mg 0%
Potassium 133mg 4%
Total Carbohydrates 7g 2%
Protein 0.4g 1%
* Percent Daily Values are based on a 2000 calorie diet.
WHAT CAN BE PRESSURE COOKED WITH WHAT?
Get access to my FREE cheat sheet to help you mix and match ingredients + all of Green Healthy Cooking's new recipes directly into your inbox.