Ever wondered how to make Mexican Hot Chocolate? I've got the best Mexican Hot Chocolate Recipe ever for you! Lot's of spices and mixable with ANY kind of milk.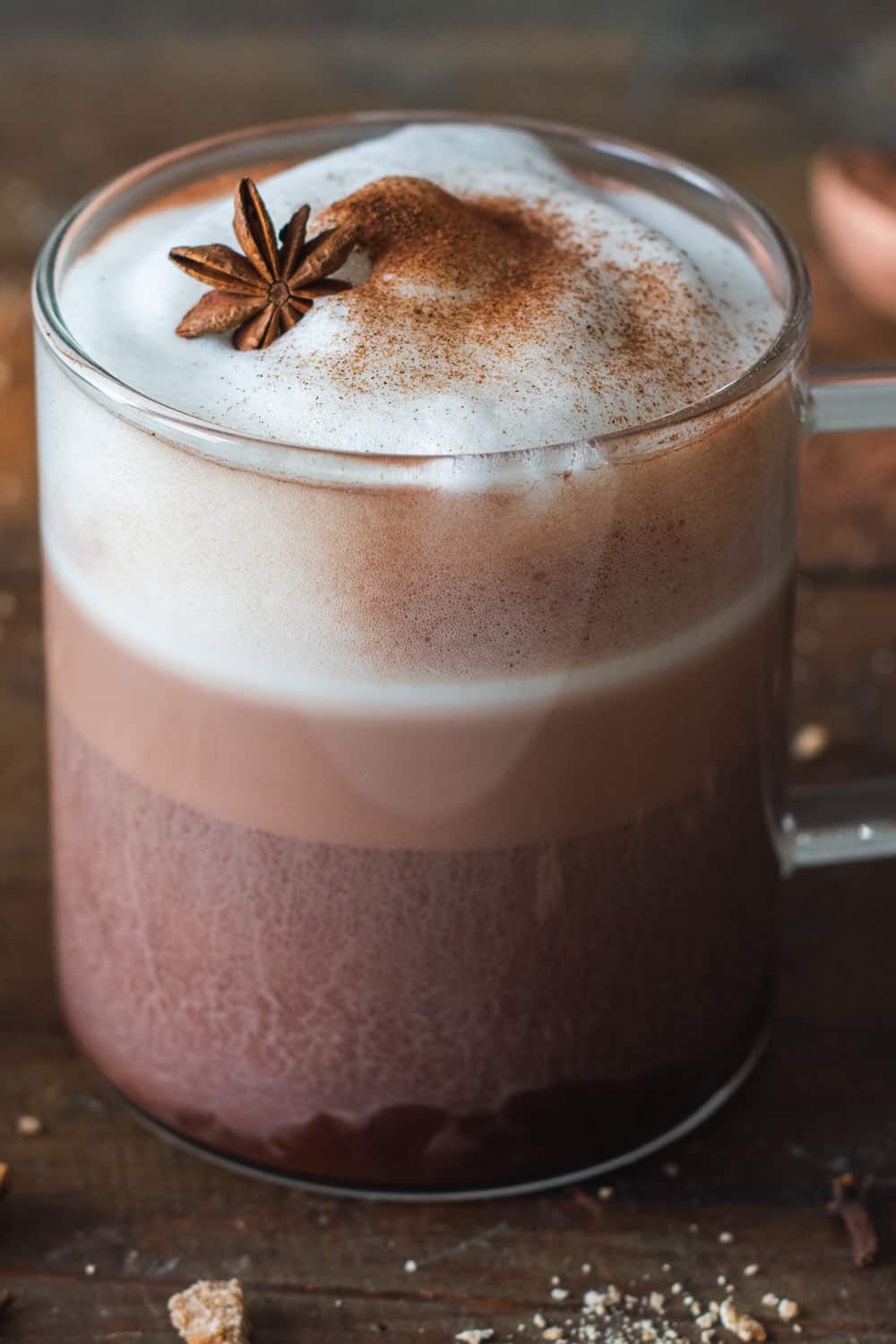 The best part about this Mexican Hot Chocolate Recipe is probably that it is water based and thus perfect for literally anybody. Dairy-intolerant? No problem! Coconut milk fan? Awesome!
Instead of cooking one cup of hot chocolate you prepare a syrup-like chocolate base that you can then mix with whichever hot milk you like best. Similar concept to the Homemade Chai Latte already on the blog.
How To Make Mexican Hot Chocolate
The "abuelita hot chocolate" is very very popular in Mexico these days but that's basically a commercialized version of the traditional hot chocolate.
The traditional hot chocolate wasn't even sweetened. People would drink it rather like a cup of black coffee.
Needless to say, it's pretty bitter without sweetener so this recipe is rather for the sweet drink that can be enjoyed around Christmas or literally all winter long.
You add plenty of delicious spices like vanilla, cinnamon, anis, clove and then most importantly "raw sugar".
In Mexico they call this raw sugar piloncillo. Almost every Latin American has a different name for the same kind of sugar though so if you go to a Latin American store to look for this sugar make sure you ask for one or all of these names: piloncillo, chancaca, panela, rapadura, raspadura, tapa de dulce, papelón. I hope I'm not forgetting any.
Then, because we don't have raw cacao beans easily available we will rely on raw cacao powder. It's the unsweetened stuff you'll find in the baking isle.
Mix that all with water and simmer it uncovered until it reaches a syrup-like consistency and that's it. Mix it with hot milk of your choice and voilá the BEST Mexican Hot Chocolate EVER!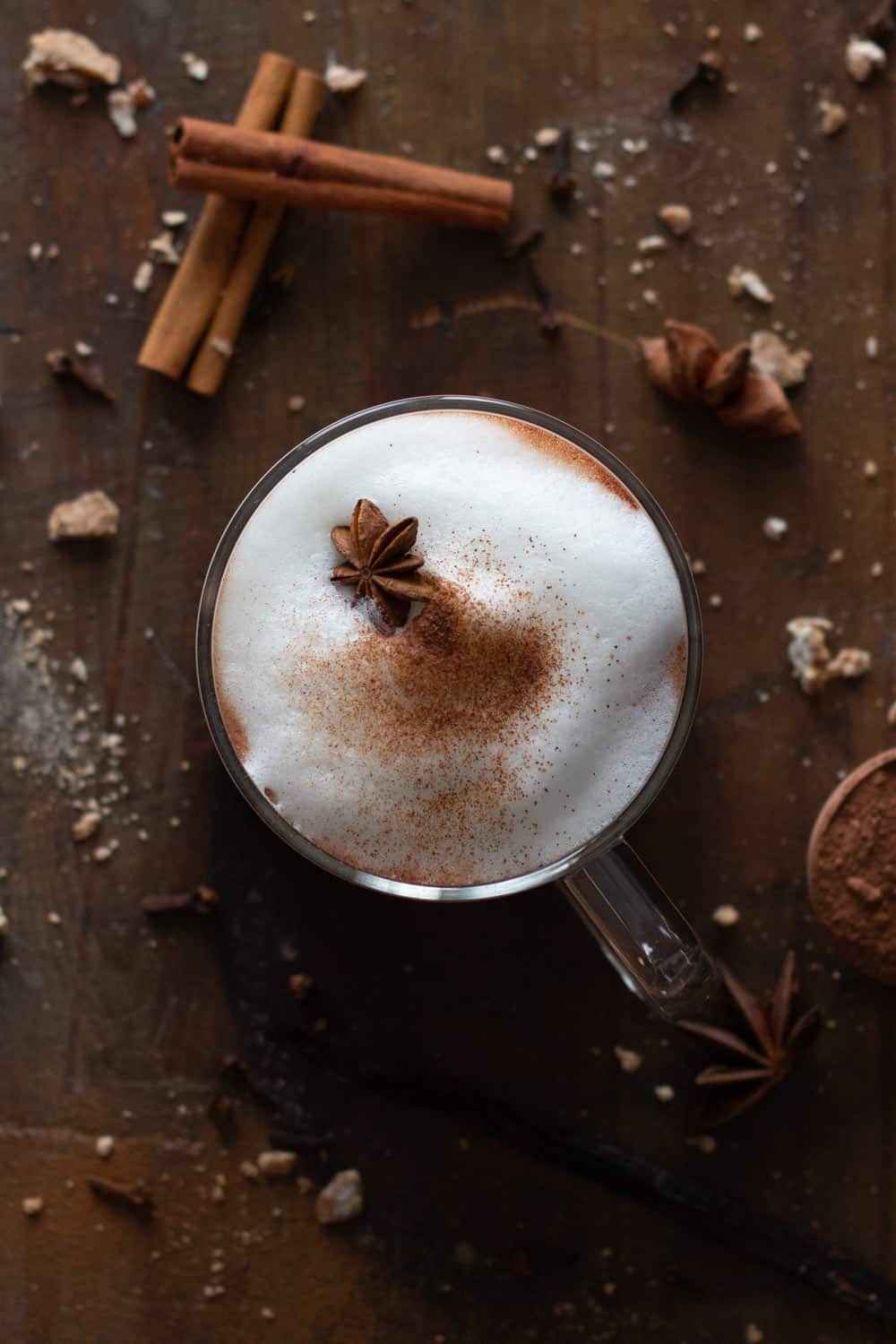 Is Mexican Hot Chocolate Healthy?
The word "healthy" can be defined in sooo many ways so this will depend entirely on your definition. Since it does have quite a bit of sugar in it (yes raw, but still sugar) I definitely recommend enjoying it in moderation.
My family and I typically enjoy a cup or two on the Day of the Dead (día de los muertos) and around Christmas and then maybe once a month throughout winter.
Compared to most ready made hot chocolate mixes this Mexican Hot Chocolate Recipe is VERY healthy. It's all about what you compare it with and what else your nutrition consists of.
There is plenty of article listing the benefits of drinking hot chocolate. And I'm sure there is just as many listing the risks.
I'm camp "everything in moderation" :)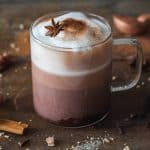 Mexican Hot Chocolate
Ever wondered how to make Mexican Hot Chocolate? I've got the best Mexican Hot Chocolate Recipe ever for you! Lot's of spices and mixable with ANY kind of milk.
Print Recipe
Ingredients
2

cups

water

1/2

cup

raw cacao powder

3.5

oz

piloncillo

-

(100g)

2

cloves

-

(or 1/8 tsp ground clove)

1

anis star

-

(or 1/4 tsp ground anis)

2

sticks cinnamon

-

(or 1 tsp ground cinnamon)

1

tsp

vanilla bean

-

(or 2 tsp vanilla extract)

4

cups

any kind of milk

ground cinnamon
Instructions
Cut open vanilla bean lengthwise so the seeds have an easy way out add vanilla bean, piloncillo, raw cacao powder, cloves, anis star and cinnamon sticks to a saucepan and cover with 2 cups of water.

Bring to a boil and reduce heat to a simmer. Cover the pot for about 5 minutes or until the sugar dissolved. Then remove the lid and let simmer uncovered for 15-20 minutes or until syrup-like consistency.

Fish out spices or strain using a sieve.

Heat 1 cup of milk of choice (froth if you like) and mix 1/4 cup of syrup with 1 cup hot milk. Sprinkle with a little ground cinnamon and enjoy!

The chocolate syrup can be stored in the fridge for 3-5 days.
Notes
Nutritional Information excluding milk because different milks have different nutritional values.
Nutrition
Calories:
121
kcal
|
Carbohydrates:
29
g
|
Protein:
2
g
|
Fat:
1
g
|
Sodium:
9
mg
|
Potassium:
163
mg
|
Fiber:
4
g
|
Sugar:
21
g
|
Calcium:
42
mg
|
Iron:
1.9
mg
What's your clean eating vibe?
Take this fun QUIZZ and find out in 10 seconds!