Learn how to make popped amaranth! The gluten-free high-protein seed can be popped like popcorn. It takes only 10 minutes to make one cup.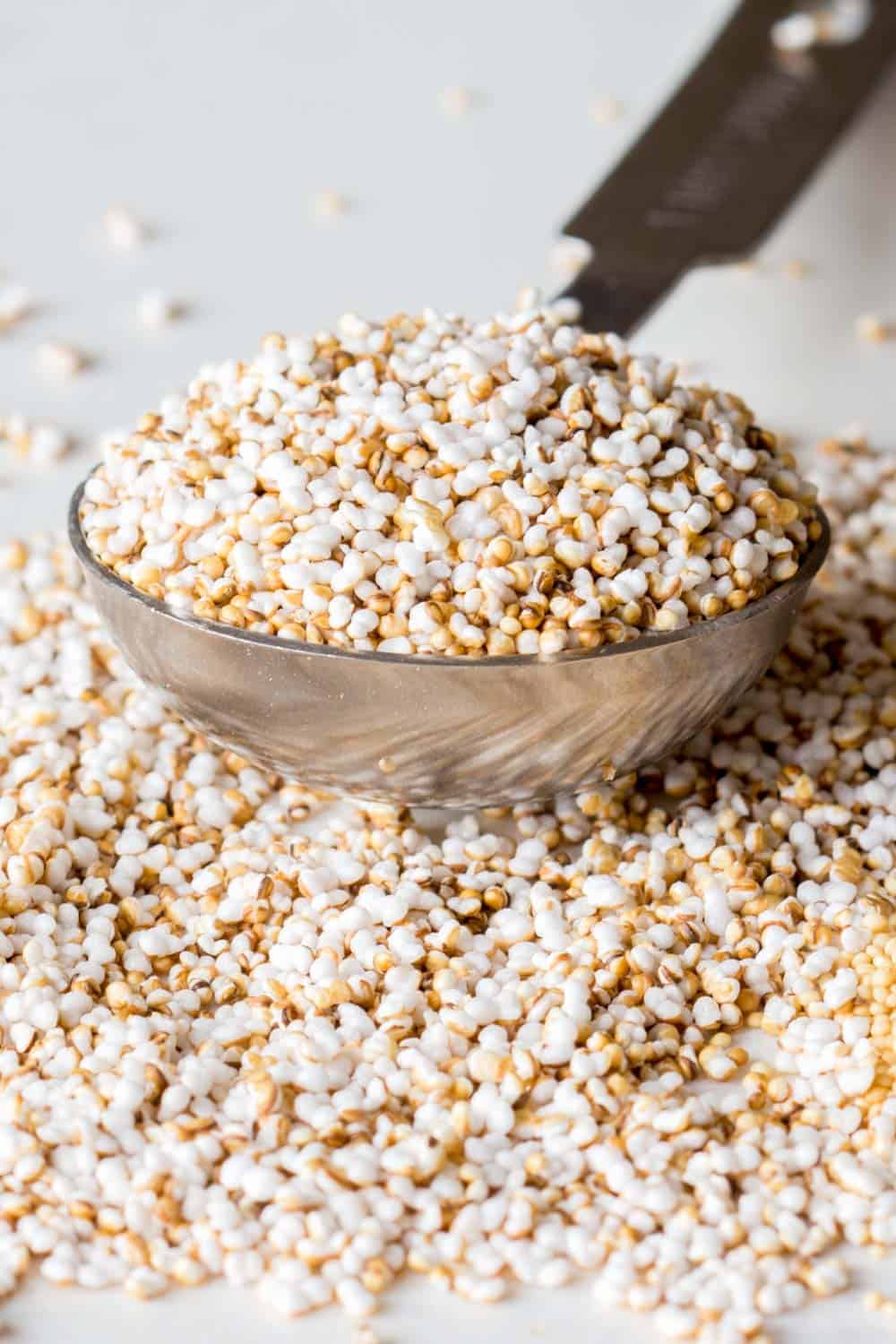 It's hard to keep up with the long list of "superfoods" out there but this one should definitely make your list. Amaranth is very similar to quinoa. Both seeds are naturally gluten-free and very high in protein.
In case you've never heard about Amaranth before, let's get to the basics:
What is Amaranth?
It's often called a "pseudograin" because it's not technically a grain but rather a seed. Exactly like quinoa. Amaranth was a staple food for the Aztecs and has been cultivated for thousands of years.
Today, most Mexicans consume it in a candy bar called "alegría", which translated means joy. It is basically popped amaranth mixed with piloncillo (raw cane sugar).
The seeds are even smaller than quinoa seeds. And as opposed to quinoa it doesn't fluff when cooked in water but rather becomes a sticky mush like oats in porridge.
In small amounts, it is an excellent thickener for soups, sauces, and jams.
Is amaranth gluten-free?
YES! Amaranth is naturally gluten-free because it isn't a grain. If you are gluten intolerant, even more reason to incorporate amaranth into your diet. Together with quinoa, it's the best substitute for any grain.
Amaranth is also lower in carbohydrates than for example rice or pasta. So if you are following a low-carb diet this is an amazing side dish for you.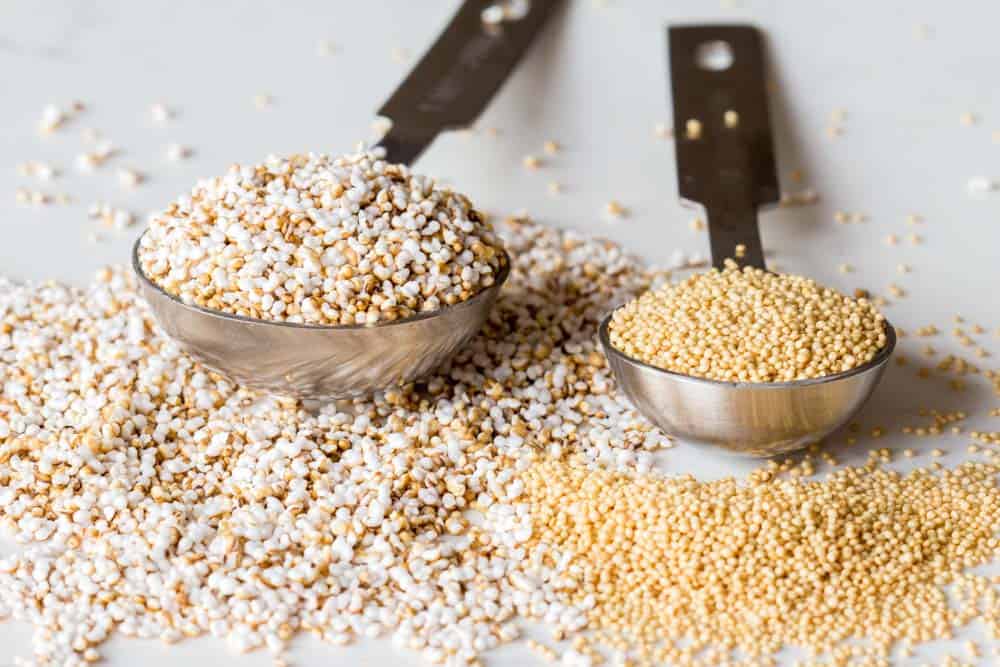 Can amaranth be eaten raw?
Well, it "can", but there is no point. We can't digest raw amaranth. It's like eating raw rice or raw beans. It'll pass right through our digestive tract without change.
It's necessary to either cook it or puff it so we can digest it and enjoy the benefits of this amazing superfood. To cook it, you basically cook it just like quinoa or grains. Put Amaranth and water in a saucepan in a 1-2 ratio, bring to the boil, reduce heat to low, and simmer for 15-ish minutes or until all water is absorbed.
It becomes all gelatinous and mushy so eat it right away either as porridge with nuts and fruit or with some salt as a side dish.
I'm not a big fan of cooked amaranth which is why I always puff it. The nutty taste of the seed is enhanced and it tastes divine mixed into all kinds of dishes.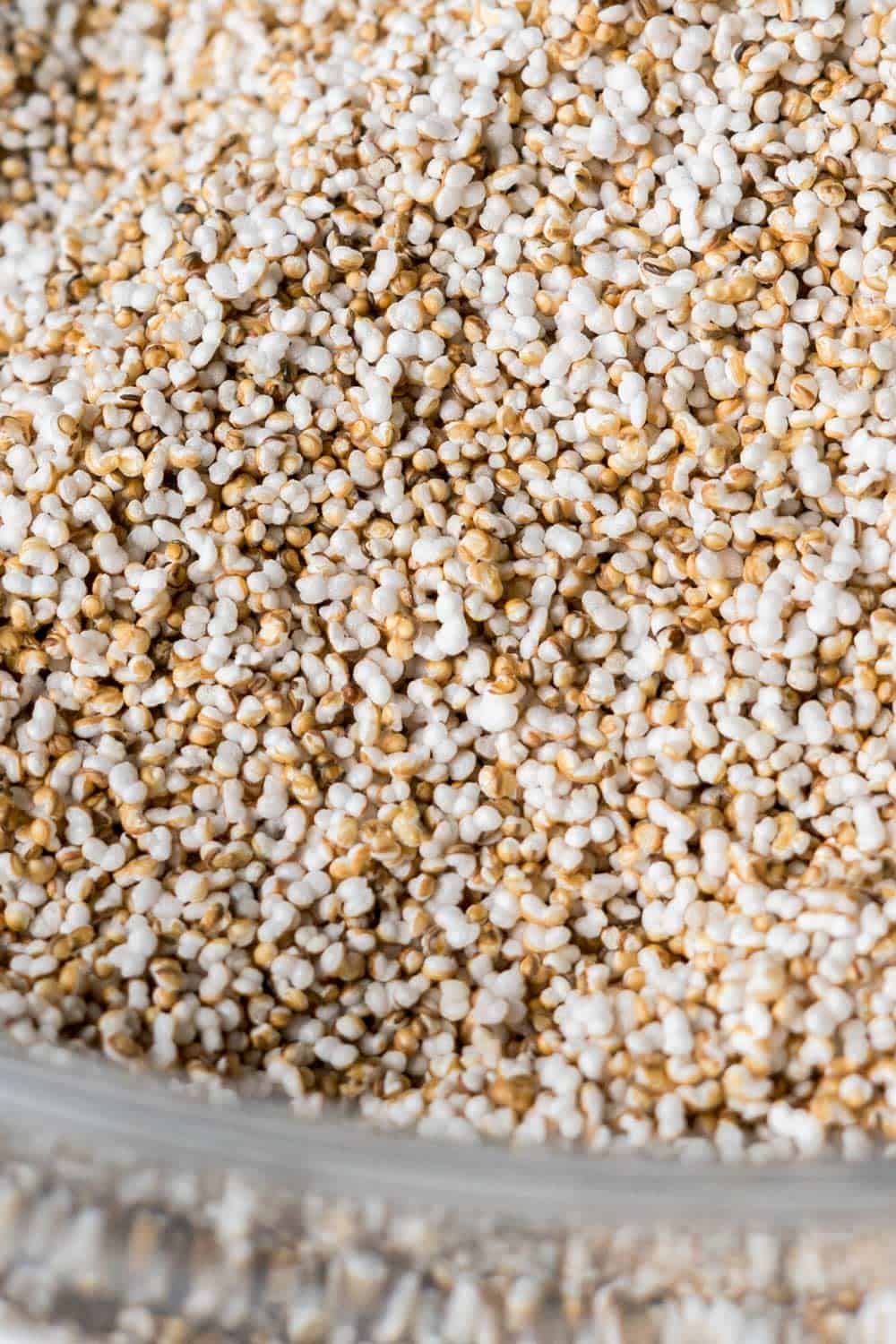 How to puff amaranth
It's easier to make popped amaranth than popcorn. With popcorn, it's kind of a faith thing. You place the kernels in the pot then you close the lid and pray. You can't really see what's happening in the pot. Haha.
With Amaranth it's different. You do not add a lid. You want to prevent steam building up in the dry pot so no lid! The bad thing about this is, some seeds jump right out of the pot. The good thing, you keep an eye on your seeds and get them to pop beautifully.
Now there are a couple of nitty gritty details to ensure success. And here goes a big shout out to my amazing Mexican husband who did all the testing for me. It was his idea to post this blog post and the tips and tricks are all thanks to his research and testing :)
use a high pot to avoid too many popped amaranth seeds shooting all over the place.
the temperature has to be "PERFECT" so all the seeds immediately puff but none burn. You might have to toss the first two batches you try puffing until you find the perfect temperature of your stovetop. Too hot and they all pop but also all burn ahead of time. Not hot enough and they don't pop but just burn. On my induction stovetop that goes from 1-9 and with cast iron pot I need to preheat my pot for about 5 minutes on 7 and then the amaranth pops perfectly.
shake the pot often to get all seeds moving to the hot spots of the pot bottom and pop evenly without the popped ones burning.
What to make with popped Amaranth
You can eat popped amaranth just like that. My kids love a mix of just popped amaranth a few maple flakes to sweeten and they spoon it all out of a bowl. It's a little dry for me like that.
I love adding it to granolas or salads. I also love making Tuna Patties with it and this Midnight Snack that is TO DIE FOR.\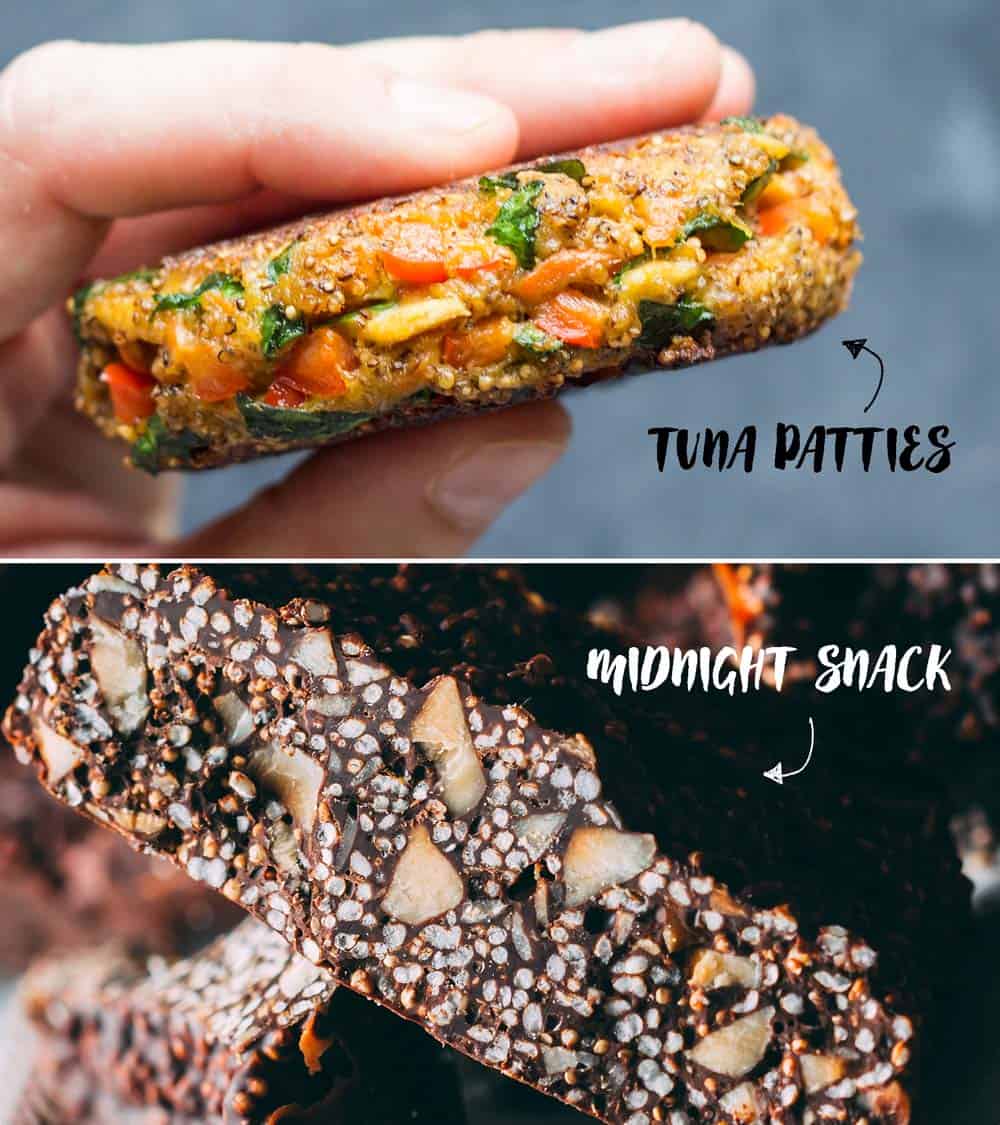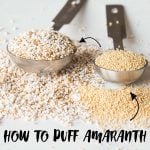 Popped Amaranth
Learn how to make popped amaranth! The gluten-free high-protein seed can be popped like popcorn. It takes only 10 minutes to make one cup of popped amaranth.
Print Recipe
Pin Recipe
Instructions
Preheat a high pot over medium-high heat.

Spread about 1 Tablespoon at the time as evenly as possible on the bottom of the hot pot.

Wait for the seeds to pop. This should be quite immediate. If they don't pop right away, the pot wasn't hot enough and the seeds won't pop and just burn. Discard that batch and start over.

Once the popping starts, shake the pot to ensure all seeds pop and the popped seeds don't burn.

Once the puffing ceases remove the popped amaranth and put into a sieve to shake out the unpuffed seeds.

Then add the popped amaranth to a bowl and repeat the same process until all amaranth is popped.

For every Tablespoon of raw amaranth you'll get about 2 Tablespoons popped amaranth.
Nutrition
Calories:
358
kcal
|
Carbohydrates:
62
g
|
Protein:
13
g
|
Fat:
6
g
|
Saturated Fat:
1
g
|
Sodium:
3
mg
|
Potassium:
490
mg
|
Fiber:
6
g
|
Sugar:
1
g
|
Vitamin C:
4
mg
|
Calcium:
153
mg
|
Iron:
7.3
mg
What's your clean eating vibe?
Take this fun QUIZZ and find out in 10 seconds!