Print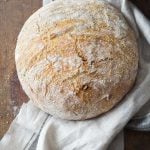 Artisan Bread
The most detailed step by step instructions on how to make Artisan Bread. Add whatever nuts and dried fruit you like to give it a personal spin. I made mine a Walnut Fig Artisan Bread. Spread some goat cheese on a piece and fly to HEAVEN!
Total Time
14
hours
40
minutes
*Proof the yeast and prepare starter* In a medium bowl mix 110ml 100°F-warm water (use a thermometer!) and 3.5g active dry yeast and let sit for 8-10 minutes until all bubbly (<- this is called "proofing the yeast"). Then add in 110g flour and mix with a spatula. Cover with a clean kitchen towel and let rise at room temperature for 12 hours (overnight).

*Prepare the bread dough* Add 400g flour, another 3.5g yeast, salt, sugar and 240ml water and 10ml milk to the starter and knead on low for at least 20 minutes until the dough is sticky and elastic.

*First rise* Cover the bowl in which the dough was kneaded with a clean kitchen towel and let rise for 45 minutes at room temperature.

*Add extras* Chop walnuts and dried figs or any other nut and dried fruit and fold into the dough. Omit this step if you want your artisan bread plain.

*Second rice* Spread out a dish towel on the counter, sprinkle with abundant flour and corn meal and dump dough onto towel, then fold dish towel over bread and let rise a second time for 45 minutes.

*Preheat oven and dutch oven* 15 minutes into the second rise preheat the oven to 450F with the dutch oven with lid inside the oven. The oven and dutch oven have to heat up at least 30 minutes.

*Bake the bread* Take the dutch oven out of the oven carefully, turn the dish towel and dump the dough into the burning hot dutch oven (be carful with the hot dutch oven!!!!). Place the lid on top and return into the oven. Bake 25 minutes with lid on and a further 5-10 minutes with lid off. Until golden.

*Cool Bread* Take dutch oven out of oven, remove bread from dutch oven, place bread on a cooling rack and let cool down completely before cutting into it.
How do I know my bread is really baked through without cutting into it? Knock on the bottom of the bread. If it sounds hollow it's done. If it doesn't return to the oven.
[nutrition-label]
Nutrition Facts
Artisan Bread
Amount Per Serving
Calories 1985
Calories from Fat 54
% Daily Value*
Fat 6g9%
Sodium 4671mg203%
Potassium 717mg20%
Carbohydrates 414g138%
Protein 58g116%
Calcium 110mg11%
Iron 26.3mg146%
* Percent Daily Values are based on a 2000 calorie diet.